Hanoi is a place that visitors are extremely interested in in every Vietnam private tours. Hanoi is a peaceful and ancient city that preserves Vietnam's long history and diverse culture. Visitors can visit Hanoi by various means of transport such as bus, motorbike or car to the destinations that create a perfect Vietnam customized tour.
If you are intending to go to Hanoi but do not know where to go in a 24-hour period and still fully explore the characteristics of the Vietnamese capital. Let Nadova suggest the most complete 1-day Hanoi travel itinerary!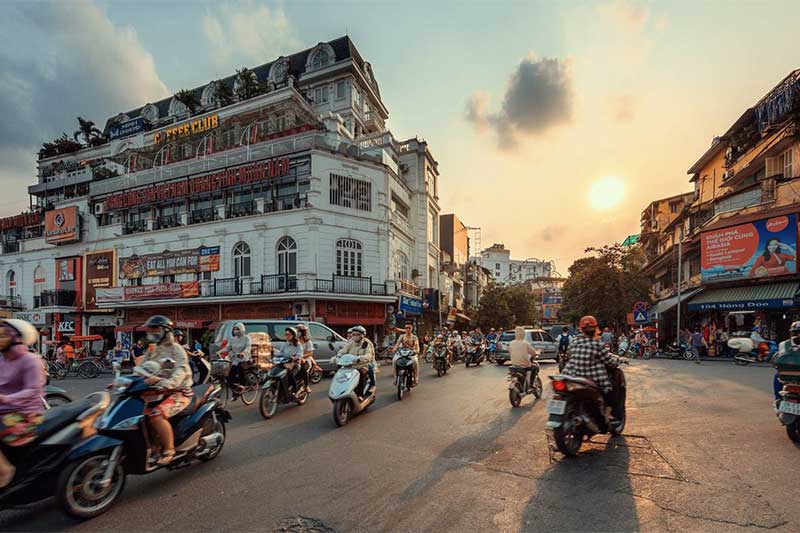 1. In the morning

Ho Chi Minh Mausoleum will definitely be the first destination that you cannot ignore. Located on Hung Vuong- Dien Bien street, the mausoleum houses Uncle Ho to commemorate this famous leader of Vietnamese history. Attending the Flag Raising ceremony in the morning is a special experience at the Ho Chi Minh Mausoleum.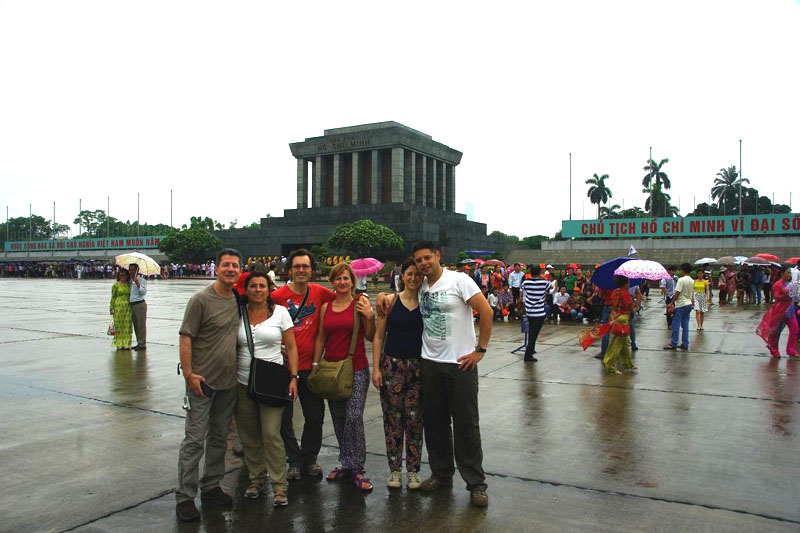 (Ho Chi Minh Mausoleum)
At exactly 6AM (summer) and 6:30AM (winter), the group of soldiers will perform the Flag Raising ceremony, departing from behind Uncle Ho's Mausoleum. After the signal was given, the flag was hoisted to the top of the 29m high flagpole along with the people singing the National Anthem.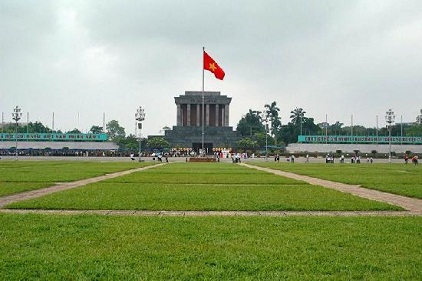 (Ba Dinh Square)
In front of the Mausoleum is Ba Dinh Square, the largest square in Vietnam where important national events take place. In addition, you will visit Uncle Ho's stilt house, fish pond and Ho Chi Minh Museum, which also keeps a lot of Uncle Ho's memorabilia during his lifetime.

One Pillar Pagoda

One Pillar Pagoda built in 1049 is one of the symbols of Hanoi capital. In addition to the spiritual meaning, One Pillar Pagoda must be a highly aesthetic architecture in your Vietnam customized tours. The pagoda was conceived from a lotus flower blooming on the water - Vietnam's national flower symbolizing love and sharing. One Pillar Pagoda was honored to be "The most unique architectural temple in Asia" in 2012 by the Asian Record Organization.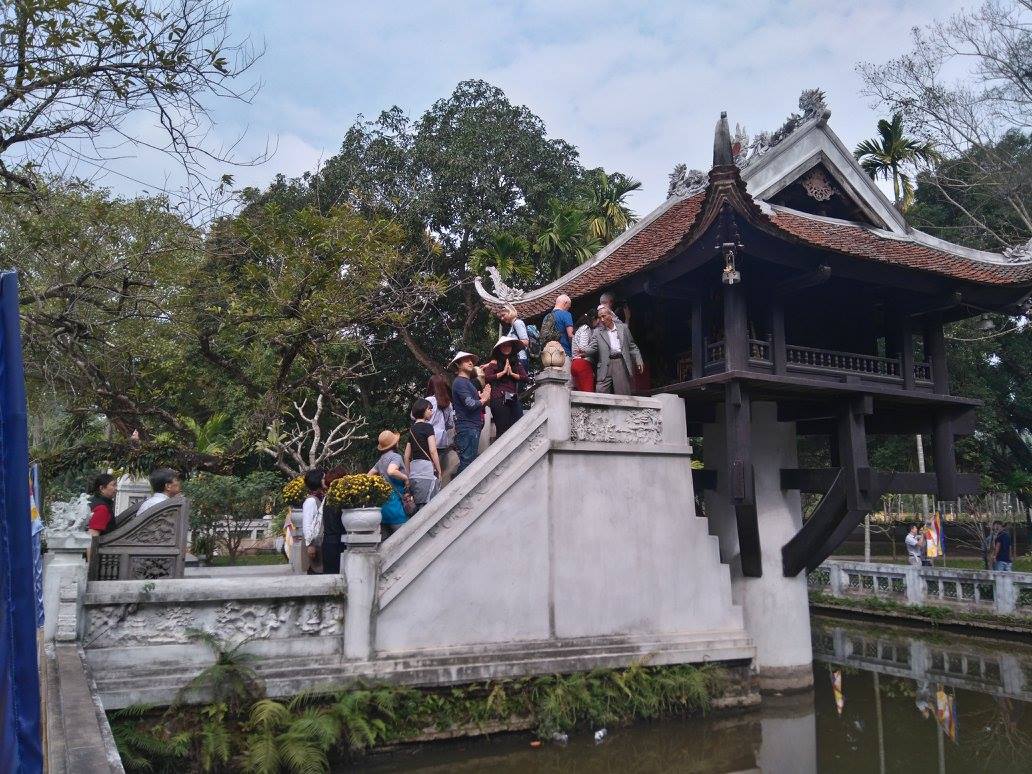 (One Pillar Pagoda)
When coming to One Pillar Pagoda, visitors should pay attention to choose modest and polite clothes. The temple area is very small, so visitors should line up in order not to jostle each other. Because it is an ancient construction, visitors need to move gently and not touch the architecture.




Tran Quoc Pagoda

Tran Quoc Pagoda is one of the oldest pagodas in Hanoi and Vietnam, located in the South of West Lake. In 2021, this temple is in the top 16 most beautiful temples in the world voted by the Daily Mail newspaper in the UK.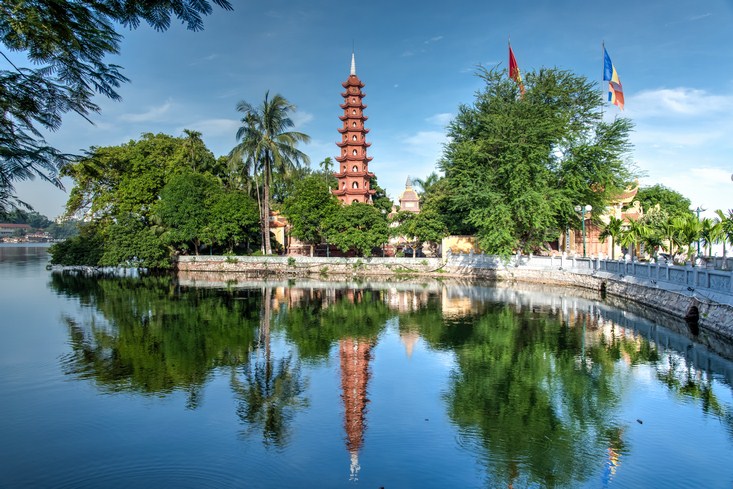 (Tran Quoc pagoda)


With a prime location, long history and unique architecture, Tran Quoc Pagoda has become an attractive destination for Vietnam private tours to explore the capital. In addition to admiring the beautiful scenery, visitors can also come here to perform ceremonies, pilgrimages or pray for peace and luck.

The Museum of Ethnology

The Museum of Ethnology located on Nguyen Van Huyen Street is a place to fully introduce about 54 ethnic groups living in Vietnam. Visitors can visit and learn about the unique national identity throughout the region of Vietnam at this building.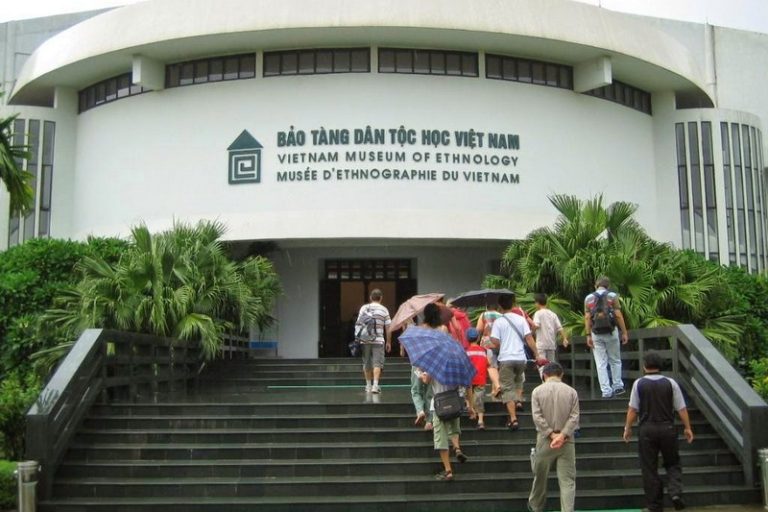 (Vietnam Museum of Ethnology)

2. In the afternoon

The Temple of Literature- Quoc Tu Giam

As the first university in Vietnam, the Temple of Literature is not only a cultural and historical relic but also a place where many students come to pray for good luck in exams and studies.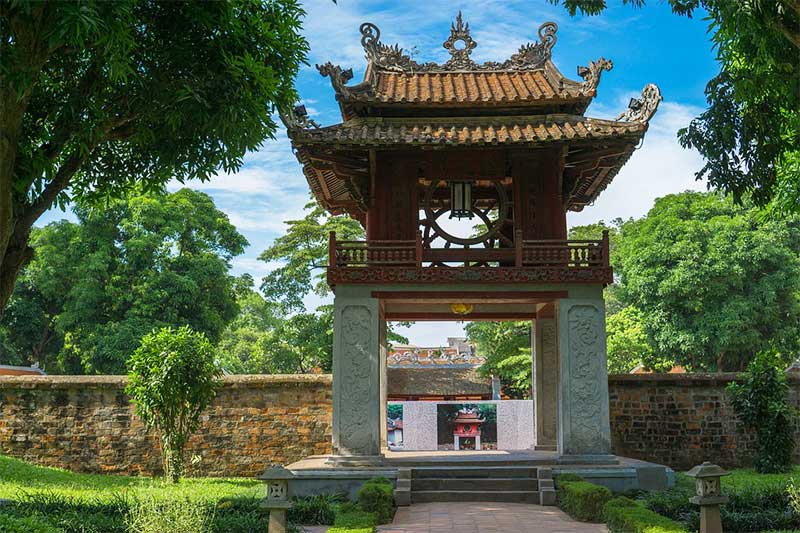 (The Temple of Literature - Quoc Tu Giam)
Today, the Temple of Literature - Quoc Tu Giam is also a destination attracting a large number of domestic and international tourists to explore unique culture and architecture. At the same time, this is also the meeting point of Hanoi people during the traditional New Year with the wish of a peaceful new year.




Hoan Kiem Lake (Sword Lake)

Located in the heart of Hanoi, Hoan Kiem Lake is like the heart of this thousand-year-old city. The calm lake surface and clear water make this place interesting for Vietnam private tours. Next to Hoan Kiem Lake are impressive architectural works, which are a precious heritage of the city: Ngoc Son temple, Turtle Tower, The Huc bridge,...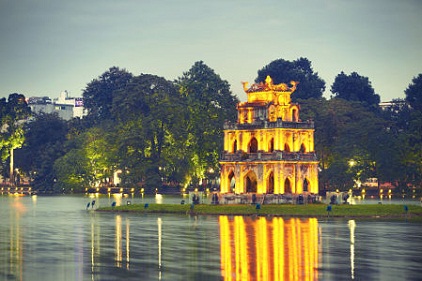 (Hoan Kiem Lake)
Around the lakeside, there are also many typical places for visitors to take photos such as Hanoi newspaper office, Ly Thai To flower garden, Hanoi Opera House, .... In particular, visitors can enjoy Trang Tien or Thuy Ta ice cream next to Hoan Kiem Lake.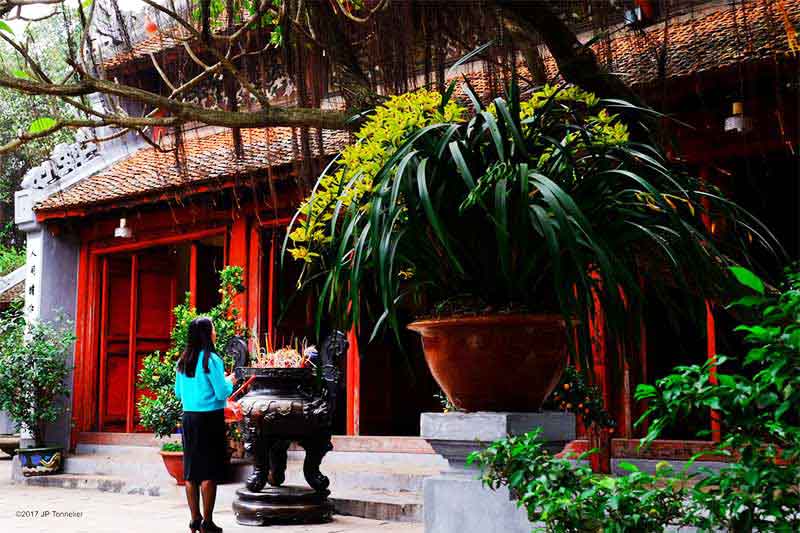 (Ngoc Son Temple)
Hanoi Old Quarter

Hanoi Old Quarter is considered a unique feature of the capital with beautiful houses and streets from the late 19th century. In particular, the old town cuisine is also one of the things that should be explored with specialties such as Pho, Bun Cha, Spring Rolls, ...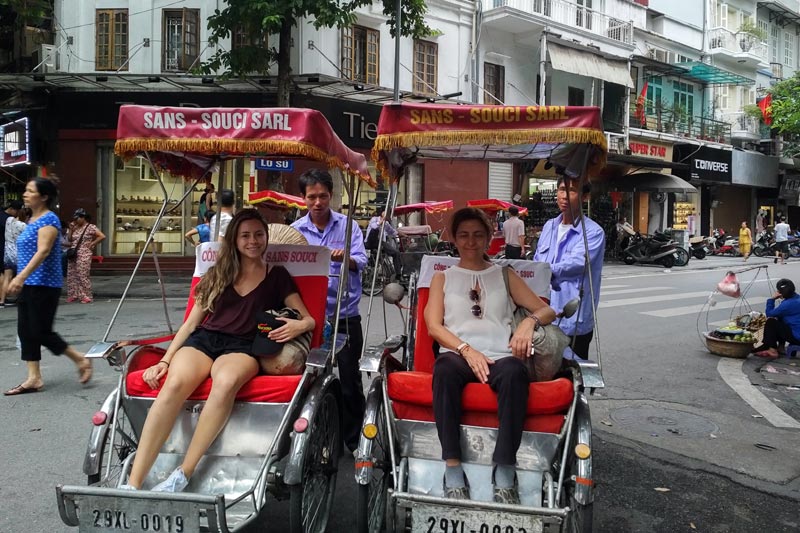 (Going on a cyclo in Hanoi's Old Quarter)



3. In the evening

Watch the water puppet show

Water puppetry is a theatrical art that visitors should watch in their Vietnam customized tours. This art has a tradition of more than 1,000 years in Vietnam. There are two popular places to visit: Thang Long Puppet Theater at 57B Dinh Tien Hoang and Vietnam Puppet Theater at 361 Truong Chinh.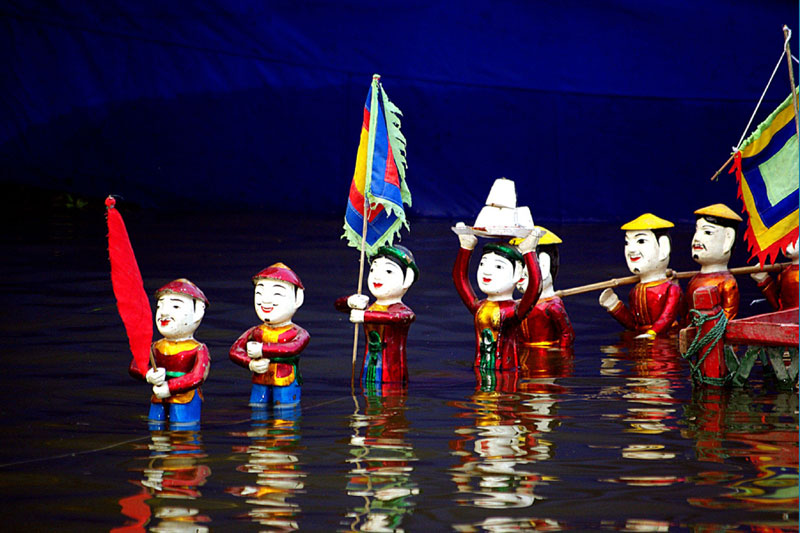 (Water Pupet show in Hanoi)


Ta Hien Street

Different from the nostalgic beauty of the day, Hanoi is most beautiful at night when the streets are lit up. Visitors quickly come to Ta Hien area to mingle with the nightlife, enjoy the taste of Vietnamese beer and Vietnamese street food.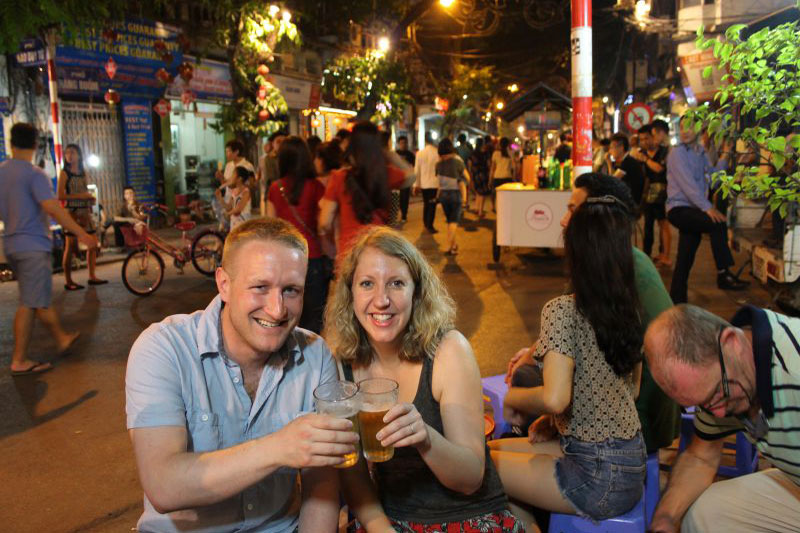 (Drinking Vietnamese beer in Hanoi)
Within 24 hours, tourists cannot go to all the tourist attractions in Hanoi. However, we also visited the most unique features that make up the culture and people here. Choose the destinations that impress you to create your Vietnam private tours!