Vietnam Lunar New Year (or Tết Nguyên Đán) is the most important and quintessential holiday and festival in Vietnam. Tết is the way Vietnamese people marking the arrival of spring on the first day until at least the third day of January according to Lunar Calendar. This is also the special time for family gatherings, lucky money and many blessings. If you want to have a Vietnam customized tour on this big occasion, it really will be once- in-a- life- time experience for you and family to blend into the diverse culture in Vietnam. In this article, let's delve into the depth of traditions, practice, and values of Tết and what you should do to prepare for a Vietnam private tour this very memorable season.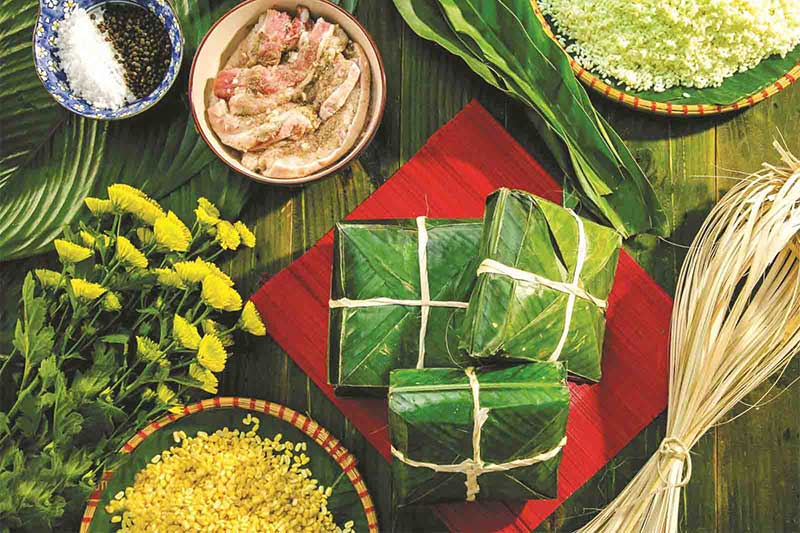 When the Vietnamese celebrate Lunar New Year?
As we mentioned before, Tết takes place from the first day of the first month of the Lunar calendar (around late January or early February) and lasts 3 days. One of the most meaningful part of this event is all family members try to come back home for a big cozy union no matter how far they are apart. Therefore, even the Vietnamese abroad try to make time for a big return to their hometown. Tết is also the time when local peasants show their gratitude to the ancestors and deities as well as to wish for an abundant crop ahead. Because of all these reasons, the Vietnamese of all generations are always eager at this moment.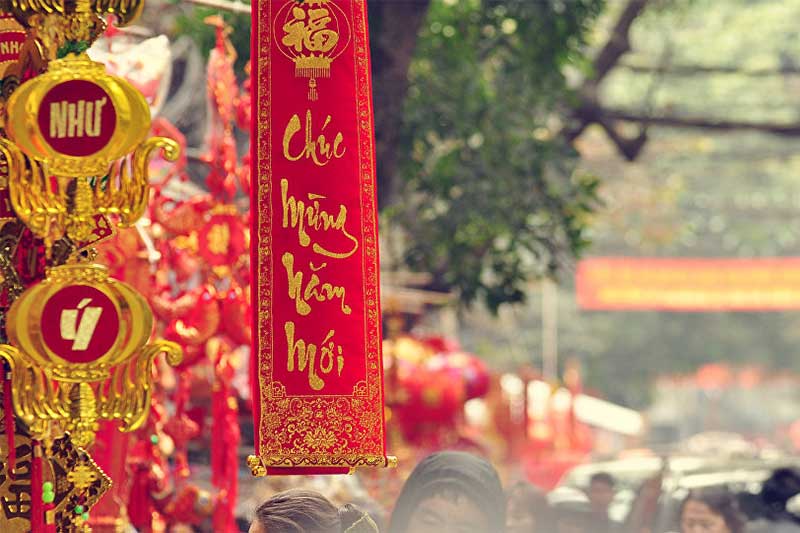 Read more: Vietnam Lunar New Year
How do Vietnamese people celebrate Tết?
Before Tết Holiday
It is not an exaggeration to say Tết bring out the best of Vietnamese culture. There are a host of related rituals held before and afterwards Tết holiday, starting from the ceremony of the Kitchen Gods on the 23rd December and ended up with the Full-moon Day in the 1st month of the lunar calendar. Since Tết is the biggest festival for Vietnamese, preparations for the celebration begins too soon in advance. Locals tend to clean their houses, adorn their living rooms with Hoa Mai (yellow apricot blossom) and Hoa Dao (peach blossom), Kumquat Tree and other colorful flowers. They also make offerings and pray at temples about the two weeks before and immediately after Tết to wish the best for their families. Many families visit the graves of ancestors in the week prior to Tết. Particularly, it is the norm in Vietnam that the year-end occasion is an opportunity to pay off old debts and eliminate the friction of the old year in order to make the New year merrier and happier. Furthermore, you can easily find a wide range of Vietnamese flags hanging out in front of every house, in every corner. Workplaces, companies, schools and public places can be ornamented with "Happy New Year" posters and colorful flags. In the days leading up to Tết, the streets and markets are full of people. During the 12th lunar month, all markets become more crowded selling articles for the Tết festival which formerly comprised popular prints, firecrackers, parallel sentences written on red papers, votive paper objects, cakes and sweets. In some well-known markets (Dong Market in Ha Nam, Phu Giay Market in Nam Dinh), people come to sell anything, at any price to get rid of bad luck from the previous year. Stopping by such hustling place and you definitely are struck dumb by a wide range of vivid stuff and vibrant vibes. Around 28 - 29 Tết (according to the lunar calendar), Vietnamese families often gather to pack Chưng Cake or Tét Cake to boil them in New Year's Eve.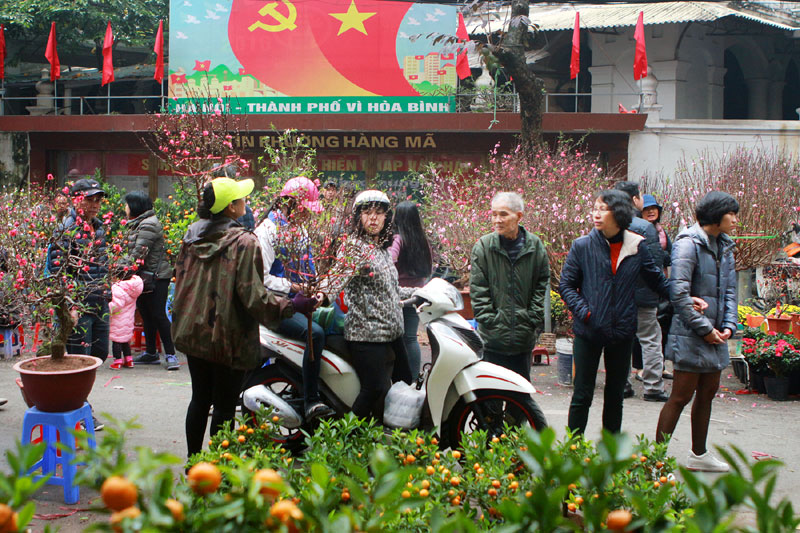 Read more: The 10 reasons why you should travel to Vietnam?
Tết Holiday
In the evening of the old year's last day, each family has a lavish dinner together, invite forefathers to celebrate Tết with their families on the afternoon of 30 Tết and wait for the first moment of the New year. In particular, Vietnamese families usually prepare a tray of five fruits (called "Ngũ Quả"- five types of fruits) placed on the family's altar to pay respect to their ancestors.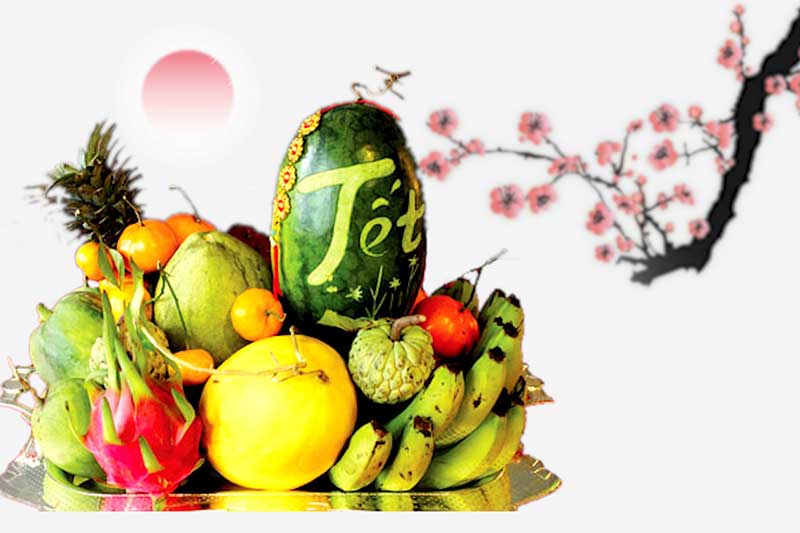 On the first days of New Year, everybody (especially kids), wear new attire to visit families and friends give their elders the traditional Tết greetings before receiving the lucky money covered by red envelopes from them in exchange.
Another popular custom in the first day of the Vietnamese New Year is Xông Đất (the "first-foot" ritual). According to Vietnamese tradition, if good things come to the family on the first day of the lunar New Year, the entire following year will also be full of blessings. Usually, a person (relatives or friends) of good temper, morality and success will be the lucky sign for the host family and be invited first into the house.
Like other Asian countries, Vietnamese believe that the color of red and yellow will bring good fortune, which may explain why these colors can be seen everywhere in Lunar New Year. People consider what they do on the dawn of Tết will determine their fate for the whole year, hence people always wear a radiant smile and behave as nice as they can in the hope for a better year.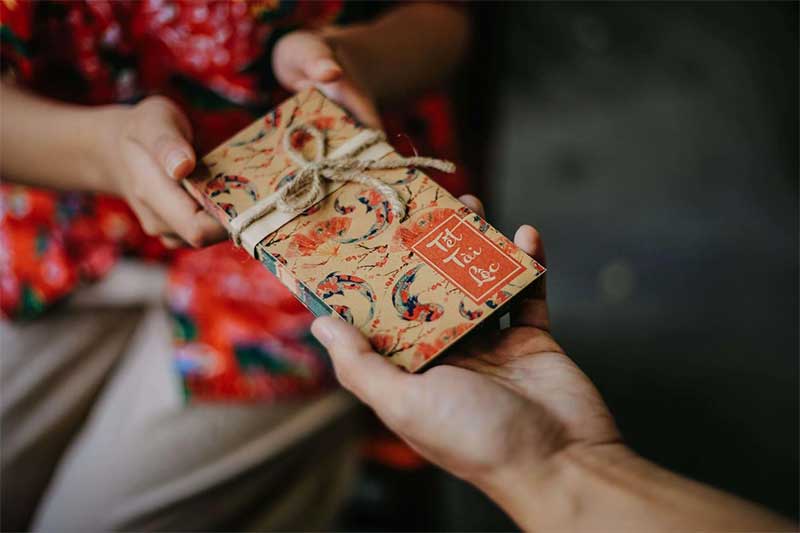 Read more: Things you should know about Vietnam culture
What you should do if having Vietnam family tour this season?
Since Vietnamese Lunar New Year is a peak season in the travel industry, you should bear in mind these below tips to have a fulfilled Vietnam vacation. Prices at this time are likely to soar and availability for everything soon run out. But don't worry because we are here for you. All you have to do is sticking around these travel tips.
Book everything at least few months ahead
It is no doubt that planning trips during Lunar New Year are one of the biggest concerns for global tourists. Reserving a seat in either aeroplanes or trains becomes increasingly difficult as the Tết Holiday approaches. Travelling during this peak season is more challenging when many people return home to spend their holidays with their beloved ones. Thus, booking all your tickets and seats ranging from transportation, hotels, tourist attractions from 2-4 months ahead would be a perfect choice. You not only can enjoy a relatively low price but also avoid the risk of having no room to stay and more free to opt for the type of rooms.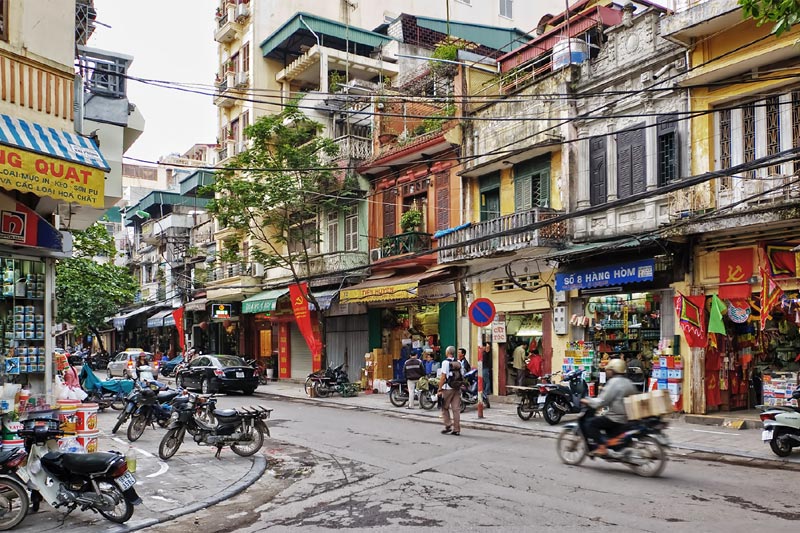 Don't forget the closing time of the famous attractions
Tết is when everyone comes back home for family reunions, so most of the museums (except for the Independence Palace in Ho Chi Minh City), exhibitions, art galleries and indoor places are closed for at least 2 days from the 30th of December to the 1st of January in the lunar calendar.
However, the good news is that you can still visit some open-space areas such as basking into the sunshine, taking a long walk on the beach or strolling around the streets to feel festive vibes on this special occasion. It is more convenient when you plan outdoor activities during Tết holidays and save time for the museums and such before and after Tết.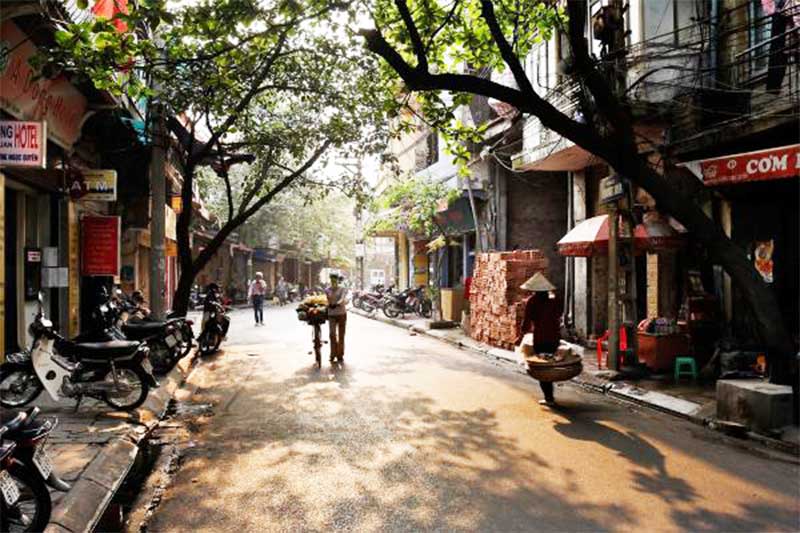 Search for restaurants and food which are available in advance
Most of the restaurants will be closed during the Tết Holiday, therefore it's better to bear in mind which ones are open. The most ideal option during this time is you can move in local families and enjoy the exquisite delicacies such as Banh Chung, Boiled Chicken, Pickled Onions. Communicating with Vietnamese people in a cosy ambience is the best way to acquire a deeper understanding of their culture with many fascinating customs and traditions.
See tours:
Classic Vietnam Family Tour 14 days
In-depth Vietnam Tour with Sapa 16 days