Water puppetry is a unique form of Vietnamese art, which has existed for more than 1000 years. We don't know whether water puppets appear in other countries or whether they remain only in Vietnam, but we do know that they continue to spread and to gain intimacy with their audiences. In many travel guide to Vietnam, people said that "Not watching a performance of water puppetry means not traveling to Vietnam yet." Most visitors to Vietnam should try to watch a show of water puppetry at least once. If you want to see water puppets in the true environment, you must watch them in the cradle where they began – in the open air of a village in Vietnam's northern Red River Delta.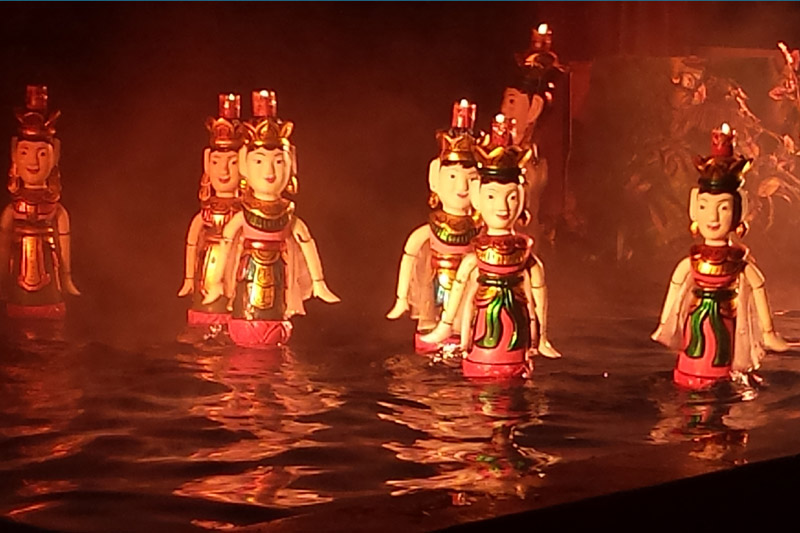 The fairy dance
1. Where did traditional Vietnamese water puppetry begin?

Historical inscriptions confirm that water puppetry was in vogue at court during the eleventh century. These records indicate that water puppetry existed even earlier in the rural villages where it was first performed.
Prayers to various deities for good crops were an early form of religion at agrarian festivals in rice-growing areas since the results of peasant's labour depended on seasonal rainfall. Villages have preserved in virtually their original forms their ritual water processions with many water-related objects and activities. These include preparations (washing statues of the Buddha and various deities, cleaning pagodas with water, farmers bathing and washing their clothes) and ceremonies (prayers for rain, releasing a captured aquatic creature back into its environment, and water games such as swimming contests, rowing competitions, and water puppetry).
We can't be sure of the precise details regarding the origins of water puppetry. However, we know for sure that it originated in the countryside of Vietnam's Red River Delta, which has preserved and nurtured this unique and traditional theatrical art over the centuries. In fact, in many localities the word "Rối" (Puppetry) has become the proper name of a pond, a pagoda or a village.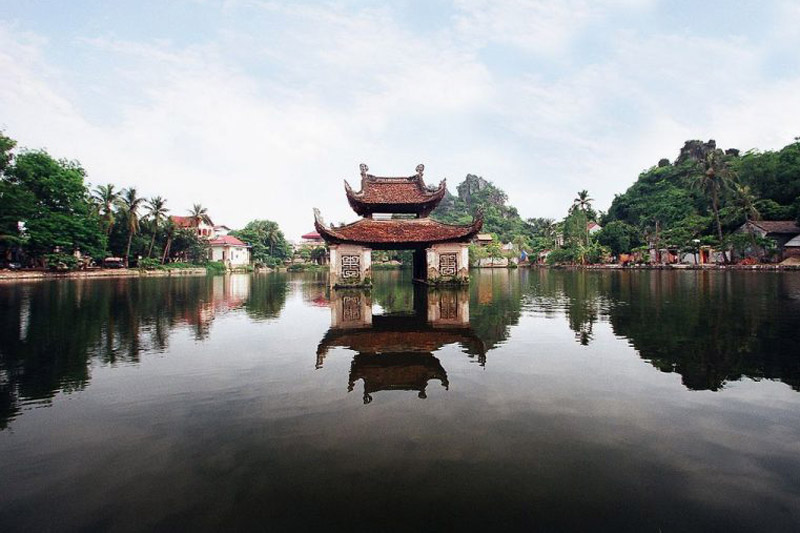 Water pavilion in Red River Delta for performing water puppets

2. What do Vietnamese water puppets have to "say" about Vietnamese culture?
Vietnamese water puppets probably began as a ceremony to pray for water to nourish the rice crop. For that reason, the mythical dragon (a positive image in Vietnamese culture) is a particularly strong character. The Red River Delta is the hot and humid and filled with rivers. Every village has a pond or lake that can serve as a water puppet theater. The weather must be warm since the performers stand in waist – deep water for hours. A theatrical set – often a village temple – separates the audience from the performers, who work from behind a bamboo curtain. They manipulate their puppets at the far end of a bamboo pole about 2 meters long and must keep the pole under the water. The heavy wooden puppets held so far from the puppeteers require that performers be very strong.
During French colonialism, urban Vietnamese did not know about water puppets because only farmers performed such puppetry and only for their neighbors. As a result, water-puppet scenes take place in rural settings with rice paddies, fishponds, bamboo thickets, banyan trees, wells, and of course the village temple. The scenes include cultivating with water buffalo; buffalo fights; irrigating; harvesting and winnowing rice; boat races; kids swimming; cavorting fish and frogs; dancing turtles and phoenixes; and dragons spewing smoke.
The cast of puppet characters also includes farmers and village workers such as sawyers, blacksmiths and carpenters. All settings are within the village. The only connection to the outside is a procession for a villager who returns from successfully completing the competitive mandarin exams.
Farmers in the Red River Delta traditionally make their living from wet-rice cultivation. They must work hard in the rice paddies and continually fight against floods. Since farmers prize their intimacy with earth and water, their water puppets praise the labor, perseverance, and optimism of farming life in both the family and village. Double meaning and satire illuminate the struggle between good and evil, with evil resulting in its own lessons.
Water puppets incorporate Vietnamese animism as well as Buddhism, Taoism and most of all, Confucianism. Spectators sitting amidst rice paddies as they watch water puppets soon sense how Vietnamese farmers live together with spirits in an atmosphere of pantheism.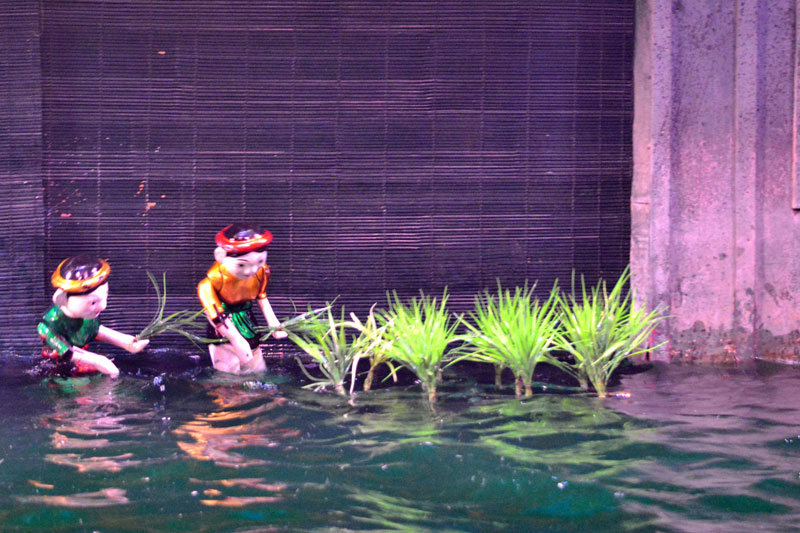 Transplanting rice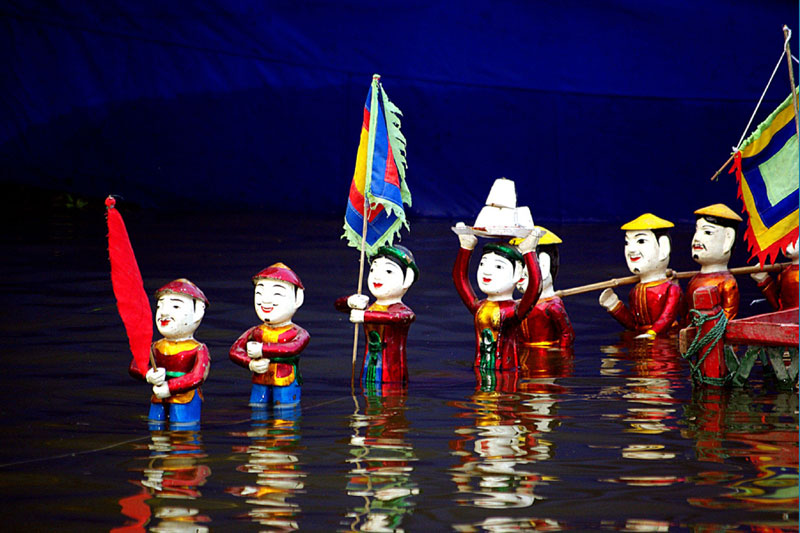 Return from successful mandarin exams
3. How the water puppets traditionally are carved and painted?
Each different water puppetry troupe have its own style and kind of wood to carve and paint their puppets. However, most of them make their puppets from old fig-tree wood or canary wood, which are light and float easily. They also have good grain, no insects or knots, and do not break. The artisan cut the wood to size, removes the bark, and lets the wood dry. The puppets will become water-logged and rot if the craftsman does not dry the wood carefully. He then carves with different chisels and adds the legs, arms, and manipulation mechanism.
Finally, he coats the completed puppet with traditional paint to make it waterproof and durable. He paints each puppet seven times. The usual colors are black, green, pink and yellow.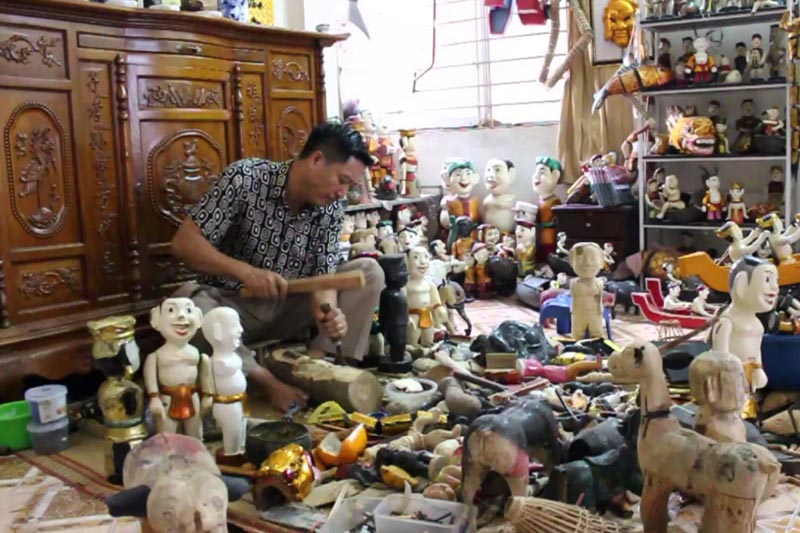 Making water puppets

4. How do the puppeteers control their puppets?
Traditionally, the puppeteers use ponds and lakes as their stages. They stand in the water behind a bamboo screen that hides the puppeteers from the audience. From there, they manipulate the puppets with a mechanism hidden under the water. They move the puppets partly by using the force of the water on rudders and floats and partly through the control of the puppeteers' hands over the mechanism. In this way, they can make the puppets appear and disappear quickly.
In the past, some troupes controlled their puppets only by a string mechanism. The advantage of a string mechanism is that the performers can work puppets that are several dozen meters beyond the bamboo screen. In contrast, a rod mechanism works only at a short range. The rod mechanism is made of iron-wood which is heavy but durable. The poles, which are two centimeters thick and five centimeters in diameter, are divided into sections that are from 1 to 2 meters in length. Each section has holes for the steel bolts or screws used to join sections together. The rod mechanism is not subject to the resistance force of water; instead, it can make use of the "pushing force" of the water when moved in a vertical direction.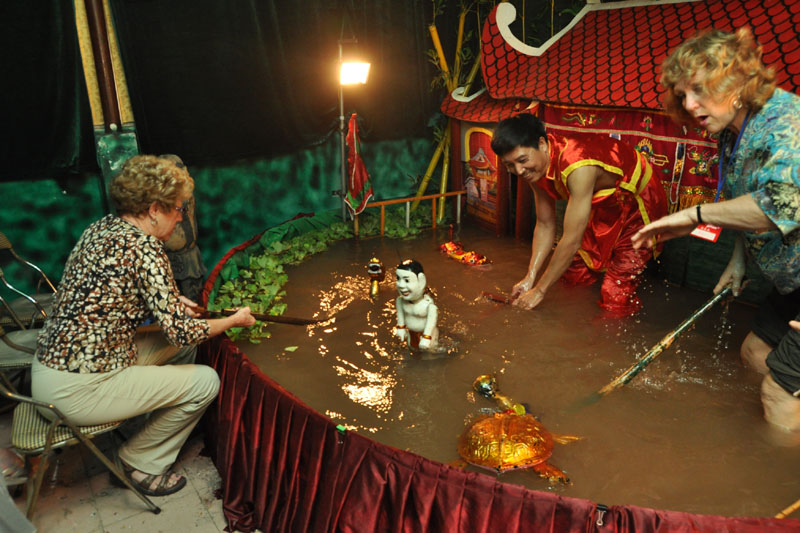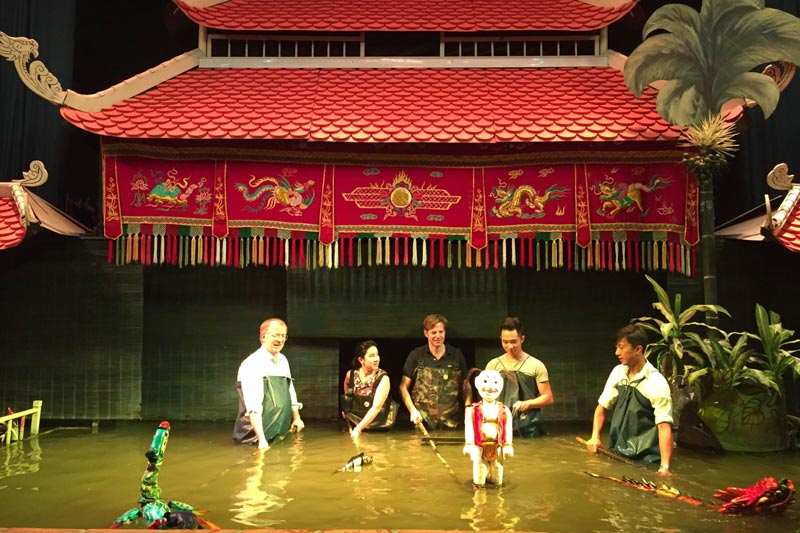 Tourists join performing water puppets
5. Who is the most important character in water puppetry?
Over the years, Vietnamese from the imperial palace to the poorest farming villages have loved Chú Tễu (Uncle Tễu) and have considered Tễu the most important water puppet. As the soul of the water puppets, Tễu creates a bond between the performers and the audience.
Tễu is larger than the other puppets even though he is only seven or eight years old judging from the way he wears his hair in tufts. He is fat, has a rosy complexion, and is always cheerful. His buttonless loincloth exposes his chest and flabby belly. His arms swing, and his head turns as he taunts and teases the audience.
The Nôm (Vietnamese ideographic script) character for "Tễu" means "Laughter". Tễu is reckless and constantly jests and mocks. He introduces the performance as a commentator, a lover of tales, and as a critic of corrupt officials. In some water puppets guilds, Tễu raises the flag or lights the firecrackers. Some Vietnamese see Tễu as a village crier who offers his services to the elderly; others think of him as the one to call to slaughter their pig, water buffalo, or ox; still others say Tễu's wife is beautiful and enciting.
All water puppets guilds begin their performances with Tễu, though Tễu's introductory speech differs from guild to guild. As in Greek theater, he begins by encouraging the audience: "Hurry to your place!" Tễu says. "Have you a choice?"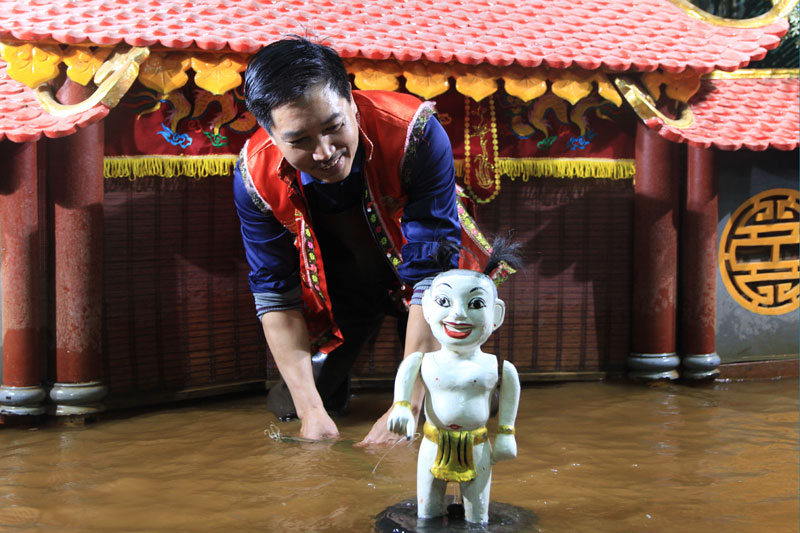 Uncle Teu - The most important water puppet character

6. The role of music in water puppetry
In the water puppetry art, music is an indispensable factor which not only plays the role as bridge between two items but also affects the atmosphere of the shows. The rhythm acts directly on the puppeteers' control of puppets. Music plays the important role to show clearly personality and actions… of puppets, inspiring and attracting the audiences.
The main music used in the water puppetry performance is music of Cheo which is the specific traditional art in the Northern plain. In addition to instrumentalists, there are Cheo singers. Music, songs, words in combination with movements of puppets lead the audiences to understand plays… aiming at summarized introduction of cultural values, customs, and festivals featured by national characters in Red River delta.
The main musical instruments used in the water puppetry art are: drum, two-stringed fiddle, flute, drum kit, 16-chord zither or monochord.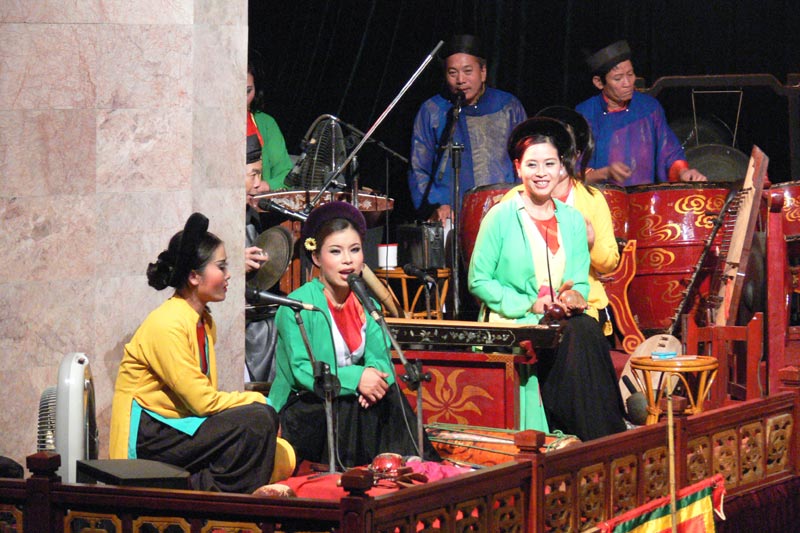 The band playing Cheo with water puppet performances

By: Nadova Tours
View tour: Touring Vietnam inside out 20 days