Although Vietnam is predominantly an atheistic country and Christmas is not an official public holiday, Vietnamese people still have their way to celebrate Christian's Day. Christmas in Vietnam is a huge event and Christmas Eve, which is considered more important than Christmas Day. When Christmas "is coming to town", why don't you blend into a hearty feast besieged by fun-loving and hospitable Vietnamese? You can sing the carol, buy some twinkle ornaments or even wear Santa Claus's attire in your Vietnam private tour. So, where to go and what to do in this upcoming Christmas? Let us help you with the list below.
Sapa
Situated in the Northern mountainous area of Vietnam, Sapa is one of the coldest regions over the period from November to February. The temperature in this destination can be dropped to -4°C with falling snow in winter. Therefore, if you spend time to celebrate Christmas here, you can soak into the crisp and frigid ambience. Sapa is home to bountiful magnificent landscapes consisting Fansipan Peak, rice terrace, calm exotic villages and colorful dresses of Hmong's women, which lighten your Christmas. In case you are a Christians, Sapa Church is the ideal site for you to pray. Constructed in 1895, it still remains ancient gothic architecture until now. In Christmas, many people assemble in a square in front of the church to sing carol songs, dance and sell decorating souvenirs. You also have chances to pay a visit some striking villages like Cat Cat, Ta Phin, Lao Chai and Tavan. Don't forget to bring some jackets and sweaters to have a perfect experience.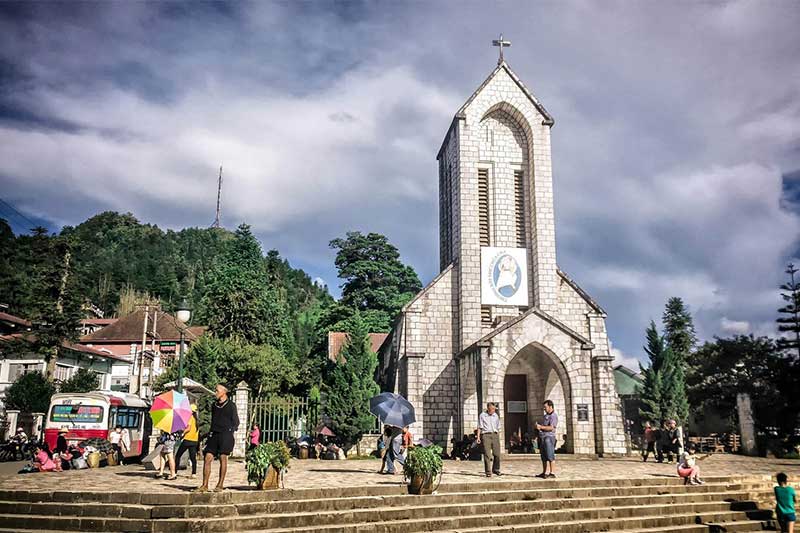 Read more: 5 amazing things to do in Sapa
Halong Bay
"It is kind of weird when choosing Halong Bay for winter", you may think. However, December is a wonderful time for a cruise in Halong Bay. The climate might be dry and foggy in comparison with summertime. It highlights the grandeur of captivating sceneries in Halong. Tourists tend to opt for celebrating Christmas on board in the middle of splendid landscapes with limestone stalactites in different shapes and sizes. In the cozy atmosphere, you can admire the breathtaking views while dining a banquet with savory food and top-notch cocktails. Furthermore, visitors can challenge themselves with a wide range of well-known activities like kayaking, rowing boat or join a local cooking class. It is a bit cold for swimming, so you can pamper yourself with spa, bar and gym here.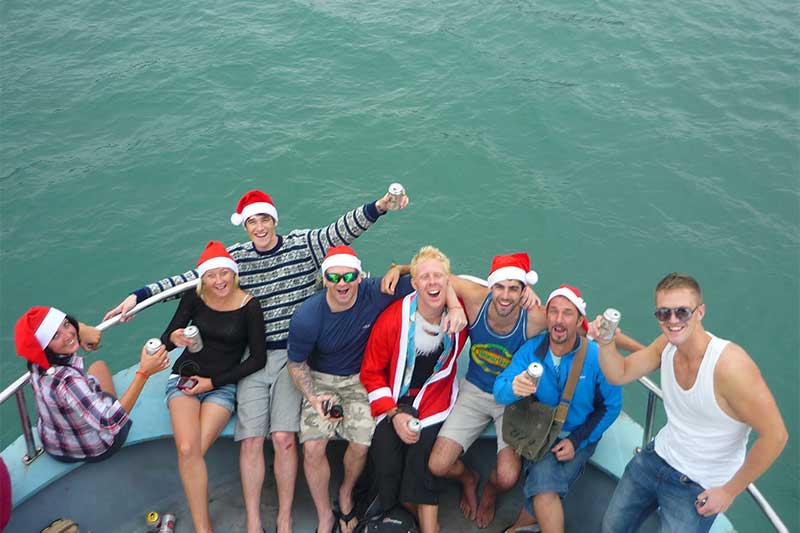 Hanoi
As the capital city of Vietnam, Hanoi is famous for a host of recreational activities for both locals and tourists. Having a Vietnam customized tour, you can saunter in the Old Quarter and feel the cozy vibe in every corner of streets. People are also likely to head to the walking streets containing the route around Hoan Kiem Lake. In Christmas, the surrounding roads are decorated with glittering lights and vivid adornments. There are various performances in both traditional and modern styles. With all this stuff, you can have more knowledge about Vietnam culture and have a relaxed time after hectic work. You can stop by Hang Ma Street where plenty of local vendors sell ornaments for special occasions such as Mid-Autumn Festival, Halloween Day, Christmas and Tet holiday. In Christmas' Eve, you might be more surprised by the appearance of red Santa Claus' costumes, green Christmas trees, numerous toys as well as gifts and postcards.
Another place for you to celebrating Christmas is St. Joseph's Cathedral (Nha Tho Lon). Located in the heart of the Old Quarter, St. Joseph's Cathedral is one of the oldest colonial buildings in Hanoi with gothic- style architecture. Coming by and you can see thousands of Christian people and locals gather here to sing the carol, hug each other with many "Merry Christmas" resounded.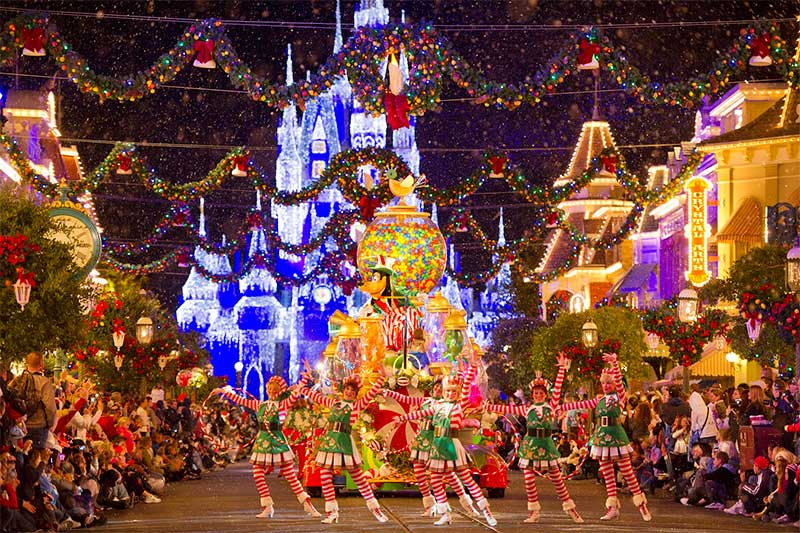 Read more: Best 8 non-touristy things to do in Hanoi
Hoi An
In ordinary days, Hoi An is a romantic spot with people registering Vietnam family holiday because of the ocean of multicoloured lanterns sold here. In the background of many colorful lanterns, you can take a picture of the iconic Japanese Covered Bridge for your social network sites or walk around to enjoy the ancient beauty of this place. Particularly, it is unforgettable moments when you spend your time with your beloved ones in the riverside road of Thu Bon River which is ornamented brilliantly on Christmas. After a wonderful time to discover, Chicken Rice or Cao Lau (local noodles) can satisfy your stomach with their striking tastes.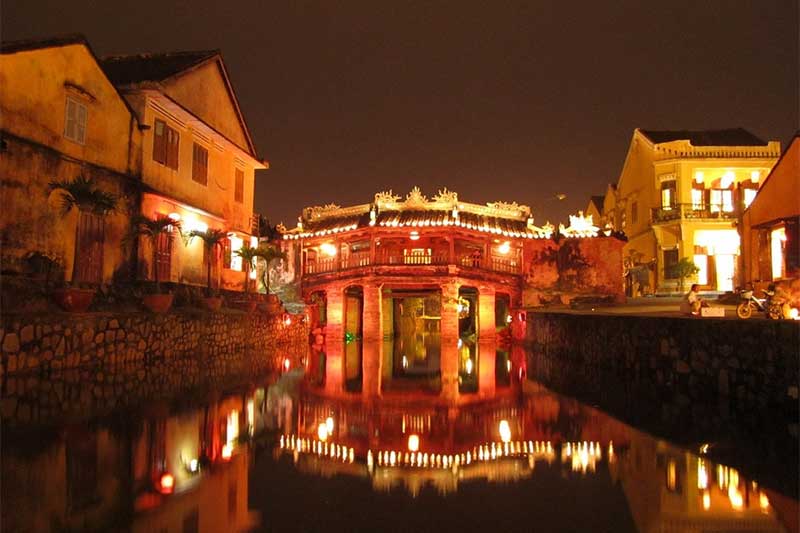 Ho Chi Minh City
Ho Chi Minh City celebrates Christmas in an absolutely different way compared to other places with the hot climate. There are many destinations for you to head to and have fun. The first location you should visit in Christmas is the splendid Notre-Dame Cathedral. Situated in the city centre, the Cathedral is surrounded by various restaurants, cafes, shopping malls, and clubs. On Christmas, the influx of people pours into here, gather and celebrate together under the huge decorated mistletoe. Nguyen Hue Walking Street is another must-visit spot. Coming to this street, tourists can enjoy the fulfilled Vietnam vacation and immerse in the cozy atmosphere of this occasion as well as take part in some celebrating activities. In particular, you can admire light water music performances and cultural exhibitions, which might amaze you a lot. Along both sides of the road, there are food stalls, fast food restaurants and convenient stores. If you want to grab some beer, Bui Vien Street is here for you. Considered as "the street that never sleeps", there is no kind of entertainment that you cannot find at Bui Vien Street. This is where the locals and foreign tourists can meet each other, share some stories and take some gulps of beer. This street is full of cafeteria, restaurants, sports bars, pubs, and nightclubs, so you can be whenever you want and breathe in the vibrant vibe of live music and numerous beverage. It is a huge mistake if you miss this street for your Christmas.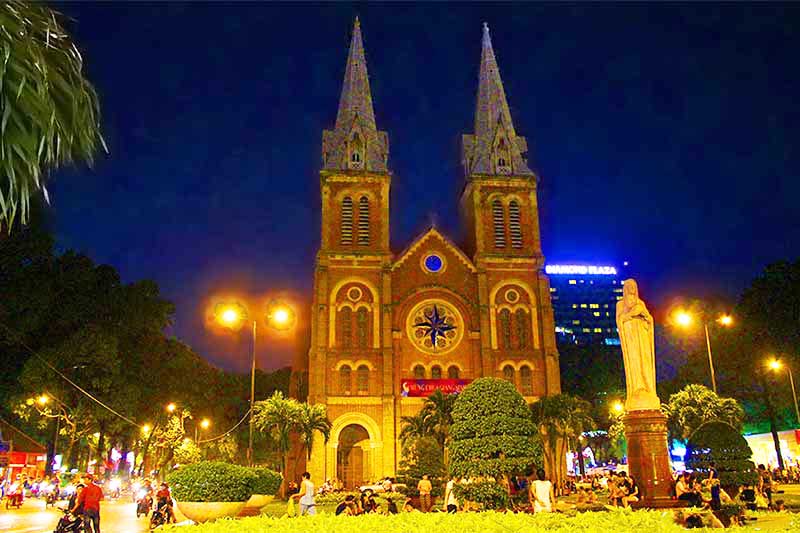 Read more: 8 fun things to do in Ho Chi Minh City
See tours:
Absolute Vietnam Holidays 15 days
Fantastic Vietnam - Myanmar Holiday 20 days
Indochina Connection Thailand - Vietnam - Cambodia - Laos 18 days