Hanoi, the capital city of Vietnam, is a fascinating city and a must-visit destination for all trips in Vietnam. The city is also a travel gateway to many beautiful destinations in Northern Vietnam so many tourist choose Hanoi as the convenient starting point for their Vietnam private tour. Though it is the second largest city in Vietnam, Hanoi is far less cosmopolitan than Ho Chi Minh City and the Vietnamese culture and tradition could be seen apparently. Travelers could easily spend up to a week here but still find new things to do every single days. Besides the main attractions for tourists, Hanoi also offers a list of great non-touristy things to do. Let follow us and check it out!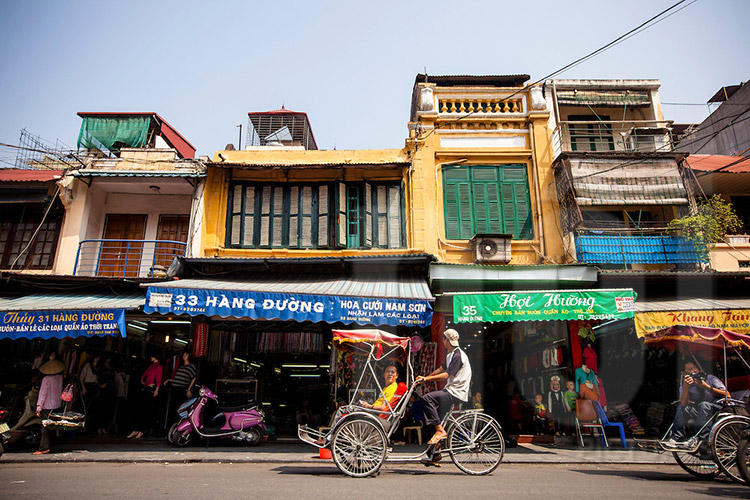 1. Visit Hoan Kiem Lake in the early morning
You may think: Why Hoan Kiem Lake? Isn't it the main tourist attraction in Hanoi? Obviously, Hoan Kiem is the main spot for every tourists to visit when they are in Hanoi, but only later in the day. If you are an early bird and want to see another aspect of Hoan Kiem Lake, get here in the very early morning. You could see a lot of local people come to exercise, practice tai-chi, play sports around the lake. There are even some wet markets happened on the streets nearby for local people that will disappear by 7 o'clock. So, the earlier you can get to Hoan Kiem Lake in the morning, the better local life you can witness.
2. Long Bien Market
Next to the historic Long Bien Bridge, alongside the dyke road, Long Bien Market is largest fruit and vegetable wholesale market in Hanoi. Visiting this market late at night or very early in the morning will give travelers a real insight of the local life in Hanoi. You can see where many of the restaurants in the old town get their ingredients from. One interesting thing at Long Bien Market that you will soon notice is that most of the traders and potters here are women. Also, this market isn't meant for tourists, you may need to get used to people there keep staring at you.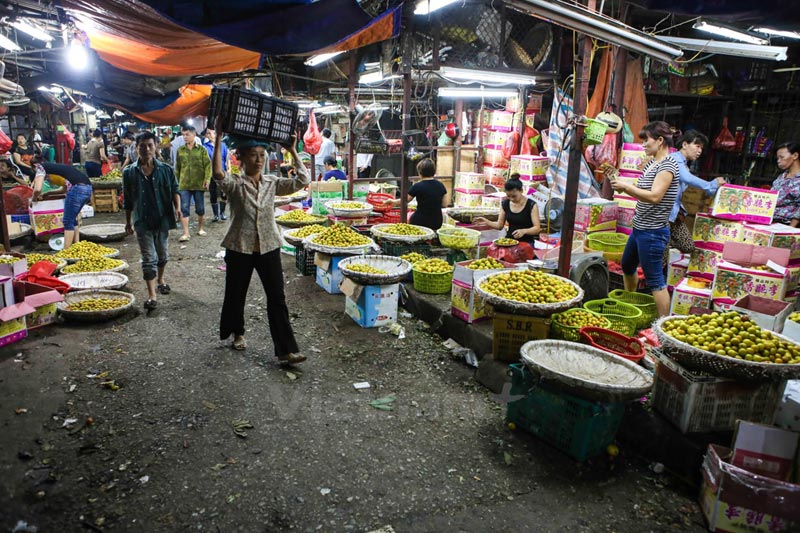 Visiting Long Bien market can give you a real insight of the local life in Hanoi
3. Quang An Flower Market
This is the most bustling wholesale flower market in Hanoi and the best time to visit is from midnight to around 6:00 AM. Some flower stalls still open later in the morning for retail customers but it is less busy and crowded than the earlier one. If you are a flower fan, visiting Quang An Flower Market is a great experience for the entire Vietnam customized tour. You will be amazed at the volume of flowers that sellers could pack and carry on their motorbike to the market. On the special events such as Lunar New Year or Women Day, the market is more crowded than ever and the volume of flowers is spectacular.
4. Flag raising and lowering ceremony at Ba Dinh Square
It can be quite interesting to witness the national flag raising and lowering ceremony in front of Ho Chi Minh Mausoleum at Ba Dinh Square at 6:00 AM and 9:00 PM every day. Though the ceremony is a bit formalistic, it is still a great experience to have in Hanoi capital city when you are travelling in Vietnam. When the ceremony is performed, you could see 34 soldiers marching around the square to the flagpole. The figure 34 represents the 34 first soldiers who founded the Vietnam People Army in 1944.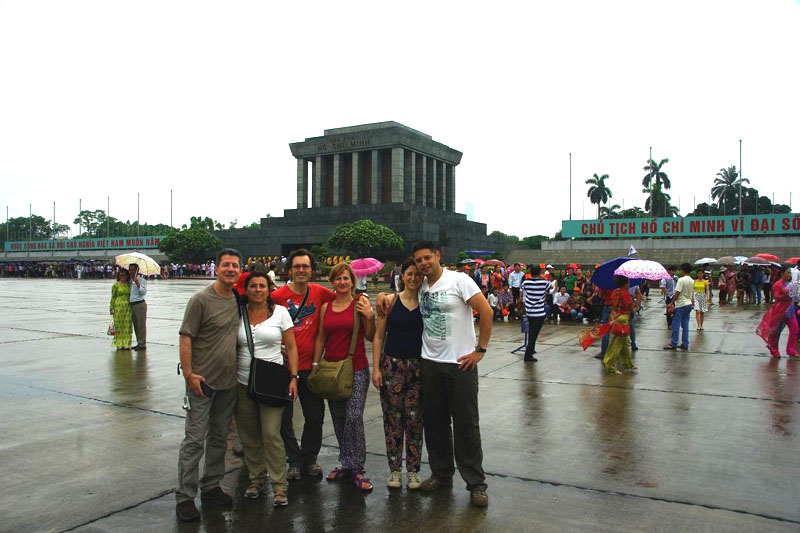 Witnessing the national flag raising and lowering ceremony in Ba Dinh square is an interesting thing to try in Hanoi
5. Ride along the ceramic mosaic road
In 2010, the city council decided to build a ceramic mosaic road for the thousand year anniversary of Hanoi capital city. The mosaic road runs along the dyke road of the Red River for almost four kilometers and it is recognized by Guinness Record Book as the longest ceramic mosaic in the world. Thousands of artists and craftsmen participated in designing and finishing this amazing mosaic. The astounding artwork tells many historic events of the city as well as vivid stories of the sacred figures. Travelers can either walk along the main part of the mosaic road from the Old Quarter or hire a motorbike taxi with a driver for having better experience.
6. Pedal swan boats on West Lake
West Lake is the largest lake in Hanoi and a very popular place today for both local people and expats. A complete circle around West Lake is about 18 kilometers and many people prefer cycling here. However, get on the pedaling swan boat can be a fun and relaxing way to discover the lake. Bringing along your favorite drinks, watching the beautiful sunset on the lake, escaping the bustle of Hanoi for a while will be a great moment to remember about your Vietnam customized holidays.
7. Explore local life on the railway
Do you know that there is a "train street" in Hanoi where local people have lived for years just 1 meter from the railway line? The train passes by the neighborhood several times in a day and the people there seem to have developed a harmonious coexistence with the coming and going train. People move in when the train comes and quickly re-emerge the railway and life is ready to carry on. Children play, pet runs around and people sit on the plastic chairs chatting about their daily life, sipping tea and smoking. It is another aspect of local life that you would never see on the normal tours in Vietnam.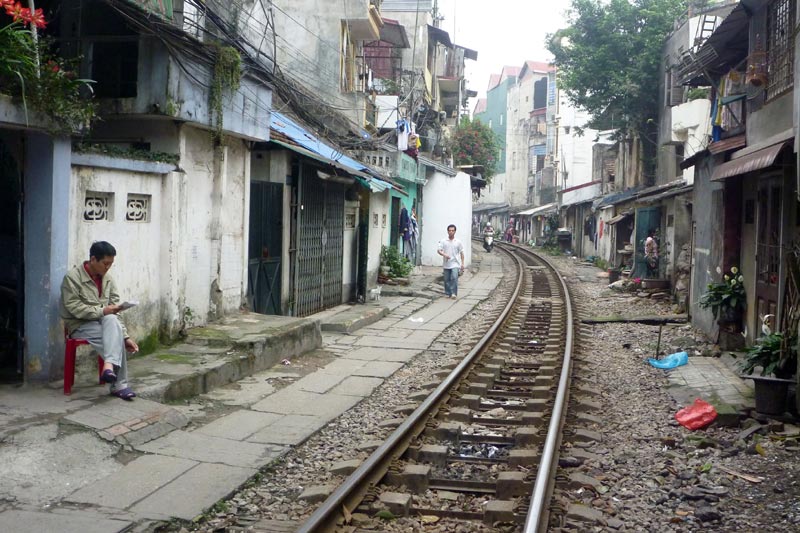 You can explore the local life on the railway in Hanoi
8. Lotte Tower Observation Deck
Lotte Tower is the second tallest building in Hanoi and on its 65th floor there is an observation deck that you can have a wonderful view of the whole city. Surprisingly, this spot isn't touristy as it could be. You can also find a coffee shop on the rooftop for enjoying a drink with a great view or even a daring sky walk with glass floor.
---
Read more:
7 awesome things to do in Hanoi
Best local markets in Hanoi should not be missed
How do people live in Hanoi Old Quarter?
View tour: