New year is coming to town and wherever you are, you definitely have your plan to celebrate the first moment of your new year. In case you want to go off the beaten track this year with an expedition to some countries in Southeast Asia, we are here to list some outstanding places associated with ways to celebrate. Ranging from the riverside restaurants, rooftop bars to the coastal city with breathtaking sceneries, you are free to opt to your ideal places in the forthcoming big event.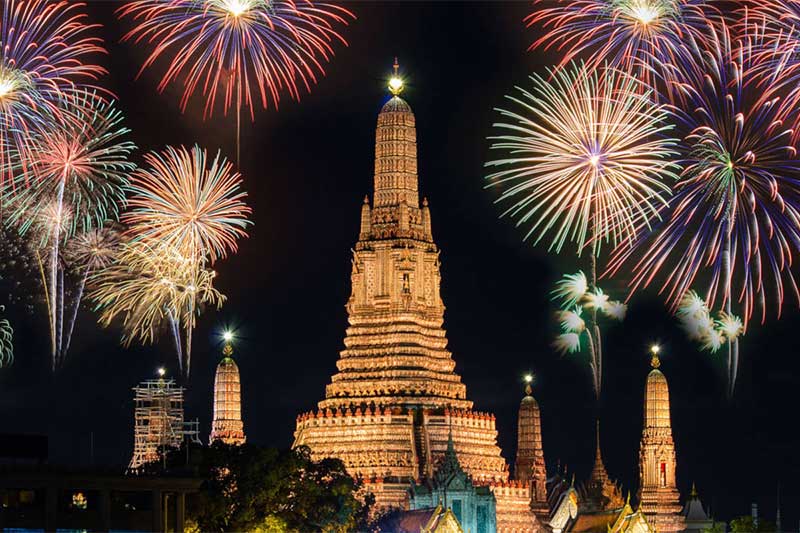 Siem Riep, Cambodia
It is no doubt that Siem Riep is an optimal choice for your Cambodia private tour, especially in New Year occasion. There are a wide range of bars and restaurants which are besieged with locals and revellers dancing the night away. You can have some chit- chat with them and await the countdown in a cozy ambience.
In the next day, visitors may want to explore the World Heritage Site- Angkor Wat. Considered as a priceless gem of Cambodia, Angkor is the typical building for Khmer- style architecture. When coming to this temple, tourists can be struck by the grandeur and majesty of sculpture with many local gods carved on the stone walls meticulously. In particular, Angkor National Museum consists of numerous remnants and historical relics deriving from Khmer Civilisation and the Angkor Empire. With the aim that enhancing the cultural heritage of the Khmer's Golden Era, this place welcomes all tourists to come and admire mass collections of invaluable artefacts. Through these antiquities, you can gain sophisticated knowledge about Cambodian culture. State- of- the- art devices are also equipped to optimize your experience. Displays are also classified by era, religion and royalty.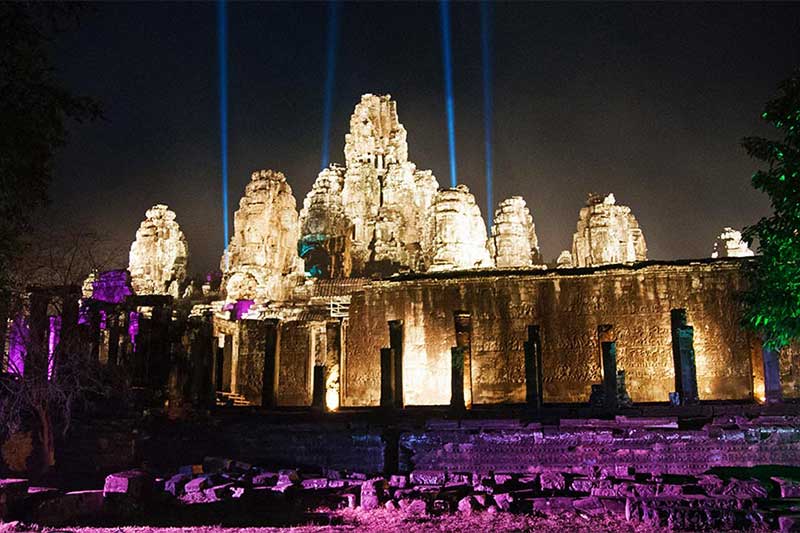 Bangkok, Thailand
Although people in Thailand celebrate the new year in April, they still beat the drum for parties on December 31st. One of the most highly recommended places for you is the Chao Phraya River. Paying visit to such striking site. You can purchase a special seat on the brink of the river to admire the astounding view of firework. If you prefer to have a panoramic view, a rooftop café seems to suit you. That grab a drink and say "happy new year" to your beloved ones in a strange country is definitely an unforgettable moment that you should try in your lifetime.
Read more: Top unusual things you can do in Bangkok
Chiang Mai, Thailand
Chiang Mai (Thailand) is famous for the release of vivid lanterns, so it is a huge mistake if you do not come by this place. Visitors occasionally pour down here every year to admire an array of candle- lit lanterns. You can see thousands of lights floating with their blessings for new year. All these dazzling lanterns illuminate the night's sky and the mountainous area nearby, which create a gorgeous moment. It is definitely different from the usual NYE festivals you have experienced. Moreover, there will be Thai rock n roll with live music to keep you be awake all night long.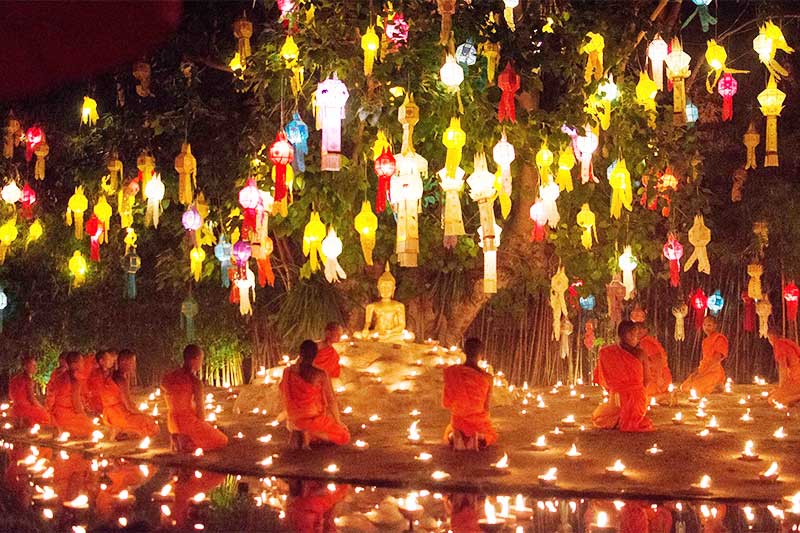 Read more: Top must- try activities in Chiang Mai
Koh Phangan, Thailand
Thailand is surely an ideal nation for your getaway in New Year's Eve. The most renowned beach party – The Full Moon Party in Koh Phangan seems to be a considerable option for those who desire to spend their Thailand customized tour next to a stunning beach. As may tourists here, you can blend into the high spirit and let our hair down. Consigning cheap drinks and dull night to oblivion because you can paint the town red with nonstop rhythms from internationally acclaimed DJs and a big feast from top-notch chefs.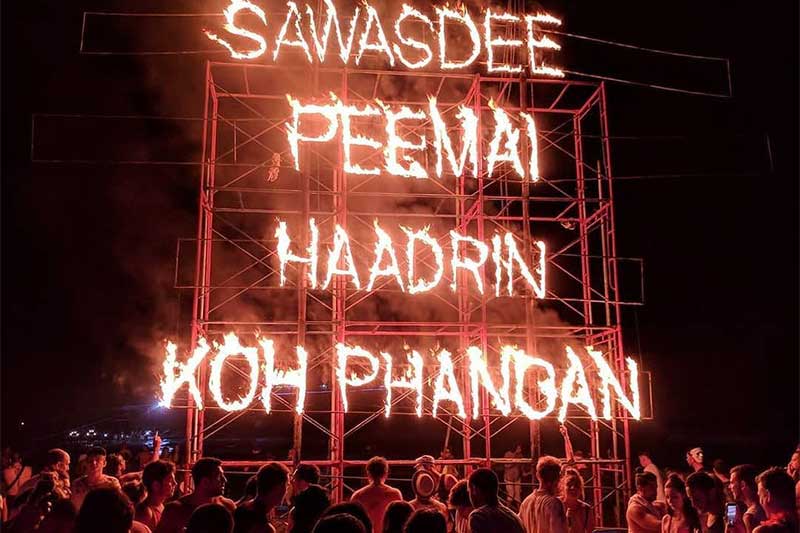 Hanoi, Vietnam
Vietnamese people mostly celebrate the new year (or Tết) according to the lunar calendar, but you can have a big NYE party in your Vietnam family tour with a great deal of year-end activities. Coming to Hanoi in the last week of December, you can easily spot out many buildings decorated for new-year events. Don't hesitate to soak in festive vibes of this place. There are many activities for you to take part in like Heineken Countdown Party's Annual New Year party taken place at Hang Day Stadium on the evening of December 31st. Immersing in the crowd with many young people would make you burst with joy. Particularly, this year-end event also brings lots of surprising things like performances from international singers or top singers of Vietnam. If you are not a big fan of the hustle and bustle, you can find yourself a rooftop café and enjoy some drink for the first moment of the new year.
During your days in Hanoi, you can pay a visit to some historical monuments here like Ho Chi Minh Mausoleum, One Pillar Pagoda or Hoan Kiem Lake to have more knowledge about Vietnam culture. In addition, you would be amazed at excellent Vietnamese cuisine, vibrant street-life, contemporary art galleries and French architecture combine to form a unique blend of old and new, Asian and European. Despite recent rapid development, the city has retained much of its traditional identity. Physically the lakes and Old Quarter still retain a wonderful sense of timeless grace and much of its population continues to observe centuries old customs and festivals.
Read more: Best 8 non-touristy things to do in Hanoi
Ho Chi Minh City, Vietnam
Resembling Hanoi, Ho Chi Minh City is also a perfect place for your Vietnam vacation in the upcoming new year. District 1 is a well-known location for special occasions as it is home to a wide range of nightclubs and pubs, you might want to single out a suitable place and spend your time to celebrate the new year. Some bars have great views of the city and fireworks, so you can admire the whole city as well as exquisite drinks and talented DJs will keep you going long into the night. If you prefer to come closer to locals, you might want to become a part of countdown parties. In fact, there are various year-end events for you to have a blast. All you have to do is getting out of your comfort zone and soak into these awesome parties.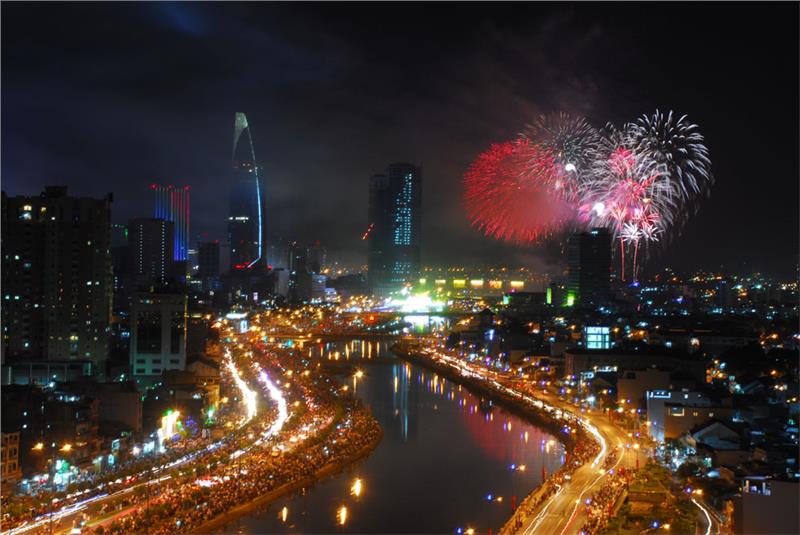 See tours:
In-depth Vietnam Tour with Sapa 16 days
Colorful Vietnam - Thailand Tour with Phuket 17 days