Do you have any plan for your winter break? Instead of heading to metropolitan areas, you can consider opting for other nations in Northeast Asia. A fulfilled expedition around these sites not only help you get off the beaten track but also escape from the daily grind. In particular, 2-week detailed itinerary can be more suitable for people who do not have many days- off. If you still hesitate to decide your optimal destination, why don't you choose Vietnam and Cambodia. Travelling between two neighboring countries can help you have more knowledge and practical experience with a meager amount of money. Moreover, a Vietnam and Cambodia combined tour would amaze you with an array of stunning landscapes associated with diverse culture. In case you want to give these countries a try, below is our tips for visitors.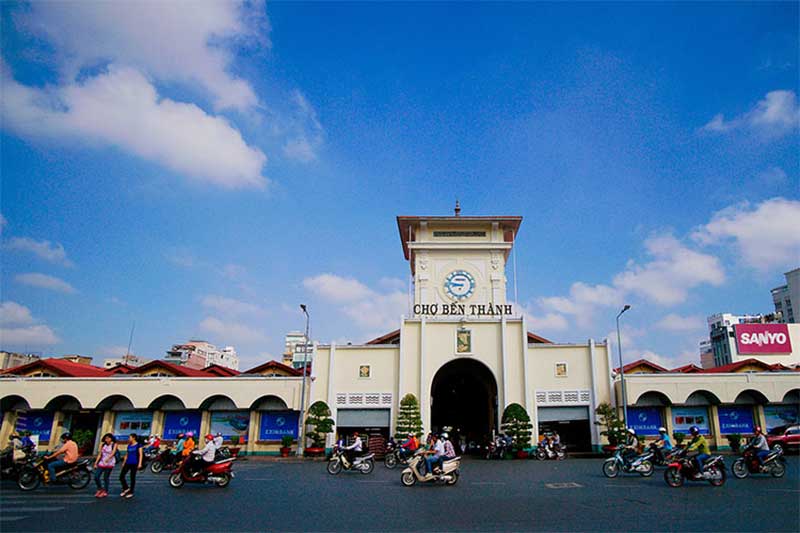 First of all, let take a look at some necessary things you need to know before joining a Cambodia- Vietnam customized tour.
Visa and Passport
Depend on your nationality, you may need to obtain a tourist visa to travel in both two nations. So, please make sure to check whether you benefit the visa exemption or not.
Further information about Visa and Passport:
When to travel?
Both Vietnam and Cambodia are tropical countries with many characteristics like unexpected torrential rain or high humidity. In particular, the weather in Vietnam varies greatly from North to South, depending on elevation and type of landscape. Meanwhile, Cambodia has a monsoon climate has a tropical monsoon climate with two seasons: dry from October to May and rainy from June to October. During the rainy season it usually rains only in the evening or very early in the morning. Temperatures are warm all year long. Therefore, you should update the local weather forecast when planning a Cambodia private tour.
You can view more about weather and other information here:
Suggested Itinerary
Many great places to visit in both Vietnam and Cambodia, but with just 2 week trip we suggest you only focus on the main destinations. With this elaborated list, you are free to explore all these must- visit destinations from the grandeur of Phnom Penh (Cambodia) to the wonderful Ha Long Bay (Vietnam)
Here are the list you should check out:
Phnom Penh – The city of scared temples
On the first day in your tour in Cambodia, you can spend time discover the capital Phnom Penh. You can opt for a full day or half day city tour of Phnom Penh. We highly recommend tourists pay a visit to some historical sites like Royal Palace or Silver Pagoda with a wide range of religious relics. You also have a look at National Museum where we would see the world's most wondrous collection of Khmer sculpture or Wat Phnom where the Khmers regularly pray for blessings. In the evening, visitors can dine at local restaurants with various Cambodian cuisines.
After having breakfast at the hotel, travelers can have an expedition to Tonle Batie (40 km from Phnom Penh). Tonle Batie is home to a twin of ancient Angkorian- era temple of Ta Prohm and Yeay Poev, so you are free to admire archival antiquities. In addition, you can rent out for eating and whiling away the day in picnic area. Then, Tuol Sleng Museum might be the next ideal stop before going to the Killing Field of Choeung Ek where prisoner from Security Prison 21 were executed. And that's so adequate for a busy day in this marvelous country.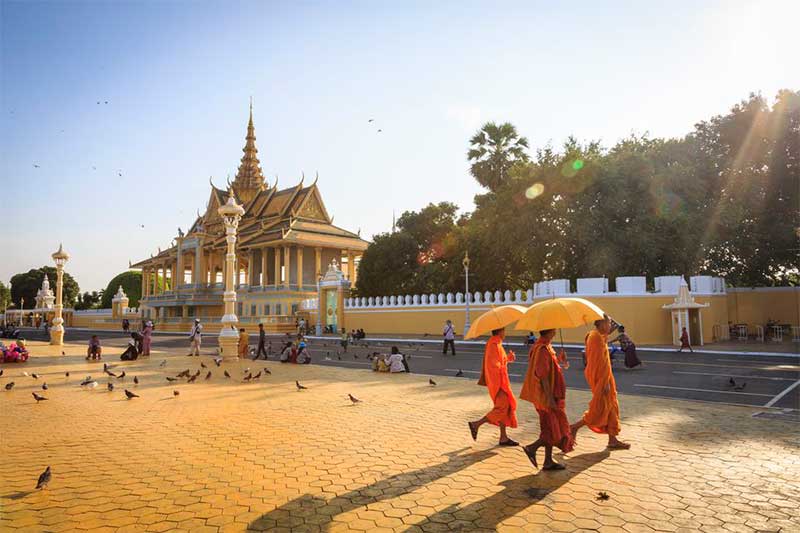 Siem Riep – A wonderful land
A short flight can take you straight to Siem Riep with many desirable things ahead. The first must- visit destination is definitely one of seven world wonders – Angkor Wat. Going through the Southern Gate of Angkor Thom and tourists can observe the exotic temple of Bayon. In fact, Bayon would have been a spectacular site of Angkor Wat in its heyday. This place consists of a valuable collection of 54 gothic tower ornamented with 216 coldy smiling, enormous faces staring down from all angle. Then, you can move to the Terrace of Elephants and Terrace of the Leper King, which represent starkly for Cambodian engravings. In the end of the day, you can treat yourself by a miracle sunset watching from Bakheng Hill. Such an astounding view, isn't it?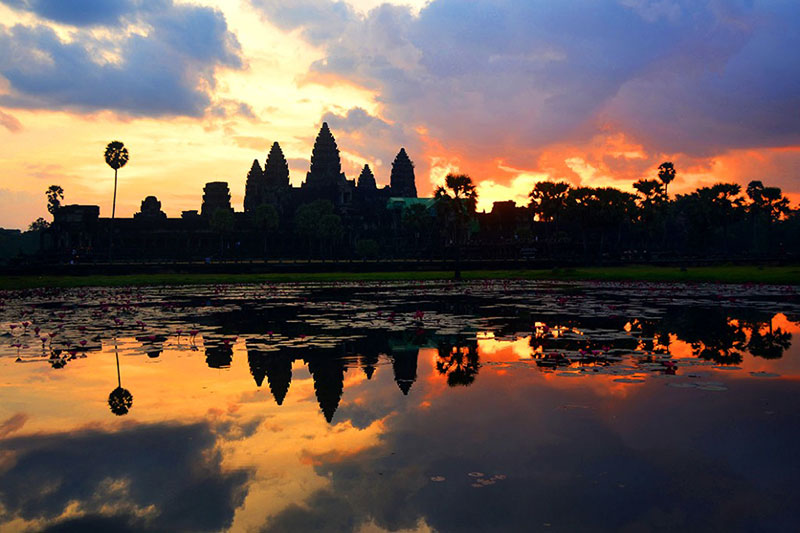 Read more: 8 best must-try activities in Siem Reap, Cambodia
Hanoi – A charming capital in Vietnam
You are free to spend a full day discovering Vietnam's capital. With its wide tree-lined boulevards, French colonial architecture, peaceful lakes and ancient oriental pagodas, Hanoi is an eclectic mix that offers surprising things for everyone. If you are historical buff, you may be fascinated when visiting Ho Chi Minh's Mausoleum and his residence, the One Pillar Pagoda and the Tran Quoc Pagoda.
In the afternoon, you can visit the Temple of Literature, the first University for the sons of mandarins. Followed by a visit to Ngoc Son Temple nearby Hoan Kiem Lake. Enjoy a one-hour rickshaw sight-seeing tour around Hanoi Old Quarter for great fun. Then, watch a traditional water puppet show in the late afternoon. Back to your hotel, free at leisure and overnight in the hotel of Hanoi.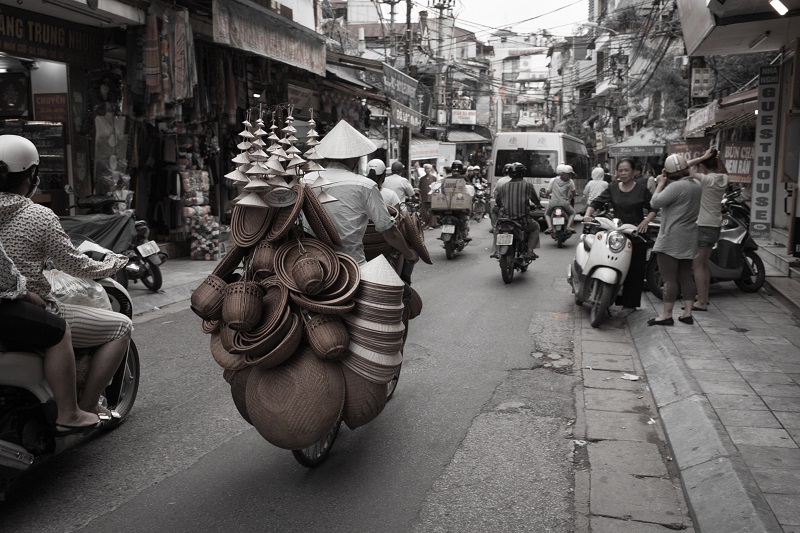 Read more: Best 8 non-touristy things to do in Hanoi
Ha Long Bay composes of jutting limestone islands and sparkling turquoise waters. You can opt for savouring a gourmet lunch of fresh seafood onboard as sailing out into the mystical bay. In the afternoon, enjoy some activities in the bay, or just spend some time relaxing on board (Possibility to swim in the bay if weather permits). Dinner is served on board.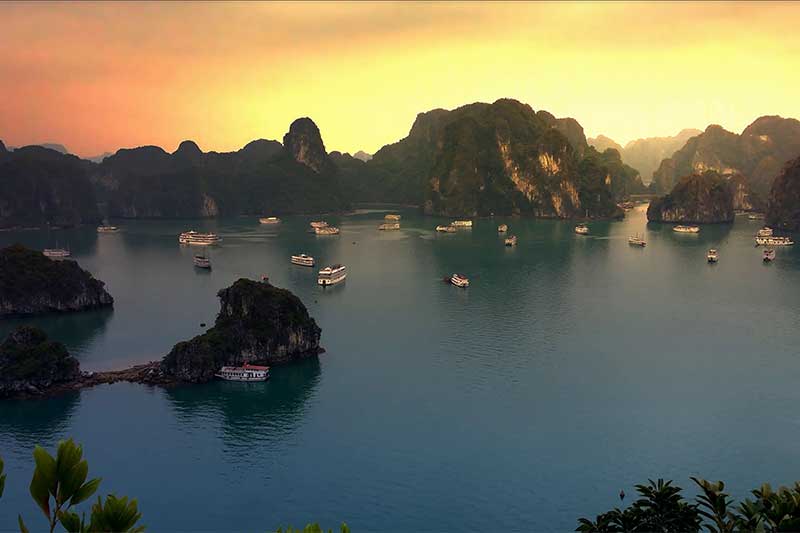 Hoi An Ancient Town and Royal Building Complex in Hue
Start the day with a visit to the Imperial Citadel, home to the Imperial City and Forbidden Purple City – once the Emperor's private residence. The Imperial Citadel gives you a better understanding of the beauty of Vietnamese Royal architecture and culture. Then we will take a beautiful dragon boat trip along Perfume River and visit Thien Mu Pagoda – one of the most popular attractions in Hue. In the afternoon, continue on your tour with the visit to King Ming Mang and King Khai Dinh Tombs which are the most beautiful works of royal architecture of the Nguyen dynasty.
Hoi An is your next stop. This place is an exceptionally well-preserved example of a South-East Asian trading port dating from the 15th to the 19th century. Its buildings reflect the influences, both indigenous and foreign, that have combined to produce this unique heritage site. This scenic drive passes through the fishing village of Lang Co before climbing over the Hai Van Pass (Pass of Ocean Clouds). On the way, stop in Danang to visit the Cham Museum, which contains the finest collection of Cham sculptures in the world and Marble Mountain - a well-known pilgrimage site with peaks, caves, tunnels and temples. Upon arrival in Hoi An, you can stroll around Hoi An Ancient Town Centre.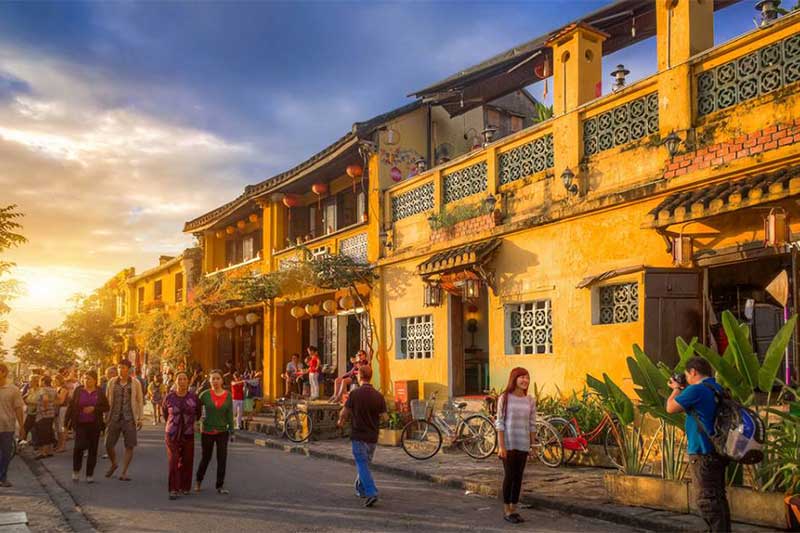 Read more: Top tourist attractions to visit in Hoi An Town
Ho Chi Minh City- The vibrant city
At the end of your journey, we suggest you come to Ho Chi Minh City (formerly Sai Gon). This bustling place is famous with modern office skyscrapers, oriental style pagodas and food stalls along the street.
Upon your arrival at Tan Son Nhat Airport, pick up and transfer to your hotel for check-in. Then, take a tour around Sai Gon for a visit to the 19th century 'Notre-Dame' Cathedral, the beautiful Central Post Office which are fine examples of classical French colonial architecture. Continue with a tour of the former Presidential Palace (Reunification Palace), now preserved as a museum and finish the day by visiting the War Remnants Museum and the bustling Ben Thanh Market.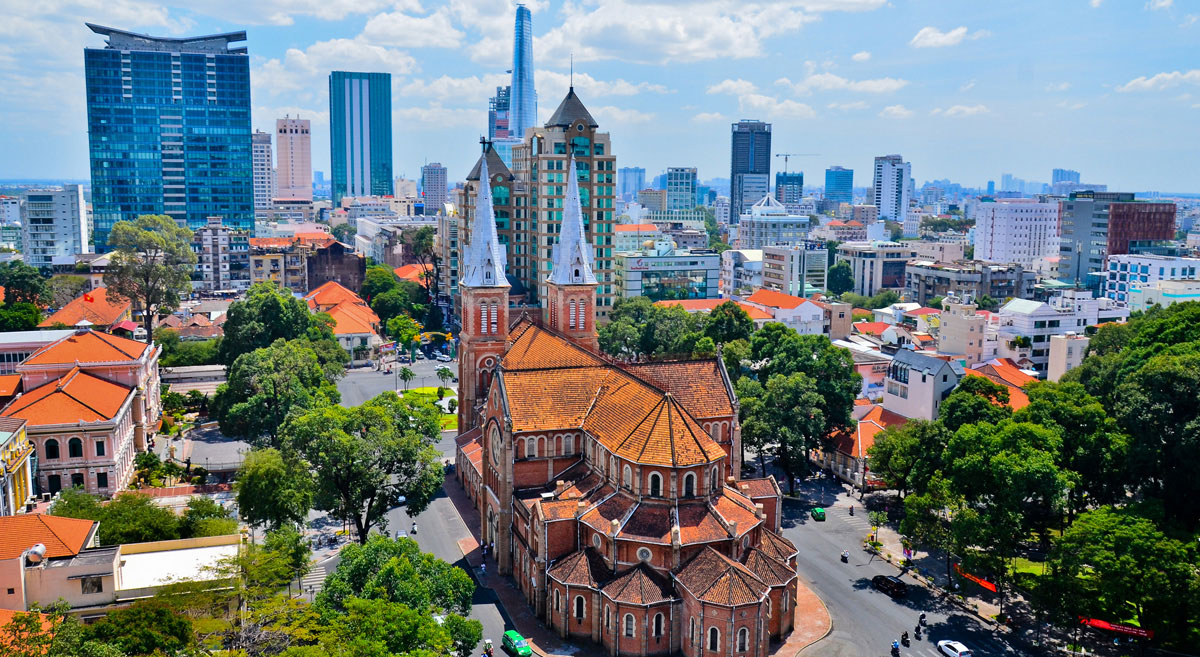 View tour: Cambodia - Vietnam Highlights 15 days