While Tet is the most expected holiday in Vietnam, Mid-autumn festival (Tet Trung Thu) is second in popularity. This festival takes place on August 15th according to lunar calendar and in Gregorian calendar, it is around September. If you are, by chance, travelling to Vietnam on this occasion, there are many ways for you to enjoy this festival with the locals.
Over time, Mid-autumn festival in Vietnam has come to be known as Children's Festival with most of its activities revolving around children. Therefore, if you are on a Vietnam customized tour with your children, there will be a great deal of activities at the Mid-autumn festival for your children to participate in and have fun!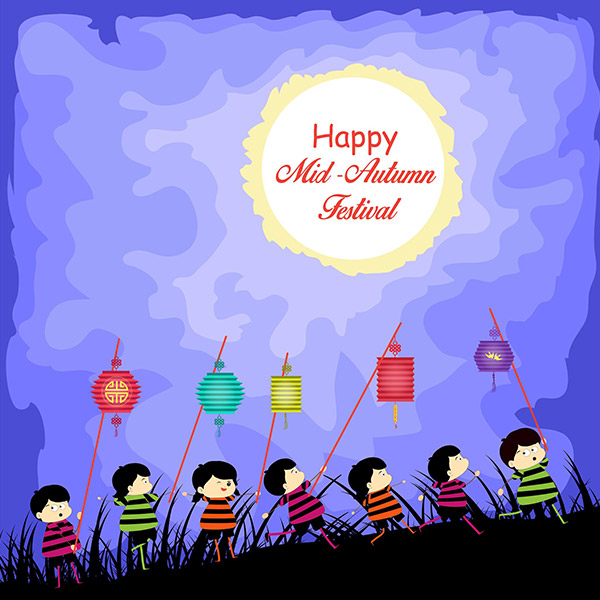 1. Enjoy the taste of various Mooncake types (Bánh Trung Thu)
To many Vietnamese people, mooncakes might be the first thing that appear in their mind when talking about Mid-autumn festival. On this occasion, Vietnamese families often reunite to have the taste of various mooncake types ranging from sticky to baked, sweet to mixed filling ones.
Should you want to try out Vietnamese mooncakes, there are a lot of options that cater to your preferences. If you enjoy the simple taste, you can choose sweet filling mooncakes such as Green bean or Black Bean mooncakes. In case you prefer the mix of various taste at once, mixed filling mooncakes might be your ideal choices.
It is worth noting that Vietnamese locals often hold a Mid-autumn party at home with not just mooncakes alone but also fruits and tea to add up. Therefore, it is recommended that you enjoy the cake with a cup of tea. Since the mooncake is sweet, the tea can help lessen that sweetness and bring about a well-blended mix – which is perfect for your Mid-autumn in Vietnam.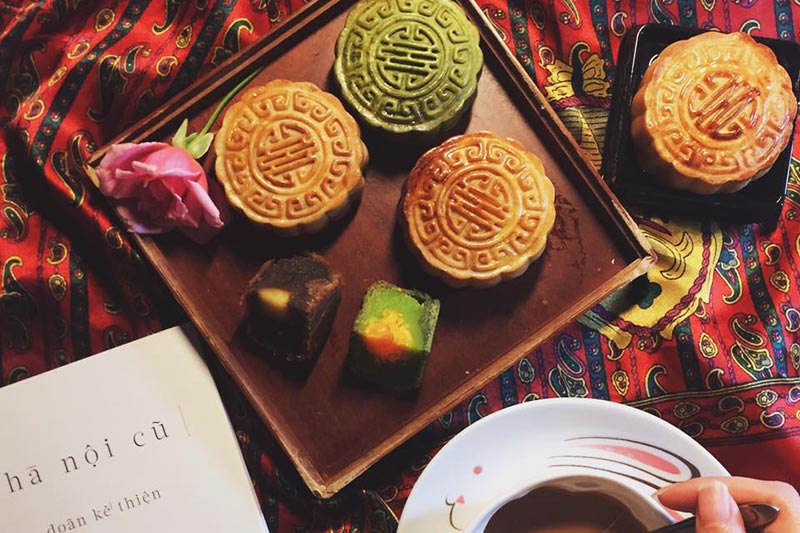 Vietnamese Mooncake - Photo credit: Chau Sara - Nadova Tours

2. Enjoy a wide range of activities held on Mid-autumn festivals
Every year, Vietnamese children look forward to the Mid-autumn festivals as they parade and dance on the street while carrying colorfully lit lanterns.
If you bring your children with you on a customized tour to Vietnam, there are many ways for them to enjoy this Mid-autumn festival. You can buy your children masks, small drums and star-shaped lanterns so that they can enjoy Mid-autumn festival the same way as Vietnamese children do.
If you are in big cities like Hanoi or Ho Chi Minh city, one way to be immersed in the lively atmosphere of this festival is to get out of your house and flock to the streets where numerous activities might take place.
Luong Nhu Hoc lantern streets, Nguyen Hue pedestrian streets in Ho Chi Minh city and Imperial Citadel of Thang Long, Hoan Kiem pedestrian streets might be ideal places where you can experience the energetic atmosphere of Vietnamese Mid-autumn festival.
In these places, you can hear the pounding beat of mid-autumn festival songs with the sound of drum added to it. These songs are usually performed by children or professional artists and they bring about a very pulsating rhythm to the festival. To most Vietnamese adults, that rhythm is what keeps them reminiscing about their childhood.
One of the most popular songs that is sung in the festivals is "Star-shaped Lanterns" (Chiếc đèn ông sao). This song was composed by Pham Tuyen in 1956 and has been sung by generations of Vietnamese people until now.
Therefore, if you see a Vietnamese adult standing still hearing the Mid-autumn songs performed on the streets, don't be surprised. It might just be that his memories was going back to the days he was still a child.
You can also see a group wearing unicorn costume and dancing in front of you. Don't freak out, that activity – unicorn dancing is just a specialty of Mid-autumn festival in Vietnam. It takes place everywhere and the performers are usually youngsters who have carefully prepared themselves for the dances days before the festival.
Another specialty of Vietnamese Mid-autumn festival is the star-shaped lantern. As a foreign tourist travelling on a customized holiday to Vietnam, does this image remind you of something? If you do not remember, then go search the keyword "Hoi An" on Google. The most popular images that show up will be those with full of exclusive lanterns.
Hoi An quaint town, besides Hanoi and Ho Chi Minh city, is a perfect place to enjoy the atmosphere of Mid-autumn in Vietnam. It is where people turn off the electric lights on the days of full moon and the streets are lit up by hundreds or thousands of lanterns and floating paper lamps instead. Every year, Hoi An enchants travelers from all around the world with the stunning view of beautiful lanterns hanging on ancient streets.
On your Vietnam private tour, there are chances that you might encounter important events in Vietnam like Mid-autumn festival. It is an opportunity for you to witness a different Vietnam where people gather around to celebrate and many streets are more crowded and lively than ever. As a foreign tourist, the best way for you to be immersed in that energetic atmosphere is to be engaged in the activities with the locals. It will be of great fun!


Related Articles:
Vietnam Lunar New Year
Best tips for traveling with children in Vietnam
Top things to discover on Vietnam Tours with your family
View tours: Classic Vietnam Family Tour 14 days