Without a doubt, Vietnam is a thriving tourist destination in South East Asia. Vietnam is such a wonderful country that has something to offer to everyone. Blessed by the magnificent natural landscapes, unique culture, tasty food and super friendly people, a family tour with kids to Vietnam is not so difficult to organize. Though traveling with children is never as easy as planning, Vietnam is still a good place to create a wonderful family trip that suits everyone's needs. A Vietnam family tour which is jam-packed with fun and exciting things to do and see for both old and young members will be a long lasting memory to recall. If you have decided to travel to Vietnam for a great family holidays, let's take a look at some useful tips for traveling with children in this beautiful country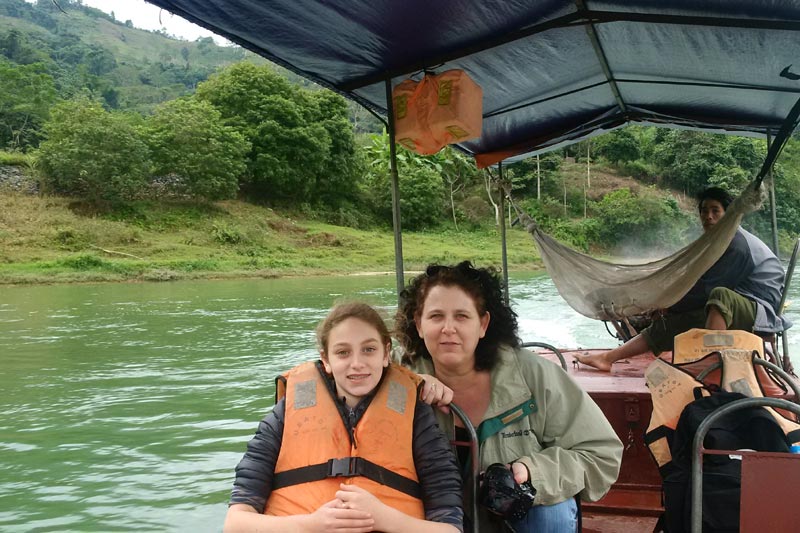 Plan the good activities based trip
A great way to travel through Vietnam with family is to create more interesting activities that will appeal both to both parents and kids. Vietnam is a destination that offers so many things to do and see, certainly will enhance the travel experience of all members in your family. Now, take a look at the places that are suitable for a Vietnam family holidays
Hanoi – the capital of Vietnam is often the start or end point of trips in Vietnam. There are plenty of child friendly tourist sites and museums to visit. If these places are still not enough to keep the attraction of little kids, Bat Trang pottery village will be an ideal place to visit. All family members can get involved in making a little ceramic product to bring home. The walking streets around Hoan Kiem Lake at the weekend is also a great place for family. Your children can join local kids playing Vietnamese folk games or simply enjoy running around without worry of busy traffic.
Halong Bay in the North East of Hanoi can be a great destination for family vacation. Besides cruising the wonderful bay of limestone rocks, there are many opportunities for family to have fun together when kayaking, exploring caves, swimming, squid fishing or attending Tai-Chi demonstration. Spending one or two nights on a family friendly cruise with larger sun deck or connecting cabins will be a fantastic trip for all family members.
Traveling further to the central part of Vietnam on Vietnam customized tours, there are opportunities to enjoy water sports along the coastal line. Scuba diving can be found at Cham Island in Hoi An or at Nha Trang beach while Mui Ne is famous for kite-surfing and parasailing. Vinpearl amusement park in Nha Trang is also a good place for family to have great fun. If you are looking for a perfect place to relax as well as to really immerse into the local Vietnamese life, Hoi An is the best choice. A touristy but family friendly town to have a break from the bustle of life in Vietnam. Hoi An has a wide range of activity for family in its charming town and the beautiful surrounding countryside such as: floating down the canals on bamboo basket boat, cycling to local villages for cooking classes or lantern making classes or joining eco-farming daily tours, etc.
Then, the great Vietnam family trip will continue to South Vietnam with Ho Chi Minh City and Mekong Delta. These places are also good choices for all members of family. A private tour to Mekong Delta with homestay experience will provide plenty of engaging and hands-on activities for young kids like rowing boat through labyrinth of canals, cycling on narrow village roads, visiting rice paper factories and fruit candy manufacturing shops.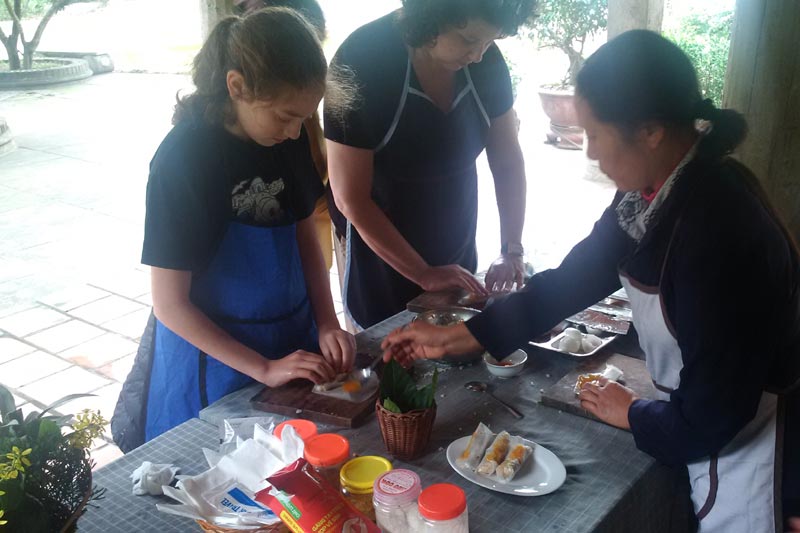 Travel with an organized plan
It is very important to have a good plan when traveling with children in Vietnam, though it is possible sometimes to have a certain amount of flexibility because Vietnam is an easy destination to travel with a relaxed or less-scheduled pace.
Hotels and transportations, however should definitely be booked in advance in order to make everything of the Vietnam family tour become easier. During the high season or the local public holidays, hotels in Vietnam can be filled up quickly. Early accommodation bookings will increase the chances of having the preferred rooms or amenities. For example, if your kids are small and you want to keep them in the same room, but the hotel rooms at last minute deals sometimes are just large enough for a double bed and has limited space for an extra bed or baby cot. So, book your hotel early will minimize these tiresome.
Getting around Vietnam can be slow and chaotic sometimes, so transportations should be arranged in advance to make sure that your family can travel safely and comfortably. Nowadays, Vietnam has plenty of transportation choices available but the best and friendliest way for family tour is by plane or train from one region to another. Long-distance bus is cheaper but can be quite slow and bumpy as the roads in Vietnam are not so good which will make the bus journey so boring and tiring for the kids. Most of big cities in Vietnam now have an airport nearby so there are just few tourist destinations can't be reached by plane. Besides plane, the overnight tourist trains are also comfortable and safe though it will be slower obviously. Within cities, the best way to get around or from one attraction to another is by taxis or private cars rather than motorbikes or cyclos. Though, there are reports of taxi scams but you can follow the tips of avoiding these annoyances here.Common travel scams in Vietnam and how to avoid
Check the weather carefully is also a good suggestion before you start your Vietnam family holidays. Vietnam is a long – shape country so the weather here can be varied significantly by time of the year and by latitude as well. Some parts of Vietnam the weather is consistently hot and humid while other regions it can be cold and windy at certain times of the year. Children are less resilient to changes in the weather, so take good note of weather in Vietnam to avoid getting stuck in somewhere that is blazing hot or in the typhoon season.
Keep the children healthy
A dream holidays in Vietnam can easily turns into an unpleasant one if any of the children get sick, so it is important to keep the kids happy and healthy during your Vietnam customized tours. Remember to plan some resting time for your family as Vietnam can be a very hectic place, plus the heat and pollution can exhaust all of you. Vietnam has many wonderful things to do and see for everyone that it can be easy to go overboard sometimes and have an intensive itinerary. Including some down time to minimize the risk of falling ill for all family members will ensure a great trip in Vietnam.
Water safety is a significant matter when traveling in Vietnam. Once you are in Vietnam, only drink bottled water and even brush teeth with bottled water. Ice can be safe in most hotel or restaurant but it is the best idea to order cold drinks rather than with ice. Children often have lower immune defenses compared to adults so it is a must to have them getting fully vaccinated for diseases that are transmitted by contaminated water.
Food safety is another serious thing when traveling with kids to a foreign country. Vietnamese food is quite good and child-friendly so it is possible to travel in Vietnam without too much concern. Street food can be safe for all family members but need caution of where to eat. If the children are not familiar with the local food and decide not to eat them, bring along some non-perishable food can be a good idea. In this case, fast food options like Mac Donalds or Burger King are also popular in Vietnam now.
Stay safe
In general, Vietnam is one of the non-high-risk places for most tourist to visit and it is a relatively safe country for any travelers. However, the traffic in Vietnam is such a mess and you will need extra caution when traveling with children here. Crossing the street in Vietnam is a kind of art and you may need to prepare your children well. Remember to have the kids walk between adults and always cross the street together in a straight line and keep going at normal pace once you are crossing. It is easier for the local drivers to navigate their way when you keep going. It is also a good idea to follow local people when crossing the street. Vietnamese people are very friendly and eager to help foreign tourists.
Vietnamese people also love kids, particularly foreign kids with blonde hair so do not surprised when your little children are treated really well in Vietnam. Local people will touch, hug, take picture with and play with the little kids so do not be alarmed as it is just local culture here. You should carry wipes or sanitary gel to wash their hands and face if too many strangers play with them.
In the crowded street, make sure your children do not wear valuable things or something that can be mistaken as expensive items. They can be a target for snatcher on motorbike or thief.
Bring protections
Dengue fever is quite common in Vietnam so insect repellent with DEET are highly recommended when traveling in Vietnam. Also, children are less able to show restraint against scratching the insect bites, which can increase the risk of infection in hot climate of Vietnam. An anti-itch cream can be useful when travel to swampy areas like Mekong Delta.
Though medicines are not difficult to find in many cities in Vietnam, the special versions for children can be hard to find. So some kind of normal medication for anti - nausea or upset stomach should be packed or at least bring along a prescription.
Vietnam has tropical climate so the heat and pollution can cause body stress for children so to keep hydrated, bring a hat and long sleeves made by breathable material when your family are outside on a hiking tour or spending time on the beach.
Related Articles
Top things to discover on Vietnam Tours with your family
When is the best time to travel to Vietnam