After Hoan Kiem Lake pedestrian area, the second pedestrian area in Hanoi was officially opened on May 2018 at the West lake area. This pedestrian street was named after "Trinh Cong Son" – a legendary musician in Vietnam, whose songs are still loved and leave a strong impact on Vietnamese modern music.
Trinh Cong Son pedestrian area has offered Hanoians and foreign tourists a wider range of choices on the weekends and help lessen the burden on Hoan Kiem Lake pedestrian streets – which has been under congestion for a long time.
As a foreign tourist, there are always interesting things to expect from these streets whether you pick the pedestrian zone around Hoan Kiem Lake or West Lake. Just like Hoan Kiem lake pedestrian zone, Trinh Cong Son pedestrian streets also have many specialties that captivate your attention every time you travel to Hanoi on a Vietnam customized tour.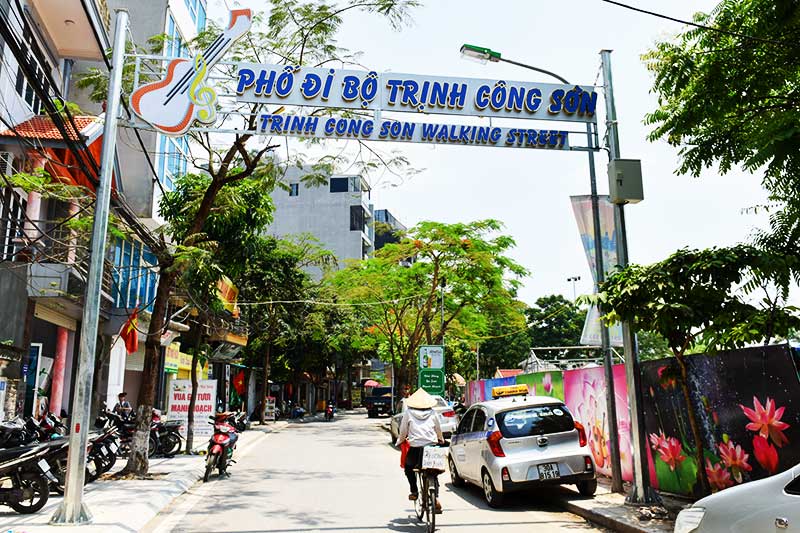 1. Trinh Cong Son music
Named after Trinh Cong Son, the pedestrian zone around West Lake pays tribute to this legendary musician through his songs performed by street artists. There is a stage for performances of Trinh Cong Son music on special occasions – which is a distinctive feature of this pedestrian zone.

Coming to these streets on weekends, you might have the chance to enjoy the music that once left a strong impression on the Vietnamese and that impression has yet faded until nowadays.

To describe the most significant trait of Trinh Cong Son music, a representative of his family said that:
"All can be summed up in one word: Meditation. It is the strongest voice in silence. Sơn's meditation is not a solution to run away but a call for human race to love and be closer to each other. Only love is the getaway for broken souls."

And that is a perfect explanation for how his songs could attract such a large number of people, from the Vietnamese to those who do not share the same nationality and speak the same language with him. His music has crossed the country border and become immortal in the heart of both Vietnamese and foreign audiences.

On your holiday in Vietnam, you should go listen to Trinh Cong Son music at least once. There are many places for you to choose but you should keep in mind that the pedestrian area named after this celebrated songwriter might be your ideal choice.

2. Traditional music
Beside Trinh Cong Son music, there are also performances of traditional music. Traveling to Hanoi on a Vietnam customized tour, you must have heard of several traditional music types such as: "chèo" (traditional opera), "tuồng" (classical drama), "xẩm" (ballads sung by wandering blind musicians), etc.

Of course, you can enjoy these traditional songs in Hoan Kiem pedestrian streets, which are, most of the time, performed by professional artists. However, a differentiating feature of Trinh Cong Son pedestrian streets is that you are encouraged to participate in these performances instead of watching from afar as an audience. It will be a very refreshing experience in your Vietnam private tour.

3. Fantastic art streets
Take a walk around Trinh Cong Son pedestrian streets and you might find yourself captivated by the beauty of Hanoi illustrated in the drawings and pictures taken by famous artists in a corner where they are displayed collectively.

More intriguingly, the road in that corner is also painted with beautiful and unique decorations – which become a fascinating art space where foreign visitors would love to stop a while to witness a Hanoi that they do not have enough time to fully experience in their trips to Vietnam.
Fantastic art street at Trinh Cong Son pedestrian area (Photo credit: nld.com.vn)


4. Traditional cuisine
Another distinctive feature of Trinh Cong Son pedestrian streets is the 60 kiosks – which sell food from many parts of Vietnam. Visiting this place, you can get a taste of famous traditional cuisine in Hanoi like: Phu Thuong steamed glutinous rice, West Lake shrimp cakes, lotus sweet soup, and other Hanoi specialties.
Beside Vietnam street food and desert, this 60 kiosks also sell Korean, Japanese and Taiwanese street food and even some western dessert such as crepe. It is worth noting that you can also buy souvenirs and handicraft products from many parts of Vietnam there.
Although Trinh Cong Son pedestrian streets have distinguishing features compared to those around Hoan Kiem Lake, they share a similar characteristic: They both provide the locals and foreigners the space to enjoy recreational and relaxing activities after hardworking days.
That is why these two pedestrian zones are absolutely your must-visits when travelling to Hanoi on a Vietnam customized holiday. They are perfect places for you to explore cultural aspects of Vietnam and be immersed in Hanoi's atmosphere with the locals.

Related Articles:
7 awesome things to do in Hanoi
How do people live in Hanoi Old Quarter?
Top street drinks in Hanoi
View tours: Classic Vietnam Family Tour 14 days