Vietnam is a country that is relatively safe for any traveler. Most of tourist love the fantastic experience during their trips in Vietnam. However, it is not always a perfect place. Like any tourist destinations, scams are reported in different places in Vietnam from time to time. Though people still enjoy the holidays in Vietnam, it is a really frustrating experience that makes tourists disappointed when traveling. When people can know what scams there are before travel to Vietnam, it will increase the chance of a safe and trouble-free customized Vietnam tour. Now, let's take a look to the common travel scams in Vietnam and our suggestions to avoid them
Street Vendor Scams
One of the typical images of Vietnam's cities is the local street vendors. They are mostly women selling all kind of products from fruits to flowers or postcards. At the beginning, you can be quite impressive with these street vendors as there are no such things in Western culture. The vendors try to approach tourists with friendly smile and offer chances of taking photo with their bamboo carrying pole and baskets. After that, they would ask or even force tourists to buy something with extortionate price or to give them some tips. Sometimes the street vendors may cause so much trouble and annoyance for travelers while they are walking around the city. That will leave a bad impression of Vietnam in tourists' eyes.
How to avoid: Say a firm but polite "No, thank you" will help to push the vendors away. In some cases, you can pretend that you do not listen and walk away. If you would like to buy something from the vendors, check the price carefully and prepare small bills, do not give them big bills as they will try to ignore giving back the changes.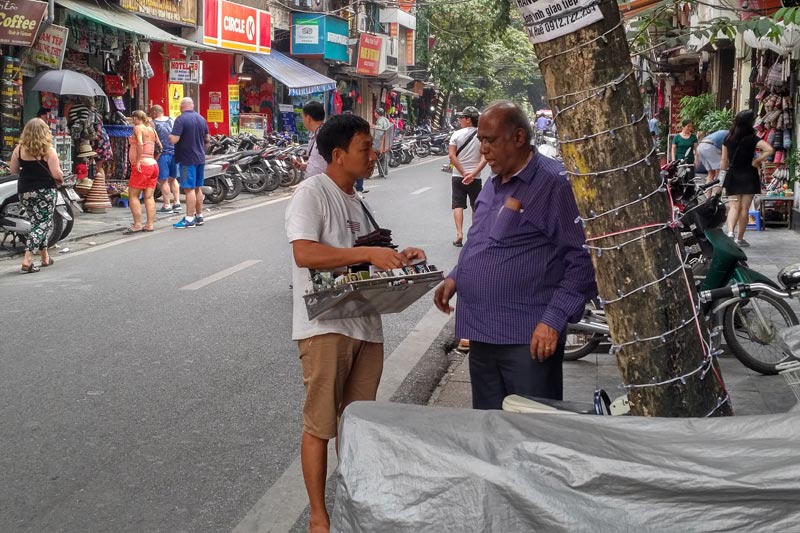 Taxi scams
Just like many places in the world, you may encounter a tricky taxi driver looking to overcharge you during your Vietnam customized tours. The common trick they use is using a modified meter that can run faster the normal ones or sometime they ignore to turn on the meter to rip off tourists. They may drive a longer route, circle around to maximize the fare and pretend that they do not have changes to give you back.
How to avoid: The best way to avoid the taxi scams is trying to use the reputable taxi companies such as Mai Linh, Taxi Group or Vinasun. Remember to ask the driver to turn on the meter. You can ask the hotel staff to help arranging taxi for you. Now, applications on smart phone such as Uber or Grab are also great solutions to avoid taxi scams because the price is indicated clearly with the driver's numbers and car's plate numbers.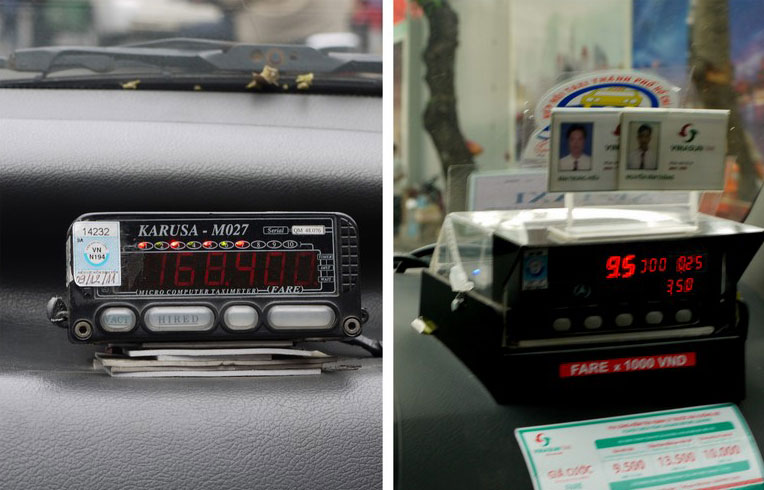 Cyclo scams
Cyclo ride is one of the best experiences of any Vietnam custom tours, it is very popular in major tourist destinations like Hanoi, Hue, Hoi An and Ho Chi Minh City. However, it is possible to meet a tricky cyclo drivers, especially when you try to manage the ride on your own. They might overcharge tourist, shorten the agreed tour or cycle slowly through less streets of the tour in order to ask for more money if the tourist want to complete the whole ride.
How to avoid: Remember to bargain the price before taking a cyclo ride, the reasonable price for 1 hour is around 100,000 VND or 3,5 USD. Travelers should have the agreed price, traveling time and perhaps destinations with the driver. If not, go away and find other drivers. There are many cylco drivers around the city. Another suggestion is to book the cyclo ride through your hotel or tour operator who can help you to negotiate everything before the ride.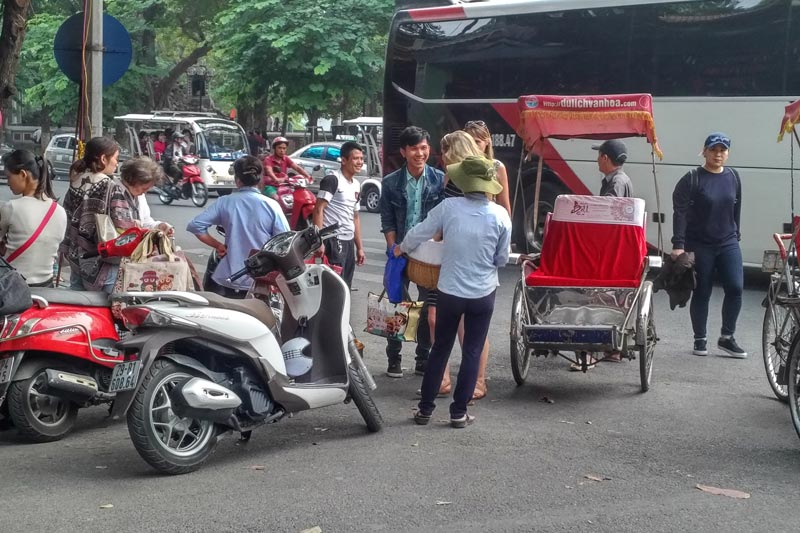 Restaurant scams
Vietnamese food is so well-known and every travelers want to try the local dishes when traveling on a Vietnam classic tour. Besides many good restaurants that can satisfy even the most demanding customers, Vietnam still has bad restaurants that care about nothing but their profit. They usually do not list the price on the menu. They will try to avoid answering the price when being asked or just answer vaguely. After the meal, they will show their cheat when the bill is issued. It is normally unacceptable, much more expensive than the other restaurants and the actual quality of food. The problem is that guests already ate the food and could not argue so they have to pay the bill to leave the restaurant. Certainly, tourists never come back that place, but the restaurants do not care as they will have new victims every day.
How to avoid: Look for good recommendations from the hotel, travel agents or your private tour guide when traveling. Moreover, there may be a black list of bad restaurants on some travel forum which can be helpful to have a look before going the have the meals.
Hotel scams
Many tourists just know a little about the country before going for their holidays in Vietnam. Some people might have done a research and book a hotel based on the good reviews. However, there are many bad hotels use attractive names or copy names of reputable hotels and create "fake" reviews on the internet. So they could gain the "fake" reputation and easily trap the inexperienced tourists. Sometimes, they could give a really good rate but when check-in, they will say that rate is applied for just standard rooms and they are full already. Then, travelers must pay the extra fee for the deluxe rooms. In some worst cases, the hotels may put travelers in a room with already broken equipment and when checking out, they will add more fee on the bill for the "damage" that travelers do not cause. When it comes to that kind of scenario, no one could help the poor travelers as there is no proof and it will be a painful experience.
How to avoid: Book the hotels in advance through a trusted local tour operator as a part of a Vietnam tour package is a safe way. The local tour companies know exactly about the hotels in Vietnam and can identify the bad ones easily. It may be a smart choice to spend some money at first than waste it reluctantly later.
It is also a good idea to check the room conditions when check-in and inform the receptionist of any damage immediately.
Online tour scams
There are illegal travel agents in Vietnam, who are not authorized to operate Vietnam Tours or do not have the license for being international tour operator. Though they are inexperienced, they still offer interesting Vietnam travel packages with relatively cheap price. Be careful as there are possible many hidden costs which will happen when you are already on tour. So, cheap but not cheap at all.
How to avoid: Check the license of the tour operator that you are about to book your trips in Vietnam with. Are they allowed to organize travel service in Vietnam? Or are they highly recommended on site like Trip Advisor? If not, your valuable Vietnam custom holidays may be operated by a third party and it can be a risky journey. Look for the price, inclusions and exclusions carefully to make sure there is no hidden cost. Book your Vietnam private tour with a reliable local tour company is advised when you are traveling on honeymoon, as a couple or with family. During the Vietnam tour, the private tour guide will escort the group, you will have no worry, just enjoy the trip.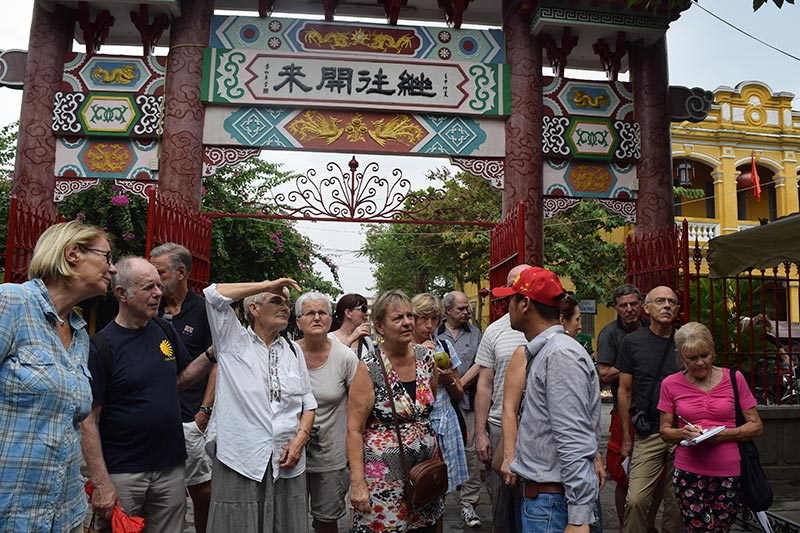 What to do if you were scammed?
If such scams happened to you or you are concerned about a scam, you can report to the Vietnam National Administration of Tourism (VNAT) at address: 80 Quan Su st, Hoan Kiem dist, Hanoi, Vietnam. Tel: 84-243 942 2760.
Scams are likely to happen on the independent travelers. If you are traveling with Nadova Tours, you will be escorted most of the time by a private tour guide and driver and they also give good tips for avoiding such scams when you have your free time. However, you can always contact to the tour guide or travel consultants in case you encounter a scam.
Related Articles:
Is it safe to travel in Vietnam?