Nothing compare to having a great holidays with your family in a new destination like Vietnam. A Vietnam family tour is definitely a wonderful way to share joy, fun as well as unique experience with your most loved ones. With stunning landscape, unique oriental culture and tasty food, Vietnam can be one of the top places for a family vacation. There are plenty chances for your family to discover new and interesting things together when travelling in Vietnam. Let's take a look at our suggestion of the best destinations for having a family tour in Vietnam!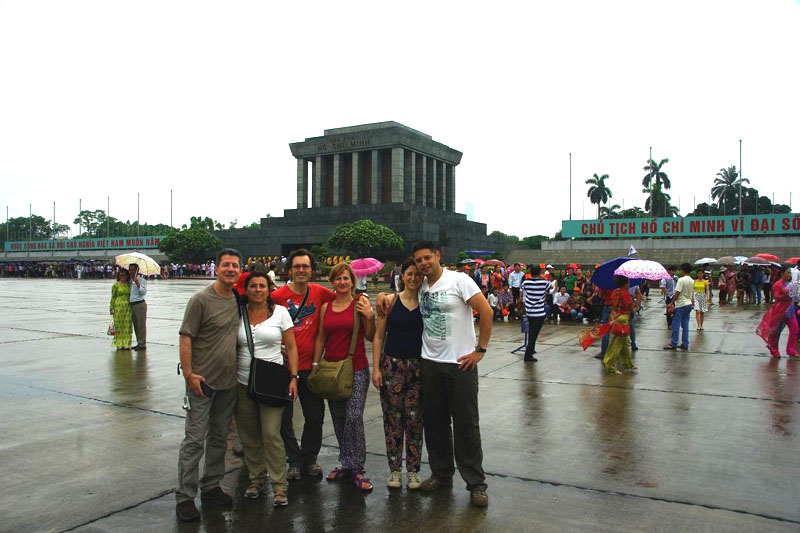 Vietnam is an ideal choice for a family tour
1. Ho Chi Minh City
Starting the Vietnam family holidays in Ho Chi Minh City can be a wise choice. Ho Chi Minh City or Saigon is the biggest and most vibrant city in Vietnam that offers tons of interesting activities and learning opportunities for the entire family. The history, the food and the dynamic local life really keep the day busy for every members of the family. Moreover, the people in the South Vietnam tend to be more open and may be more welcoming to foreigners so visiting Saigon can be a soft landing for a family, especially if you are totally new to Indochina.
Besides the must-visit sites for family such as Notre-Dame Basilica, Ho Chi Minh City Museums, A O Show at Saigon Opera House and amusement parks, taking a food tour to explore the exceptional street eats for Saigon is a great activity all family. It is a great way to taste much of what the city has to offer as well as have fun with your kids.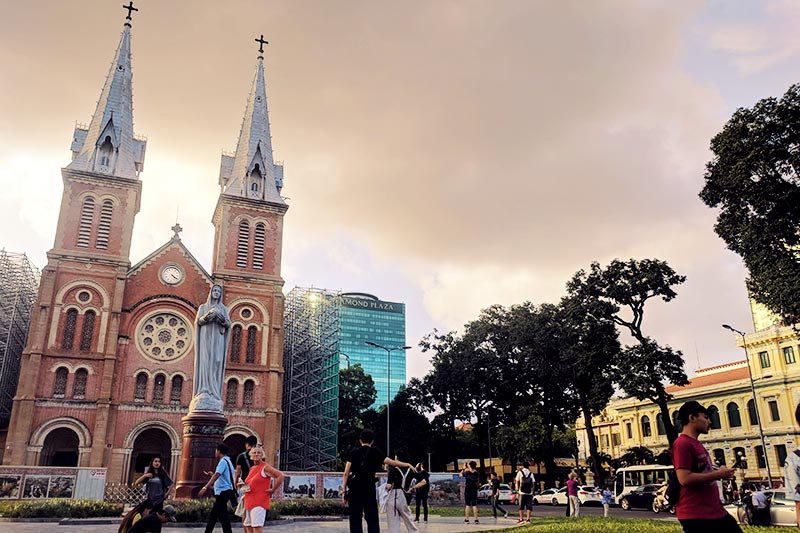 Ho Chi Minh city - a perfect start for a Vietnam family tour
2. Cu Chi Tunnels
Located about 60 km outside Ho Chi Minh City, Cu Chi Tunnels can make a perfect day-trip for both adults and children. This is a great labyrinth of underground passageway that was created and used by Viet Cong during the Vietnam War. Some of the tunnels are small and narrow that only kids could go through. If you are interested in learning more about the Vietnam War and giving your family an exciting history lesson, Cu Chi Tunnels should be on the itinerary of your Vietnam customized tour.
3. Mekong Delta
Undoubtedly, the largest delta in Vietnam is suitable for people of all ages and it is always recommended as one of the best destinations for a family trip. A typical tour to Mekong Delta offers tourists a wide range of sightseeing and activity such as exploring colorful floating markets, visiting fruitful tropical orchards or riding bike along the narrow village roads. Visiting the local handicraft workshops or staying at rural homestay also give your children some educational opportunities.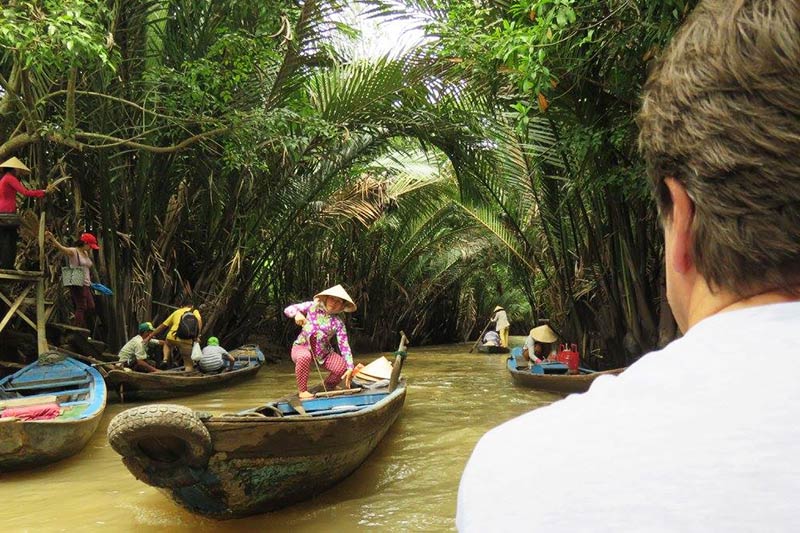 You can do a lot of things together with your family in Mekong Delta - the largest Delta in Vietnam
4. Nha Trang
Located in the south central coast of Vietnam, Nha Trang is the most exciting beach destination that you should add to your Vietnam travel itinerary. There are stunning beaches with white sand and calm blue waters. Nha Trang offers your family great chances to have fun together with activities like island hopping, scuba diving or water-skiing. The best time to enjoy water sports in Nha Trang is the spring months while the dry season here is pretty long, usually from January to September with the most pleasant temperature between February and April, around 26 – 28 degree Celsius.
5. Hoi An
Moving up the central coast from Nha Trang, you will encounter Hoi An, another must-visit town when travelling in Vietnam with kids. It is one of the most beautiful and picturesque destinations in the country where your family can enjoy the peaceful moments and the tranquility of the old town. It will be a delight for family to have a walk through the colorful lantern streets, tasting delicious local foods and boating along Thu Bon River in Hoi An. Moreover, the surrounding countryside of Hoi An is a wonderful place for cycling and children can find many interesting activities to join. The beaches is also just a bike ride away from Hoi An ancient town.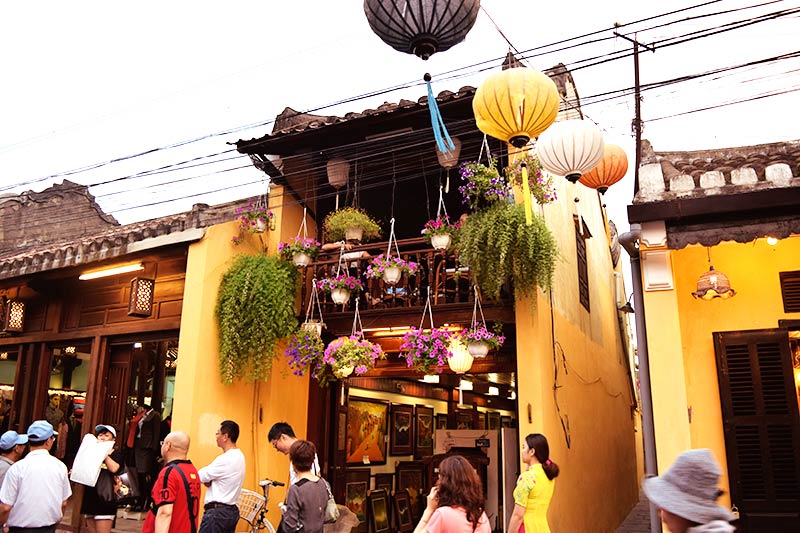 Hoi An is a beautiful destination where your family can enjoy the peaceful moments and the tranquility of the old town
6. Da Nang
Just a short drive (40 minutes) from Hoi An, Da Nang should be added to the travel itinerary for a family trip in Vietnam as well. There are many beautiful sights and pristine beaches in Da Nang such as Dragon Bridge, Son Tra Peninsula, Non Nuoc Beach and My Khe Beach that travelers should not miss. Also, Bana Hills and Asia Park are the great amusement parks in Da Nang that offer wonderful entertainment for the entire family.
7. Ha Noi
As the capital city and a busy traveling hub in Vietnam, many family tours in Vietnam start or end in Hanoi. It is an amazing city for people of all ages and many tourists put Hanoi at top of their travel itinerary in Vietnam without any hesitation. The Old Quarter and the Walking Streets around Hoan Kiem Lake on weekends are definitely a must-visit for family in Hanoi. This is the place that your children can run free without worrying about the busy traffic, play Vietnam traditional games and interact with the local people. Sampling street eats in Hanoi is also a great thing for family to do. Moreover, there are family-friendly attractions in Hanoi such as Museum of Ethnology, Temple of Literature and Water Puppet Shows that can complete your Hanoi itinerary.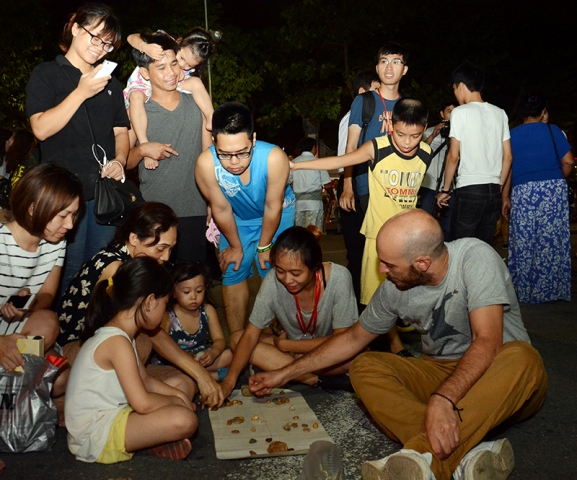 Playing traditional games with the locals will be a refreshing experience for your family when travelling in Hanoi
(Photo credit: en.nhandan.com.vn)
8. Sapa
Although it takes a long drive from Hanoi to Sapa in the North West, it is still a recommendable destination for family vacation in Vietnam. There are ethnic minority people in Sapa who continue the traditional way of life forgotten in many places of the world today. It can be great cultural experiences for family as well as learning opportunities for the children. Sapa is also an amazing place for hiking where your family can enjoy the breathtaking landscape and pristine nature.
9. Halong Bay
Halong Bay is one of the most beautiful destinations in Vietnam to visit with family. You can have a cruise trip for a few hours or a few days depending on your travel schedule. It is better experience to have an overnight trip if you travel to Halong Bay with kids. There are plenty of activities for family to have fun together like kayaking, swimming or exploring the floating villages.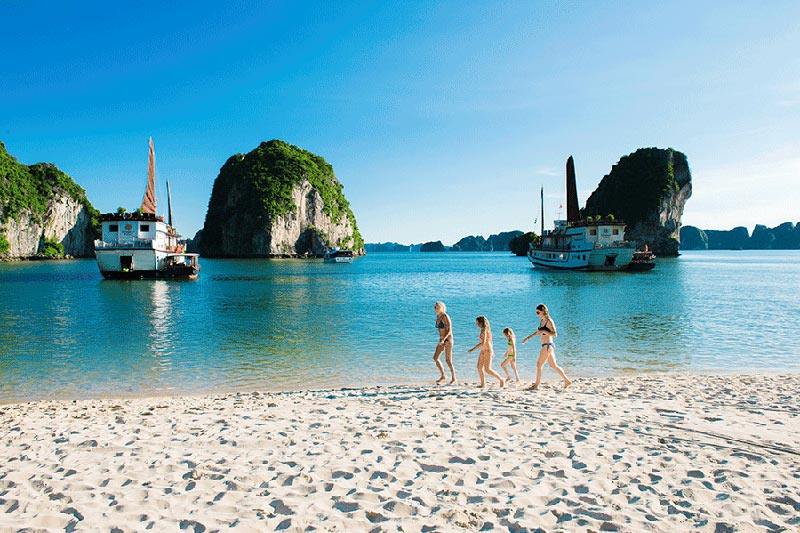 Halong Bay - a natural wonder in Vietnam is a must-visit on your Vietnam family tour
---
Read more:
Top reasons to visit Vietnam with children
Top things to discover on Vietnam Tours with your family
Best places for family tour in Vietnam
View tour: Classic Vietnam Family Tour 14 days