Mid- Autumn Festival (or Full Moon Festival) is the special occasion in Vietnam. The event takes place in the 15th of the eight yearly, according to the lunar calendar. When the Mid- Autumn Festival is coming, let register to a Vietnam customized tour and have a look at below basic information about this Vietnamese celebration.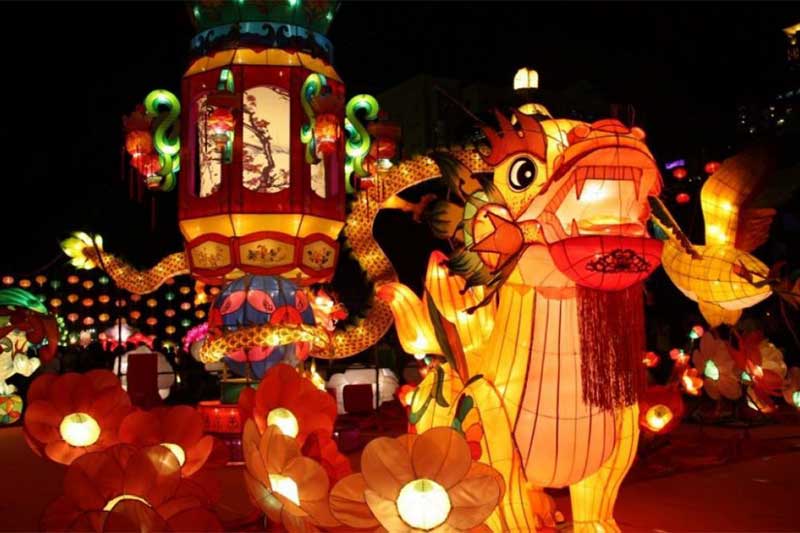 The origin of Vietnam Mid- Autumn Festival
Although the Mid- Autumn Festival is stemmed from China and held in other Asian countries, the Vietnamese version is so different with its own customs and traditions. The most popular tale is a young farmer named "Cuoi" found a magical banyan tree which can cure the ill. However, his wife urinated on this holy tree by accident and made the tree floated up to the moon. In the fear of the sacred tree disappeared, Cuoi tried to grasp the root and fly to the moon with the banyan tree. Today, children parade lanterns in the street on the Mid- Autumn Festival in order to light the way to home for him. This myth is handed down through generations and played a substantial role in Vietnamese cultural beliefs.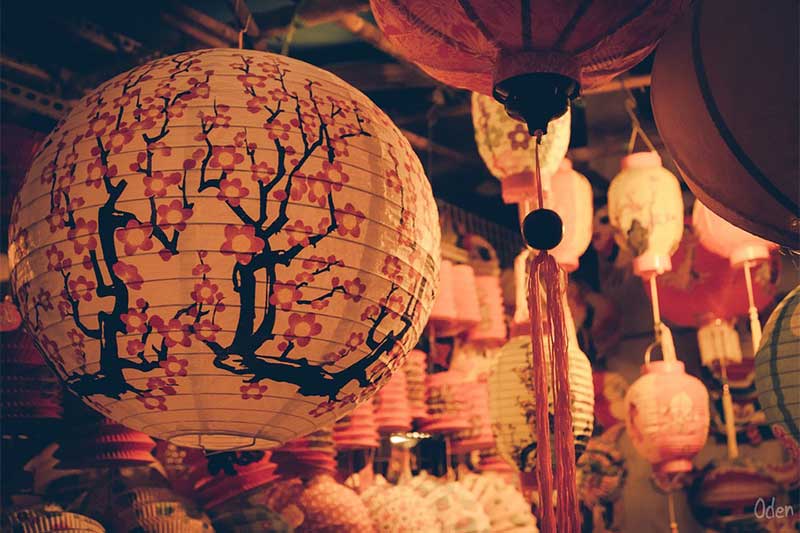 Read more: How to enjoy Mid-autumn festival in Vietnam?
Mid- Autumn Festival Atmosphere
In a few weeks before Full Moon Festival, you can meet many groups of lion and dragon dancers practicing in Vietnam's streets. Mooncake stalls also appear gradually on every streets. Various cakes are filled with different ingredients and covered by decoratively packages are the considerable options to present your beloved ones. In many corners, locals gather to prepare toys, lanterns and colourful masks for this incoming event.
Traditional Dancing
In the evening of the August 15th (Lunar Calendar), children are excited to welcome a wonderful time. Each of them carries a brightly lit lantern, gather around to celebrate and soak into the drumbeats. In the Mid-Autumn Festival, people assemble in a spacious courtyard to cheer the lion dance troupe (or unicorn dance troupe). It is a traditional activity which performers mimic a lion's movements in a lion costume to bring bless and fortune. The dance is typically accompanied by martial artists and acrobatics with a giant unicorn head and sinuous frame controlled by professional dancers inside its body. With a large gaping mouth and glitter eyes, the unicorn is so attractive and lively that appeal to kids. In particular, the dancers lunge closer to the crowd and making children scream and laugh at the same time. In the light of the dazzling moon, the unicorn's sequined body combined with numerous lanterns sparkles when it dances. This is one of the unforgettable moments in every Vietnamese kids' memories.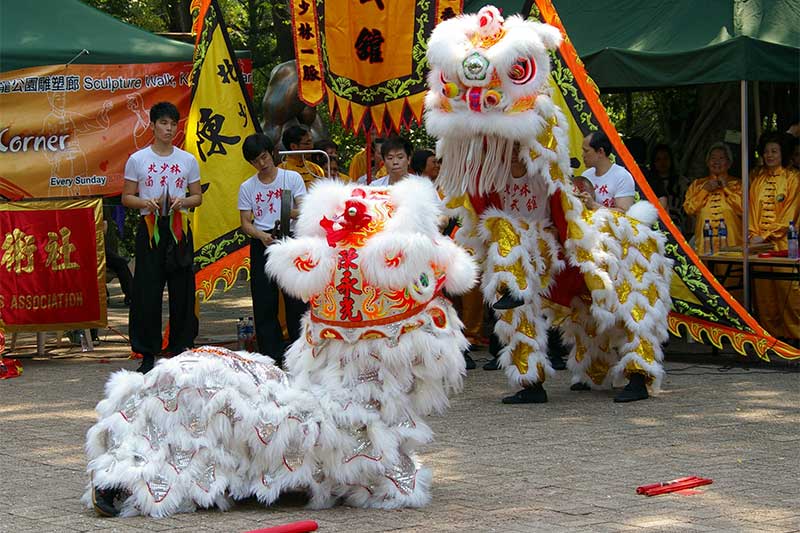 Mooncake Fever
Vietnamese families have a tendency to welcome the by placing a fruit tray of five different fruits or different colours and a box of mooncakes on their altars. Then, they worship ancestors and genies before dining. The mooncakes are made from a variety of fresh components such as lotus seeds, green bean, black sesame, salted eggs, etc. The two most common types are bánh dẻo (soft, sticky cakes with a mochi-texture) and bánh nướng (baked cakes with a thick wheat crust.) These cakes are pretty sugary, so they usually savor them with some green tea. As a tourist who has Vietnam private tour over this special occasion, you can register a homestay program and spend time with local families. It's definitely an exhilarating experience in your Vietnam vacation.
Read more: Top traditional cakes to try when travelling to Vietnam
Where to celebrate the Mid- Autumn Festival in Vietnam
Hanoi
If Hanoi is one of the destinations in your Vietnam family holiday, don't forget to stop by Hang Ma Street or Luong Van Can one week before. You can blend into a wide range of colorful toys or special costumes scattered the streets. In case you are addicted to handcrafts, you can observe local craftsmen preparing festival stuff in 87 Ma May. On the eve of Mid-autumn, the Youth Theatre on Ngo Thì Nhậm Street and the Children's Palace on Lý Thái Tổ Street host many children's shows and circus performances.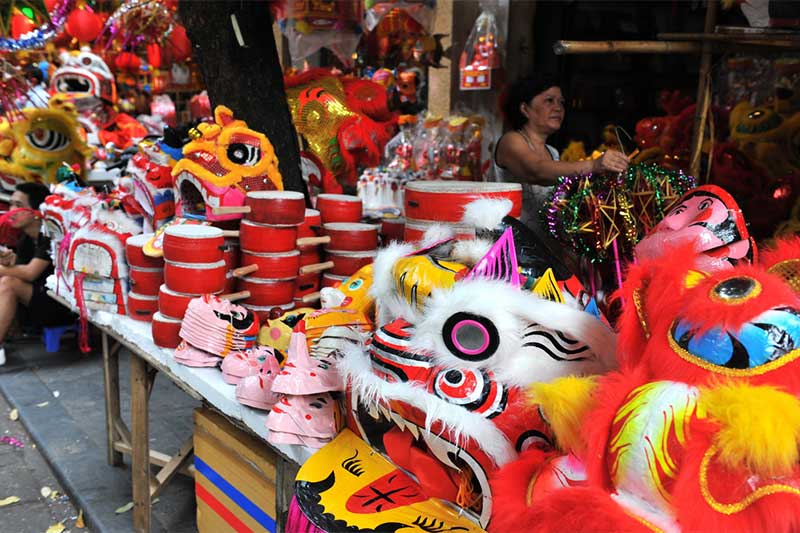 Hoi An
Hoi An is well-known for being an ancient town covered by numerous lanterns all year round. In special celebrations like Mid- Autumn Eve, it is no doubt that the whole city will shine garishly. Wandering around these streets and you can feel the vibrant ambience proliferated. Dancers wearing eye-catching costumes perform in the middle of the crowd with their drumming troupes. Alongside the banks of Thu Bon River are traditional melodies combined with many kinds of lanterns, which makes lighten up the whole town.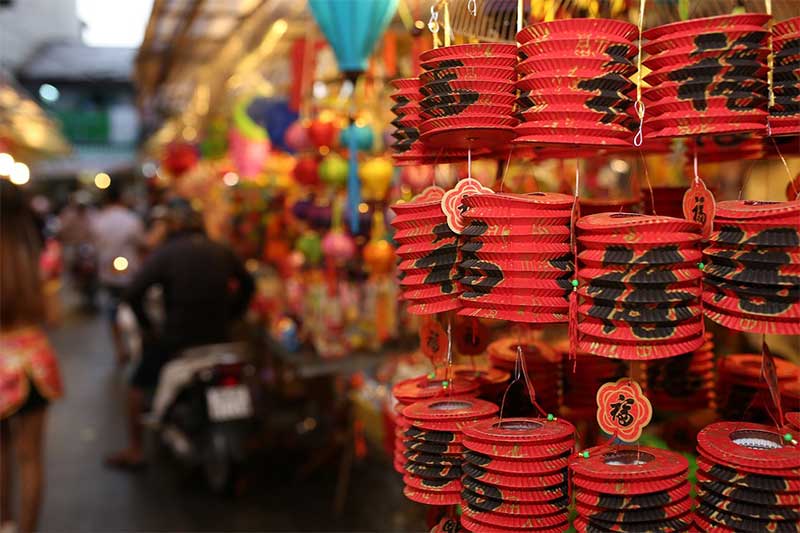 Read more: Top tourist attractions to visit in Hoi An town
Ho Chi Minh
Considered as one of the biggest cities in Vietnam, Ho Chi Minh is home to lots of recreational activities, especially on big occasions like the Mid- Autumn Festival. We highly recommend you stop by Luong Nhu Hoc Street, where you can found various lanterns and children's toys pouring in the sidewalks. This is an ideal spot for your instagrammable pictures in your Vietnam tailor-made tour. You also can choose some unique souvenirs as gifts or decorations for your families and friends. Lastly, don't forget to pay a visit to 109 Trieu Quang Phuc Street to admire these exclusive unicorn heads.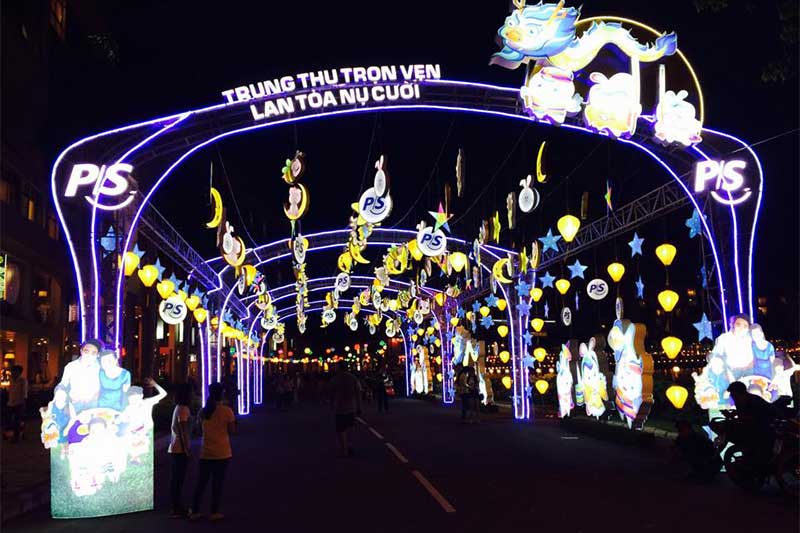 See tours:
Vietnam Food Tour For Family 17 days
Extensive Vietnam Family Holiday 21 days