If you look into the cuisine of Vietnam, you will find out there are many types of cakes enjoyed by the locals. A number of them play an important part in Vietnamese culture – which are indispensable in many traditional occasions. On your Vietnam private tour, do not forget to check them out!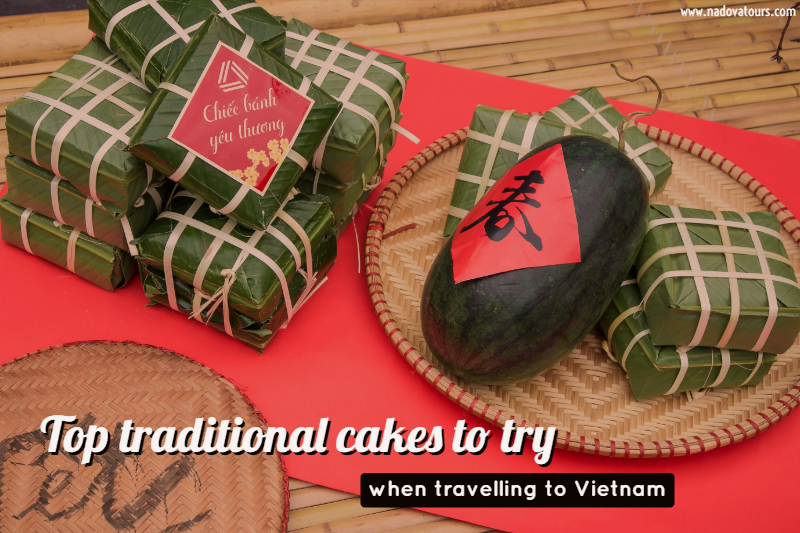 Top traditional cakes to try when travelling to Vietnam (photo source: sao360.vn; designed by Nadova Tours)

1. Chung cake (Banh Chung)
As Tet holiday is the most popular public holiday in Vietnam, Chung cake is clearly well-known to a large number of foreign tourists. Its appearance is easy to distinguish with the square shape, wrapped by green leaf and yellow string. Inside the cake is the glutinous rice, green bean, pork and other ingredients.
According to a popular tale dated back to Hung King dynasty, Chung cake, together with Day cake (Banh Day), they symbol the Earth and the sky respectively. Green leaves wrapped outside the rice as well as other ingredients represent the love and protection of parents towards their children. That is why Chung cake becomes an indispensable dish indicating the loyalty and gratitude of Vietnamese people towards their ancestors.
Once a year, when Tet holiday approaches, Vietnamese people often gather with their families to make "Banh Chung" together. While a lot of people choose to buy Chung cake from street vendors, others still consider making Chung cake as a family tradition.
It is not only about making the cake, it's more about a reunion among generations of an extended family. Sitting around the warm fire, talking and telling each other their stories while waiting for the cake to be cooked, they are ready to start a new year with a lot of good wishes.
If you are, by any chance, travelling to Vietnam when Tet holiday is coming, remember to get a taste of Chung cake. Should you have a Vietnamese friend and are invited to his family gathering, do not waste that opportunity. Enjoying the unique flavor of Chung cake after participating in the cake making process might be your most unforgettable experience on a Vietnam customized tour.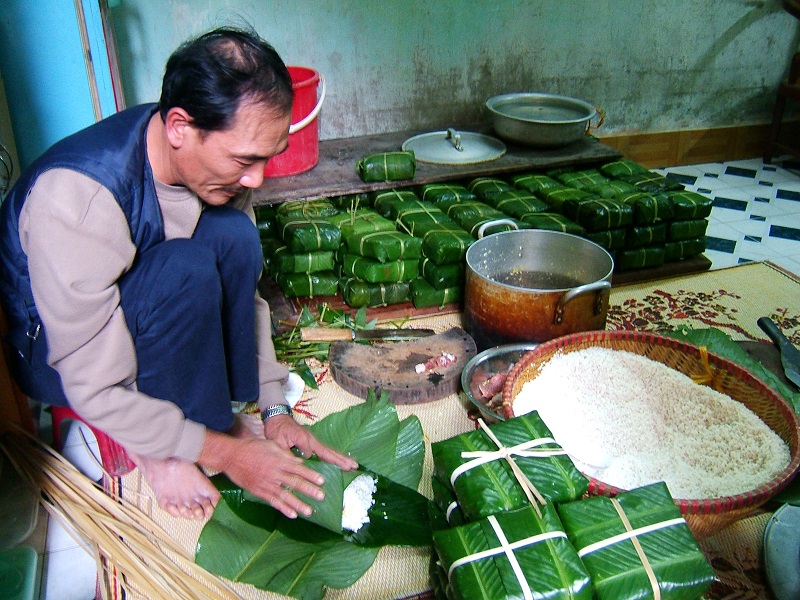 Chung cake - an important dish served on Tet holiday in Vietnam (photo credit: vi.wikipedia.org)
2. Husband and wife cake (Banh Xu xe)
If Chung cake is served on Tet holiday as gift to Vietnamese ancestors, Xu xe cake appears at the wedding as a symbol of solid and eternal marriage like the vow made by both the bride and groom to love each other until the end of their life.
Like Chung cake, the tale of Xu xe cake also originated from years ago. There are many tales around it, the most popular one said that Xu xe cake was made by the wife of King Ly Anh Tong and sent to him while he was at war with a wish that he could come back safely. Moved by her love and the taste of the cake, the King has named it "Banh Phu The" (Husband and wife cake).
This cake is made from tapioca flour, green bean, coconut and other ingredients. It has a jelly like texture and wrapped by two square boxes. Many people love the cake for its sticky, sweet and delicious smell.
Nowadays, it becomes more and more popular in daily life rather than in only weddings. That is why the name "phu the" was gradually replaced by "xu xe". On your Vietnam customized holiday, you can easily find a xu xe cake sold in the market or by street vendors. It is interesting to give that a try, don't miss it!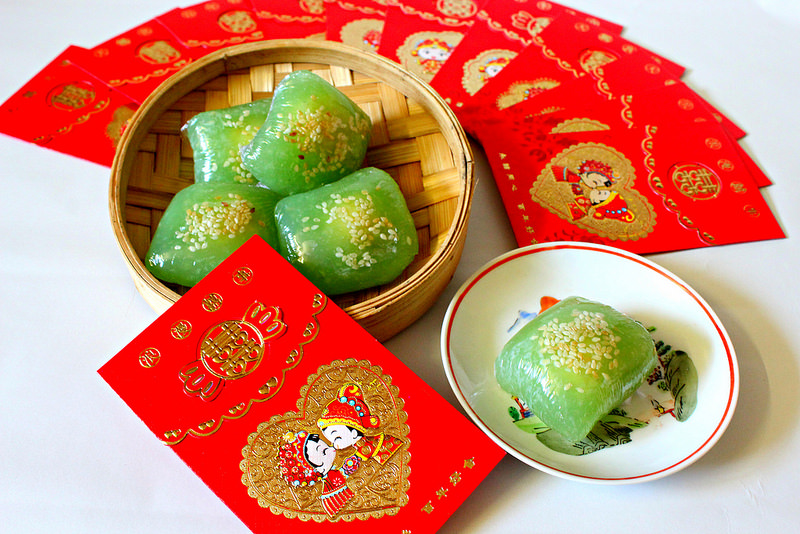 Husband and wife cake (Banh Phu The) - a symbol for the long-lasting marriage served on Vietnamese weddings (photo credit: vietmiamivores.wordpress.com)
3. Mooncake (Banh trung thu)
To many Vietnamese people, mooncakes might be the first thing that appear in their mind when talking about Mid-autumn festival. On this occasion, Vietnamese families often reunite to have the taste of various mooncake types ranging from sticky to baked, sweet to mixed filling ones.
Should you want to try out Vietnamese mooncakes on your Vietnam vacation, there are a lot of options that cater to your preferences. If you enjoy the simple taste, you can choose sweet filling mooncakes such as Green bean or Black Bean mooncakes. In case you prefer the mix of various taste at once, mixed filling mooncakes might be your ideal choices.
It is worth noting that Vietnamese locals often hold a Mid-autumn party at home with not just mooncakes alone but also fruits and tea to add up. Therefore, it is recommended that you enjoy the cake with a cup of tea. Since the mooncake is sweet, the tea can help lessen that sweetness and bring about a well-blended mix – which is perfect for your Mid-autumn in Vietnam.
Mooncake - a memorable dish on Vietnamese Mid-autumn festival (photo credit: Chau Sara - Nadova tours)
4. Tro cake (Banh Tro)
Tro cake is not a common name to foreign tourists, however, it is a unique dish served on Doan Ngo festival in Vietnam. This cake has a brown yellow color and pyramidal shape, which makes its appearance stand out from other Vietnamese traditional cakes.
How it is made is also interesting and peculiar, which is hinted right in its name – Tro (ash). It is made from glutinous rice soaked in the mixture of water and ash then wrapped in bamboo leaves and stuffed with sweetened mung beans. This making process gives the cake a special color and sweet cool taste. To add up, people often enjoy this cake with molasses – which makes a perfect combination for a Doan Ngo festival.
Doan Ngo festival falls on the 5thday of the 5th lunar month, usually in June in Gregorian calendar. Travelling on a Vietnam customized tour this occasion, this dish is absolutely a must-try.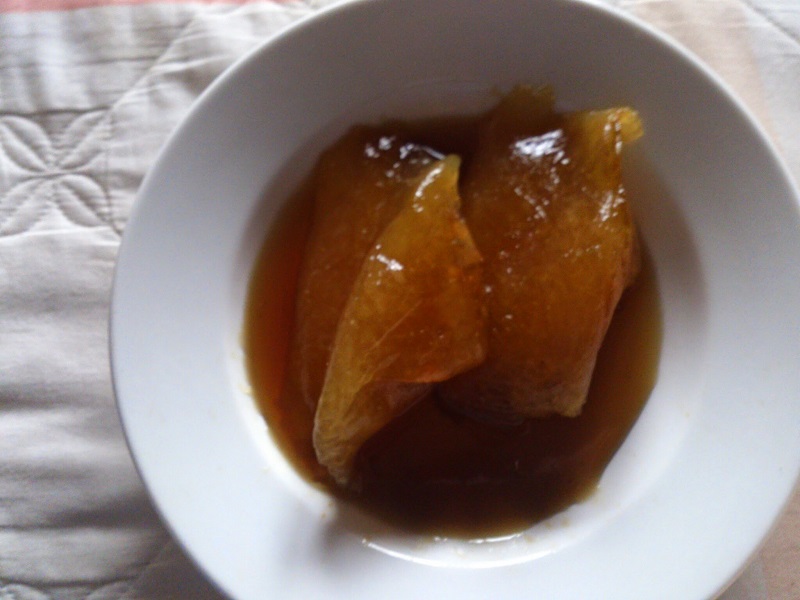 Tro cake - an unique dish served on Doan Ngo festival in Vietnam (photo credit: vi.wikipedia.org)
---
Read more:
How to enjoy Mid-autumn festival in Vietnam?
Top traditional games to try when travelling to Vietnam
Vietnam Street Food: Top Essential Dishes
View tour:
In-depth Vietnam Tour with Sapa 16 days