Stunning rice terrace scenes have long been a feature of tourism in Vietnam. This kind of landscape, especially the northern rice terrace is probably the most photogenic in Vietnam that should never be missed on a Vietnam private tour. However, the rice terraces are not always as perfect as they are shown on postcard all year round. It depends of the timing of your Vietnam Tours and right places that you should visit. In this article, we will share the best places in Vietnam to look for jaw-dropping rice terraces and when to visit to avoid disappointment.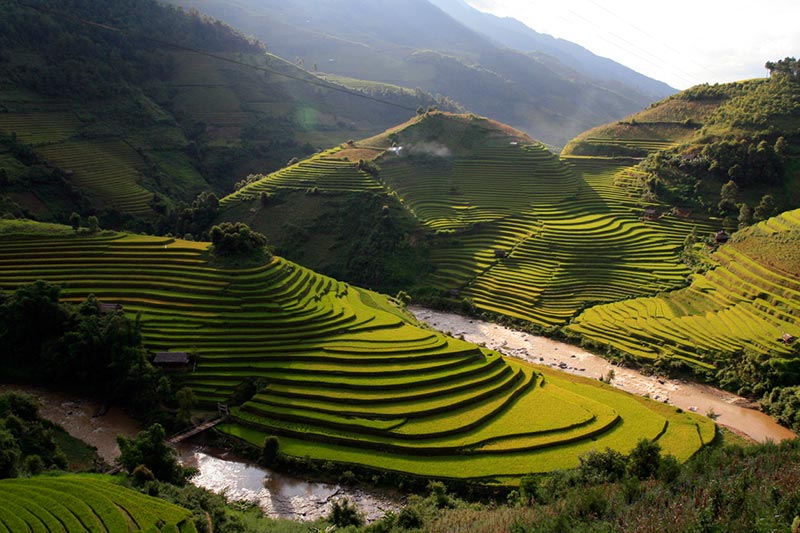 1. Sapa
Without doubt, Sapa is the top place in Vietnam to find the stunning rice terraces. Located in the North West, around 350 km from Hanoi, it is home to some of the most breathtaking mountainous scenery in Vietnam. Trekking through the large valley of Muong Hoa to enjoy the beauty of rice terraces and explore the unique culture of local ethnic people is the best activity to experience on any tour to Sapa. Though it has seen a huge number of tourists coming to Sapa in the last few years because of the new free-way that make it easier to access than ever before, Sapa is still a great place to enjoy the amazing rice terraces.
Due to its topography and climate, local ethnic people can have only one rice crop per year between May and September. So, the best time to see rice terraces in Sapa is early May when the rice is growing and September when it turns to lush yellow before harvest.
Read more: 5 amazing things to do in Sapa
2. Hoang Su Phi (Ha Giang)
Situated in the remote area in the North East, the rice terraces in Hoang Su Phi are described as one of the most spectacular rice terraces in Vietnam, listed as the national heritage of the country. Standing in the central part of Ban Phung commune, travellers can have the panorama view of stunning rice terraces as well as endless mountains, ethnic villages and picturesque rivers. You will need to add a few days more to the itinerary of your Vietnam customized tours to visit Hoang Su Phi and the accommodation or service are quite standard, but it is totally worth it.
Similar to Sapa, there is only one rice crop per year in Hoang Su Phi with harvest season between September and early October. Tourists can also travel in May in the green season of rice terraces.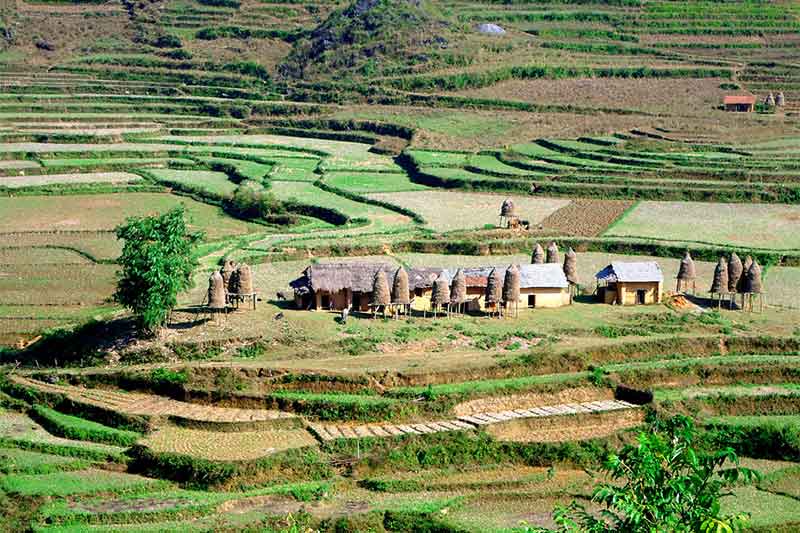 Read more: Best reasons to travel Vietnam in summer months
3. Mu Cang Chai
Mu Cang Chai is a district in Yen Bai Province, approximately 300 km from Hanoi city. It has been a well-known destination for travellers finding the amazing rice terraces for their photography tours in Vietnam. Mu Cang Chai has about 700 hectares of magnificent rice terraces spreading through 3 communes: La Pan Tan, Che Cu Nha and De Xu Phinh. The best time to visit the rice terraces in Mu Chang Chai is between September and October.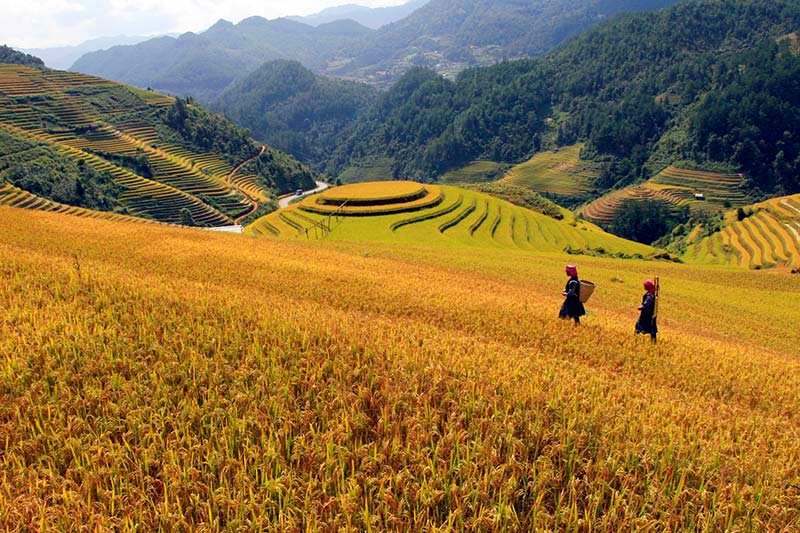 4. Pu Luong
Located in Thanh Hoa Province, Pu Luong is an area of Thai minority inhabitants with beautiful mountainous scenery and rice terraces. At a lower elevation than Sapa or Ha Giang, Pu Luong is more accessible and can be easily linked with other destinations around Hanoi. With stunning views of rice terraces and friendly local Thai ethnic people, Pu Luong is also an ideal place for a quick getaway from bustle destinations of a Vietnam family tour.
Different to Sapa or Ha Giang, there are two rice crops per year in Pu Luong: February to May; and June to October. So, visiting this place will give you more chances to witness the incredible scenery of rice terraces. If you want to see the lush green rice fields, travel to Pu Luong in March or July. Travelling any time between May-June and September-October, you are likely guaranteed the perfect postcard pictures of stunningly yellow rice terraces.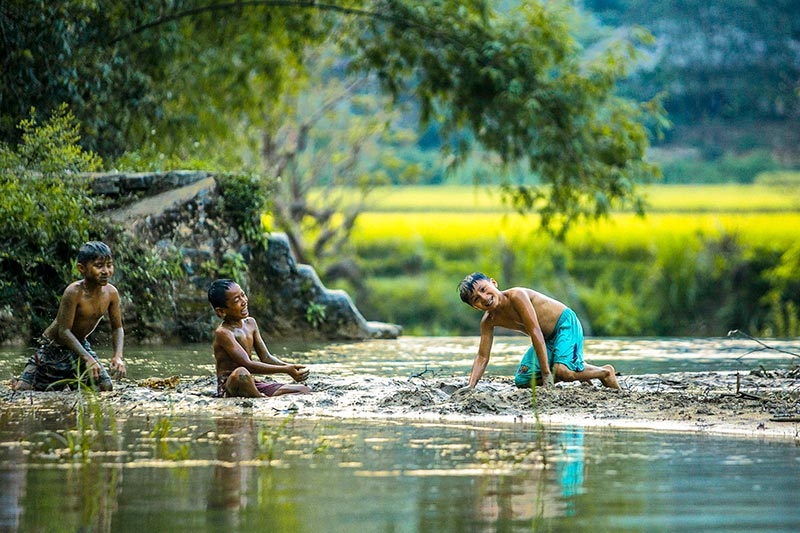 Read more: Top lesser known destinations to visit in Vietnam
5. Ta Xua
Located in Bac Yen District, Son La Province, around 250 km from Hanoi, Ta Xua is a natural park covering 42,000 hectares at an elevation of 1,500 – 2,000 meters above sea level. In recent years, Ta Xua has been known as a great place for young travellers looking for off-the-beaten-path experience on motorbike and conquering the impressive and challenging "Dinosaur Backbone" (the main mountain tops here form a line that looks like the rough back of a dinosaur). Photography lovers also travel to Ta Xua during their Vietnam tours for cloud hunt. The special phenomenon in Ta Xua happened in the morning when the magic clouds in different shapes and forms fill in the valley surrounded by high mountains creating a marvelous scenery and making travellers feel like they are standing right in paradise. The best time of the year for cloud hunting is between December and March.
However, Ta Xua is not only famous for the cloud hunt, the landscape of rice terraces here is also second to none. The local H'mong people in Ta Xua have created beautiful rice terraces on the mountain slope for centuries. Combining with the magical clouds, the rice terraces in Ta Xua will give tourist an unforgettable experience. Because Ta Xua is at the similar topography like Sapa, there is only one rice season per year. So, the best time to get amazing images of golden rice terraces is between September and October.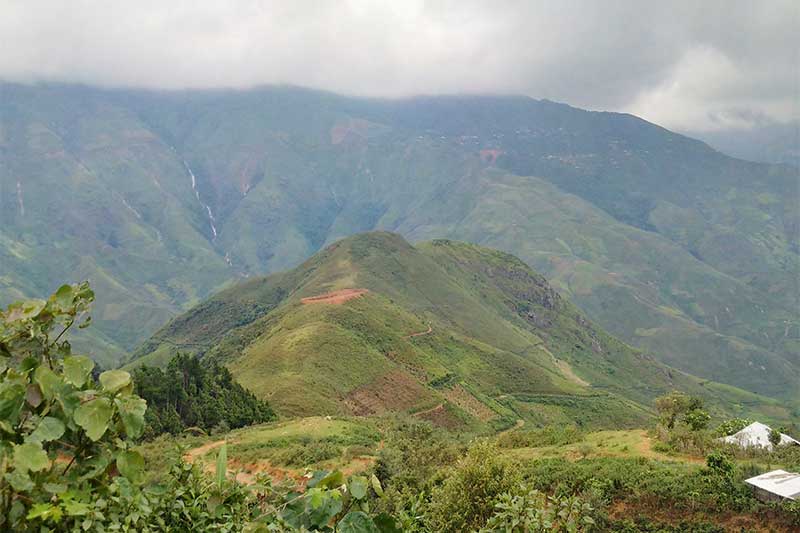 See tours:
Highlights of the north Vietnam 7 days
Touring Vietnam Inside Out 20 days