Mid-Autumn Festival, also known as Doan Vien Festival, this holiday not only takes place in
Vietnam
but also appears in many other Asian countries such as China, Korea, Singapore,... Mid-Autumn Festival is
a festival of performances
.
On the full moon of August
, this is an opportunity for adults to spend time
taking care of young children, showing affection to friends and relatives, and returning home to reunite with their families
. Join
Vietnam Customized Tours
to explore the traditional activities of Vietnamese people at this special festival.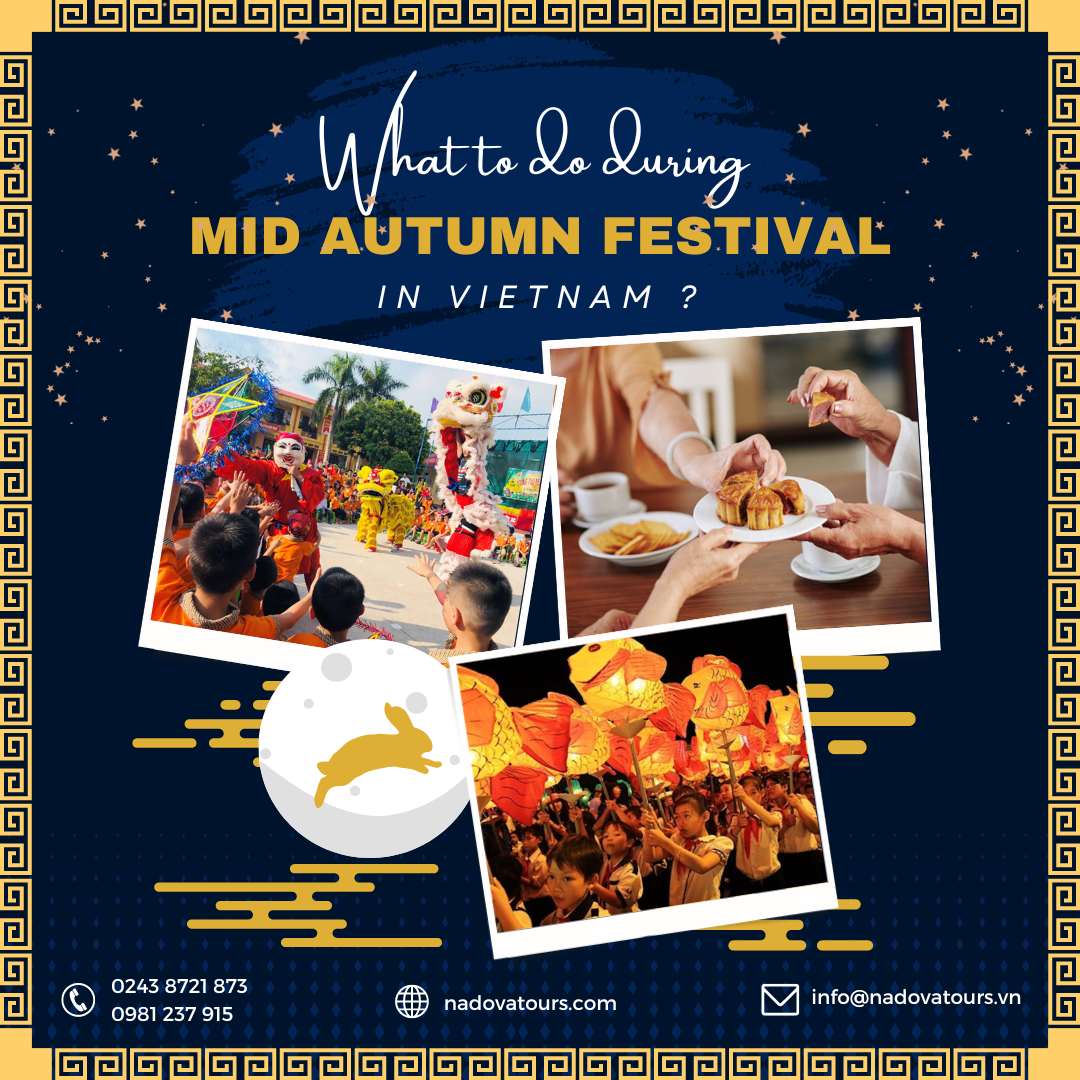 Lantern parade

The Mid-Autumn Festival would be indispensable without the image of lanterns - a symbol of prosperity, happiness and warm family affection for Vietnamese people. The lanterns have different designs such as stars, carp, monks, rabbits, etc. Most are handmade from bamboo, wind paper, and decorated with vivid drawings. However, in today's modern lifestyle, making your own lanterns is no longer as popular as in the past. Instead, children will be bought by their parents battery-powered lanterns that are more beautiful and eye-catching.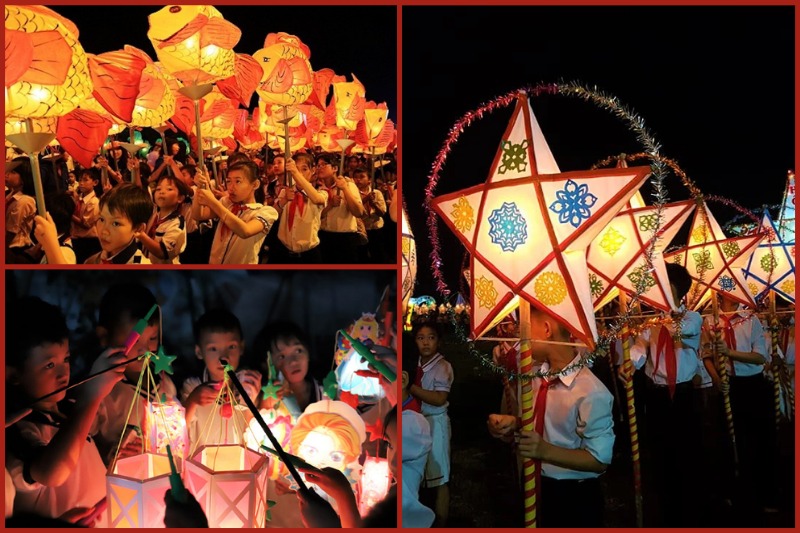 (Lantern parade in Mid-Autumn Festival)

Traditionally, children will gather in crowds, holding colorful lights in their hands and walking around every corner of the street. A paper mask or a plastic mask can be worn. The children will sing together the verses in the song "Light procession in August" to stir up the atmosphere. Children can go with the unicorns and two famous characters, The Moon Lady (Ms. Hang) and The Moon Boy (Mr. Cuoi), making them even more excited and happy.

Watching Lion Dances

According to folk tales, the Earth God who governs the land often gives blessings to the people. He and the lion came to earth and helped people live a peaceful life and do well. Because of that, the custom of the lion dance was born - the lion followed the Earth God holding a fan, laughing happily.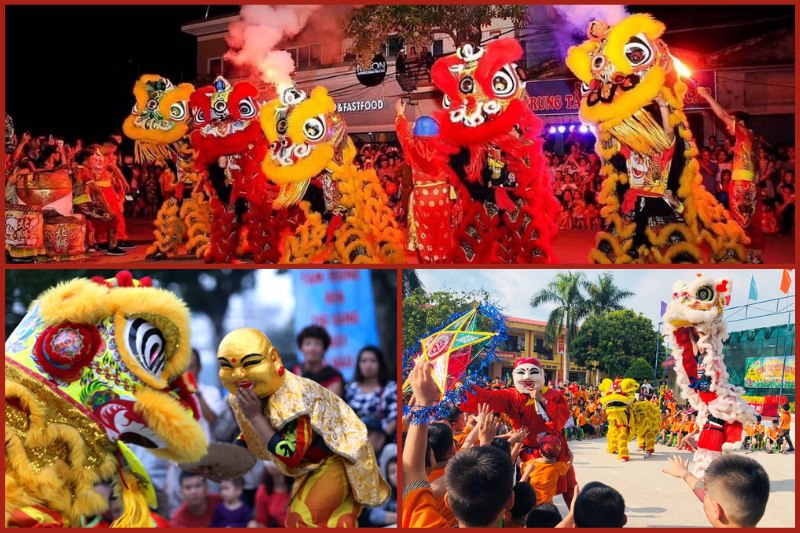 (Lion Dances in Mid-Autumn Festival)
This activity has created a bustling atmosphere in
Vietnam Private Tours
. The bustling sound of drums and joyful shouts from children and adults will
help connect multi-generational families together
. This is an extremely important traditional cultural beauty of Tet reunion day that children look forward to.
Eating Moon Cakes
Mooncakes symbolize family reunion and happiness
. This symbolism originates from families gathering together to celebrate the Mid-Autumn Festival. Nowadays, giving baked cakes in the 8th lunar month is a tradition for many people.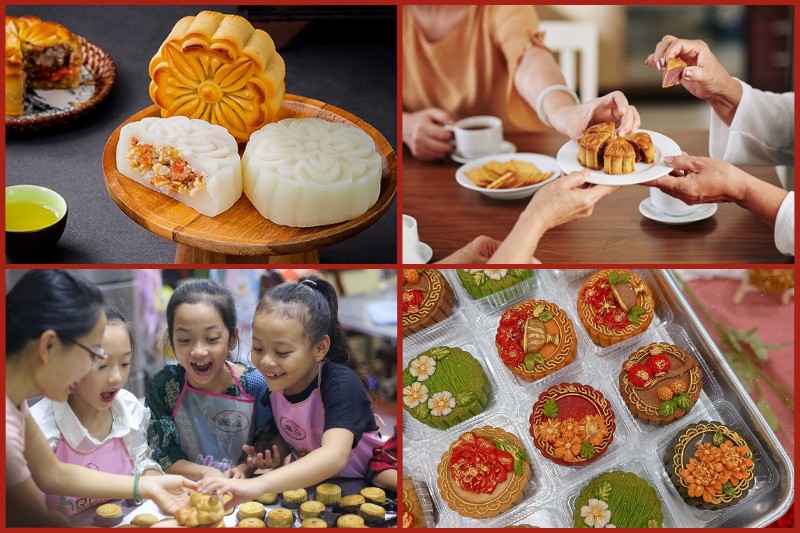 (Eating Moon Cakes in Mid-Autumn Festival)

Pies and cakes can be called the "soul" of the full moon night of August. The typical cake is round and square, symbolizing the moon and sun, with elaborate patterns, meaning happiness and prosperity. The layer of baked mooncakes is golden and delicious, while sticky rice mooncakes is white and soft, great to enjoy with romantic tea. With the constant creativity of many bakers, there are currently many different types of mooncakes on the market, including: traditional mooncakes, green bean mooncakes, and moon cakes. lotus seed filling, green tea mooncake, flexible moon cake, tiramisu mooncake,...

Participating in Folk Games

Folk games are indispensable activities in every Mid-Autumn Festival, physical movement games such as tug of war, blindfolded drumming, sack jumping, cat and mouse,... This activity not only creates a bond between children and their families but also helps children interact with their peers. While the children participated in the game, the adults cheered, creating an even more exciting Mid-Autumn Festival atmosphere.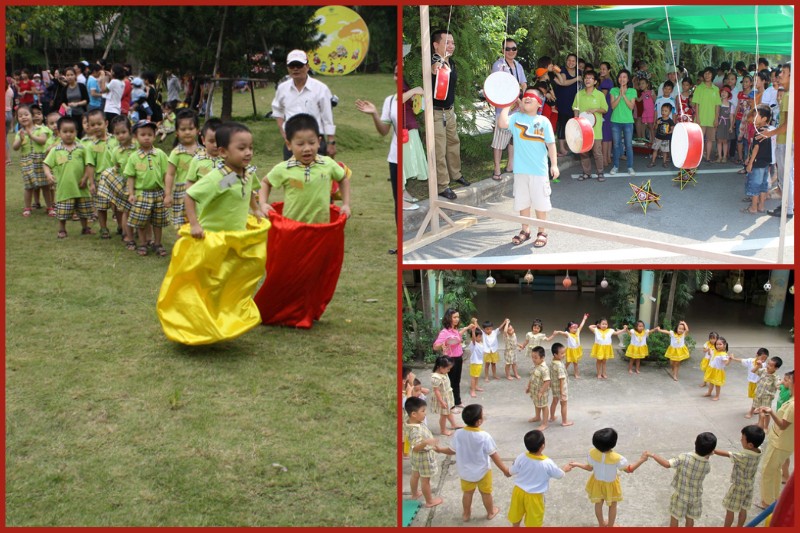 (Participating in Folk Games in Mid-Autumn Festival)
In the past, folk games during the Mid-Autumn Festival have become
childhood memories
, an unforgettable memory. However, today children do not know anything about these folk games or just listen to their grandparents and parents. Therefore, folk games not only create a joyful atmosphere but also help children and travelers of
Vietnam Customized Tours
learn about the origin and profound human meaning of the Mid-Autumn Festival
.
Make a Mid-Autumn Platform
A mid-autumn festival consists of moon cakes and confectionery. There are also
typical, colorful fruits
such as grapefruit, dragon fruit, pomegranate, guava, orange, purple sugarcane, watermelon, etc. All are decorated and arranged
artistically, creating an eye-catching mid-autumn tray
.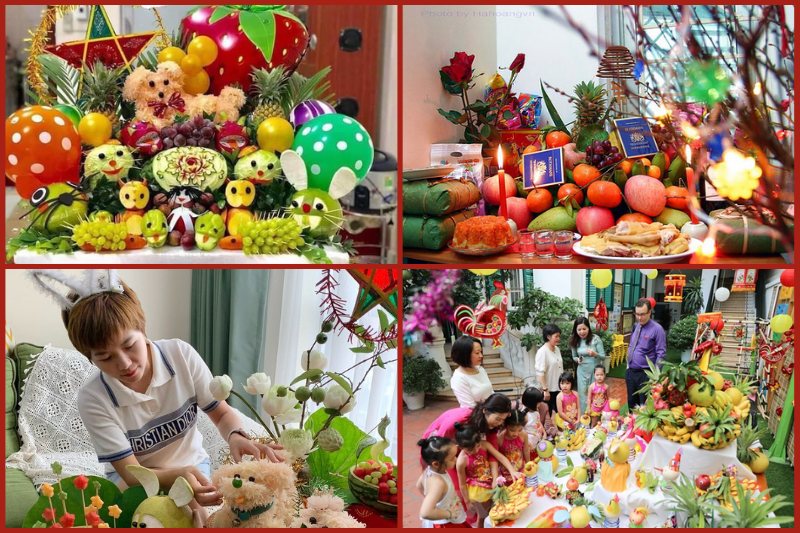 (Make a Mid-Autumn Platform in Mid-Autumn Festival)
According to custom, family members will
gather to prepare a mid-autumn tray to worship ancestors
. In addition, ancient Vietnamese people believed that the Mid-Autumn Platform also had offerings to
pray for favorable weather, good harvests, and favorable work
. Some schools or organizations will organize tray making competitions this Mid-Autumn Festival to connect children and adults.
Mid-Autumn Festival is an important and colorful traditional festival of the Vietnamese people. On the
full moon day of the eighth lunar month every year
, Vietnamese people organize
special activities
such as lion dancing, making lanterns and enjoying traditional dishes such as moon cakes. This has attracted tourists to
Vietnam Private Tours
to experience. In particular, the Mid-Autumn Festival also means
an opportunity for generations of families to reunite and share joy and love
.