Located in Champasak Province, Southern Laos, Pakse is one of the most fascinating places where you are free to try lots of adventurous activities. In fact, "Pakse" means mouth of the river, so this site involves both mountain and river. Lying between the Mekong and Xe Don, Pakse is an ideal sight for tourists before visiting Bolevan Plateau. If you are curious about Pakse or its charming beauty, here are the top things to see and do in Pakse.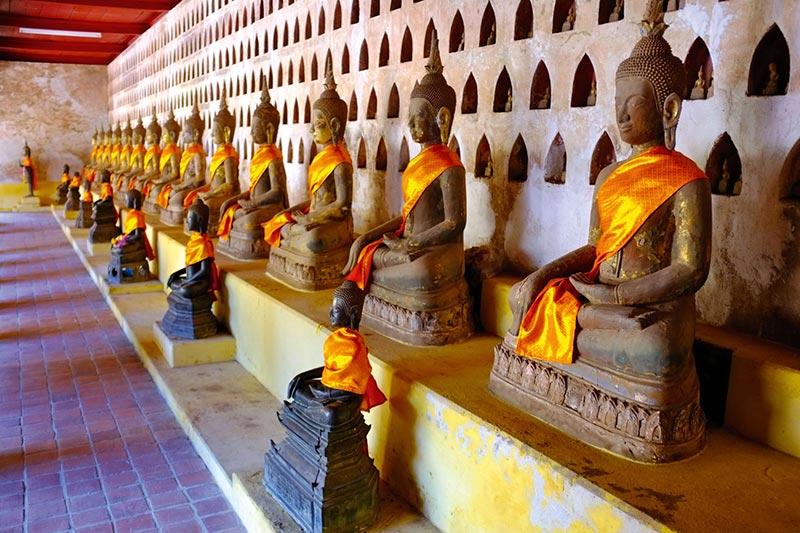 Wat Luang
Wat Luang is situated near the bridge of Xe Don. This temple is situated on a high mountain, with two paths: one straight to the top by climbing through thousands of stairs, two is to ride up the mountain. This temple is currently only 50% built and is still under construction. The first impression when coming here is the rows of Buddha statues arranged in an arc along the mountainside. Each Buddha is provided by an individual or a family to the temple. On the middle of the mountain is a huge golden Buddha image overlooking the entire city below, the scenery is vast and majestic. Plus, Wat Luang has many beautiful paintings depicting the Buddha's life. In your Laos private tour, you can stroll through the well-kept gardens and check out the intricately carved wooden doors, which can help you know more about Laos customs and tradition.
Dok Champa
When you soak in a Laos family tour, don't forget to unwind a bit by traditional message. Just stopping by Dok Champa and you can have a relaxing day with aroma and meditating oil. After a long day sauntering in the capital city of Laos, some hours for message can help you soothe the strain and the stress. The price is reasonable, so you do not have to break the bank to let your hair down. All the clients wear pajama-like attire and lay on a mat on the floor for traditional massage in Laos. This makes your massage day is top-notch and you may don't want to leave this beautiful place and back to the hustle and bustle of the city.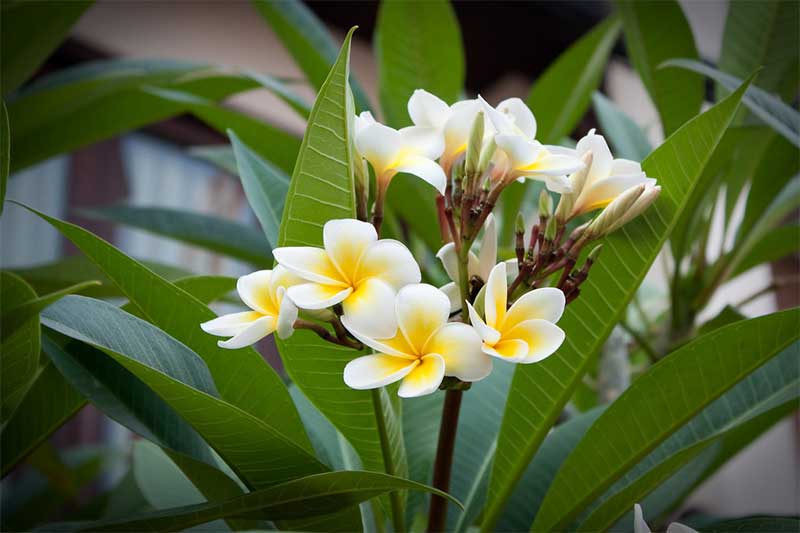 Read more: Best exhilarating experiences you can only have in Laos
Dao Heuang Market
This popular market is also known as the Km 2 Market. In the morning, you can visit Dao Heuang Market and buy everything you need for your Laos customized tour. This market is home to a wide range of homegoods, local food and unique souvenirs. Morover, Heuang Market is located near the Lao-Japanese bridge in Pakse, so you also can take some shots and post them on social networking sites. Plus, this market is a supplier of many duty-free items with reasonable prices including chocolate, wine, cigarettes, cuban cigars, coffee, household electrical products and silk fabrics and jewelry. Don't hesitate to stop by the largest market in southern Laos, it definitely would not let you down.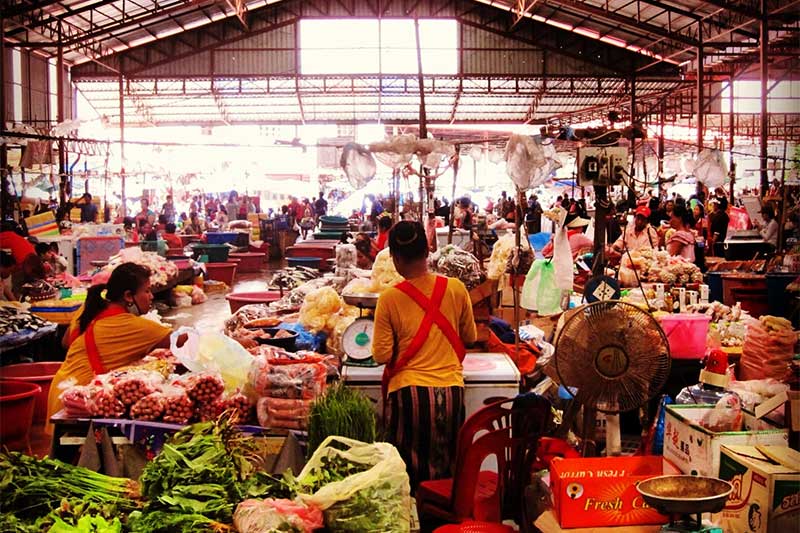 Read more: How to spend two weeks in Vietnam and Laos?
The Champasak Provincial Museum
The Champasak Provincial Museum stores and maintains a handful of historical documents pertaining to Champasak. Here you can find many remnants and artifacts in the bygone era and almost all of them are still intact. Coming to this place, you might gain a deeper understanding about Laos' culture. Don't forget to register a Laos family tour including a tour guide, so you can ask anything you want to know about Laos' historical periods.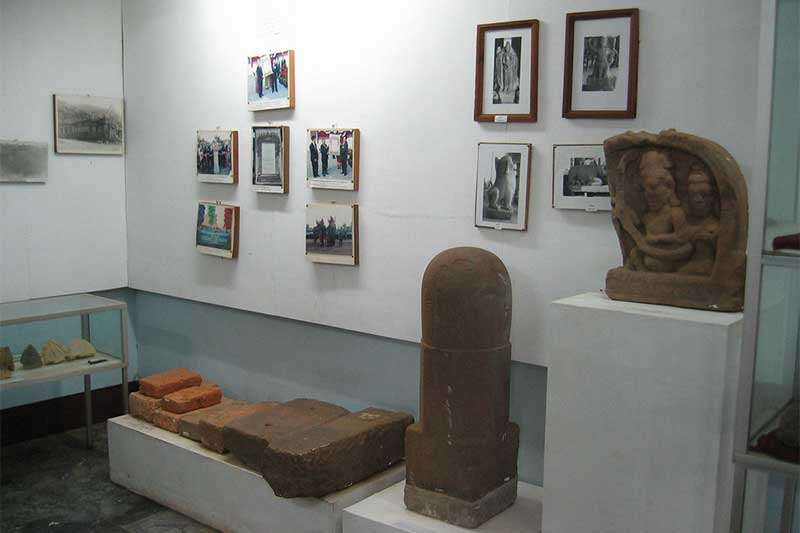 Read more: 8 reasons why you should visit Laos
Khone Phapheng
Champasak also boasts Khone Phapheng waterfall - the largest waterfall in Southeast Asia, connecting the two banks of the Mekong River with the two provinces of Champasak and Strung Treng of Cambodia. Paying a visit to such place, tourists might know why why Khone Phapheng was deemed to be the "Niagara of Asia". Although Khone Phapheng is not vertical and high like many other places, the waterfall is longer than 12km and always has a huge amount of water. When you stop by here, you will easily can hear the water stream rumbling down like thunder. In dry season, around March to May, many large and small islands emerge on the river to create a picturesque scene, which is the ideal materials for your photos.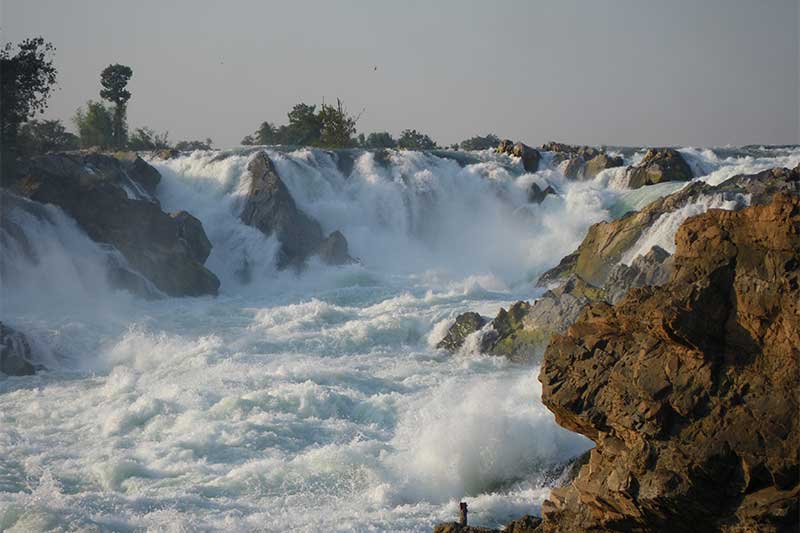 Rooftop Sunset
After a long day blending into stunning nature with adventurous activities, it's time for a cup of coffee in a swanky rooftop. Check out the happy hour at the rooftop bar of the Pakse Hotel and Restaurant, and you can have a gorgeous afternoon with your favorite drink. Also, the panoramic views here are splendid in the sunset when you can see a spectrum of different bright colors. Sounds great for your intimate teatime, right? Tourists tend to stick around for dinner and waiting for watching the stars come out. Trust me, this place is wonderful to be included in your Laos travel package.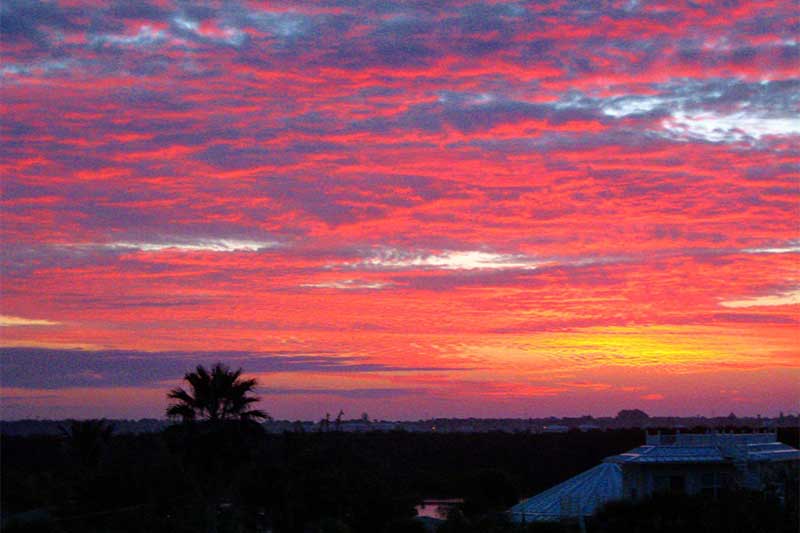 See tours:
Ultimate Indochina Vietnam - Laos - Cambodia Tour 12 days
Vietnam - Laos Family Tour from Sai Gon 16 days
Amazing Indochina Holidays 27 days