Despite the moderated shape in the global map, Vietnam still impressed tourists by many fascinating places. Thanks to the creation and skillful hands of residents, Vietnam gradually becomes one of the most engaging travel destinations in the world. If you decide to register a Vietnam customized tour or a Vietnam family holiday, you may want to glance at this list. In Part 1, we introduced 4 glamorous locations in Northern Vietnam, so here are another 4 sites you should come by to soak in the striking beauty of Northern Vietnam.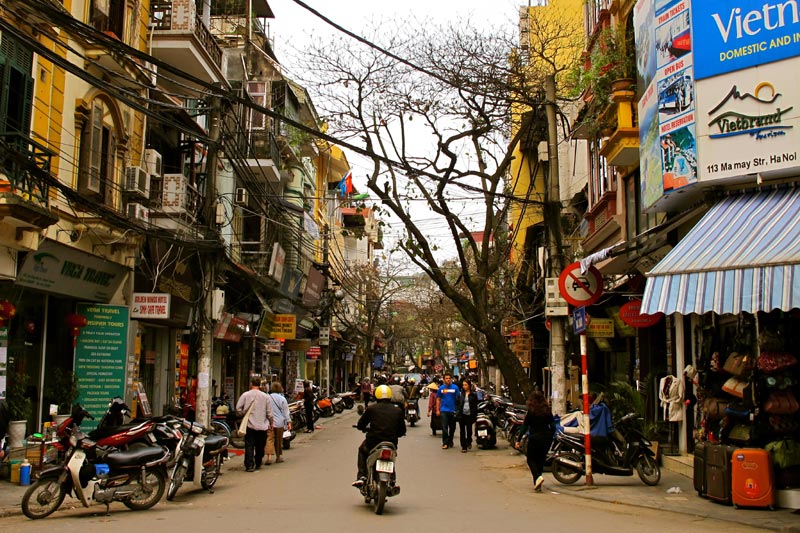 Read more: Top 8 must - visit places in Northern Vietnam (Part 1)

5. Cát Bà (Hải Phòng)
Cat Ba, also known as Ngoc Island, is the largest island out of 1,969 islands on Ha Long Bay. Cat Ba Island is also a giant green carpet containing many mysteries and attractions and deserves to be the third biosphere reserve in Vietnam, (now certificated by UNESCO as a biosphere reserve in the world). The total area of Cat Ba biosphere reserve consists of two core zones (strict conservation and no human impact), two buffer zones (allowing limited economic development but combined with conservation) and two transition zones (being promoted for ecotourism development). Cat Ba Biosphere Reserve is an area of full convergence of tropical rain forests on limestone islands, mangrove forests, coral reefs, seaweed beds and especially cave systems. Cat Ba also has the Cai Beo monument which belongs to Ha Long culture, the inhabitants lived 6475 - 4200 years ago. In the southeast of the island, there is Lan Ha Bay which has small but clean waves which are convenient for developing sea bathing and relaxation. Don't forget to register a Vietnam private tour and visit the three most famous beaches that attract many tourists to Cat Ba Island. All three ones are surrounded by green mountains, smooth waves and less windy. The most interesting is three beaches are connected by a small wooden bridge along the mountainside.
Tourists who like vibrant atmosphere can blend into the crowd at Cat Co 1 beach with many crowds gathered. If you want to find a quieter space, you can follow Cat Tien Bridge to cross Cat Co 2 beach. This beach is narrower and quite easeful.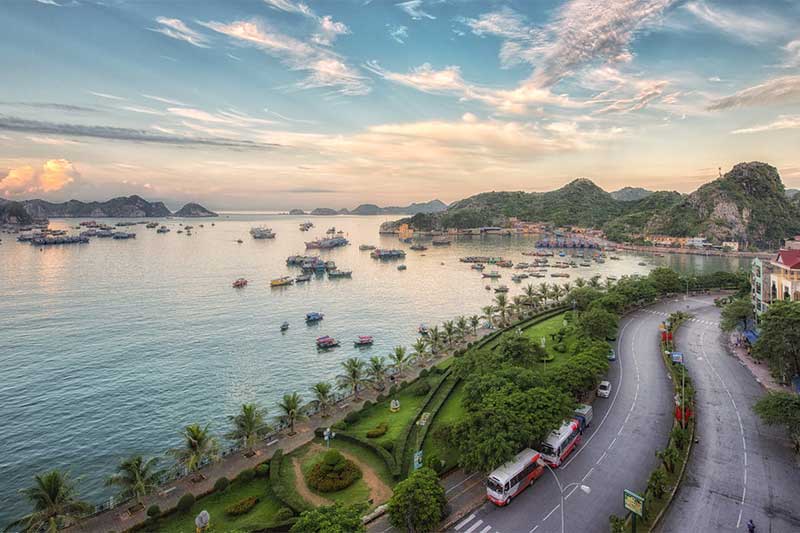 6. Mai Chau (Hoa Binh)
Located in the northwest of Hoa Binh province, 130km from Hanoi, 60km away from Hoa Binh, Mai Chau is an exchange land of many ethnic groups. Each of them has its own customs, contributing to the diversity of Vietnamese culture. This nice spot is also the destination of thousands of foreigners who want to discover the local life. Mai Chau is as vivid as a picture in every single season. In spring, Mai Chau is covered by white plum blossoms and crimson peach blossoms. In the summer, the scenery is full of lush green shade of forest trees, rice and corn fields. In particular, at the end of autumn and early winter, Mai Chau has a warm and brilliant gold color, which made by the terraced fields are all over the hillsides.
Mai Chau also attracts travelers by historical and cultural relics. In which, there are 5 relics which are recognized by the Ministry of Culture, Sports and Tourism. They are Hang Khoài (Khòe Tattoo), Hang Chieu (Mai Chau town), Japanese Cave, Hang Lang, Hang Mo Luong (Chieng Chau).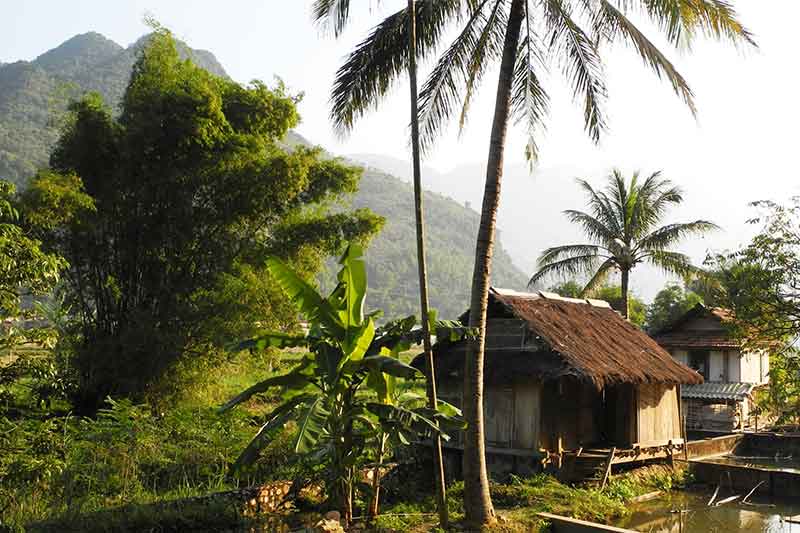 7. Ba Be Lake (Bac Kan)
Formed more than 200 million years ago, Ba Be Lake is identified as Vietnam's largest freshwater lake and one of the world's 20 special freshwater lakes. Ba Be Lake attracts visitors not only by its unique geological landscape but also by the biodiversity that brings great natural value. Ba Be draped over the majesty of the mountains and forests, and graceful, soft charm of water. The weather is quite cool all year round so it is an ideal place to visit.
In term of the cave system, Ba Be is also the place where famous for an impressive cave. Nang River flows through Lung Nham Mountain, forming a beautiful cave called Puong Cave. As a two-way cave, Puong cave is 300 meters long, more than 30 meters high with vertical cliffs and different stalactites.
Not only enjoy the poetic and lyrical scenery, come to this place, visitors also discover the traditional culture of the ethnic Ho area community. Visitors also have the opportunity to experience the lifestyle of ethnic people with many traditional activities such as drinking spicy corn wine, enjoying buffalo meat, joining single carpentry boat races.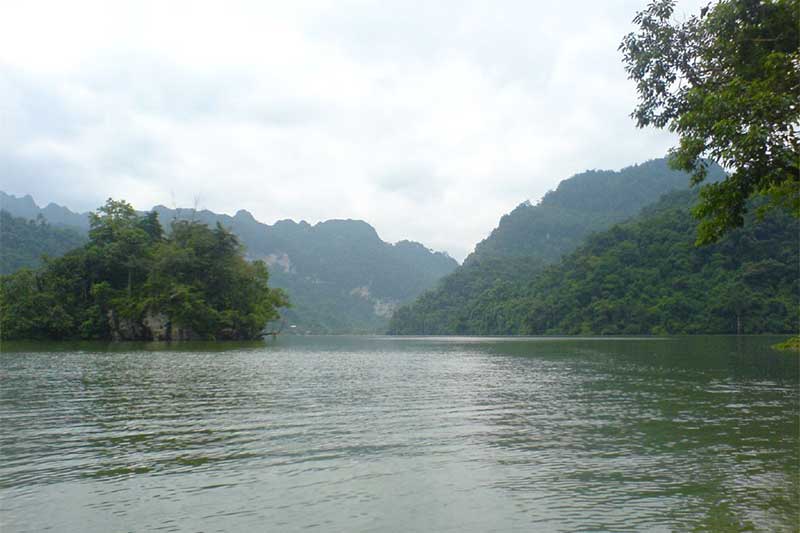 8. Ha Noi
Apart from placid places in your Vietnam travel package, Hanoi is a dynamic city which is always full of bustle. As an urban area, the capital of Vietnam is the perfect mixture of historical and modern beauty. You can squander in Hanoi Old Quarter with a great number of narrow alleys and brick buildings. In particular, each street is named after a certain item which was sold in the past like bamboos, herb, cloth,... If you want to know more about Hanoi's historical culture, you should come by these popular monuments such as Ho Chi Minh Mausoleum, One Pillar Pagoda, The Temple of Literature (Van Mieu). Have a long day and you are tired? Just stop by to buy a glass of freshly brewed beer at an open-air bia hoi's and listen to the rowdy toasts from regulars who come here to chat about dozen of topics, from sports to major business deals.
Coming to Hanoi, you never be ravenous as there are various rows of food- street stalls which provide you many cuisines. You can have a bowl of Pho for the breakfast, enjoy the elegant taste of Bun Cha, take some Banh Mi in the afternoon in case you are hungry and finish your day by a hearty meal made by Spring Rolls (Nem), Grilled Fish (Cha Ca) and Trang Tien Ice cream. You also sip some cups of traditional coffee in a riverside pub. This is definitely the way to immerse yourself into Vietnamese daily life.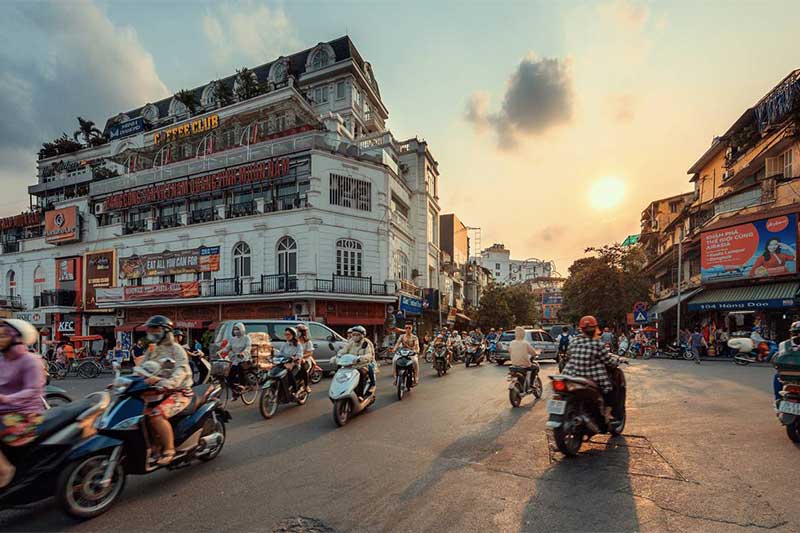 Related Articles:
Top 8 must - visit places in Northern Vietnam (Part 1)
Best family-friendly destinations in Vietnam
10 things to love when traveling in Vietnam

See tours:
In-depth Vietnam Tour with Sapa 16 days