Are you searching for great destinations to have a memorable family holidays? Vietnam, with unique culture, delicious food and stunning landscapes has everything to offer to people of different ages. There are many wonderful places in Vietnam for the whole family to enjoy and have fun together. Let us show you the list of best destinations to have an awesome Vietnam family tour that all the members of your family will enjoy: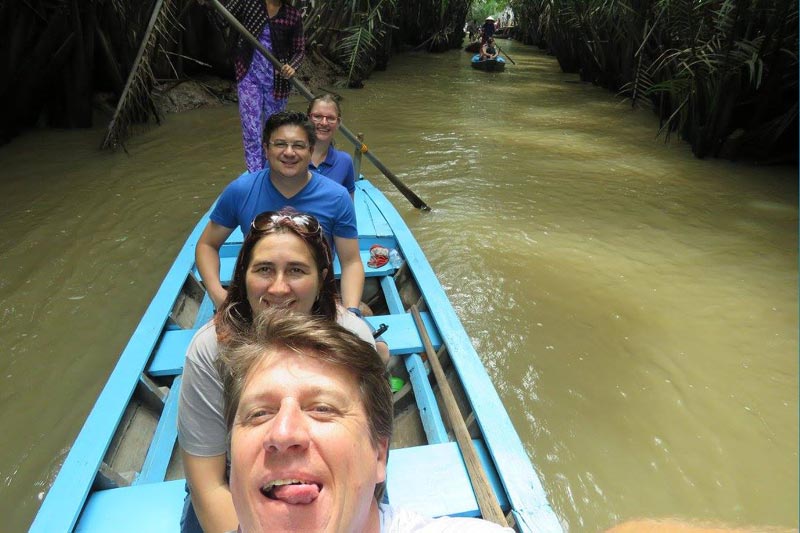 Best family-friendly destinations in Vietnam
Hoi An
The UNESCO world heritage town of Hoi An is the top destination to have a wonderful family holidays in Vietnam. It doesn't matter how old you are, it is really hard not to fall in love with this charming town. The whole family can enjoy the picturesque and tranquility of the ancient town with colorful lantern street. Tourists can enjoy the boat ride along Thu Bon River, joining cooking or lantern making classes. For outdoorsy members of the family, cycling to the surrounding countryside or travelling to Cham Island for swimming and snorkeling will be a delight. The beautiful beach in Hoi An is only a short bike ride from the town center.
Danang
Not far from Hoi An town, Danang is the largest city in Central Vietnam but much calmer and less crowded than big cities like Hanoi and Ho Chi Minh City. The pristine beaches in Danang are great for having a family relaxation. Hiking or driving to Son Tra Mountain will give the stunning views of the entire Danang City. There are two amusement parks in Danang: Asia Park and Ba Na Hills where young kids can enjoy great entertainment and the elderly can admire the beautiful landscapes.
Halong Bay
On a Vietnam customized tour, Halong Bay is the place that should not be missed. The beautiful bay is also a family-friendly destination with plenty of things to see and do for people of all ages. Cruising the spectacular limestone bay is a great way to have long lasting family memories. The most popular activity for family to have fun together is kayaking to explore the fishing villages or untouched lagoons. Many cruises also offer cooking demonstration on their travel itinerary. If you could spend 02 nights on a cruise, visiting Cat Ba Island on the second day for hiking or biking will be another great family stuff.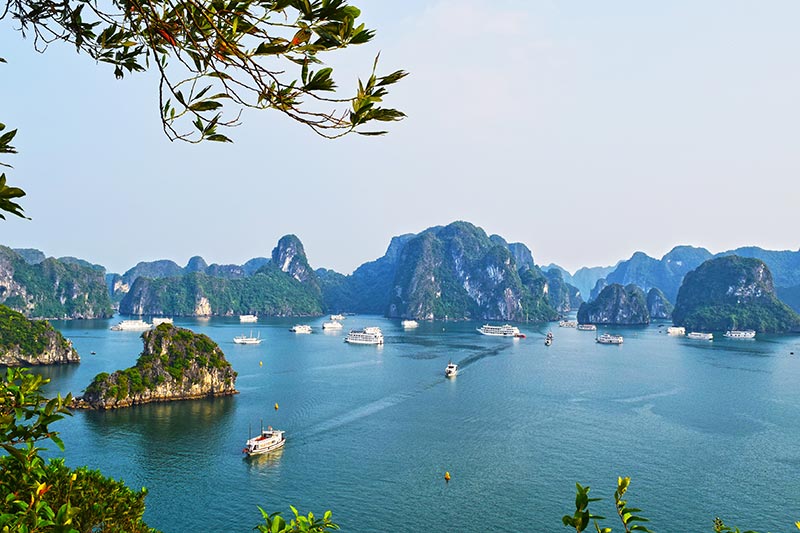 Halong Bay- a natural wonder of Vietnam!
Phu Quoc Island
The biggest island in Vietnam is a perfect place for having a beach break with family. In fact, this gorgeous island has been added to travel itinerary for Vietnam customized holidays of many honeymooners and families. White sands and crystal waters with swaying palms, Phu Quoc is home to many beautiful and luxurious resorts. Besides relaxation, the families can join snorkeling and fishing tours or visiting the pearl farms. The newly opened VinPearl Land is another great day trip for family while staying in Phu Quoc. There are safari rides, entertaining show and massive water park for having fun.
Nha Trang
Nha Trang is always a top beach destination in Vietnam with calm blue waters, soft sands and long range of coconut trees. Though Nha Trang is quite busy with lots of tourists visiting in recent years, it is still recommended to add to travel itinerary for Vietnam family tours. It would be great to avoid the busy city and staying at peaceful beach resorts. There are also many theme parks for kids in Nha Trang as well as boat tours to the tropical islands around the bay. Mud bath is another great activity for the whole family.
Ninh Binh
Around 02 – hour drive to the south from Hanoi Capital City, Ninh Binh is often known as the "Halong Bay on land". There are thousands limestone mountain dotted around rice fields and peaceful rivers. Ninh Binh offers plenty things to explore for family, such as hiking through the lush Cuc Phuong National Park, biking the village roads to enjoy the countryside scenery or taking a boat ride in Tam Coc or Trang An to admire the breathtaking natural beauty. For the active families, climbing Hang Mua Mountain is a great activity and the award will be stunning views of the surrounding rural areas.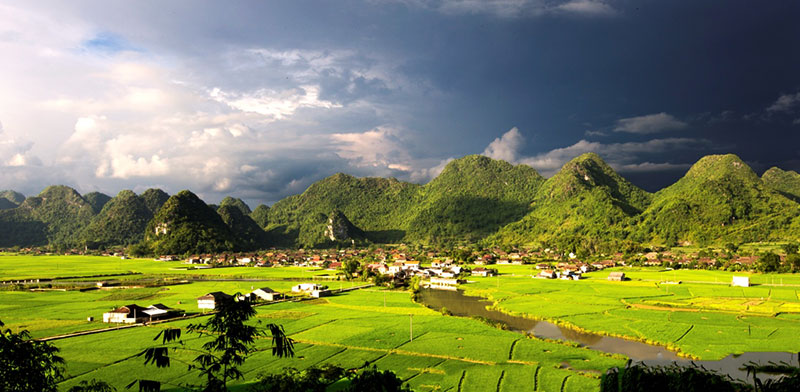 Ninh Binh - "a Halong bay in land"
Madagui Forrest City
Located in the jungle of Lam Dong Province, about 3 hour drive from Ho Chi Minh City, Madagui Forrest is a great place for families looking for adventurous and active things on their Vietnam private tours. There is a wide selection of activities that can bring your family together such as camping, fishing or ziplining and zorbing. From summer months of June to October, fruit picking is another good option for family to enjoy at Madagui Forrest City. Over there, families can choose to stay at villas or just camp under the stars.
Da Lat
Going further than Madagui Forrest City into the Central Highlands of Vietnam, Da Lat is a beautiful city surrounded by stunning natural beauties from serene lakes, valleys of flower to scenic waterfalls. Located at a high altitude, Da Lat has pleasant climate all year round, so you don't have to worry much about your children getting sunburn or overheating. In Da Lat, families can enjoy the peaceful atmosphere or taking a cable car ride over the picturesque hills. For outdoorsy families, hiking, ziplining or climbing waterfalls are the interesting activities to challenge everybody.
Mekong Delta
The mighty Mekong Delta is suitable for people of all ages and it should be added to every travel itinerary for a great family trip in Vietnam. The tours to Mekong Delta from Ho Chi Minh City offer a lot of activities for tourists such as taking boat ride to explore the labyrinth of waterways, cycling along narrow countryside road, visiting tropical fruit orchards and colorful floating markets, learning the traditional ways of making stuff at local handicraft workshops. There are tons of thing to do and see in Mekong Delta that can bring your family together.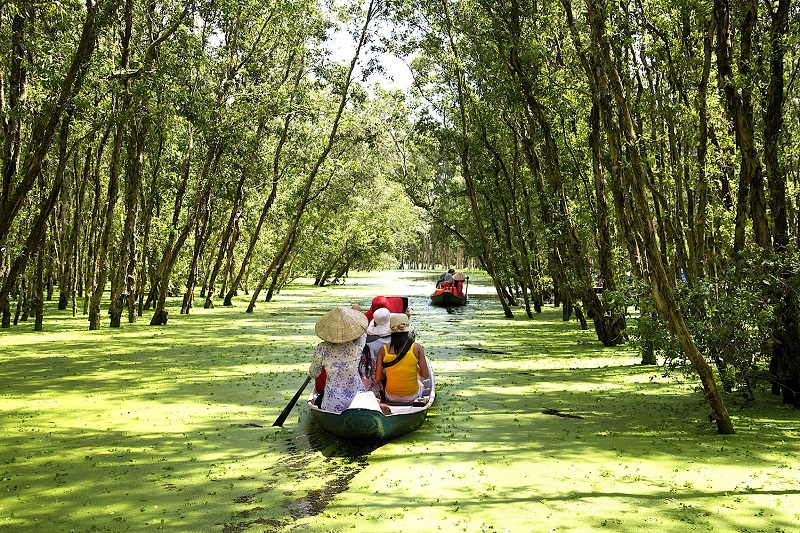 Mekong Delta - the largest Delta in Vietnam
---
Read more:
Best places to visit in Vietnam in December
How to travel in Vietnam with kids
Top things to discover on Vietnam Tours with your family
View tour: Classic Vietnam Family Tour 14 days