In the previous article, we were pleased to introduce what to buy in your Vietnam private tour and how to find these items. You could find it easy when searching for Vietnamese souvenirs, couldn't you? Today, visitors having Vietnam customized tours can have more options to purchase ranging from tropical fruits, ceramics or handicrafts. In particular, if you are planning to come to the South of Vietnam, make sure to look at the list below.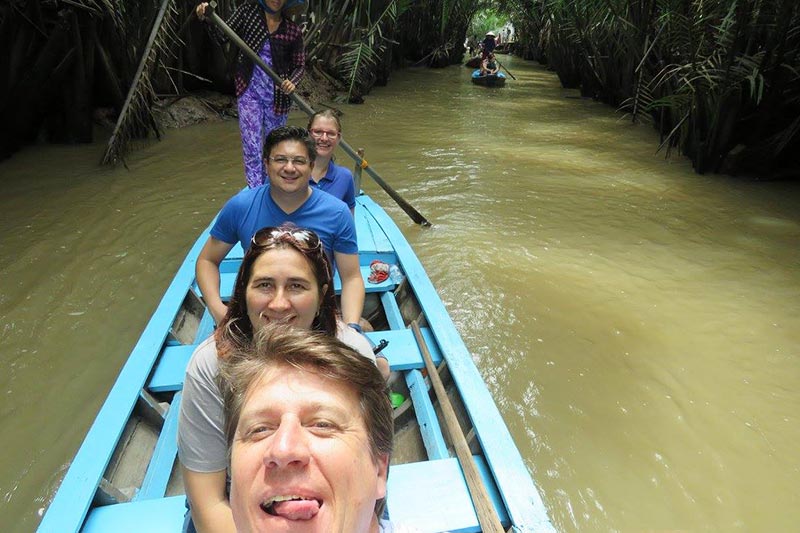 Da Nang
Da Nang is the third big city of Vietnam so this central land's culture reflects the mix of the North and the South. Mentioning Da Nang, we cannot miss marble stuff. In fact, Da Nang is well-known for Marble Moutain where most of the marble structures stemmed from and Non Nuoc Stone Carving Village. Therefore, you can find various kinds of stone artworks made from marble with different sizes and models such as Buddha statues, religious figure, animals, and jewelry and other packed souvenirs. Moreover, all the shops can help to deliver your purchased items to wherever you want at a reasonable price. In case you are into sculpture, the Da Nang Stone Carving Village is your ideal place to admire incredibly delicate artworks. Besides, it is a wide range of "I love Danang" or "I love Vietnam T-shirts" which are kind of signature in Danang City. You can easily buy them from local stores to show affection to Vietnam or buy them for friends as souvenirs.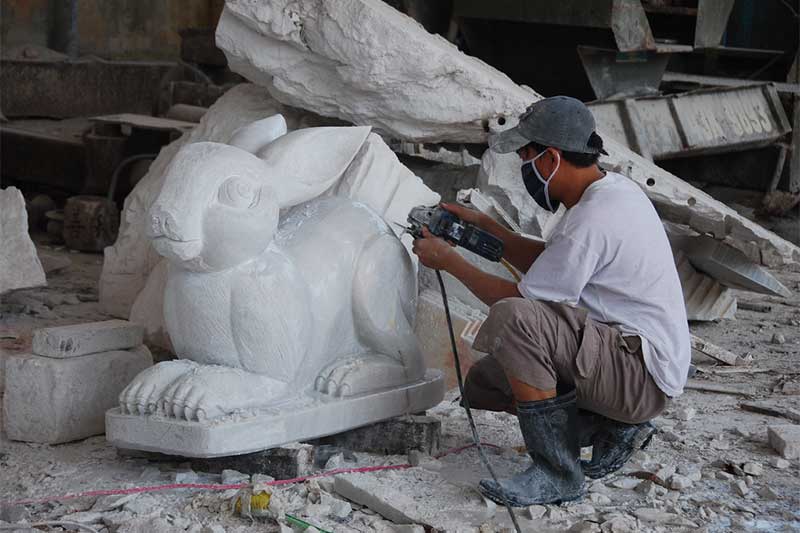 Read more: 4 adventurous things to try in Da Nang
Ho Chi Minh City
Ho Chi Minh constitutes one of the most bustling cities in Vietnam. Merchants from all region of Vietnam tend to flock in this place to sell stuff. Global tourists who join in a Vietnam vacation can buy many kinds of unique products because it is truly within your reach. There are many options such as fabric, hand embroidery or ceramics. In terms of silk, you can buy this item for the exorbitant price to the affordable one depending on your choices. You can find it in the local market like Tan Dinh or Tan Binh Market. In case you are a coffee lover, you can hunt for well- packaged coffee for creditable local brands. A Vietnamese coffee kit usually is usually sold with a stainless steel single-cup filter, a packed roasted coffee (and a sweetened condensed milk bottle sometimes). All items can be wrapped in one package as well as decorated for you to bring along on your way home. Hand embroidery artwork is also another option for tourists to opt for to save their memories. The embroidered arts consists of the natural scenes or the locals' daily lives with a small one costs you at least 500,000 Dong. You may even meet some artists who are willing to sketch your portraits or personalized version for yourself after a few minutes.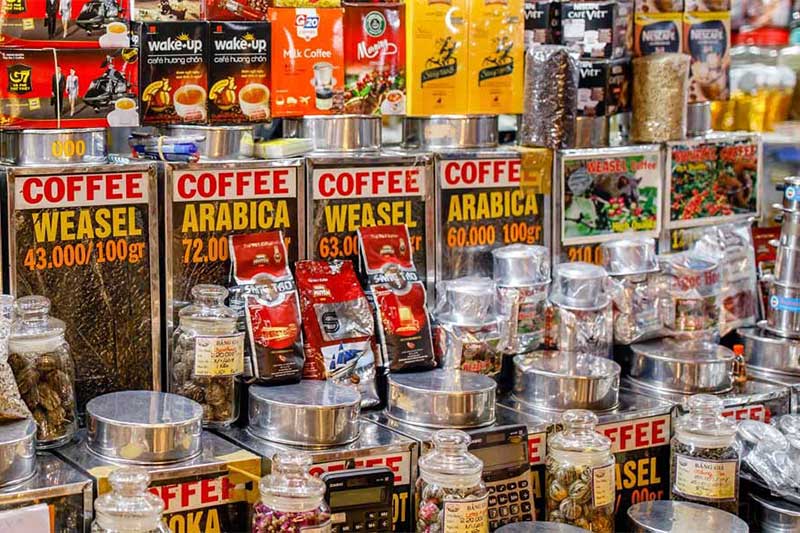 Read more: The top 10 best things to do in Ho Chi Minh City
Phu Quoc
Phu Quoc is a coastal city located in South Vietnam. This island is not only be known with breathtaking sceneries or splendid panorama but also seduce tourists by its specialities that come from local markets. First of all, it must be the stinky fish sauce. Both Vietnamese people and tourists would agree that the highest- quality fish sauce comes from Phu Quoc. This sauce product from here is so scrumptious that can be world-renowned due to Phu Quoc is close to the sea, thus, the freshness of the main ingredient - black anchovy can be ensured. You can pick up the size and the package and be sure about the rich flavour. If you are not a big fan of fish sauce, black pepper seems to be more suitable. There are around 500 hectares of pepper plantations that reap 1,900 tonnes of pepper each year with fresh pepper and dried pepper. Phu Quoc's pepper has their own characteristic pungency that you do not want to forget and it is worth taking some of these packages with you. Particularly, the fresh pickled variety tastes exponentially than the dried kinds.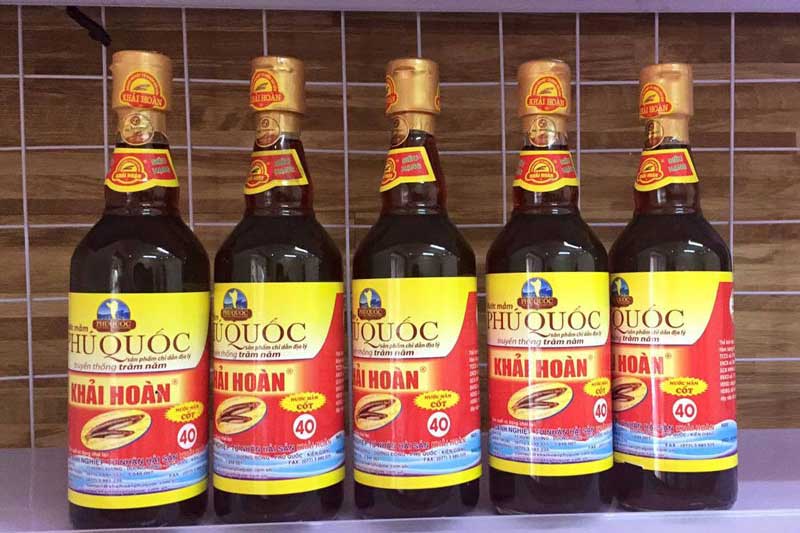 Read more: 6 best places to visit in Phu Quoc
Mekong Delta
Thanks to the hot climate and fertile land, Mekong Delta is home to a wide range of tropical fruits which you can enjoy right at the orchards. Visitors are keen on the feelings of riding down the canals to enjoy fresh fruits. Meanwhile, others are really into floating around Mekong River, stopping by Cai Rang Floating Market to explore plenty of absorbing things, one which is to visit a family business specializing in making coconut fudge. And here is exactly what you can buy as gifts for your friends or family after coming back from the Vietnam family holiday. It is savory, sweet, fresh at the same time and carries the special flavor of coconut milk, which attracts anyone who has a sweet tooth. To make the fudge's fragrance more extraordinary, the locals may add durians, peanuts, cashew, and the extract of pandan leaves to the mixture before shaping it. Ben Tre Province is considered as the kingdom of coconut with a host of fudge factories. You can make a day trip here to admire the rural beauty and bring back the coconut speciality.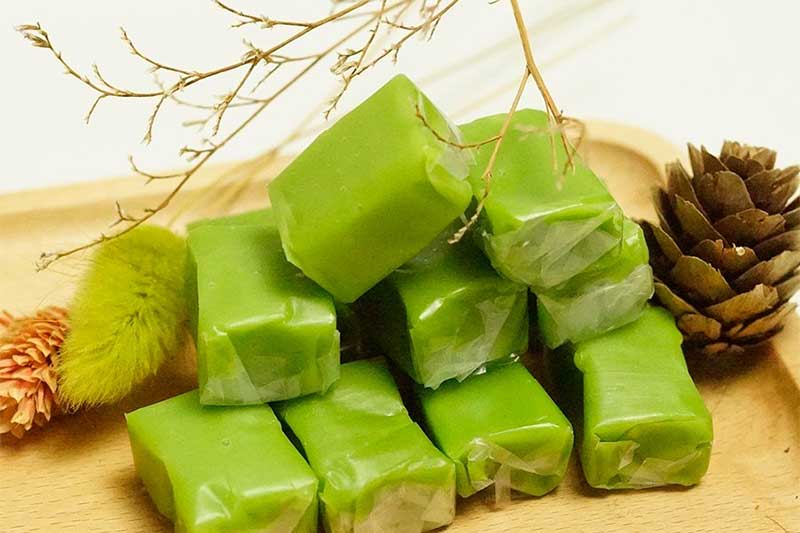 See tours:
Colorful Vietnam - Thailand Tour with Phuket 17 days