Myanmar (formerly known as Burma) was coined the Golden Land for its rich cultural history and natural resources. A country that has endured several decades of rise-and-fall empires and military dictatorships, it is now a coveted tourist destination. In the past few years, Myanmar has opened up for tourism and holds a special place in many enlightened souls who pass through. Here are some must-do activities when visiting this vibrant place.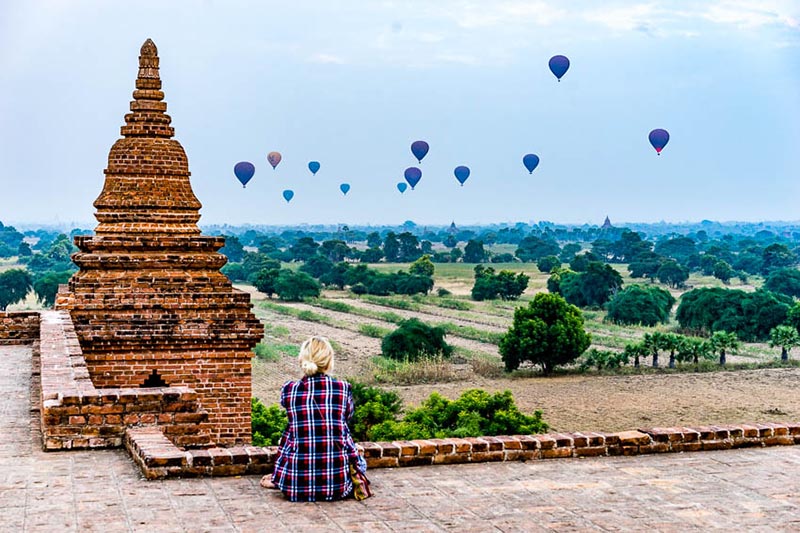 1. The temples of Bagan.
No visit to Myanmar is complete without a few days in Bagan. The best way to get around is by motorbike, which can be rented easily from one of the many stands or directly from hotels. Sunrises and sunsets are unbeatable here. Sunrise can be easily caught after taking the overnight bus from Yangon or Inle Lake — be ready to join many other bleary-eyed travelers climbing up a stupa in the dark. There are several tours available, but the temples are easy to navigate with a map. There are hundreds of temples here, so exploring the lesser known ones is also a great way to spend the day. You're bound to run into some artists selling sand paintings and lacquerware, which are top souvenirs to bring home for friends.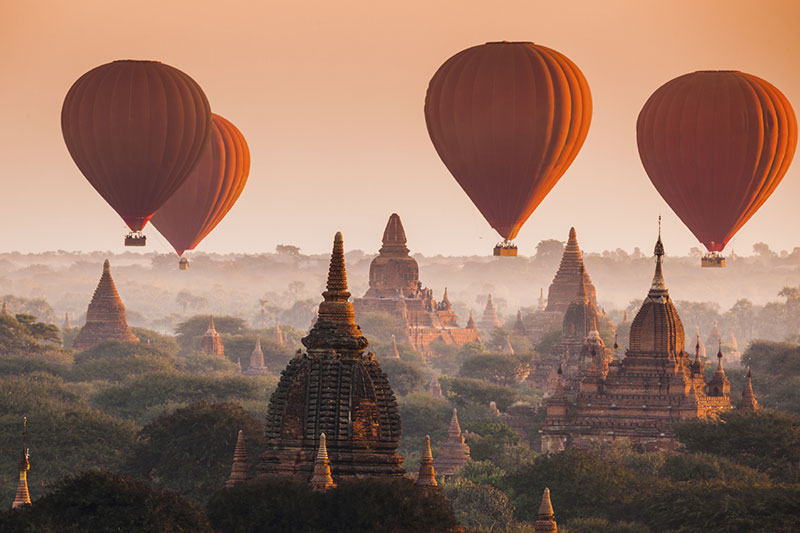 2. Historical walking tour of Yangon.
Walking is the best way to get a sense of Yangon. Despite being a little smelly, chaotic and unapologetic, the downtown sights and colonial buildings are beautiful. The Yangon Heritage walking tour offers tourists information about Myanmar's history, and they are ready to answer any questions about architecture or culture. Yangon Heritage Trust is culturally sensitive to the past, present and future of Yangon.
3. Stilted houses at Inle Lake
The leg-rowers of Inle Lake will bring joy to any traveler. Riding in a long, skinny boat powered by an engine and boat driver at one end, tour-participants on this ecologically rich lake will go to silversmiths, silk weavers, and pagodas at Indein. Visitors find this idyllic place to be a sanctuary after long days of traveling in Myanmar. Stay in a hotel on stilts or in the nearby town Nyaungshwe for access to delicious local and international restaurants.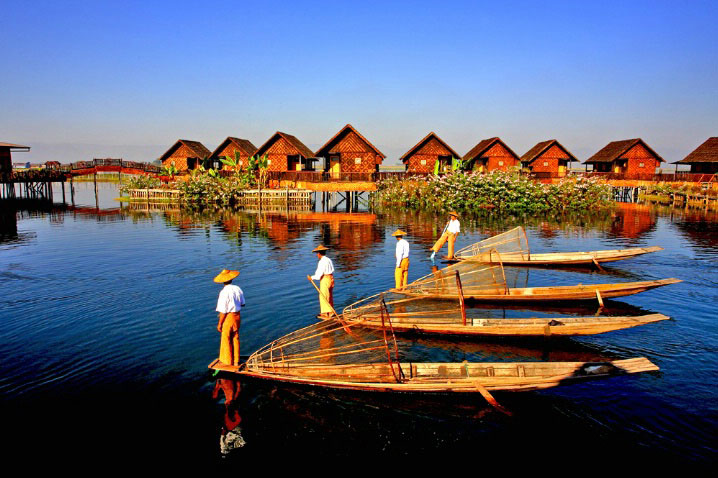 4. U Bein Bridge
U Bein Bridge is the world's longest and oldest bridge, erected in 1850. It is made of teak wood and feels rickety when you walk along it at sunset with hundreds of other people. In recent years, the amount of tourists coming to this place has skyrocketed, but even the crowds don't detract from the beauty. The bridge runs 1.2 kilometers (0.75 miles) across Taungthaman Lake.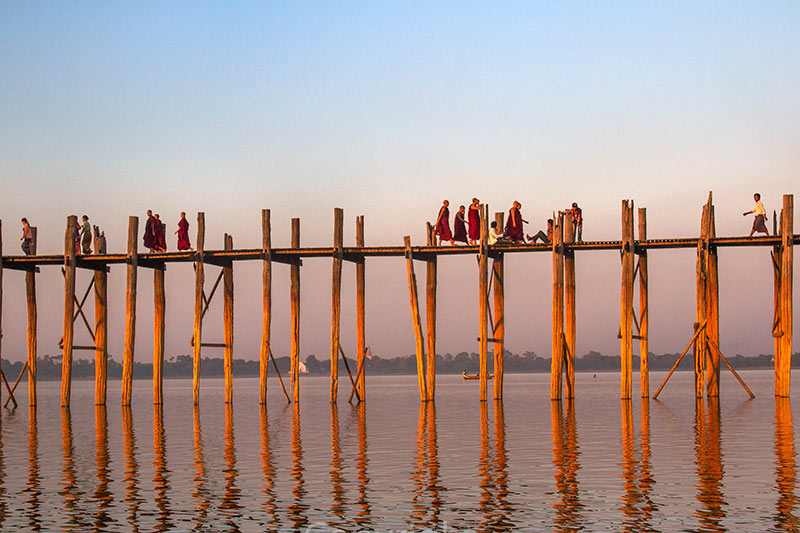 5. Shwedagon Pagoda
Just like Bagan, no visit to Yangon is complete without a visit to one of the most famous pagodas in the world. It is like the Eiffel Tower of Yangon — Yangon being the main commercial city of Myanmar. This massive golden icon can be seen from most rooftops in the city. In fact, many clubs and bars seek out prime rental spaces and shell out extra money for a view of this place. It is a symbol of pride for the people of Myanmar.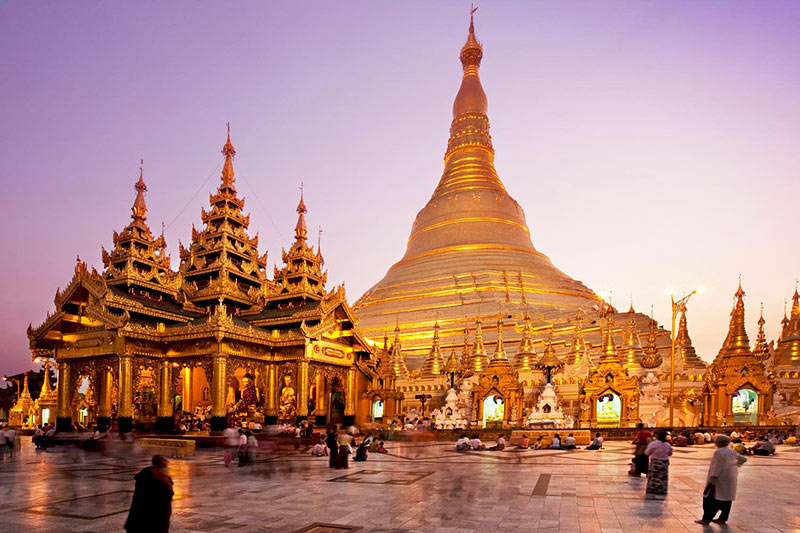 A visit here is absolutely breathtaking and magical. There are four entrances, each leading up a flight of steps to the pagoda's platform. There are also eight planetary posts, one for each day of the week (Wednesday is split in two). Burmese Buddhists will go pray at the respective post where they were born. Each planetary post is ruled by an animal—garuda for Sunday, tiger for Monday, lion for Tuesday, tusked elephant for Wednesday morning, tuskless elephant for Wednesday afternoons, mouse for Thursday, guinea pig for Friday and naga for Saturday.
6. Diving in the Myeik Archipelago
This stretch of land around Myeik is surrounded by unexplored corals, fish and sea life. Several diving companies feature liveaboards where tourists can island hop, snorkel, and scuba dive to their heart's content. Cruises and tour packages are available, since getting around isn't easy.
7. Gokteik Viaduct
Train rides in Myanmar are notoriously uncomfortable. However, adventurous travelers often forego comfort and instead seek new experiences. This railway bridge is nestled between Pyin Oo Lwin and Lashio. Gokteik Viaduct is the highest bridge in Myanmar and was once the largest railway trestle in the world. Landscapes through the mountains and local villages are unbeatable for the price of a few dollars.
8. Walk barefoot in caves
A bit off the usual path of Yangon-Bagan-Inle Lake, Hpa An located in Mon State holds many splendors like Saddan Cave. This enormous cave is dotted with Buddha statues, pagodas, and drawings. There are also bats, mostly harmless, but sudden movements will cause a few to screech and fly around. All caves and temples in Myanmar require you to take off your shoes, so your toes will feel the cave's muddy ground that sometimes floods during rainy season. The only way to return to where you started is either through the cave again or on a small hired boat that takes cave-goers back to the entrance. The opening hours for the cave are 6am – 6pm (seven days a week).
9. Take a ride in a hot air balloon
Go up in a basket and float into the sky. See the pagodas below. Not for those with a fear of heights or backpackers on a budget, because these rides don't come cheap. But if you have money to spend, a hot air balloon ride over Bagan (or Inle Lake) is as mystical and wonderful as it sounds.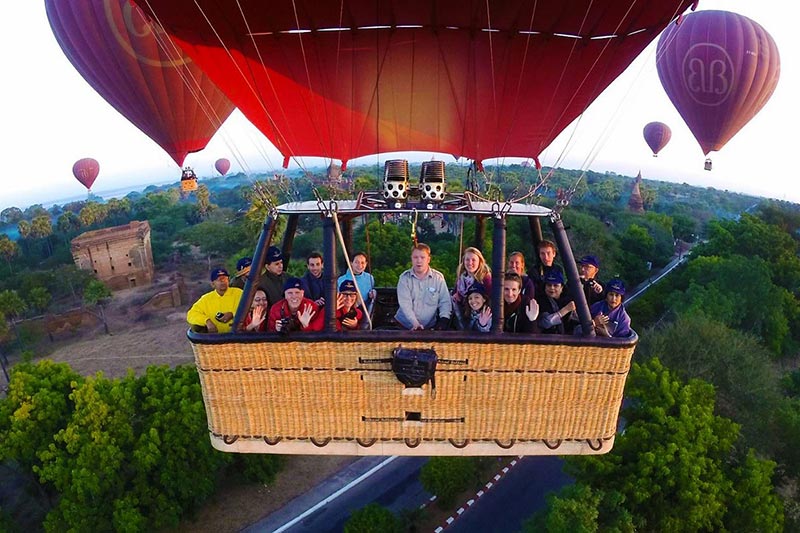 10. Trek in Kalaw
Typical treks through Kalaw, the hill station in Shan State just minutes from Inle Lake, run from two days to a week. They work with local families to arrange homestays, which includes home-cooked local meals. Trekkers will see lots of green and see a completely different side of Myanmar, away from pagodas and dust. Multiple trekking companies arrange tours that are relatively inexpensive.
Related Articles:
11 things you should know before travelling in Myanmar

View tour: Family Tours in Myanmar & Vietnam 15 days