Siem Reap is considered as a Cambodia's culture heart with Angkor Wat and many religious buildings. If you want to have a spiritual journey, try to join a Cambodia private tour and soak in the best 8 traditional activities below.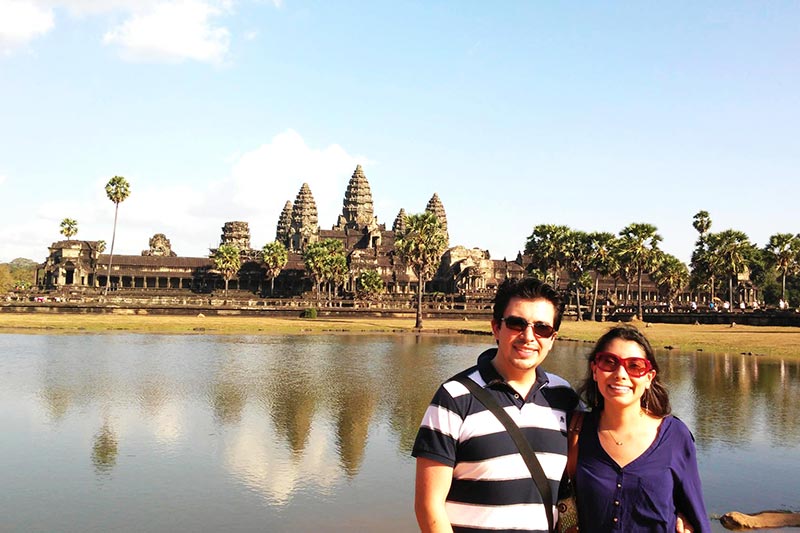 1. Angkor National Museum
Located right on the way to Angkor Wat, Angkor National Museum consists of numerous remnants and historical relics stemming from Khmer Civilisation and the Angkor Empire. With the aim that enhancing the cultural heritage of the Khmer's Golden Era, this place welcomes all tourists to come and admire mass collections of invaluable artefacts. Through these antiquities, you can gain sophisticated knowledge about Cambodian culture. State- of- the- art devices are also equipped to optimize your experience. Displays are also classified by era, religion and royalty.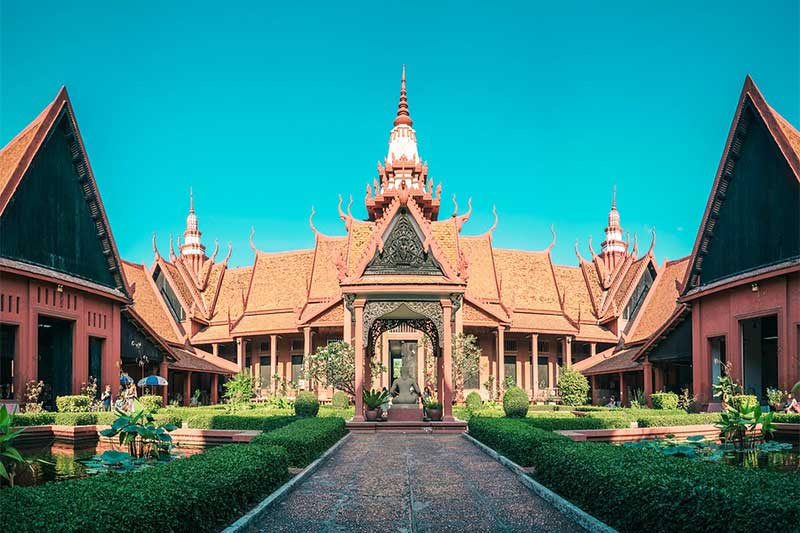 Read more: How to spend 1 week in Cambodia
2. Phnom Kulen National Park
Phnom Kulen (or Mulen Moutain) might be an appropriate option for your Cambodia family holiday. The main attraction is the majestic waterfalls at the top of Kulen Moutain. It's also a great picnic spot for tourists who want to go swimming or camping. In case the weather is too hot, you can stay in Cambodian Shelters to keep you shaded from the sun.
Furthermore, Phnom Kulen is a sacred site with a multitude of temples like famous Kbal Spean where The River of Thousand Lingas is situated or Preah Ang Thom Pagoda with its giant reclining Buddha. Annually, Kulen is also an ideal destination for faithful people seeking blessings from its holy water. In particular, many couples believe that waters from Kbal Spean can assist them to conceive soon. If you plan to go Phnom Kulen this year, keep in mind that going to the top of the mountain before 11 am (because it is one-way road) and removing hats and shoes before entering the temples.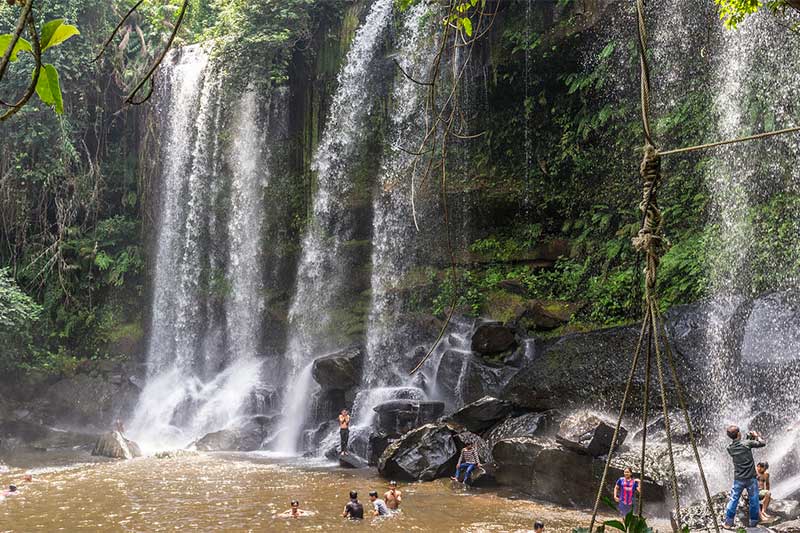 3. Phare- The Cambodian Circus
Known as the "Cirque du Soleil in Cambodia", Phare Cytus is home to many exceptional performances like jaw-dropping, acrobatics and modern circus blending harmoniously with dance and music. More than just a circus, Phare artists use all these artistic means to retell uniquely Khmer folktales. These daily performers belong to award-winning troupe in Siem Reap, so they always try to offer you the best show.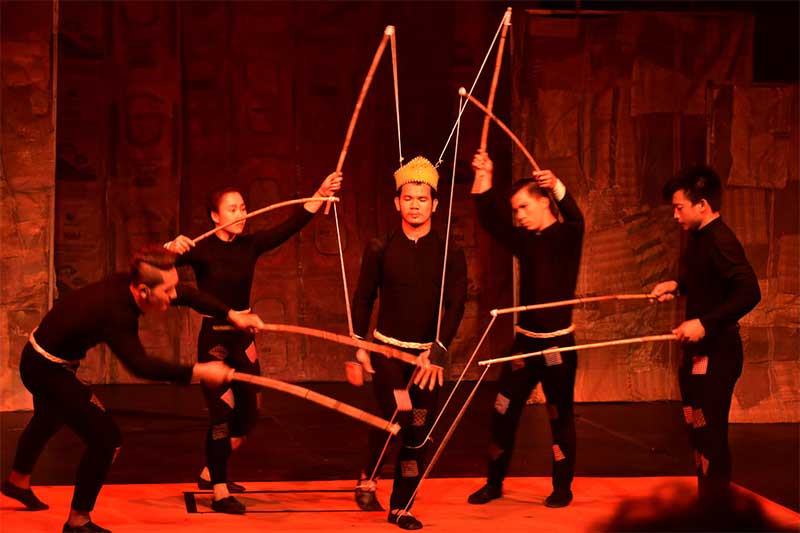 4. Cambodia Landmine Museum
Cambodia Landmine Museum is located about 25 km North of Siem Reap (30 minutes by Tuk Tuk). On your road to the museum, you may travel through striking countryside villages, rice paddies and even take some breathtaking photographs of locals working their fields. Paying a visit to the museum, you can have a chance to observe the various priceless collection of mines, mortars and other weapons used during the wars. All these remnants play key roles in telling the stories about events in the past.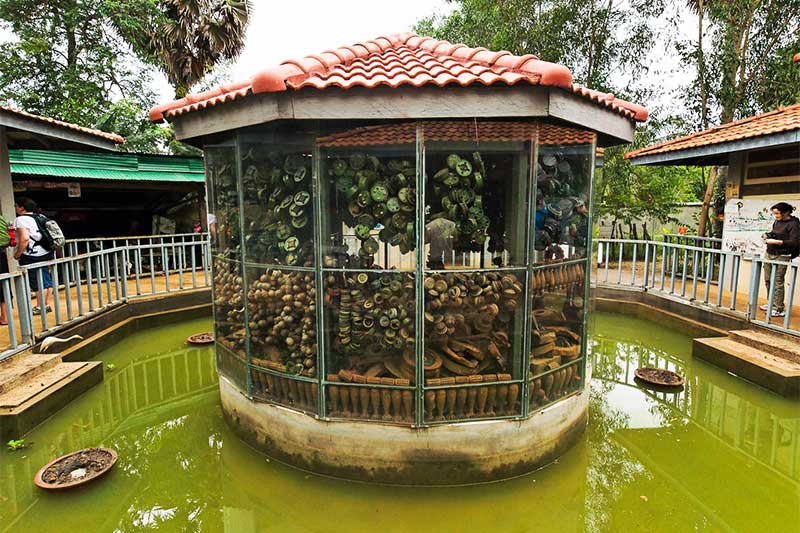 Read more: How to spend 2 weeks in Vietnam and Cambodia
5. Artistans Angkor
This Siem Reap- based intuition has spent decades to produce traditional handicraft items. Such high- quality products which range from silk, ceramics, wood and stone engraving, to kitchen tools and jewelries are hand- made in traditional methods. Besides, visitors can take a free tour of the workshop to witness the processes to create each craft. In case you want to know further about how to make silk, free daily buses are available to take you to silk farms.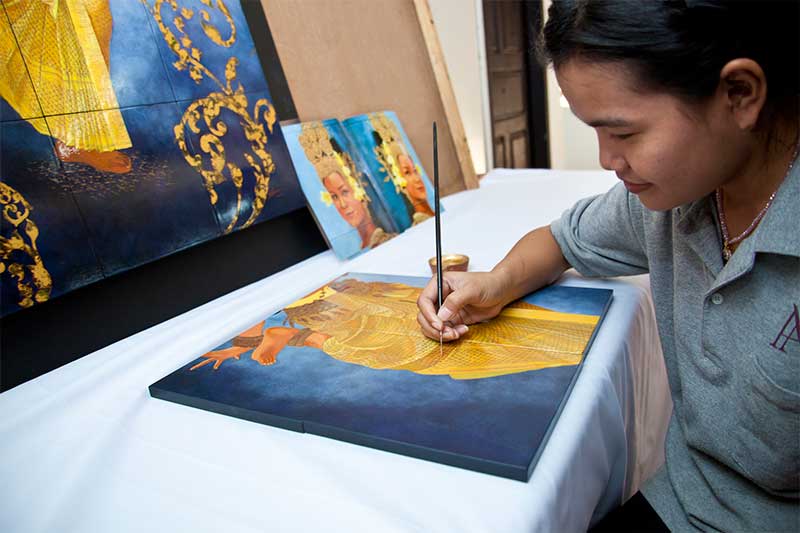 6. Wak Damnak
Wat Damak doubtlessly is the next idyllic place in your Cambodia customized tour. This easeful oasis can help you get off the beaten track and blend into a host of the shrine, statues and historical cravings. You may be astonished when admiring elaborated buildings which are intact. These buildings are now home to a school, two charities and a sewing school for young women to support the Cambodian education system. In January 2014, a new library also is opened here with 15,000 titles consisting of books, journals, encyclopaedias, directories, maps, guidebooks and daily national newspapers in English, French and Khmer, and their catalogue now lists more than 15,000 titles. Wat Damnak is now free to entrance so take your chance to explore Cambodian culture.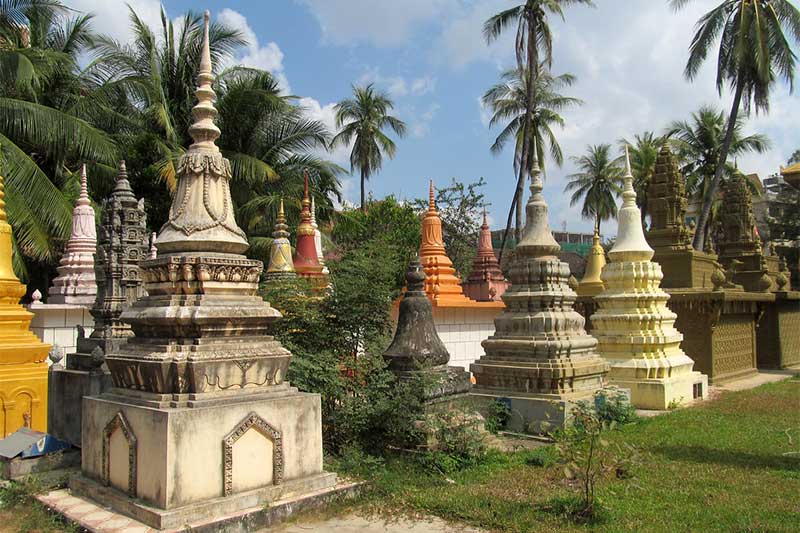 7. Angkor Centre for Conservation of Biodiversity
The main aim of Angkor Centre for Conservation of Biodiversity (ACCB) is preserving rescued animals (endangered species in particular) before releasing them to the natural life. Up till now, ACCB has nursed thousands of trafficked animals back to health and provided shelter to around 100 native animals that appear on the endangered species list. Besides that, they organize many activities to boost environmental education and people' awareness. Particularly, the grand centre outdoor offers daily tours to travellers who want to know more about wildlife species.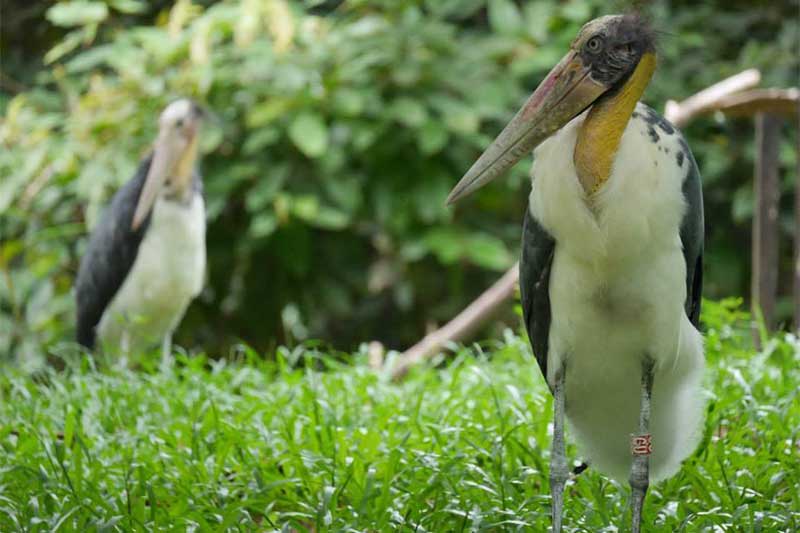 Read more: Angkor Wat – 13 Interesting facts and myth
8. Aspara Theatre Restaurant
Dining out with a marvellous dinner and watching a traditional show at the same time is one of the most exciting experiences in your Cambodia vacation. The restaurant is located in a spacious wooden pavilion which is designed like a traditional temple. In this cosy atmosphere, you also have an opportunity to hear Cambodian tales which are retold by singers, dancers and musicians. The harmonious mixture between Khmer-styled banquet and folk rhyme makes you be on cloud nine.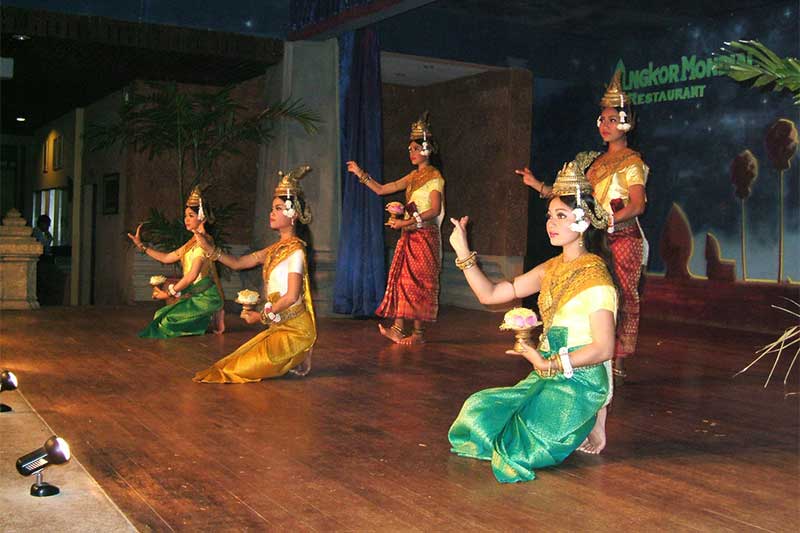 See tours:
Cambodia - Vietnam Highlights 15 days
Memorable Thailand - Cambodia - Vietnam Tour 18 days