Ho Chi Minh City (or still known as Sai Gon) is Vietnam's biggest city and commercial center, which is normally a start or end point of a Vietnam Tour. Of course, as the country's highest population density, a visit to Ho Chi Minh City will give tourist an impression of a bustle, hustle and modern city but fascinating and uniquely still. No matter how long or short you will stay in Sai Gon during your Vietnam Customized Holidays, there are beautiful places that you can travel to from the city for a day or couple of days.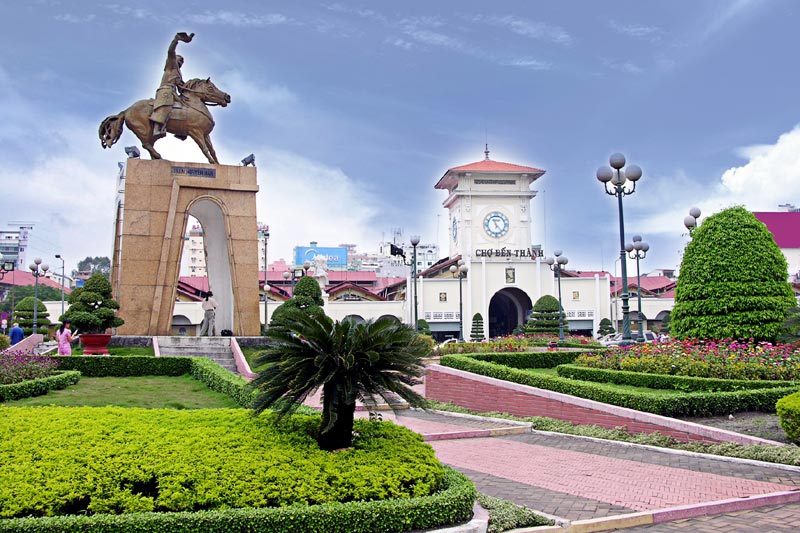 1. The Cao Dai Temple of Tay Ninh
Tay Ninh is the center of the Cao Dai religion. This sect, which is particular to Vietnam, draws its origins from Christianity, Buddhism, Hinduism, and Islam. Included among the many luminaries are Joan of Arc, Sun Yat Sen, Williams Shakespeare, and Victor Hugo. At various times, the Cao Dai sect supported the Japanese, the Americans and the Viet Minh. During the 1950s and 1960s, followers of Cao Dai formed their own private army, which the southern regime brutally repressed.
The architecture of the religion's headquarters, a twin-towered cathedral in Tay Ninh town, is a mixture of European and Oriental inspiration. It and a number of community buildings are all painted light yellow. The blue-and-yellow pillars inside the cathedral have intricate carvings of dragons. These, together with priests who wear turbans and flowing white cloaks and worship before a large "all-seeing eye", provide a colorful and moving sight. Visitors are allowed to observe the daily prayers from the balcony. The service is from 12:00-1:00 P.M.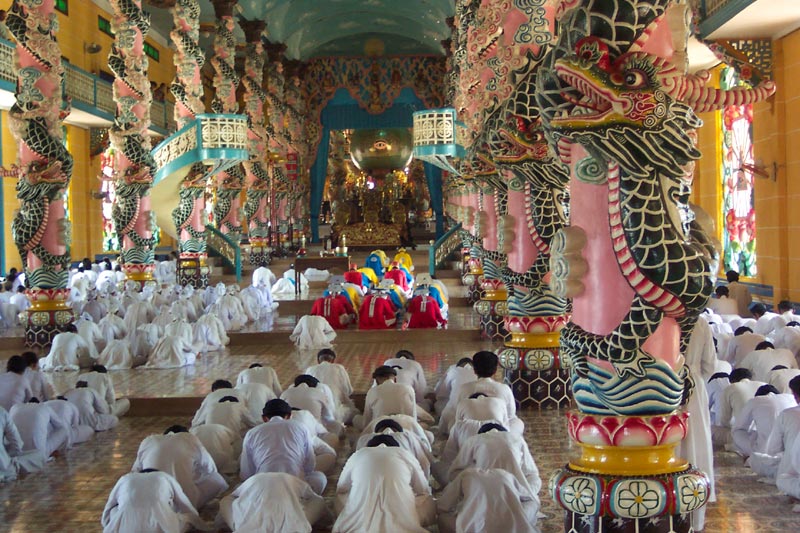 Cao Dai Temple
2. Cu Chi Tunnels
The Cu Chi Tunnels, which are only an hour's drive northwest of Ho Chi Minh City, are one of the few remaining monuments to the war. This place can be combined with Cao Dai Temple in Tay Ninh for a full day activity in a Vietnam Customized Holidays. Underground lie 200 kilometers of tunnels, some of which the Viet Minh dug by hand and inhabited while fighting against the French. During the American War, resistance fighters extended the tunnel system, which they used as a base to launch the 1968 Tet Offensive. At its peak, prior to the crucial Tet Offensive, the tunnel complex was home to nearly 10,000 troops.
To this day, Cu Chi Tunnels remain one of the most powerful examples of how the war was fought and regularly introduced as a must-see in all Vietnam Tours. There are two areas open to the public, including sections of the tunnels that tourists can enter. These have been enlarged so that international guests can crawl through the narrow tunnels. Another area is more open and shows the underground layouts for the hospital, emergency aid stations, birthing room, the kitchens, meeting rooms and sleeping quarters. Uniformed former Viet Cong veterans lead these tour. In addition, visitors can watch film footage taken in the area during the war. At a special firing range, they can choose an AK-47 (the rifle use by Vietnamese resistance fighters) or M-16 (the rifle used by the Americans and the ARVN) and try a few shots.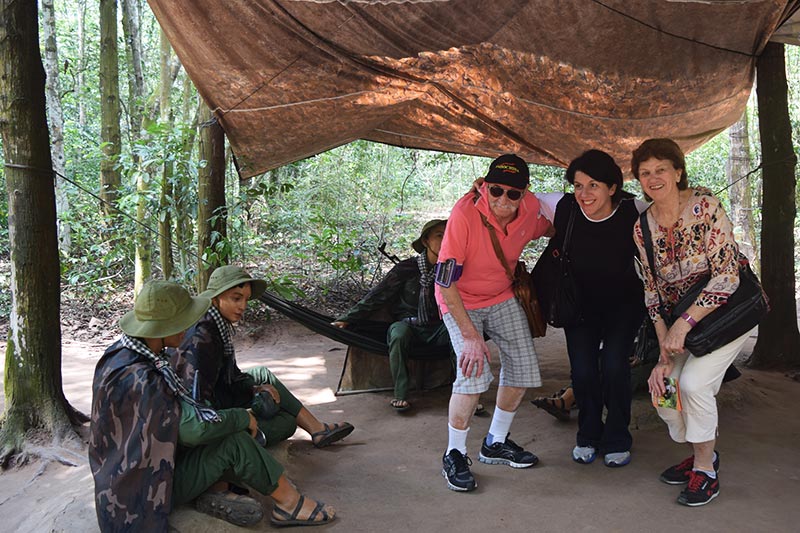 Cu Chi Tunnels
3. The Mekong Delta
The mighty Mekong River begins its journey to the sea in Tibet and winds for 4,500 kilometers through China, Burma, Laos, Thailand, Cambodia, and southern Vietnam, where it branches into tributaries to form a rich delta. The Vietnamese name for the Mekong is Cuu Long, which means "nine dragons" and refers to the nine major tributaries. Over the centuries, local villagers have created a system of canals through what was once marshland and forest. Now, most of the delta, which covers an area of 60,000 square kilometers, is cultivated.
The Mekong Delta produces over half the nation's rice, and the area is filled with orchards and fish farms. A visit to this rich flood plain is one of the best ways to experience Vietnamese rural life and typifies the living standards of over 50% of the country's population. The diverse mix of ethnic Khmer, Chinese and Vietnamese make the area culturally interesting.
A variety of day tours are available; these can also be extended to overnight. The two most popular areas to visit are:
My Tho – This city of 100,000 people sits at the northern reaches of the Mekong Delta. Chinese fleeing Taiwan for political reasons founded the city in the late 17th century. The Kinh (ethnic Vietnamese) subsequently extended their influence further south and began to take control of the city. Today, My Tho is the both capital of Tien Giang province and a meeting point for the sale and purchase of agricultural and seafood products. A typical day trip begins with two-hour drive from Sai Gon. The visitor passes through the countryside and then through villages and rice fields to My Tho. There, visitors transfer to a local sampan to explore the small canals and islands on the Tien Giang River. The sampan ride meanders through small villages, where visitors can sample local life at grassroots level. A recommended stop is Thoi Son island where villagers have turned their community into a large garden with a thriving business growing and selling many varieties of bonsai plants. After the sampan ride, a good lunch stop is an outdoor eatery in a bonsai garden.
Vinh Long – Farther south is the riverside town of Vinh Long, where the surrounding canals and villages are perhaps more representative of the delta lifestyle than those found in the city of My Tho. The drive to Vinh Long takes about three hours. We recommend stopping at Cai Be. From here, visitors can take a sampan to boat-building villages, family business making rice paper, and the Cai Be Floating Market. The various islands have many good Vietnamese restaurants. Local seafood specialties include Ca Tai Tuong or Elephant Ear Fish.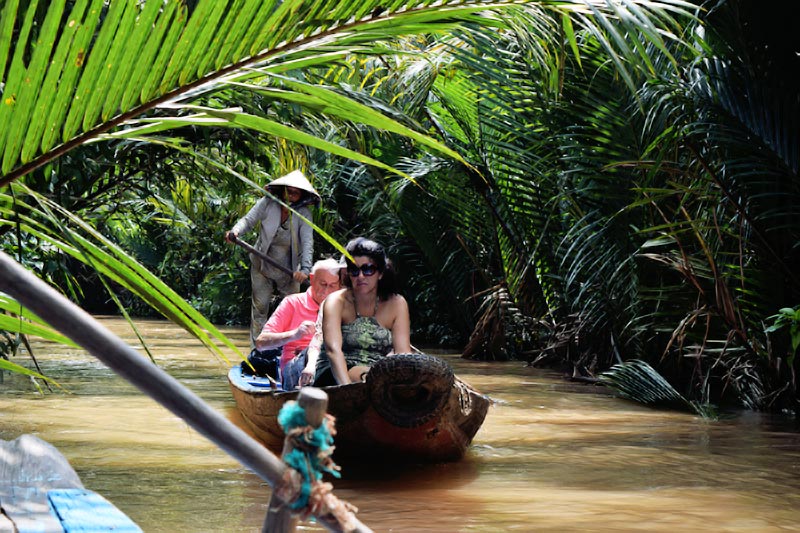 Mekong Delta
4. Vung Tau Beach
Known as Cape Saint-Jacques under French rule, Vung Tau is the most accessible beach resort to Ho Chi Minh City, which is 125 kilometers away. There is one white sand beach – Bai Sau which is of reasonable quality but not as fine as beaches farther up the coast. Golf courses are added attractions. Every weekend Bai Sau Beach overflows as families and courting couples come to enjoy the fresh sea breeze and boardwalk atmosphere. If you just like to have a beach break with family for a couple of days which is not far from Ho Chi Minh City, Vung Tau is an ideal place in any Vietnam Family Tour. The calm water around Vung Tau has a year-round temperature of 25C.
Originally settled by the Khmer, the Vung Tau City became a Vietnamese possession in the late 17th century and subsequently fell under French control. Now a base for offshore oil prospecting, it is also becoming a port city with rapidly improving infrastructure. An alternative to visiting Vung Tau by road is to travel by hydrofoil on the Sai Gon River, a trip that takes an hour and a half.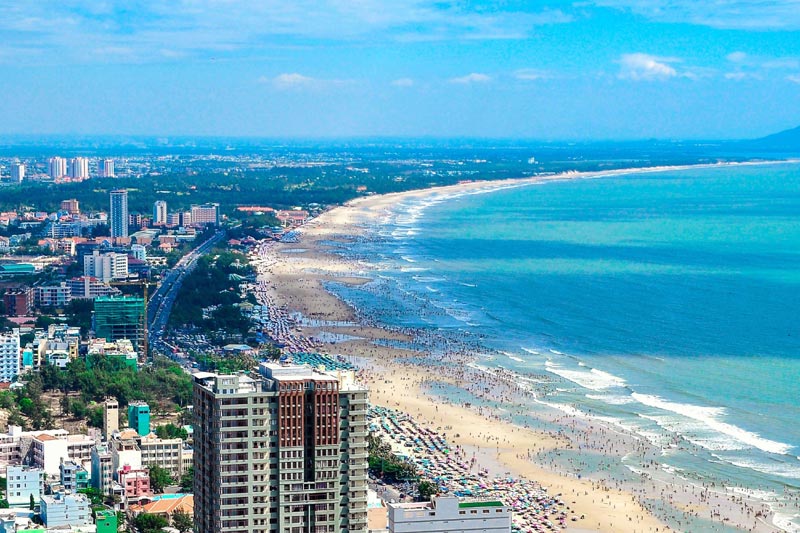 Vung Tau Beach
5. Phan Thiet – Mui Ne
An alternative to Vung Tau for beaches and accommodations is the coastal town of Phan Thiet – Mui Ne. It takes around 4 hours to drive from Ho Chi Minh City to Mui Ne and you will have a chance to experience one of the best beaches in Vietnam. As Southern Vietnam's most popular beach destination, Mui Ne is a 12-kilometre long sweeping bay that boasts beachfront resorts. Twenty years of development have transformed the once sleepy fishing town into a water sports mecca, most notably for kitesurfing. Mui Ne is an attractive option for travelers looking to jump into a beach break in their Vietnam Customized Holidays from Ho Chi Minh City.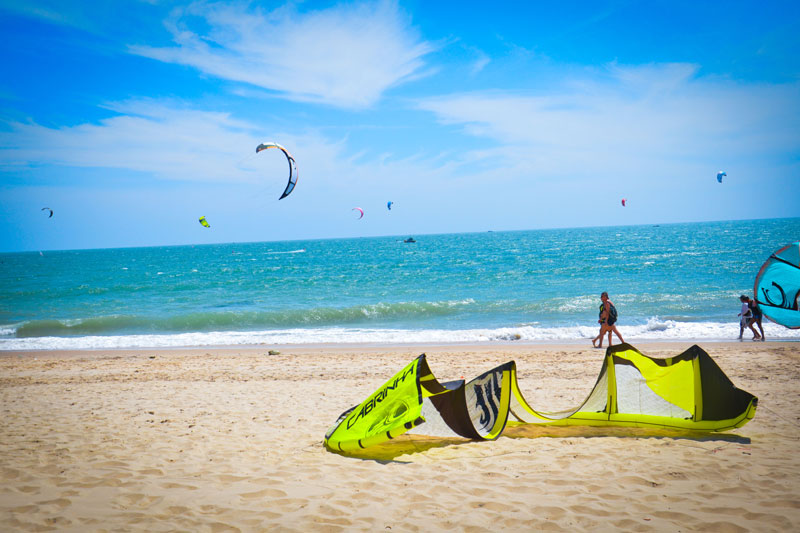 Mui Ne Beach
6. Da Lat
The city of Da Lat is set 1500 meters above sea level in the Lang Biang Moutain Range about 300 kilometers north east of Ho Chi Minh City. This city of 125,000 inhabitants is located on a lush plateau complete with pine forests and lakes. Temperatures average 17 Celsius year round. Toward the end of the 19th century, French residents from Sai Gon recognized this area as a part of Vietnam where the climate most resembled that of Europe. They soon had a road built from Sai Gon and turned Da Lat into a popular summer getaway for French colonists and wealthy Vietnamese.
Da Lat shows this strong French colonial influence in the more than 2,000 French designed buildings and villas dotting the landscape. Many of the buildings fell into disrepair after the war but have been renovated or are scheduled for renovation. Da Lat looks to tourism for increasing revenue to renovate more villas, terrace shops and tourist attractions. The city is sometimes named as the best destination for a Vietnam Honeymoon Holidays.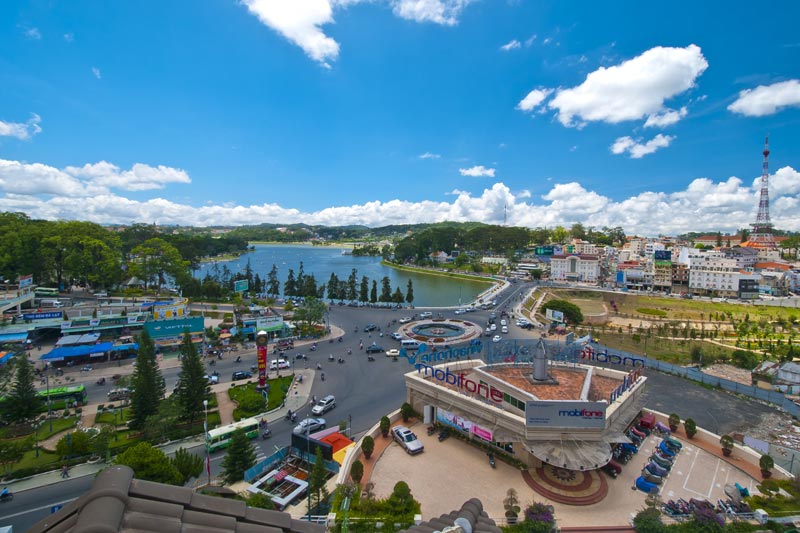 Da Lat City
Read more: Top 9 tourist attractions to visit in Ho Chi Minh City (Saigon)