A crowded local market always has full tastes of a region and its people. Wandering around, you can see local lifestyle, culture and culinary as well. In Hanoi – Vietnam's Capital, all the local markets are always bustling with hundreds of stalls selling everything from morning to evening. Imagining, all home meals of the people here begin from their markets, so there is no better place for tourists to have first-hand experience of local daily life than markets when they travel to Vietnam. Here are the list of best local markets you should not miss when staying in Hanoi during your Vietnam Tour: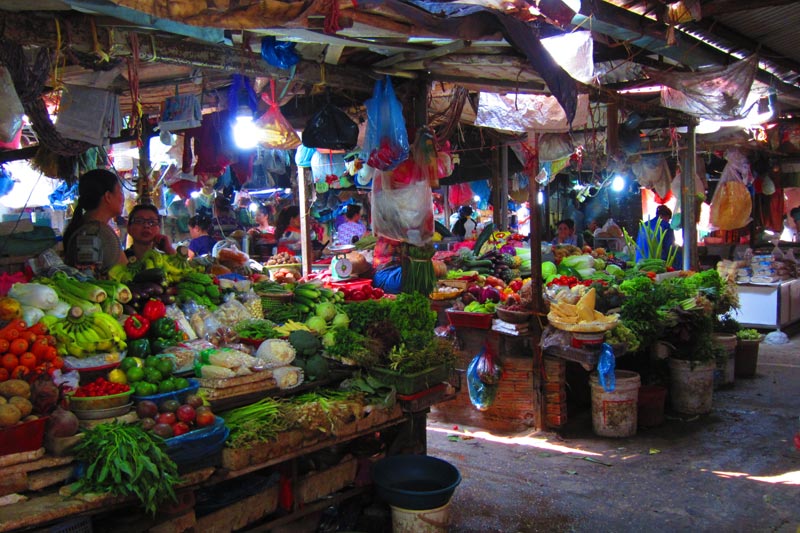 Typical wet market in Hanoi
1. Dong Xuan Market
An extremely crowded market where you will get waved, pushed, even shoved aside by busy vendors. Great fun to visit for a dive into daily Hanoi street life, where no one speaks English. Dong Xuan is also a tourist attraction Friday-Sunday nights when nearby Dong Xuan, Hang Duong, Hang Ngang and Hang Dao become walking streets only.
Dong Xuan Market was built in 1889 on the northern edge of Hanoi Old Quarter and known as the largest indoor market in the city. Products come to Dong Xuan Market from all over the country and the wholesalers use the market as a distribution center for retailers. Goods pile the market, which teem with buyers and sellers, offering a picturesque sight that attracts many travelers.
Dong Xuan Market also has a bustling wet market on the ground floor where locals shop for seafood, meat, vegetables, fresh flowers and spices. On the side of the market, there is Dong Xuan Alley which is a real heaven for tourists addicted to local street food.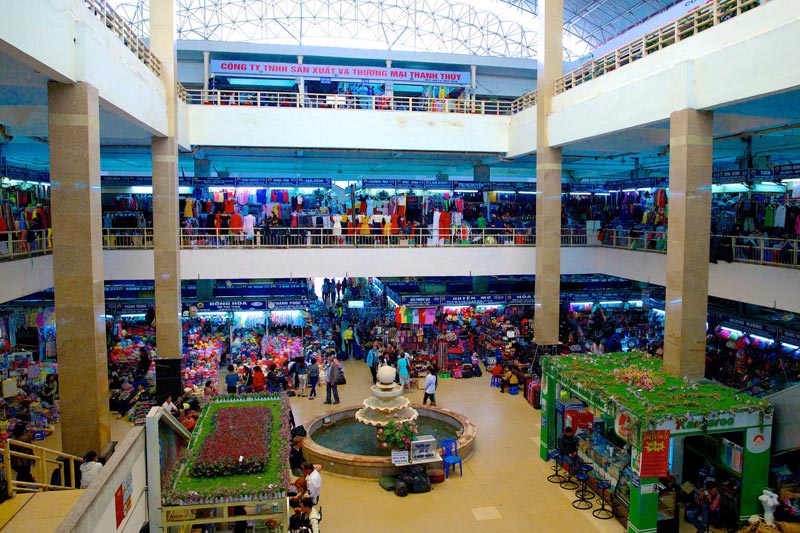 Dong Xuan Market
2. Quang Ba Flower Market
Starting your early adventure in Hanoi with a visit to Quang Ba Flower Market will be a great idea. This is the most bustling wholesale flower market which operates from midnight to early morning. Some flower stalls still stay open all day for retail customers. The best time to visit Quang Ba Flower Market is very early in the morning when fresh flowers are delivered by truck and motorcycle to stalls and sidewalk vendors for sale to florists and Hanoi's many street vendors who load up their bicycles and disperse to street corners all over the city to wait for customers. You'll genuinely be amazed at the volume of flowers being packed onto single motorbikes. You could see sunflowers, roses, chrysanthemums, orchids, gerberas, lilies, hydrangeas and various kinds of greenery being sold at the market. Bargaining takes place by torchlight when it is dark still. In the lead up to Tet Holidays or the Lunar New Year, the market is more crowded than ever, the volume of flowers simply spectacular.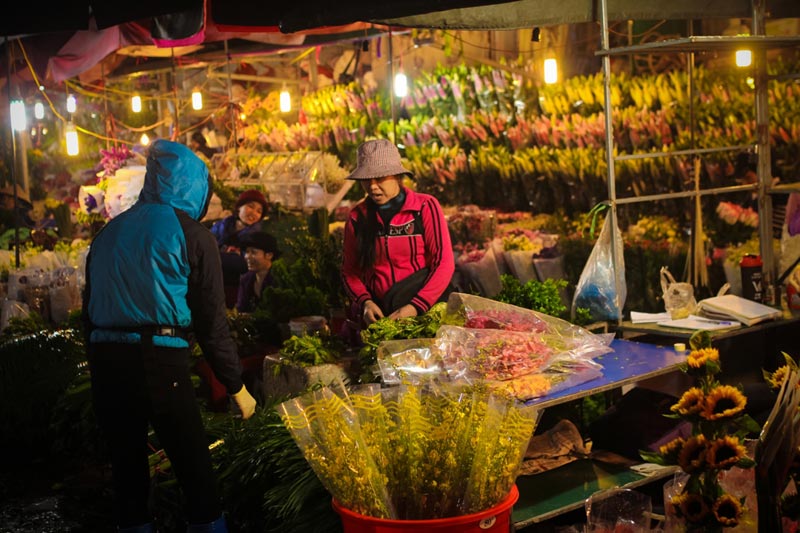 Quang Ba Flower Market
3. Long Bien Market
Long Bien market, located next to Long Bien Bridge, alongside the dyke road, is the largest fruit and vegetable wholesale market and is at its busiest in the very early hours of the morning from 1.00AM to 6.00AM, when stallholders from the local wet markets, restaurants and other businesses visit to stock up for the day. Separated from the quiet air of Hanoi at night, the Long Bien market has retained its bustle for over 30 years. Every night there are hundreds of trucks carrying fruits and vegetables from all over the country to the market. It is estimated that each day, about 300 to 400 tons of fruits and vegetables are sold in the market
It's not top of any must-do list in travel guides, but a visit to Hanoi's chaotic Long Bien market is a fascinating exposure to the life of a large proportion of Hanoi residents. Interestingly, most of the traders and porters at Long Bien Market are women. But you'll need to get up early — very early.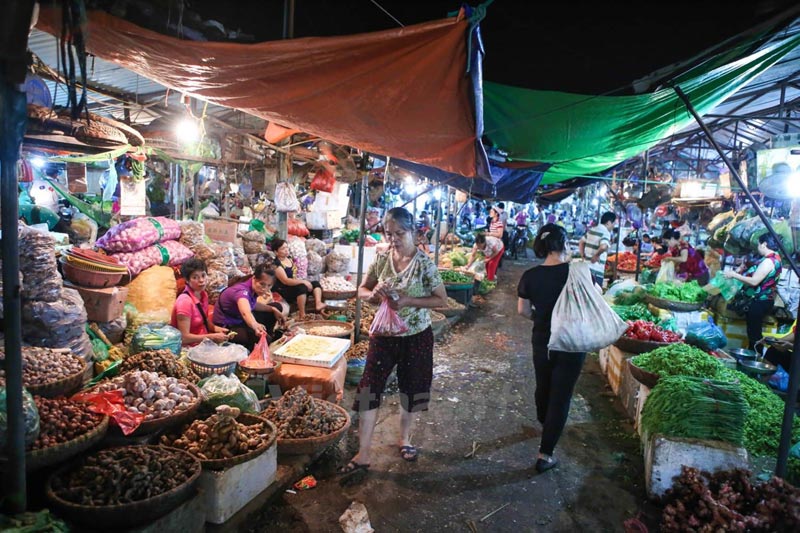 Long Bien Market
4. Hom Market
Cho Hom or Hom Market is renowned for offering the most extensive collection of fabrics in Hanoi, making it a popular shopping venue for local tailors and tourists looking to purchase materials for their very own custom-made clothing. Similar to most Hanoi markets, the ground floor is filled with stalls selling local food, fruits, vegetables, flowers, fish, seafood, meat, and household appliances. The second floor is where you can find hundreds of stalls selling cotton, linen, wool, silk, tweed, brocade, and nylon materials, all of which are stacked up in piles. The prices here are also negotiable, where you can get up to 50% off the retail prices.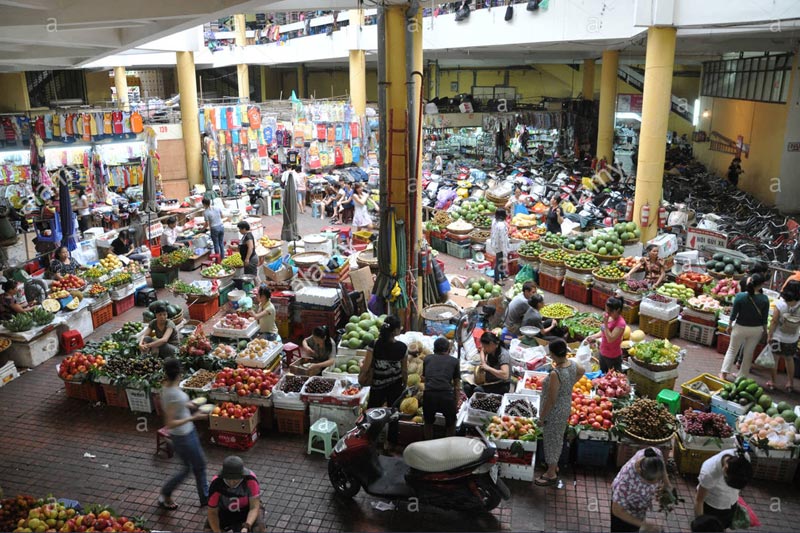 Hom Market
5. Chau Long Market
Chau Long Market is a great example of an everyday Hanoi wet market. Come early for the full experience, or a little later in the morning for a more relaxed wander.
Chau Long is a traditional wet market, selling predominantly (very) fresh meat, fish and vegetables. Despite the growth of supermarkets, most Vietnamese still do the bulk of their shopping at wet markets, either at covered places like Chau Long, or less permanent streetside set-ups.
The environment is dark and wet, and you will need to keep your eyes peeled to dodge the motorbikes zipping along the narrow aisles, but it's also atmospheric, eye-opening and educational. In one tucked away corner you'll find a few workers cleaning and prepping frogs, day in, day out. You'll find freshly plucked chooks and ducks, an array of seafood, and all kinds of meat cuts, along with colourful fruit and veggies. Stalls brim with groceries such as noodles rice, oils and sauces as well.
Chau Long Market
View tour: Vietnam Food Tour For Family 17 days