There are many excellent historic and cultural sights in Ho Chi Minh City. If this is your first time travelling to Vietnam and you are so confused of where to visit during your short time in Sai Gon. Here are some recommendations: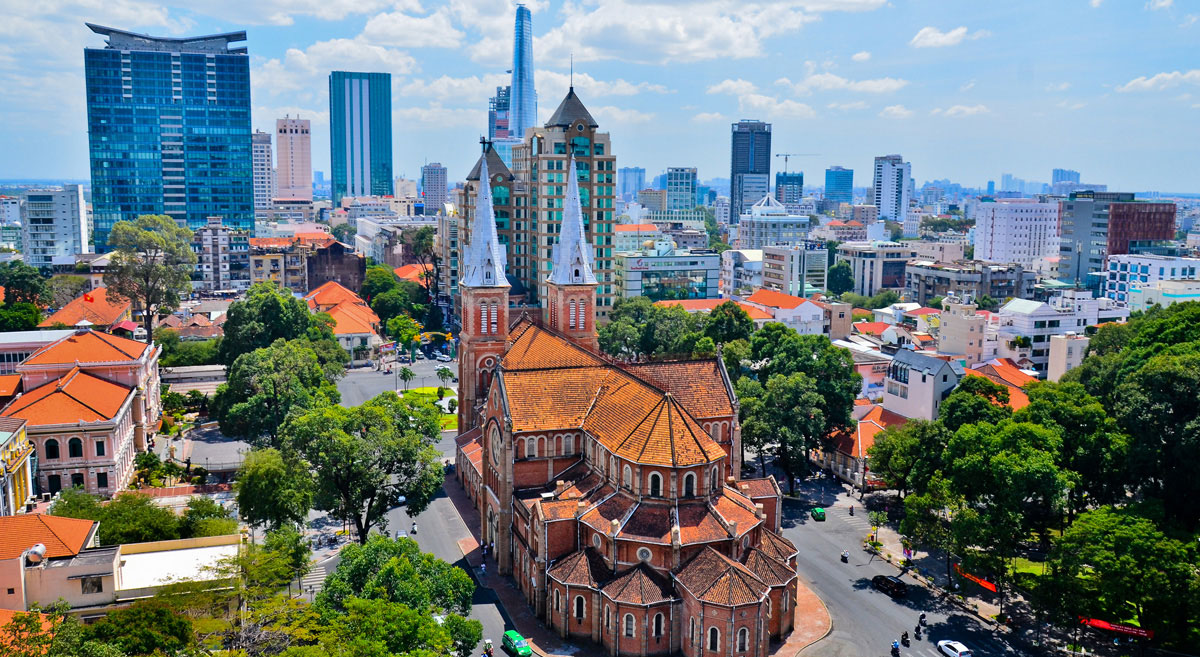 1. Ben Thanh Market
This largest of the city's major markets is located in the downtown area. It opened in 1914 after two years of construction. The market has a wide selection of inexpensive, locally produced garments and textiles as well as items imported from the West and Eastern Europe. At one end is a "Wet Market" with all kinds of fresh meats, fish, fruit and flowers.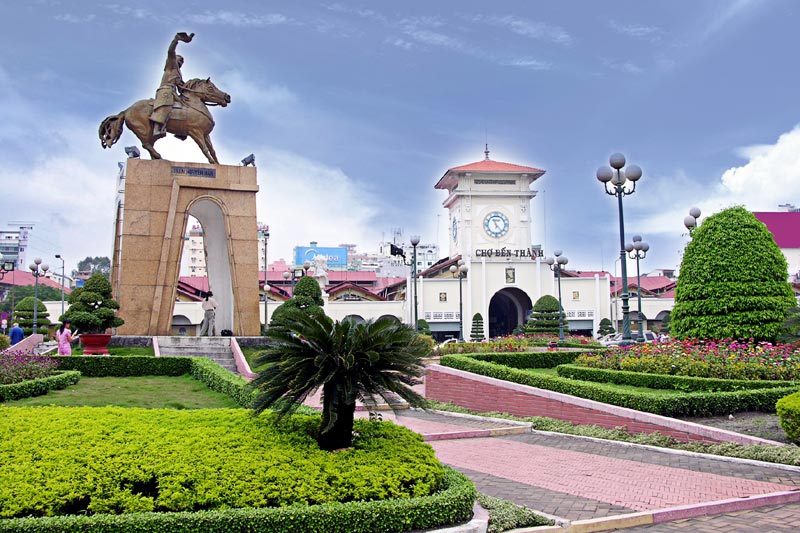 Ben Thanh Market
2. Notre Dame Cathedral
Built between 1877 and 1883, Notre Dame Cathedral is one of Ho Chi Minh City's most famous landmarks and represent the major seat of Catholicism in Southern Vietnam. It was built in a neo-Romanesque style, using red bricks brought from Marseilles and colored glass windows made in France's Chartres province. The Cathedral was consecrated in 1962 in honor of the tri-centenary of the Bishopric of Saigon. Full services in both Vietnamese and English are held every Sunday morning and are well attended by Vietnamese and foreigners alike. Other services are held throughout the week.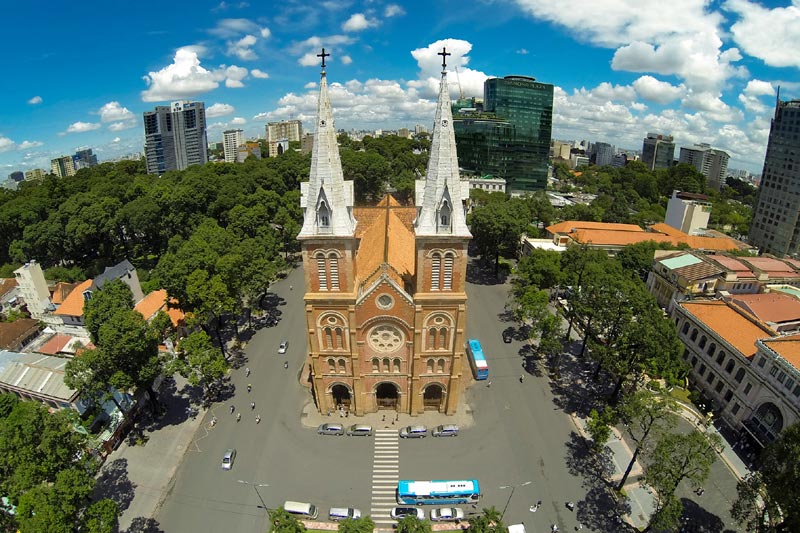 Notre-Dame-Cathedral Sai Gon
3. Saigon Post Office
Located next to Notre Dame Cathedral is a magnificent French-style post office. Built between 1886 and 1891, the structure has a glass canopy with an iron frame. A huge mural with a map of Saigon was added at the beginning of the 20th century. A large portrait of President Ho Chi Minh looks down on the main hall.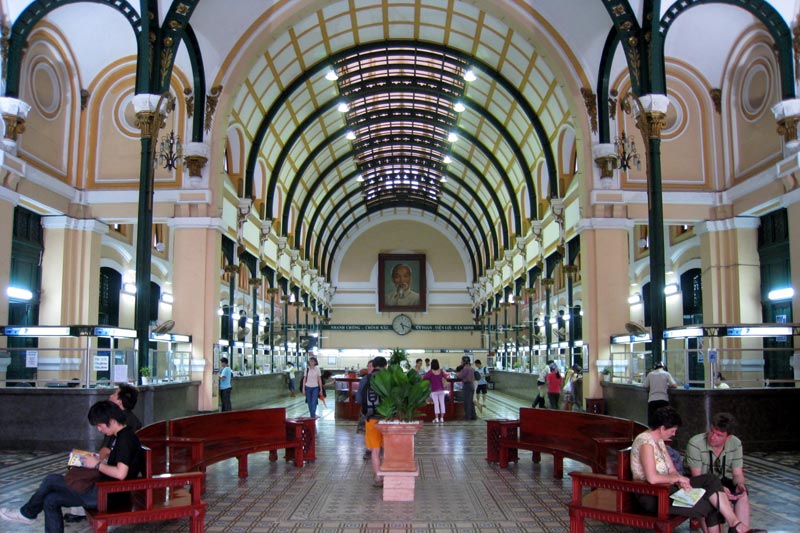 Sai Gon Central Post Office
4. Re-Unification Palace (Former Presidential Palace)
This modernistic palace of former President Nguyen Van Thieu and his predecessors is now a museum and venue for official receptions. In 1868, the French had the Norodom Palace built for the French Governor-General of Indochina, but then they moved the governor's offices to Hanoi in 1880 and used the Norodom Palace only intermittently until 1954, when the French turned it over to the Vietnamese Government of South Vietnam. President Ngo Dinh Diem used the palace as his own luxurious residence until 1962, when two disaffected Sai Gon Army pilots dropped bombs in an assassination attempt that destroyed the palace. Ngo Dinh Diem was not hurt. The replacement palace took four years to build and reflects the influence of American 1960s architecture, including rocket screens on the building's front.
Tours of the palace include the various meeting rooms upstairs and the basement War Room complete with radio equipment, maps, and other left-overs from the hurried surrender in 1975. The frounds contain one of the first tanks to burst through the Palace gates on 30 April 1975 as well as the fighter plane that bombed the palace toward the end of the war. The pilot of that aircraft is now a senior officer of Vietnam Airlines.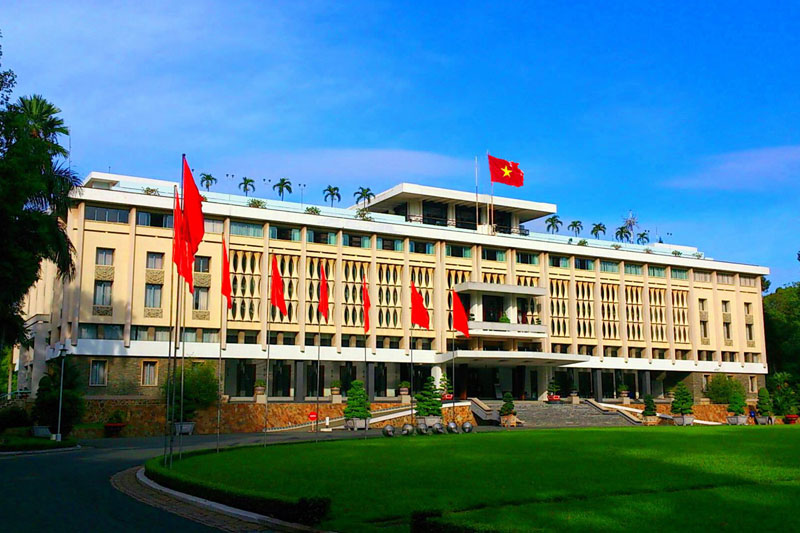 Reunification Palace Saigon
5. War Remnants Museum
This museum displays tanks, fighter planes, other war relics, and photograph. It is popular with local groups as a means to educate children on the consequences of war and the value of peace.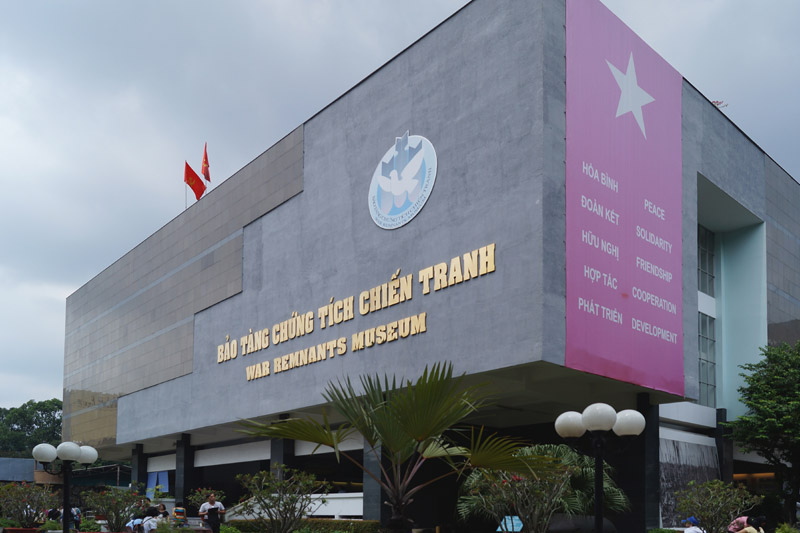 War Remnants Museum Ho Chi Minh City
6. Cho Lon District (Chinatown)
Ho Chi Minh City is home to about a million ethnic Chinese, who form a major part of the private-sector economy that has been growing rapidly since Vietnam growing rapidly since Vietnam began its shift to the "free-market" system. In 1998, the ethnic Chinese community joined other residents in celebrating the city's 300th anniversary. Known in Vietnamese as the Viet Hoa (Chinese Vietnamese), the ethnic Chinese trace their origins to Chinese immigrants who first settled during the 17th century on the banks of the Kinh Tau Hu Creek. The area, which was later known as Cho Lon, is home to about 500,000 people.
As with other Chinese communities around the world, the Vietnamese Chinese have sought to preserve their own traditions, culture, and language. Cho Lon is a mix of large thoroughfares and narrow side streets and alleys, which, when taken together provide the site for an exciting stroll. Visitors can see traditional medicine sellers, old temples, local Chinese restaurants, calligraphy shops, and more. They will feel they are both stepping into the past and simultaneously discovering fresh expectations and opportunities of new business in modern Ho Chi Minh City.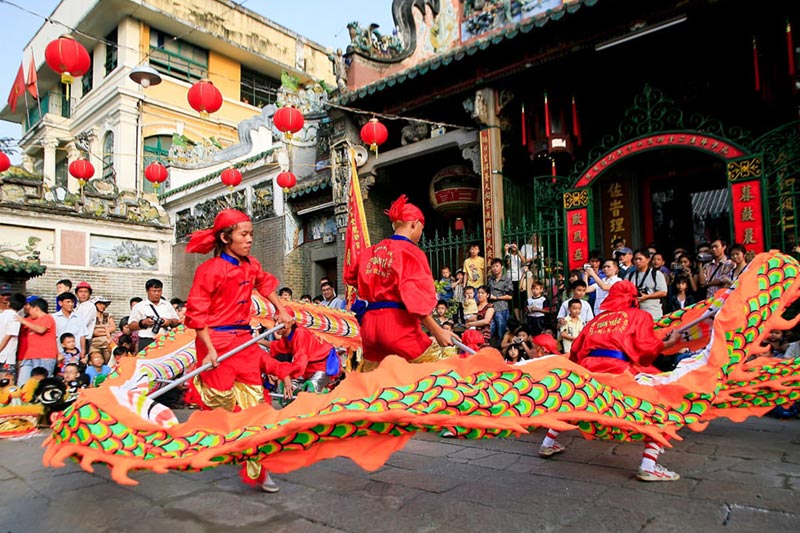 Saigon China Town
7. Thien Hau Temple
Cantonese fishermen built this Chinese temple, which is dedicated to the Goddess of the Sea, at the end of 18th century. They decorated the roof with intricate ceramic friezes that have three-dimensional figures. Women often bring offerings, which they set on the altar of the Heavenly Lady. The altar features three statues of Thien Hau. Worshipers also burn paper votive offerings in a large vessel near the entrance.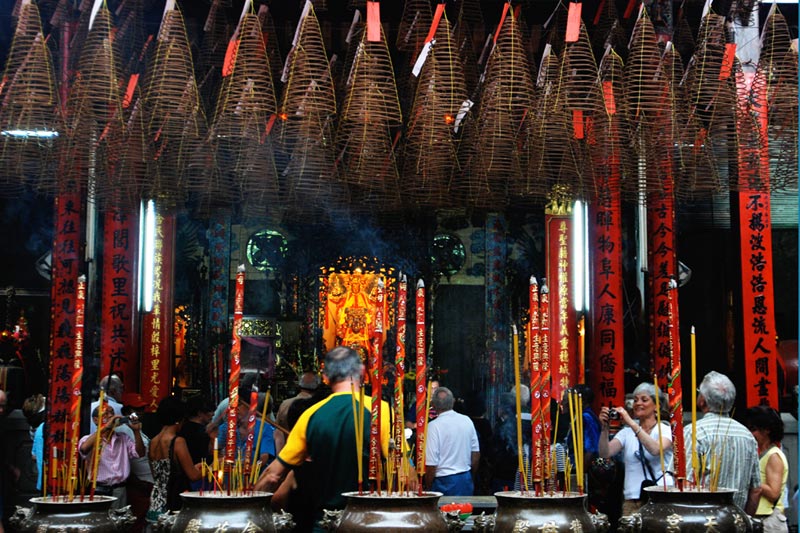 Thien Hau Temple Saigon
8. Jade Emperor Pagoda (Chua Ngoc Hoang)
Built in 1892, the Jade Emperor Pagoda, also known as the Tortoise Pagoda (Chùa Phước Hải Tử) is dedicated to a pantheon of mythical Chinese-Vietnamese divinities in a mixture of Taoism and Buddhism. This pagoda was an important meeting place for Chinese secret societies that hoped to overthrow the Manchu Dynasty in Beijing. One of the most colorful pagodas in Ho Chi Minh City, it is filled with statues of various divinities and heroes. A haze of heady incense and candle smoke envelops a fascinating array of native-style wooden statues inspired by Taoism and Buddhism. The elaborately robed Taoist Jade Emperor surveys the main sanctuary, the roof of which is covered in elaborately patterned tiles.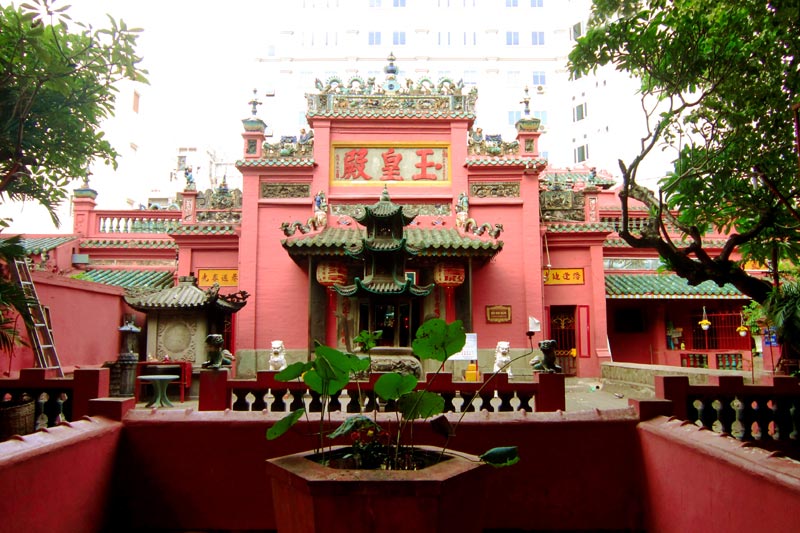 Ngoc Hoang Pagoda
9. Nguyen Hue walking street
In 2015, Nguyen Hue Street, one of Saigon's main streets became a "Walking Street" – a rare concession by city leaders to the idea that public spaces and walking are important city attributes.
Nguyen Hue Street is a 60m wide pedestrian strip that runs from the colonial era People's Committee Building, with its Ho Chi Minh statue, 900 meters down to the Saigon River. The nightly congregation of locals here is a great experience of people watching. And there are some interesting little pieces of architecture and other tidbits along the way too.
Nguyen Hue Walking Street
View Tour: Absolute Vietnam Holidays 15 days