Bagan – the ancient city of Myanmar is a must-visit and should be listed in any top list of destinations to travel to on any Indochina private tour. There are so many things you can do in this ancient city. However, within a limited budget of time and money, it must be a hard task to shorten the list to the most worth-trying things. Don't worry, we – Nadova Tours has picked up 7 most brilliant things for you to do in Bagan on your Myanmar customized holiday. Check it out!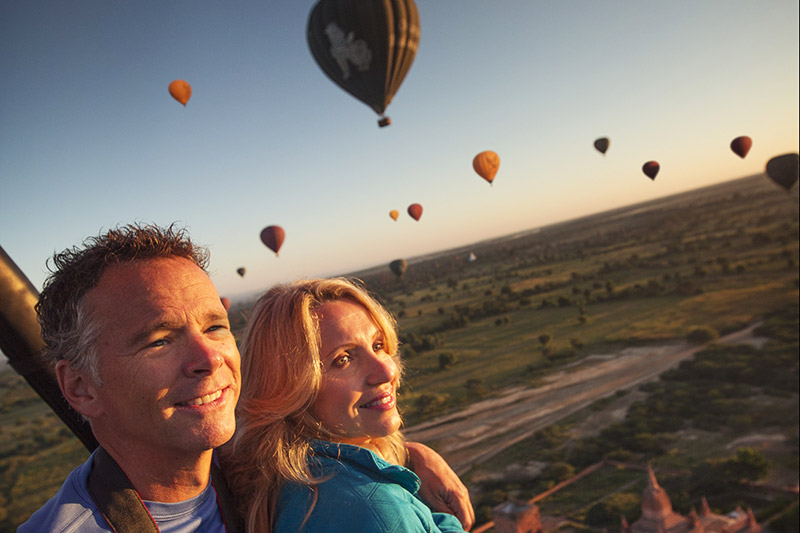 4 brilliant things to do in Bagan
1. Wake up early to see the sunrise
The beauty of a sunrise in Bagan is undoubtedly magnificent to the point it's hard to forget that view even when you have left Bagan for a long time. The sight of a bright red fire ball shimmering up the horizon is fierce enough to catch you breathless and knock you to the realization that it is good to be alive.
And when standing on top of an ancient temple, you can also witness the hot air balloons in various colors slowly lifting off and floating across the sky as the sun breaks over the horizon. It is a unique and marvelous scene you can only see in Bagan. There are a several popular places to watch the sunrise in Bagan: Shwesandaw Pagoda, Dhammayangyi temple, Shwe San Daw Pagoda and so on. Almost these pagodas and temples offers viewing platforms for those who come for the sunrise.
In order to catch the best sight of Bagan sunrise, waking up early around 4.30 a.m to 5 a.m is a must. You should also consider some famous sunrise spots near your hotel so that you don't need to spend a great deal of time on travelling. When all is well-prepared, witnessing the sunrise in Bagan will become your most memorable experiences during a Myanmar customized tour.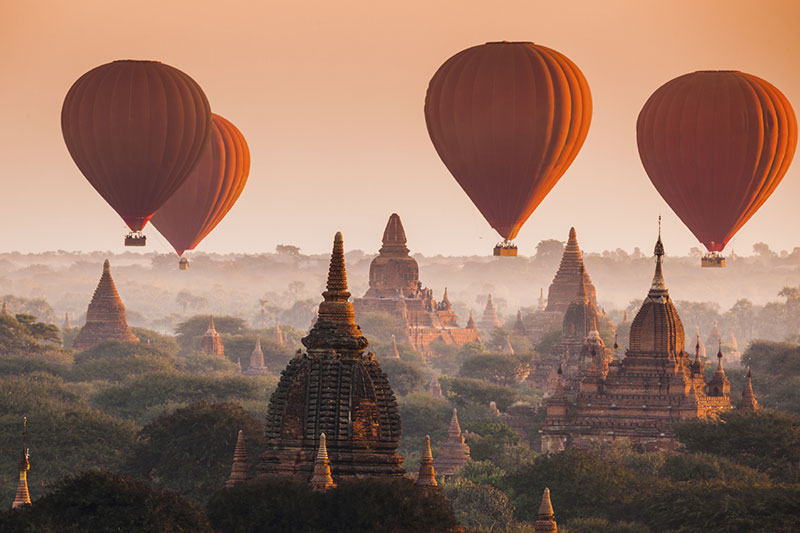 It would be a waste not to watch a sunrise in Bagan once
2. Fly in a Hot-Air Balloon Over Bagan
Bagan is a land of temple and there are no other ways could you see the scenic view of endless temples than flying in a hot-air balloon. The flight often takes place at 6 a.m, therefore, you can also see the stunning view of Bagan when the sun gradually above. The marvelous landscape mixed with a fierce sight of sunrise is really a moment to remember.
One note for you is that you will be equipped with safety guides from the instructors and the hot air balloons goes up very smoothly. Therefore, there is no need to worry about the safety. However, the cost of a balloon ride is not cheap – it is around 350 – 450$ and you should consider whether or not it is a best option for your travel budget.
But since it is highly recommended by almost Myanmar travelers, flying in a hot-air balloon is on the top lists of things you should try in Bagan. If you have a chance, taking a hot-air balloon flight over the Bagan is sure to become an unforgettable memory of your Myanmar private tour.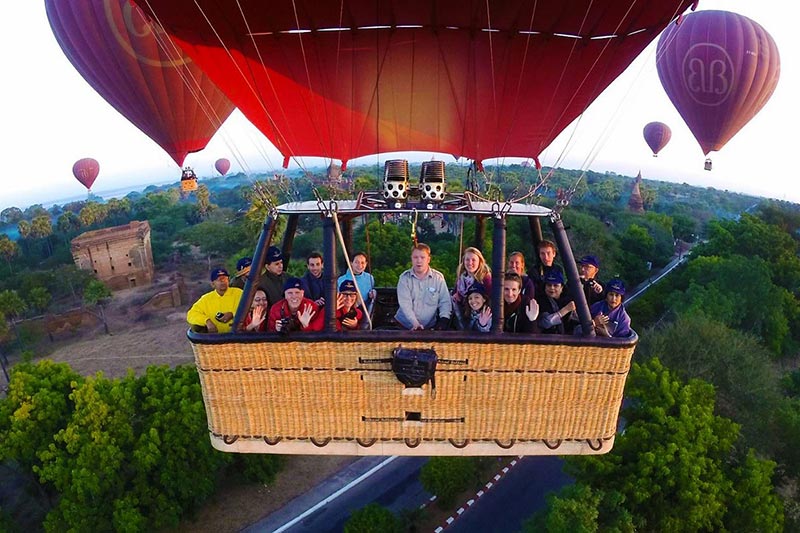 Flying in a Hot-air Balloon over Bagan is an experience you should not miss
3. Go see the temples and pagodas
As Bagan is the land of temples and pagodas, a trip to this city could not be complete if you don't spend time visiting the temples and pagodas there. There are around 4 thousand of temples and pagodas in Bagan, that's why setting up a list of the most prominent ones to see is a must.
Among all the pagodas, Shwesandaw Pagoda should be picked as your first choice. It is said to be one of the very first pagodas built by Anawrahta – the father of Burmese nation. It is considered to be the spiritual protector of Bagan together with other 4 pagodas.
Besides Shwesandaw Pagoda, you are also recommended to visit Sein Nyet Sister Temples, Thatbyinnyu Temple - the tallest of the Bagan monuments, Thambula Temple, etc. On your way of exploring these temples, learning the differences between a pagoda, a stupa and a temple is an intriguing experience.
When visiting these pagodas and temples, you should ride on an electric bike. Myanmar is greening its cities, which leads to the appearance of electric bikes on the roads. Besides running on batteries instead of gasoline, electric bikes are also quieter than their gasoline counterparts. Exploring Bagan by electric bikes is a fun experience you should try on a Myanmar vacation.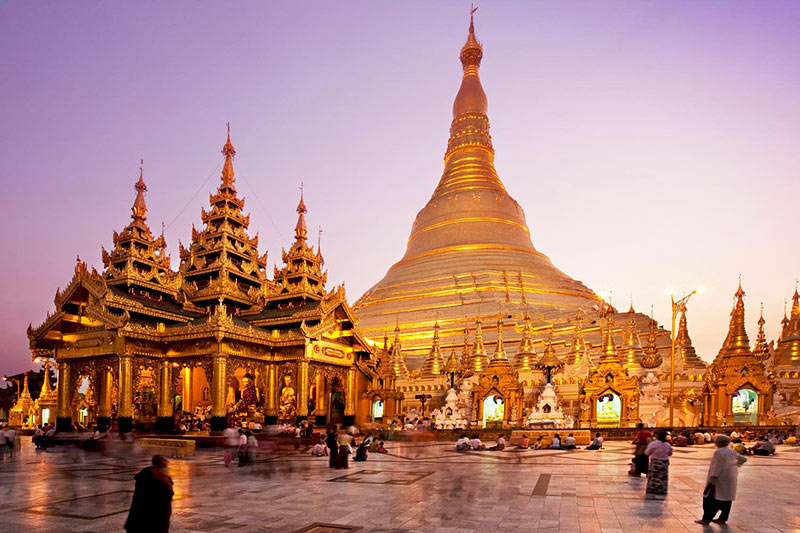 Visiting pagodas is a must when travelling to Bagan
4. Get a taste of authentic cuisine
There are so many things you can do when visiting a foreign country, but trying the local food there is one of the best way to dive deeper into its culture. Mohinga is one of the must-try. It is Myanmar's national dish and a good recommendation for a refreshing breakfast. Other dishes you can try are Shan Tofu (Deep fried Tofu); Lahpet Thoke (Salad) and it is also worth eating out in an European-Burmese fusion restaurant to enjoy more unique dishes. If you prefer street eat, visiting local markets like Mani-Sithu market is a good choice.
---
Read more:
Top 10 things to experience in your Myanmar travel
The best places to visit in Myanmar (Burma)
11 things you should know before travelling in Myanmar
View Tour: Myanmar - Vietnam Family Tour 15 days