Visiting Hanoi on a Vietnam customized tour, you might be fascinated at how dynamic yet antique the city is. Regardless of its fast-paced life, the city still has its ancient beauty unfolding stories from hundreds of years ago preserved. If you want to experience the well-blended mixture of these two contradictory features, go visit Hoan Kiem Pedestrian Area on weekends. What you can explore there will absolutely surpass your expectations.
The first pedestrian zone in Hanoi was inaugurated in 2014 restricting Hang Buom, Ma May, Hang Giay, Luong Ngoc Quyen, Ta Hien and Dao Duy Tu streets to only foot traffic. In 2016, this pedestrian zone was expanded to cover the areas around Hoan Kiem Lake. The pedestrian zone is only opened on Weekends, from 6 p.m on Fridays to Sunday Midnights.
Visiting Hanoi on your holiday in Vietnam, there is a lot for you to expect form Hoan Kiem Lake pedestrian area.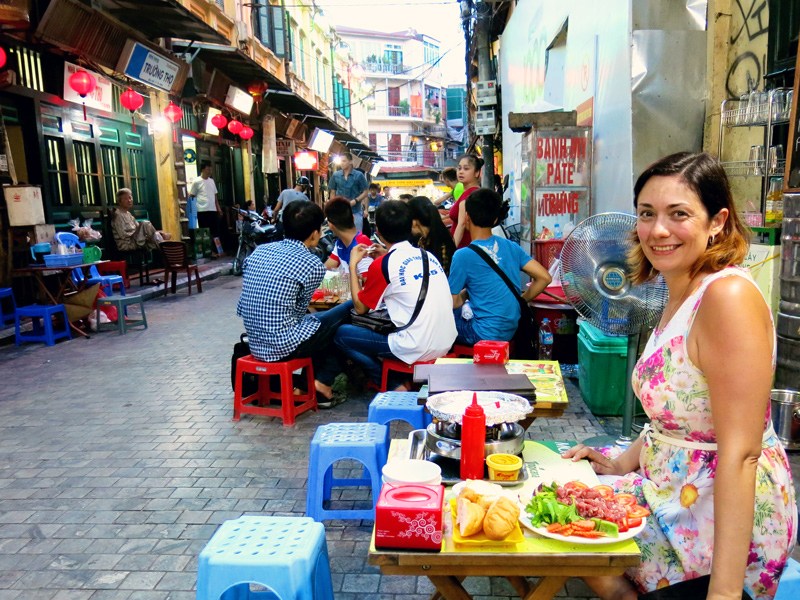 1. A place where you can experience Vietnamese cultural specialties
The utmost reason for not only foreigners but also the locals to visit pedestrian streets is to experience Hanoi atmosphere and recreate old traditions that hardly take place in modern times.
One significant traditional feature that is brought back in Hoan Kiem Lake pedestrian streets is the music. On your Vietnam customized tour, you must have heard of several traditional music types such as: "chèo" (traditional opera), "tuồng" (classical drama), "xẩm" (ballads sung by wandering blind musicians), etc. If you are in Hoan Kiem Lake, you can go to Mã Mây, Lương Ngọc Quyến to enjoy these folk songs with Vietnamese locals. It will be a very refreshing experience.
Beside the music, traditional games can be considered as the specialty of Hoan Kiem Lake pedestrian streets. To Vietnamese adults, these games bring back a lot of childhood memories. Not only do these games attract Vietnamese people, they also captivate foreign tourists.
The typical folk games that capture the attention of almost Hoan Kiem Lake visitors are bamboo dancing (nhảy sạp) and Game of Square (Ô ăn quan). Take a tour around Hoan Kiem Lake and you will see a lot of foreigners curiously watching the locals playing these games and trying to figure out the rules. Many of them even take part in the games and enjoy the fun with the Vietnamese.
Traveling to Hanoi on a Vietnam private tour, you might have acknowledged that Hanoi is famous for its street food. The pedestrian zone around Hoan Kiem Lake is an ideal place for you to have a taste of several Hanoi cuisines such as Bun Thang, Pho and other street food. Famous Hanoi street foods can be explored at a corner of the Night Market - which covers Dong Xuan, Hang Duong, Hang Ngang and Hang Dao streets.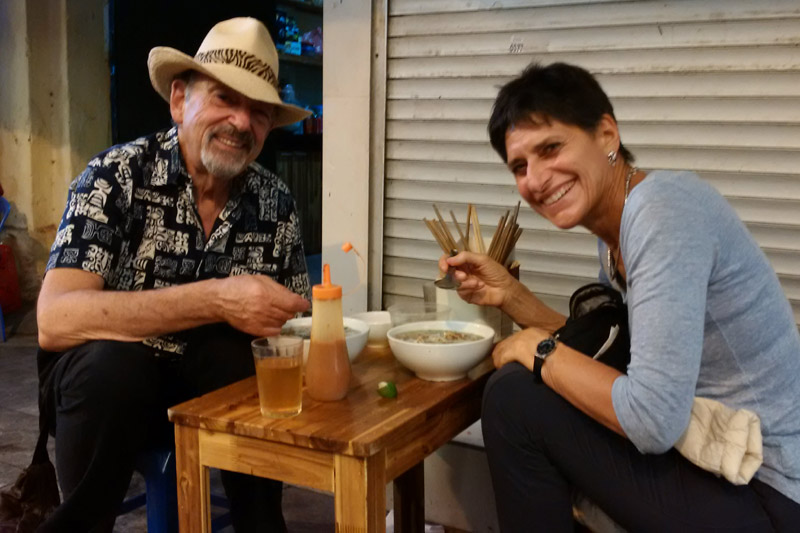 You can get a taste of Hanoi street foot when visiting Hoan Kiem pedestrian streets
2. A place where you can get yourself immersed in the vibrant atmosphere with Hanoians
Besides traditional specialties, you can also experience vibrant lifestyle in Hanoi through a lot of activities around Hoan Kiem Lake, one of which is the Vietnamese modern music and dances usually performed by young Hanoians. Although inexperienced, these youngsters share the same interest in music and are confident in expressing their talents.
Popular songs are often performed live with simple instruments like guitar and bass might leave a different impression on you compared to the original versions. Some are even sung by crowded groups and create a very bustling atmosphere. There are also energetic dances performed around Hoan Kiem Lake that capture the crowd's attention and fascinate them to the fullest.
An interesting fact that might surprise you is that not only Vietnamese but also a lot of foreign tourists have turned themselves into street artists to communicate with Vietnamese people through music. Their performances tend to receive positive feedbacks and warm welcoming from the locals.
Coming to Hoan Kiem pedestrian streets, you might not just stay and watch, you will have to take part in a lot of activities with the locals. You might find yourself playing games with strangers – jumping rope or shuttlecock kicking. This might be the first communication signal between you and a strange local instead of a "Hello". No matter where you come from, these activities are likely to connect you all and get you immersed in the atmosphere of Hanoi.
Another recommendation for you to enjoy the exciting atmosphere is to visit Ta Hien Street. Ta Hien is considered as the street of foreigners as its rustic dishes and lively night bars attract a large number of foreign visitors. You can have the taste of draught beer (Bia Hoi – a distinctive feature of this street) with Hanoi famous street foods such as Nem chua, Vietnamese bread, noodles, sweet porridges, … while enjoying the exciting atmosphere brought about by the crowd there. Or else you can go to Night bars and experience Hanoi night life there.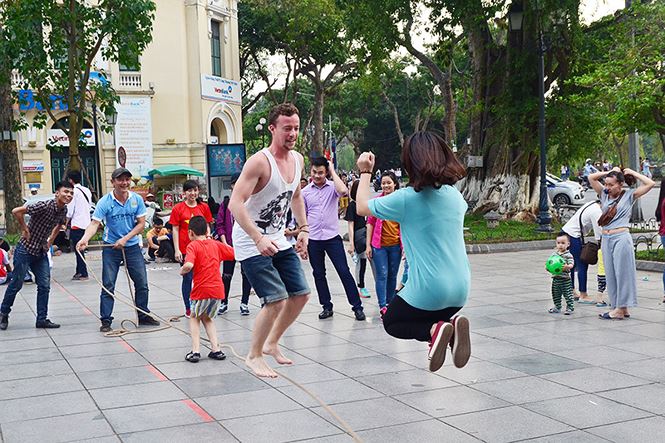 Playing games with the locals is a nice try to get yourself immersed in the vibrant atmosphere of Hoan Kiem pedestrian streets (photo source: tienphong.vn)
3. A place where you can slow down and relax
One reason why the pedestrian zone around Hoan Kiem Lake is crowded all the time is that it always has something to offer visitors with different preferences. It is a traditional yet modern, energetic but also peaceful place to relax. If you don't want to throw yourself into the energetic atmosphere with the youngsters, you can spend time walking around Hoan Kiem Lake to enjoy fresh air. There are benches around the lake for you to have a seat and relax during your long walk.
If you prefer calm and relaxed atmosphere over the vibrant one, visiting Dinh Le Street and picking yourself a book is a good option. It is a Hanoi's famous book street showcasing thousands of books of all kinds. Besides books that are written or translated to Vietnamese language, there are also English versions for foreigners.
You can take time to pick up a book and glance through it in a large book store. Or else you can buy then take it to a coffee shop nearby. There are numerous coffee shops with fascinating view and tasty drinks for you to choose around Hoan Kiem Lake. Sipping coffee and reading books might be a perfect combination for your relaxed weekend.
---
Read more:
Vietnam Street Food: Top Essential Dishes
7 awesome things to do in Hanoi
View tour: