Considered as the 'Golden Land' in Southeast Asia, Myanmar boasts shimmery pagodas, breathtaking landscapes, historical sightseeing and a wide range of ideal spots for you to watch the gorgeous sunset. If you want to escape from the hustle and bustle of urban areas and recharge your battery with a getaway trip, this go-to destinations below can fit you perfectly. You not only experience a fulfilled Myanmar customized tour but also have chances to catch a gorgeous sunset. Just check it out!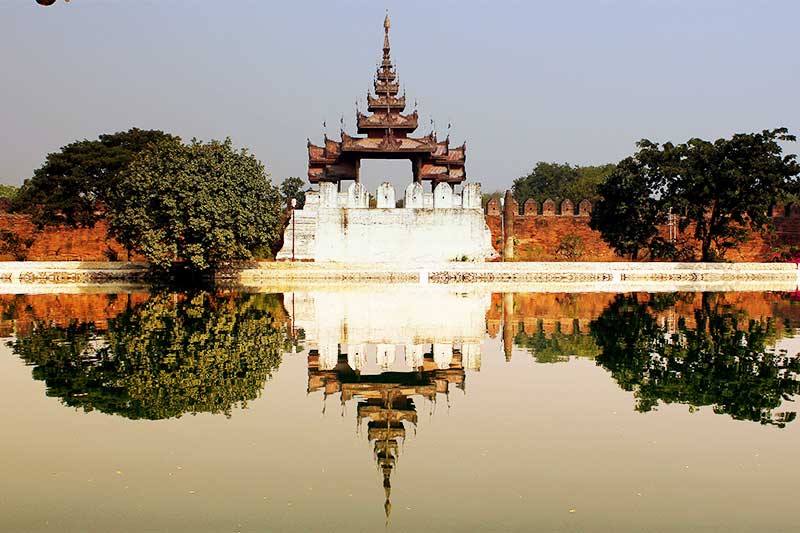 Bagan
Listed as a UNESCO World Heritage site in 1998, Bagan is the primary spiritual centre of ancient Burma. With temples, pagodas and stupas dating from the 9th century, the collection of 2229 monuments is considered to be one of the richest and most beautiful archaeological sites in Asia. This ancient volcano of Mount Popa, "The Mountain of Flowers" is a one-hour drive from Bagan and a steep stairway of approximately 700 steps will take you up to the top of the mount at 1,520 metres for an astounding view of the Bagan Plain. In the twilight, you can admire the exquisite sunset, which is one of the symbols for Bagan's splendid beauty. In case you want to splurge on a lavish dinner to watch Bagan's sunset, you can book a seat on the 9th floor of Nan Myint Tower or go directly to the observation deck on the 12th. Nan Myint Tower is also a perfect place for you to tower over the whole city. Admission is approximately US $5 per tourist.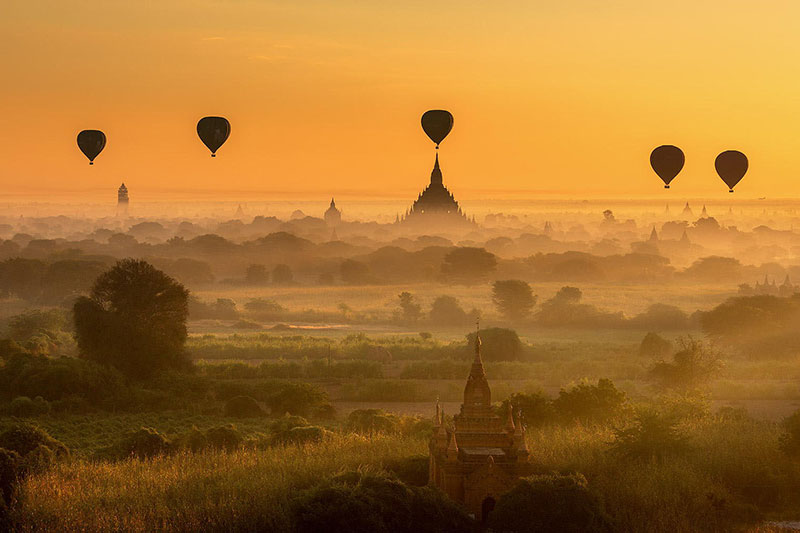 Read more: Top gripping outdoor activities in Myanmar
Inle Lake
Inle Lake is about 20 km long and 8 km wide and is surrounded by a high plateau with numerous villages inhabited mainly by fishermen and farmers. The lake itself is shallow - only 2 to 3 metres deep - and covered by seaweed, a perfect environment for the wide variety of floating flower and vegetable gardens to grow in. The lake is also home to silk and lotus weaving craft shops on stilts and wide range of bird species. Coming to this renowned lake, you can soak into the calm sunset on Inle Lake when tranquil villages settle down for the night and fishermen prepare to come back home. In the afternoon, to can see many motorboats being moored. To gain a clear view, you can pay a visit to Red Mountain Estate Vineyards and Winery. Grab a glass of red wine, pack some snacks and you are good to contemplate the sunset that pours over the surrounding hills of Shan State. An all-day boat in Nyaungshwe is also available to optimize your experience.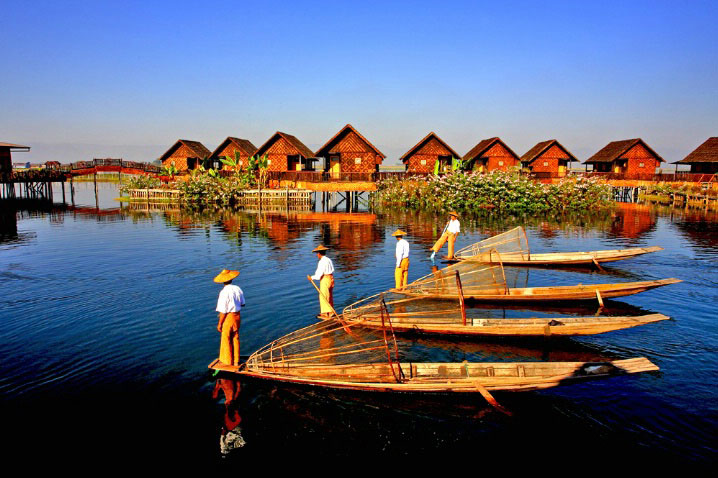 Read more: Top 10 things to experience in your Myanmar travel
Ngapali Beach
Ngapali Beach is the most famous beach in Myanmar and is a popular tourist destination. Ngapali Beach has been promoted as a major tourist destination in Myanmar. The place boasts fishing-village roots with small boats heading out day and night to catch a bounty that is later served up super fresh in restaurants and hotels. Ox-drawn carts amble along the beach as locals find the sand-ways a smoother ride than the rough one-lane road. And barely a dozen bungalow-style resorts over 2 miles gives a lot of space on the beach. Having a Myanmar private tour including Ngapali Beach, you can be treated with sunset views dipped in luxury. Some of Myanmar's resorts can be found on the strip of striking white-sandy coastlines. If you want reasonable accommodation, there are some midrange hotel at Ngapali to opt for.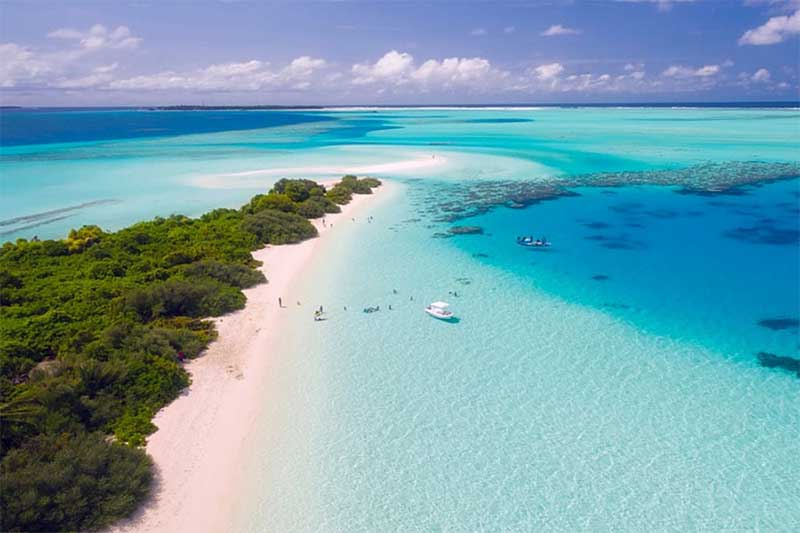 Read more: Top extraordinary things in your Myanmar private tour
Shwedagon Pagoda
The golden Shwedagon Pagoda in Yangon is one of the most popular sites in Myanmar and the holiest Buddhist site in this country. Located to the west of the Kandawgyi Lake on the Singuttara Hill, it dominates the skyline of Yangon and is visible from much of the city. The main stupa is covered with gold plates and topped with 4531 diamonds, the largest of which is 72 carats. There is no exaggeration to say Shwedagon Pagoda showcases the best Myanmar heritages in architecture, sculpture and art. Shwedagon Pagoda means Golden Hair. In its exterior enshrines strands of Buddha's hair and other holy relics, and hundreds of temples. Over the years, a stream of devotees has brought offerings to the various temple shrines within the pagoda.
Sunset is certainly the recommended time to appreciate the Shwedagon Pagoda in Yangon. Compared to the noon, in the dusk, temperatures are cooler with blustery winds. Plus, the Shwedagon Pagoda is even more dazzling at sunset. There are many people dressed in colourful attire and observe the majesty of sunset glowing. The goldenness of the Shwedagon's stupas combining harmoniously with the cozy ambiance creates a truly awesome sight. It is definitely a must for your Myanmar family tour.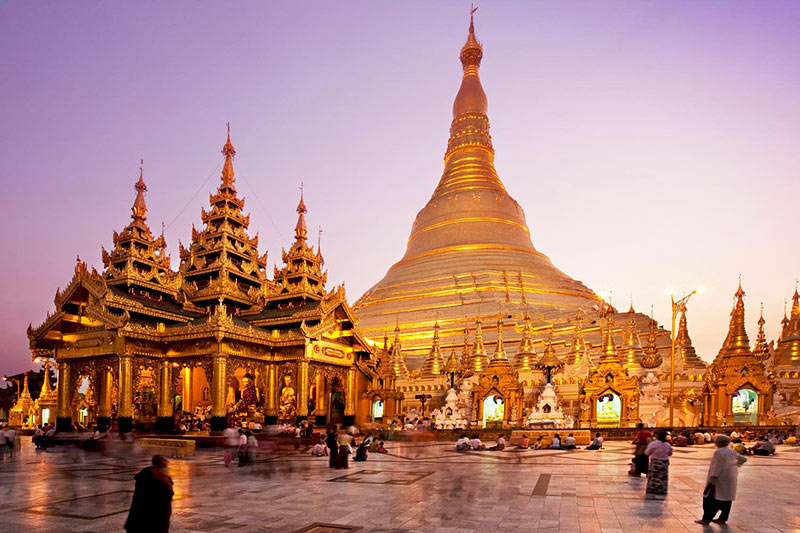 Mount Popa
Mount Popa is a well-known pilgrimage site for Khmer locals and worshippers. The temple on the top of the mountain is home to many large Buddha statues, and it also attracts many global tourists. On the vantage point of the Mount Popa, you can catch a gorgeous sunset smouldering over the expanse of the Myingyan Plain. Taung Kalat Monastery located up 777 steps at the top of the nearly 2,500-foot volcanic plug can be a big challenge for people who have low stamina. But it is really worthwhile with a superb view- a priceless present in your Myanmar travel package.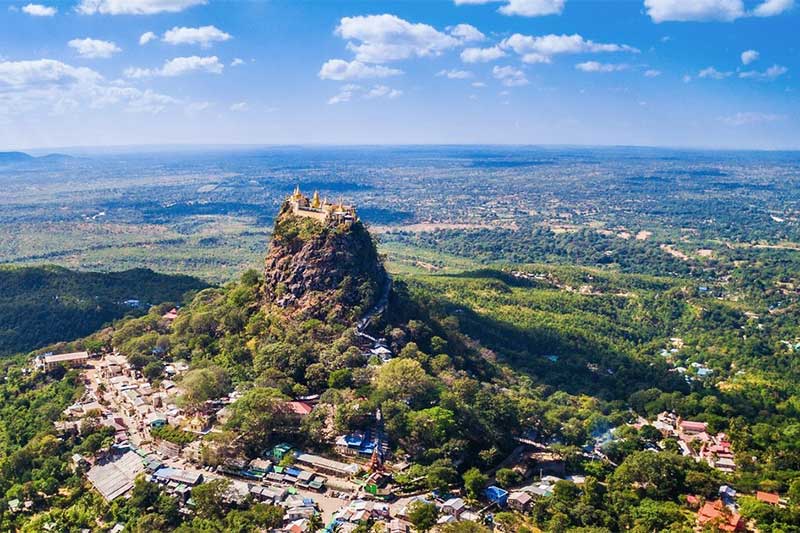 See tours:
Fantastic Vietnam - Myanmar Holiday 20 days