Vietnam is home to a wide range of stunning landscapes, breathtaking beaches and picturesque monuments. However, this S- shaped country not only seduces tourists by its gorgeous beauty but also has numerous weird places waiting for you to explore. Ranging from recreational park to the scary house in Da Lat, you definitely want to see such sights at first hand when having a Vietnam private tour.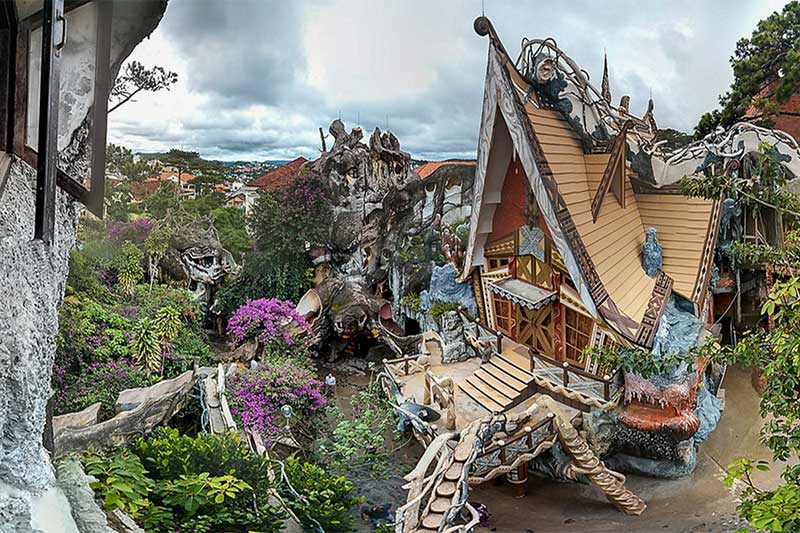 Suoi Tien Cultural Theme Park
Suoi Tien Cultural Tourism Area is an entertainment complex in District 9, Ho Chi Minh City. All architectural works in Suoi Tien were built with the main purpose is educating the youth and helping visitors know more about the history of national culture when coming to Suoi Tien. 20 years ago, Suoi Tien was a deserted land, sparsely populated with small streams hidden in the deserted nature. Nowadays, it has become famous at home and abroad with a brand of travel and flying and reaching out to the world with architectural styles and types of entertainment embedded in historical images and transmissions. Vietnamese theories such as Lac Long Quan - Au Co, King Hung, the legend of hundreds of eggs, Son Tinh Thuy Tinh, the legend of Banh Chung, the legend of watermelon, nine layers of hell, the four spirits converging Long - Lan - Quy - Phung, an underwater amusement park, especially Tien Dong Beach, the first artificial sea in Vietnam. In addition, Suoi Tien is the place where you can find many religious structures like Thien Tien Mon Gate, Long Hoa Hoi, Thanh Giong Monument, Tran Hung Dao Monument, Long Quy An Thuy lake, Hai Ba Trung Monument or the spiritual sights such as Dia Mau Buddhist Square, the holy statue of Thien Thu Nhan, the famous Kim Lan Son Square, Phuc Cung Tam Phuoc, Bo De Quang Minh Canh. In particular, tourists can admire and feed 1,500 live crocodiles with meat slung from fishing poles. Sounds weird but intriguing, right?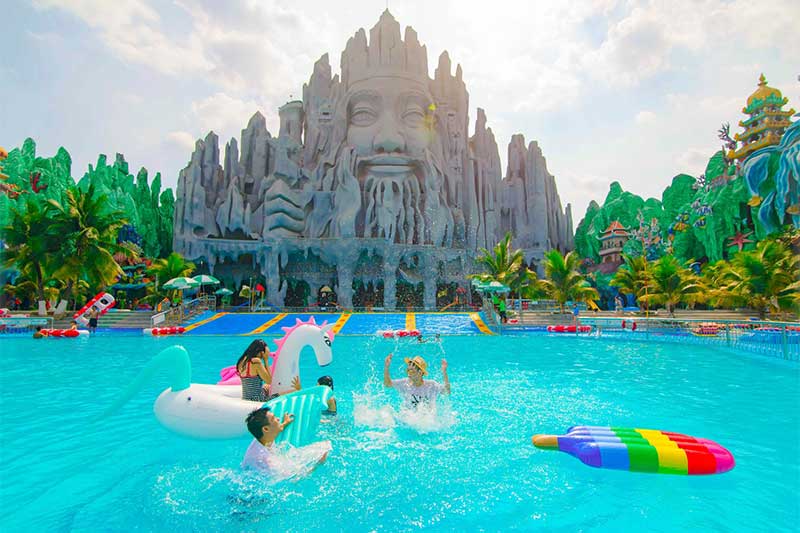 Read more: Things you should bring on your Vietnam tailor-made tour
Snake Village
Yeah, you did not mishear. There is a local village called Lệ Mật in Vietnam where you can find a variety of products and food made from the snake. Coming to this place, you can have once-in-a-life-time experiences. Tourists having Vietnam family holiday can blend into the Getting drunk with a shot of snake wine after savor some stir-fried snake or simply wander around and observe how Vietnamese people make a dish from snakes. Lệ Mật is located near Hanoi, so it is convenient for you to have an expedition to this small village.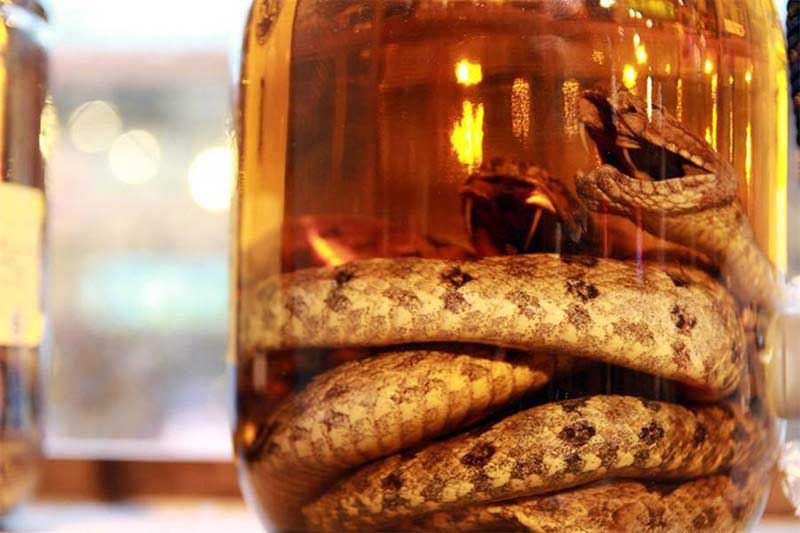 Read more: Top crazy things to do on a Vietnam tour
Hell Cave
Considered as one of the most well-known attractions in Vietnam, Da Nang acquires the reputation for white sandy beach and emerald water. However, you may not know that Da Nang has a mysterious cave named Hell Cave under the mountain of Ngu Hanh Son scenic area. Visitors can follow the path in the marble mountains to enter the cave. Alongside the cave, you can easily see statues of demons and crocodiles. They are absolutely natural. Furthermore, the illustrations carved into the cave randomly resemble the law of cause and effect of the Buddha, simulating the place where people will enjoy life or suffer retribution after death. Many intuitive images teach people about the good and evil like Quan Dien the judge with the scale of Nature considers the merits/crimes of each person. The Glass Director at Minh Vuong Palace always keeps an eye on the behaviors of each person decide to reward or punish.
Similar to the hell with different floor accompanied with karmas and punishments may make you feel like landing on the authentic hell on Earth. Plus, the harmonious combines between folklore and Buddhism is not to create a strong feeling for the viewer but mainly to convert the human character, convert evil, do good things to avoid bad manners.
Read more: 6 easy ways to get off the beaten track in a Vietnam private tour
Wax Statue Museum
Have you ever imagine popular people like Barack Obama and Johnny Depp with wax skin and vacant eyes? Coming to Wax Statue Museum situated on Ba Na Hills Mountaintop in your Vietnam tailor-made tour, you can admire a wide range of statues which simulate well-known people. Each statue has its own suitable background for visitors to take pictures. Visitors also learn about the wax foundry at the end of the tour. In the process of making elaborate statues, the sculptors must gather parameters of the characters they want to emulate to create copies of the right size, skin color, height, you name it. Just careful and do not touching these wax statues.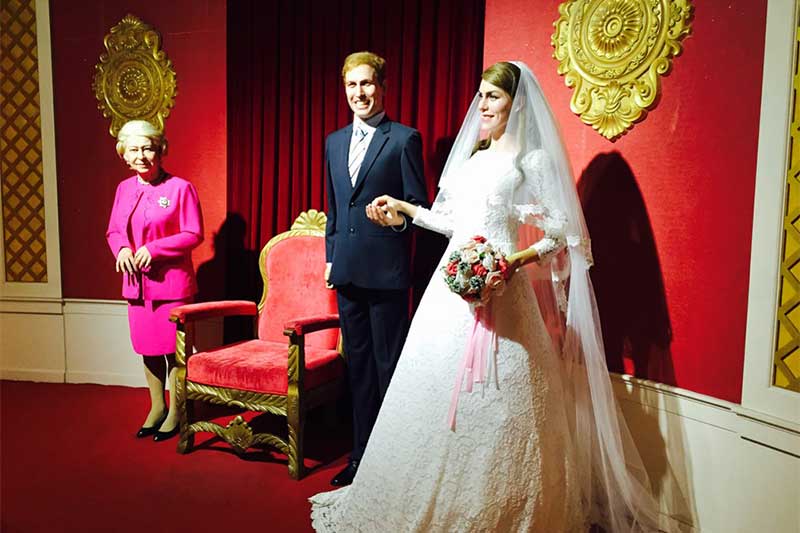 Crazy House
Crazy House (or Hằng Nga Guesthouse) is an innovative architecture which offers you hallucinatory experience. This unique complex is built primarily in the period 1990 - 2010, with the main content: in the heart of the stumped trees and slabs of stone, people can still create cozy, comfortable rooms and even the castle is full of mystery, fascinating. There are also coffee shops, souvenirs and hotels for long-stay guests to explore this bizarre house. Designed by Dr. Dang Viet Nga, this place has become a splendid highlight in the "City of thousands of pine trees". In order to bring people back to nature, rather than take advantage and destroy it, Crazy House is constructed with many caves and alleys with strange shapes. The outstanding feature here is the enlarged animals such as bees, spiders, deer bears decorated and placed around. In Vietnam travel packages, tourists not only can immerse in the magnificent beauty of this superb structure with stumps or rocks hidden in the green space but also enjoy the fresh ambience when relaxing in the heart of the trees.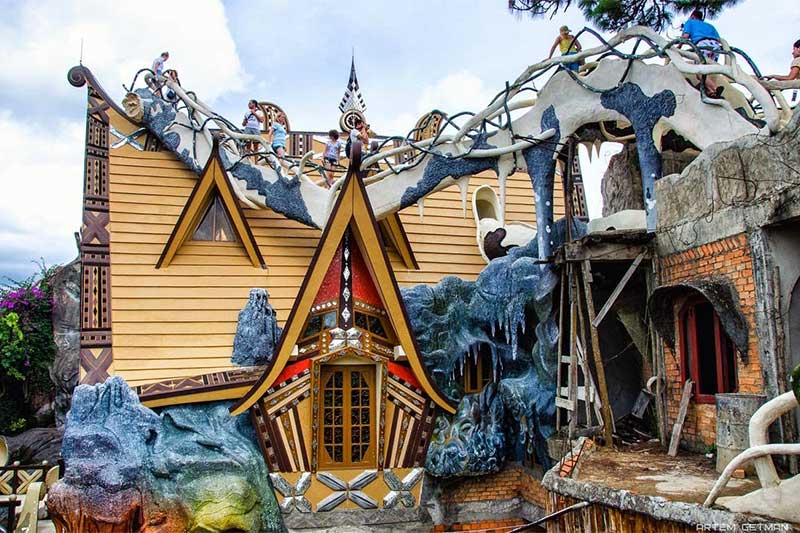 See tours:
Absolute Vietnam Holidays 15 days
Happy Honeymoon Vietnam 12 days

Fantastic Vietnam - Myanmar Holiday 20 days