There are many things that make your travel to Da Nang worthwhile – marvelous landscape, hospitable locals, modern civilization and last but not least, don't forget its delicious specialties. On your Vietnam private tour to Da Nang, it would be a waste not to try these below dishes: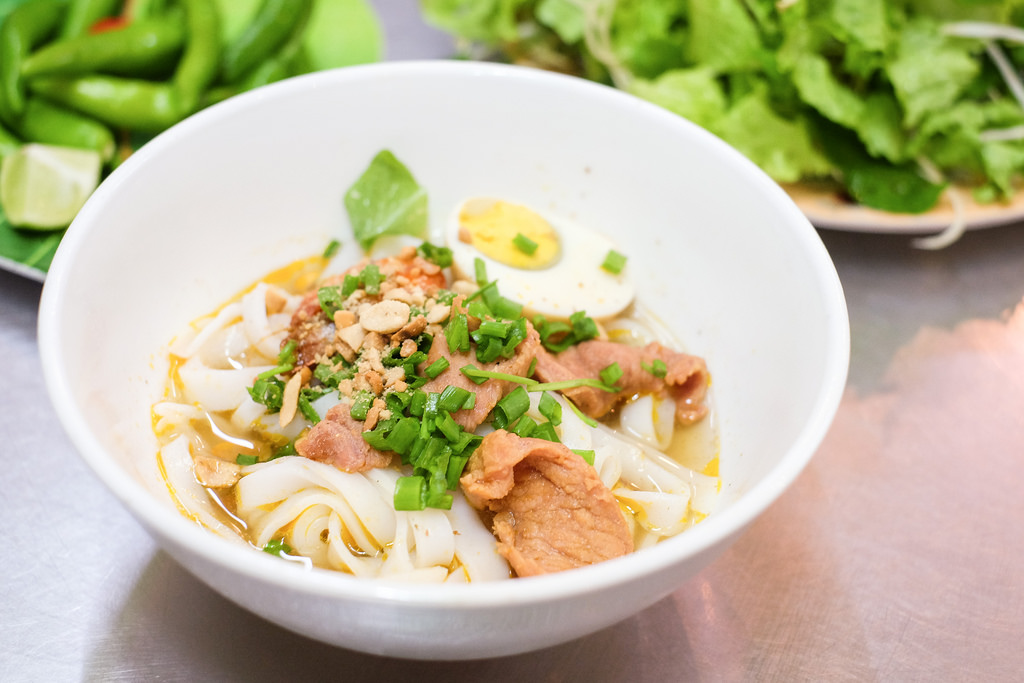 Vietnamese Turmeric Noodles (Photo credit: www.misstamchiak.com)
1. Banh Trang Cuon Thit Heo (Sliced pork rolled with rice paper)
A typical dish of Banh Trang Cuon Thit Heo or Sliced pork rolled with rice paper includes a plate filled with pork (it's up to you do decide it is boiled or grilled) together with fresh vegetables, cucumber and green bananas. Wrapping all the ingredients with a thin rice paper and dipping it into a flavorful sauce can ease away all your stress and make your Vietnam customized tour more memorable.
2. Com Ga Da Nang (Da Nang Chicken Rice)
Chicken Rice is a popular dish wherever you go in Vietnam. However, Da Nang chicken rice is more impressive compared to other regions for the amazingly tender meat and extra crispy skin. The rice is cooked with chicken broth and served with onions and herbs might bring you the most delicious chicken rice you have ever tasted. On your holidays in Vietnam, this dish is absolutely a must try.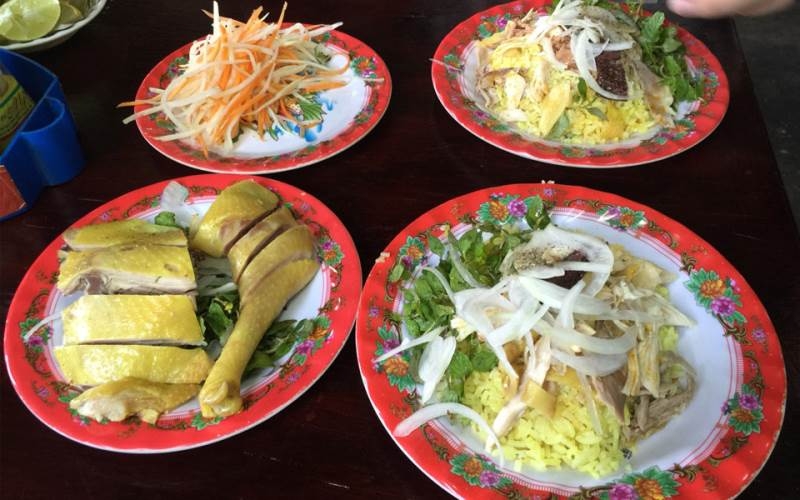 Da Nang chicken rice (Photo credit: toplist.vn)
3. My Quang (Vietnamese Turmeric Noodles)
A trip to Da Nang could not be complete without a taste of its specialty – My Quang. It's a pool of chewy rice noodles tinted yellow using turmeric with the broth and topped with shrimp, boiled quail eggs and roast pork.
The broth can be made from chicken, shrimp, crab, fish, pork or beef bone. Therefore, there are many versions of My Quang for you to choose. A bowl of My Quang is often served with an array of fresh herbs including basil, lettuce, and coriander as well as green chili peppers, lime, and sesame rice crackers to enhance its taste. On your Vietnam customized holiday, this dish should never be missed out on!
4. Banh Xeo (Pancake)
Banh Xeo is a popular dish in Vietnam, especially in Da Nang. This savory pancake is made out of rice flour, water, turmeric powder and stuffed with pork, shrimps and then pan fried. This pancake is also served with fresh vegetables including salad, mint leaves, basil, cucumber, etc. and accompanied by a special 'tuong' sauce which consists of liver, hoisin sauce and garlic.
Which makes Da Nang pancake so unique is its "Tuong" sauce – it is edible to anyone and can leave an unforgettable impression on anyone who gets a bite of. Rolling Da Nang pancake stuffed with fresh vegetables in a rice paper then dipping it into the flavorful "Tuong Sauce" can make your day in Da Nang worthwhile. On your Vietnam private tour, this dish is absolutely worth trying together with "Nem Lui".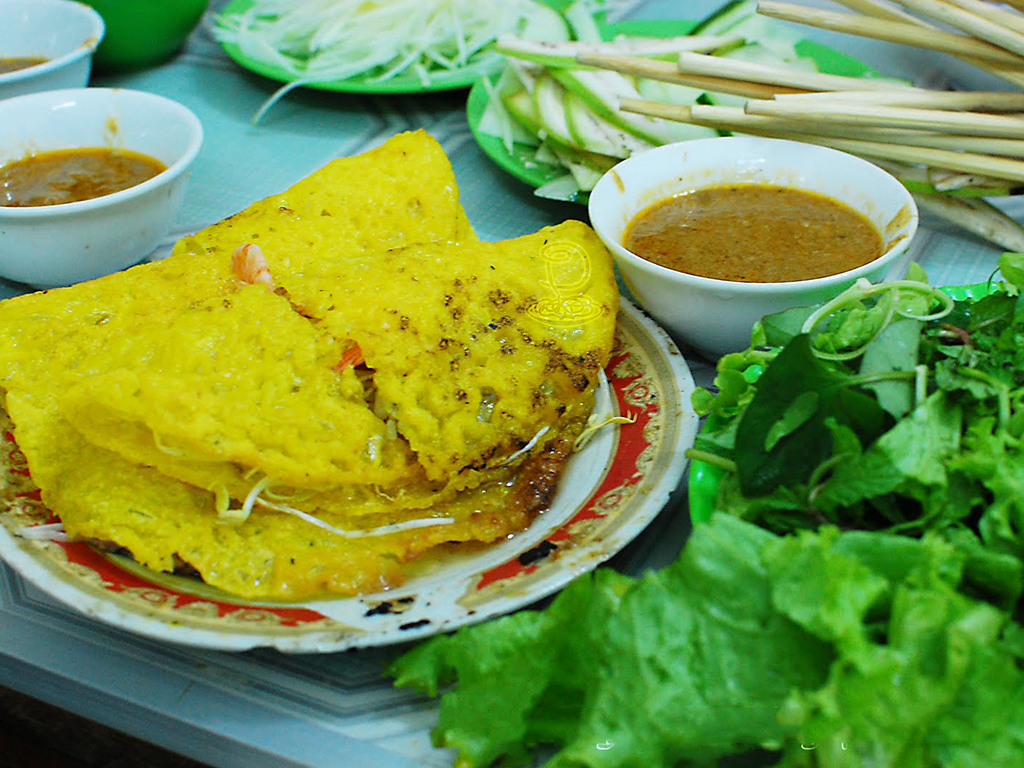 Da Nang pancake (photo credit: justgola.com)
5. Hai San (Seafood)
Da Nang has an amazing coastline, which gives this city not only marvelous landscape but also a wide range of fresh seafood. Since the city is surrounded by sea, many locals earn their livings by becoming a fisherman. They worship Lady Buddha - who sits atop Son Tra Mountain in Ling Ung Pagoda. Thanks to these fishermen, both locals and foreign tourists inland can enjoy fresh seafood brought directly from the sea.
Visiting Da Nang on a Vietnam vacation, there are a lot of seafood dishes you should give a try, such as: Goi ca Nam O (Nam O salad with fish); Ca duoi nuong (Grilled stingray), Oc (Snails and Shellfish), etc. Among them, Goi ca Nam O (Nam O salad with fish) should be put on your top list of seafood to try when travelling to Da Nang.
6. Bo Kho (Vietnamese beef stew)
Bo Kho is the locals' favorite dish for weekend breakfasts. The beef is diced then stewed with aromatic broth and cooked with carrot and lemongrass. Bo Kho (Vietnamese beef stew) can be served with warm baguette or served over noodles.
The hot and tasty Bo Kho can be an ideal breakfast for the locals in Da Nang but not so popular among foreign tourists. But it can be assured that this dish can lighten up the day of anyone who have the chance to get a taste.
On your Vietnam customized tour, it is recommended that you wake up early to go see the city of Da Nang and have a bite of Bo Kho, its taste will not fade away for the whole day!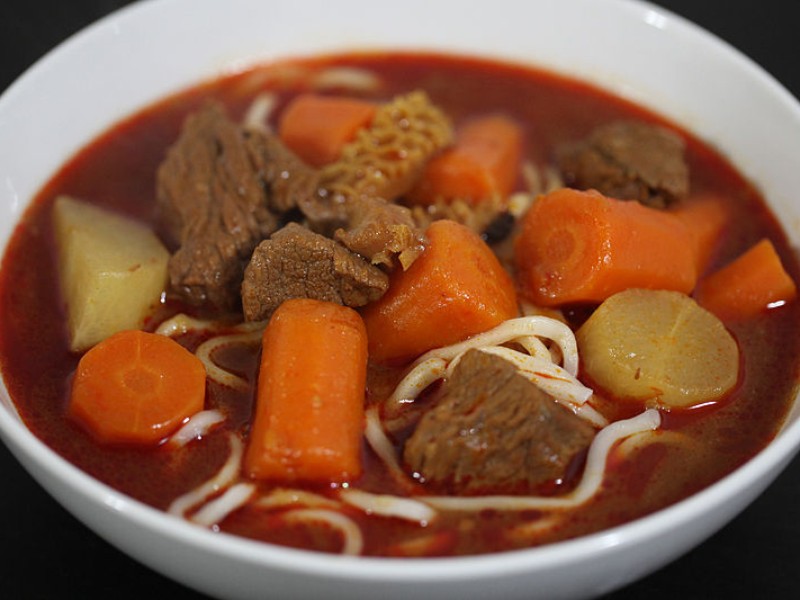 Vietnamese Stewed Beef (photo credit: justgola.com)
---
Read more:
5 interesting facts that will make you want to travel to Da Nang
Top 10 awesome things to do when travelling to Da Nang (1)
Top 10 awesome things to do when travelling to Da Nang (2)
View tour: Vietnam Heritage Tour 15 days