Vietnam is amazing country with a lot of beautiful destinations to travel to. Therefore, it might be a quite hard task for foreign tourists to set up their itinerary for a Vietnam private tour. If you are in trouble picking where to visit, below are 5 interesting facts that make Da Nang an ideal choice – check them out!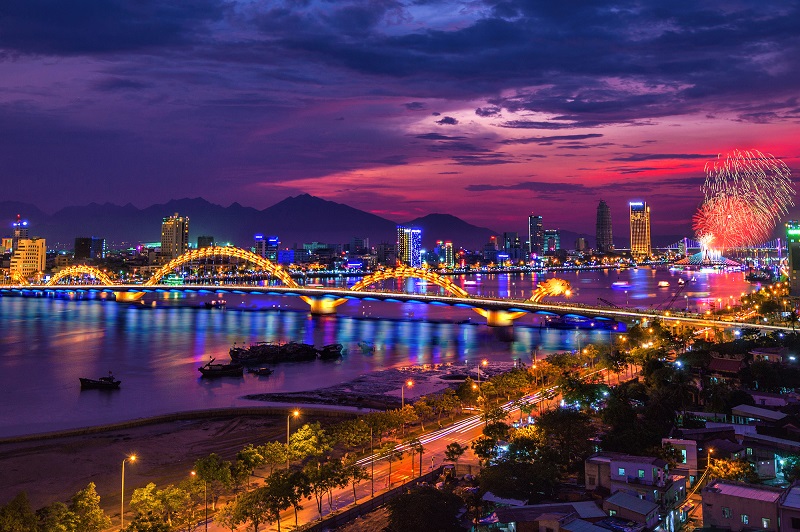 5 interesting facts that will make you want to travel to Da Nang
1. It is listed on the Top 10 worth-living cities in the world in 2018
Da Nang is the only city in Vietnam that is listed in the Top 10 worth-living cities in the world in 2018 by Live and Invest Overseas, a Panamanian travel magazine. In fact, it is also considered the most worth-living city in Vietnam.
Visiting Vietnam on a Vietnam private tour, you must be aware of travel scams you need to avoid in Vietnam – in which overcharge, frauds are included. But these scams hardly take place in Da Nang, which makes this city an incredibly safe place to travel to.
Not to mention that people there are truly friendly and helpful towards foreign tourists. Wherever you come from, the first gift you are likely to receive when visiting Da Nang is the smile. If you ask for directions, hotel address,…, you will receive detailed guideline and some drivers, cycle riders can even design the tour for you knowing that you are first-time traveler to this city.
That is why you should never miss out on Da Nang on your Vietnam customized tour, you will be surprised at how friendly Vietnamese people can be.
Not only being the worth-visiting destination to foreign tourists, Da Nang is also looked up to as the worth-living city to Vietnamese locals because poverty here is taken into account with great care.
Here lies the first Non-Profit Humanitarian Cancer Hospital of Vietnam where poor people in Da Nang and other central provinces can receive free cancer treatment. You might imagine that the hospital is not in a good condition but no, it is extremely modern and spacious.
Moreover, you will find it impossible to seek a homeless in Da Nang for it has solved the homeless/beggar problems to the root thanks to a long-term campaign called "5 no — 3 yes", which was launched by Nguyen Ba Thanh, former party secretary and people's council president of Da Nang. One in that 5 no (s) is "no beggars on the street" and it is still carried out even after the death of Nguyen Ba Thanh.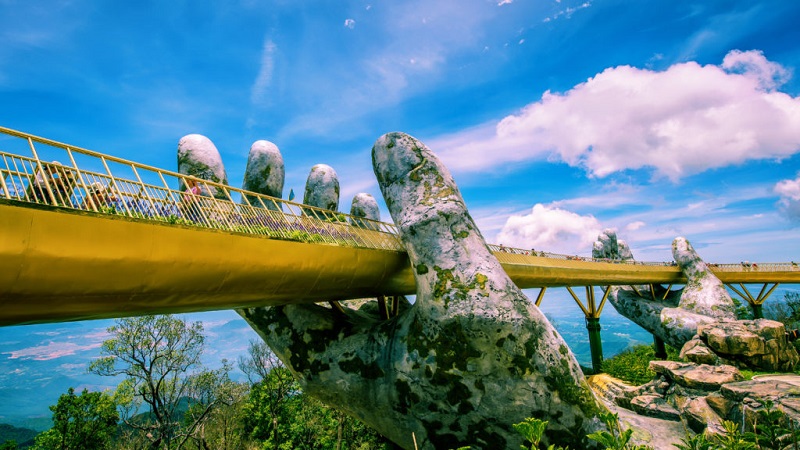 There are many things that make Da Nang listed on the top 10 worth-living cities in the world in 2018
(photo credit: banahills.sunworld.vn)
2. Free wifi everywhere
Nowhere else in Vietnam can you access Internet with free wifi like in Da Nang. You do not need to go to cafe and ask for Wifi passwords or waste your money turning on your Mobile Internet – which might cost you a considerable sum of money to search for what you don't know about the country you are travelling to on the Internet.
You can always access the Internet freely and stably as Da Nang offers free wifi officially throughout the downtown area for the sake of the locals and foreign tourists travelling to this city on a Vietnam private tour. That is why your travel to Da Nang promises to be a very convenient and worthwhile one.
3. It is famous for its diverse and delicious cuisine
It would be a big miss not to mention the cuisine of Da Nang when highlighting the distinctive feature of this city. The dishes there are diverse, tasty and most importantly – they are very cheap.
Best specialties recommended when visiting Da Nang include Banh Xeo (Fried Pancake), Mi Quang (Quang Style Noodles), Banh Trang Cuon Thit Heo (Rice Paper with Pork) and Tra Sam Dua Da Nang (Da Nang Pandan Tea). These dishes make up a very unique and flavorful taste of Da Nang cuisine – which should never be missed on any Vietnam tours. And the most wonderful thing is you can try all of them at reasonable prices for this city does not like to "rip off" its tourists.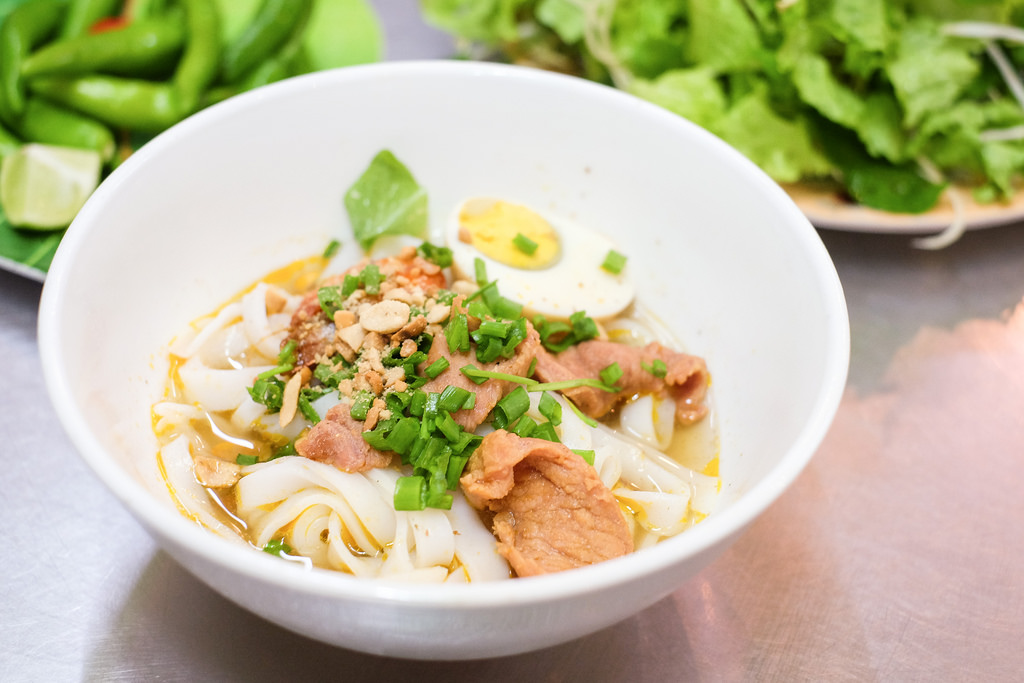 You can enjoy a wide range of delicious food when travelling to Da Nang (photo credit: www.misstamchiak.com)
4. It is located between the hottest axis of the Central area: Hue (Huế) – Danang (Đà Nẵng) – Hoi An (Hội An)
One reason why Da Nang is an ideal choice for travelers who intend to visit famous nearby attractions. They can ride a bike to head to Hoi An or take a bus to Lang Co for sightseeing and you can also go straight ahead to Hue to catch a grasp of the ancient capital.
If Hue and Hoi An can captivate foreign tourists with long-lasting antique buildings then Da Nang never fail to surprise them with modern civilization and fast transformation after each visit. These 3 destinations combine to make the hottest axis of the Central area, which are absolutely must-visits on any Vietnam customized tour.
Should you fancy adventurous experiences, you can drive a motorbike to Hai Van Pass and witness for yourself the impressive landscape of verdant mountains and clear blue skies. It will absolutely be one of the most unforgettable memories on your holiday in Vietnam.
Not far away from Da Nang is My Son Sanctuary – which has been named by touropia.com as one of the 10 most attractive destinations in Vietnam. This site was recognized as a World Heritage by UNESCO in 1999 and is a perfect example of Champa kingdom's architecture. If you are travelling to Da Nang, a visit to nearby cultural heritages is also worthwhile.
5. It has some of the most impressive tourist attractions in Vietnam
Not only being the transportation hub to several UNESCO World Heritage Sites including the Imperial City of Hue, the Old Town of Hoi An, and the My Son Sanctuary in the Central Vietnam, Da Nang itself is a wonderful destination to travel to because of its impressive attractions which can amaze any foreign tourists on their Vietnam vacation to the fullest.
One of the must-visit attraction you should never miss when visiting Da Nang is Ba Na Hills – which is considered as "the Da Lat of Danang province" or "Disney Land in Vietnam". Ba Na Hills is a mountaintop resort complex that looks like an antiquated castle but the insides might surprise you with modern accommodations, world class restaurants and a Fantasy Park full of thrilling games.
An interesting fact is that the cable cars of Ba Na Hills holds several Guinness World Records including being the longest System Cable Car in Asia. When riding this cable car, the view of Da Nang and the coast is spectacular. That is why you should take a ride to Ba Na Hill by the cable cars and enjoy the stunning overview of Da Nang from afar.
Beside Ba Na Hills, My Khe Beach is also an impressive tourist attraction in Vietnam as it is listed one of the most beautiful beaches on the planet. Its blue sky, white sand and clear water year around are sure to bring you a peaceful and relaxing moment on your Vietnam customized holiday
---
Related articles:
Best family-friendly destinations in Vietnam
How to spend 1 week in Vietnam for first-time travelers
How to spend 3 weeks in Vietnam
View tour: Vietnam Luxury Beach Break 15 days