1. Trung vit lon (Balut)

Balut or Fertilized duck eggs are a food with high nutritional value containing a lot of good protein to help promote health. This is also a popular street food that is loved by many Vietnamese people. However, the original image of a young duck lying inside an egg makes foreign tourists really both fear and admire the unique cuisine of Vietnamese people.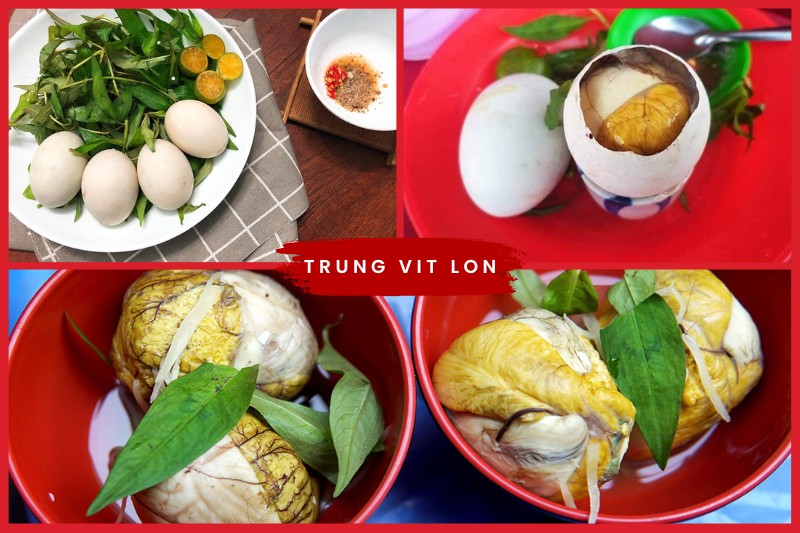 (Trung vit lon- Balut)

Balut are dishes made from eggs whose embryos have developed into shape. The popular way to eat scrambled eggs is boiled and served hot with some vegetables, fresh ginger and lemon pepper salt. Perhaps Balut is the most famous dish of Vietnam's weirdness, but I believe you will be amazed by the delicious taste of this dish.

2. Mam Tom (Fermented Shrimp paste)

Shrimp paste is a special kind of fish sauce, which is only found in Vietnam. This sauce is made from fermented shrimp combined with table salt. For many people the scent of shrimp paste is really "an obsession", but there are people who just want to dip any food with this sauce.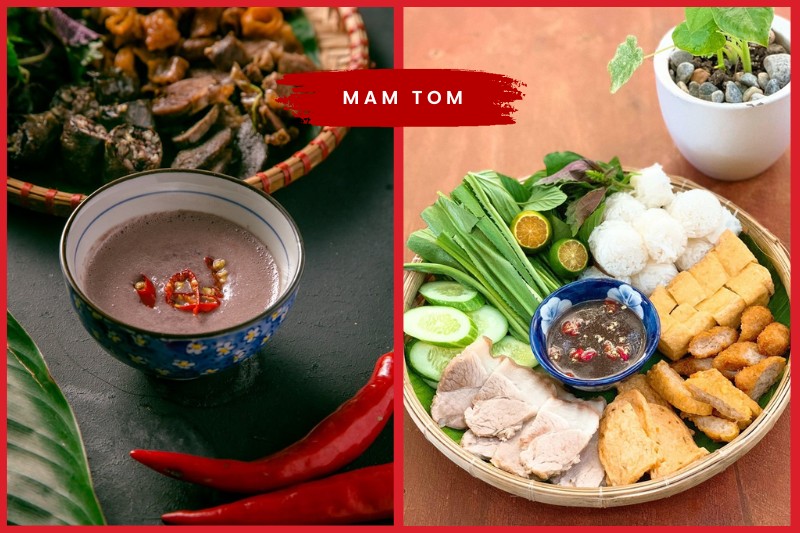 (Bun dau mam tom Vietnam)

The taste of shrimp paste goes well with other ingredients such as vermicelli, fried tofu, boiled pork and vegetables. Therefore, Bun Dau Mam Tom is considered a specialty you cannot ignore when you take part in Vietnam Customized Tours.



3. Tiet canh (Blood pudding)

Tiet soup is a popular dish in Vietnamese drinking parties. However, this dish has never been seen anywhere else in the world and also causes fear among tourists. People believe this dish is a great protein-rich breakfast. However, with the current food safety situation, this dish is only reliable when ensuring the blood of the animal is healthy.



(Tiet canh- Blood pudding)
The process of making blood pudding begins with the collection of animal blood. Then, they mix fresh blood with offal or minced meat in a bowl, seasoning it and letting it solidify into a jelly texture. When the weather has frozen, the Vietnamese will add a little more herbs and roasted peanuts on top.

4. Pha Lau (Beef Offal)

Pha Lau is a very popular dish in the southern region of Vietnam that combines all kinds of beef offal. Before processing, the cook washes all the internal organs with salt and lemon to remove bacteria several times. After that, the organs are cooked in a pot of broth containing a lot of spices such as five-spice powder, traditional Chinese medicine, ... to form a delicious mixture.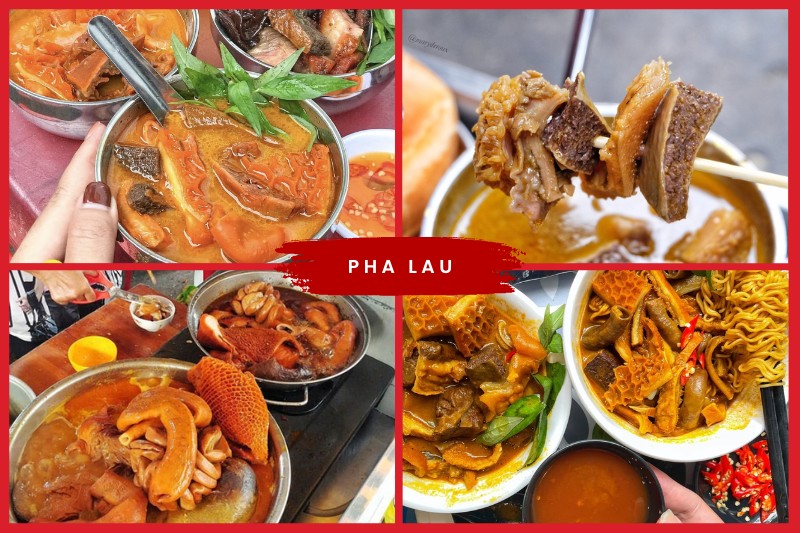 (Pha Lau- Beef Offal)
This dish is dipped with pepper, lemon and chili fish sauce, perfectly served with rice, vermicelli or bread. In addition to Vietnam Private Tours, Pha Lau can be found in Cambodia, Myanmar and other Southeast Asian countries. Although this dish is not known to international tourists, the fatty taste of the meat combined with the crispy bread and dipping sauce creates an irresistible taste.

5. Ga Tan Den (Black chicken in herbal soup)

Ga Tan is a kind of nutritious food of Vietnamese people. According to Oriental Medicine, this dish helps to increase endurance and improve the immune system, increase effective resistance, especially has a positive effect on people with physical weakness, pregnant women, ...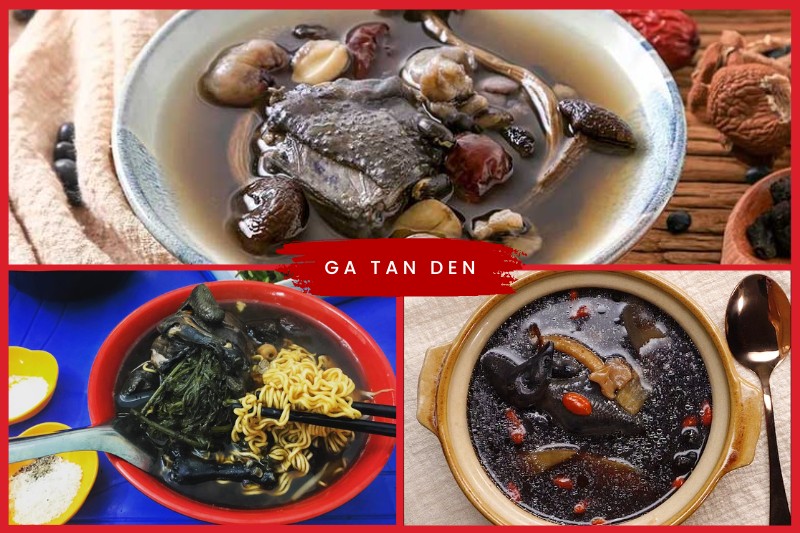 (Ga Tan Den- Black chicken in herbal soup)
This dish can be prepared with ordinary chicken, but the most nutritious is to cook it with evil chicken (black chicken)- a particularly nutritious chicken breed with a relatively small size, only 1/3 of the size with regular chicken. Chicken will be cooked with Chinese herbs (Traditional medicine) and dried fruits (including wormwood, dried jujube) to create a refreshing taste.



6. Thang Co (Stewed horse meat & offals)

Thang Co is a specialty dish found only in the mountainous regions of Vietnam, especially the Northwest region. This food is made from the edible organs of some animals such as horses, buffaloes, cows... that are fried or boiled without any external ingredients.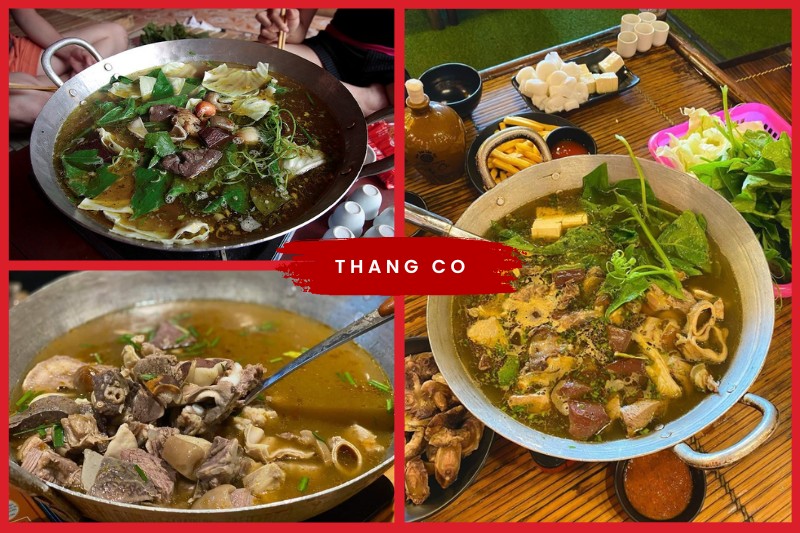 (Thang Co- Stewed horse meat & offals)
In the cold air of the high mountains, visitors will feel great when enjoying hot Thang Co on the fire and drinking mountain wine. However, not everyone has the courage to taste this dish once because of its unique taste. Thang co is ranked as one of the most "smelly" dishes in Vietnam Customized Tours.

7. Oc (Sea snails dishes)

Vietnam's seafood is very diversified and sea snail is also a specialty that visitors want to enjoy. These include sweet snails, horn snails, nail snails,... with many different shapes and flavors.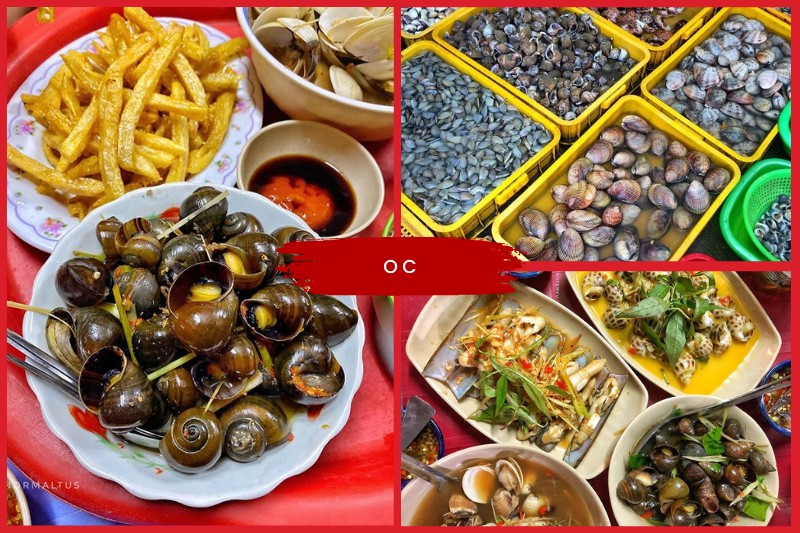 (Oc- Sea Snails Vietnam)
There are many ways to cook snails, but boiling snails with lemongrass is the most popular way. When eating them, we use toothpicks or spikes to bring out the snail and dip it with a spicy and sour sauce. The sweet taste of snails and the crunchy sound will surely stimulate the taste buds of all visitors.



Vietnamese cuisine is famous for its delicious street food. There are dishes that seem very familiar to the lives of Vietnamese people but are very strange and bizarre to international tourists. Save these foods so you don't miss them when you visit Vietnam Private Tours!