Recognized as a World Heritage by UNESCO, Halong Bay is a spectacular site and a must-see place that should be listed in any Vietnam customized tour. The bay is located in the Gulf of Tonkin and filled with nearly 2000 limestone mountains in different shapes and sizes, rising from the emerald waters that offers you a breathtaking scenery. In fact, Halong Bay is like a gigantic and mythical maze of limestone islands, many of them are left untouched while some has caves that are opened for tourists to explore. There are many ways to enjoy Halong Bay, day trip or overnight cruises. Here are some important tips to plan the best trip to Halong Bay: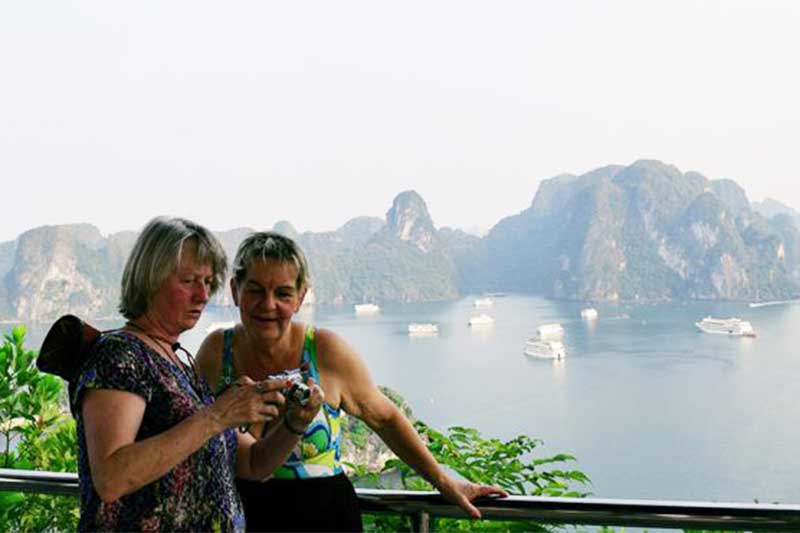 Best time to visit Halong Bay
Although Halong Bay can be visited any time of the year, there are still some periods of time that are more favorable. From March to May or September to November, a Halong Bay cruise trip will be more memorable with dry and pleasant weather. Sometimes, it can be a bit misty when starting the cruise or in the early morning but it just makes the bay look more mysterious. During the low season, from May to early September, the cruise trip in Halong Bay can be affected or cancelled by occasional typhoons. However, the bay is quieter and with less tourists staying overnight on the cruises. Also, there are plenty of promotions and good prices for the Vietnam private tours at this time as it is the low season.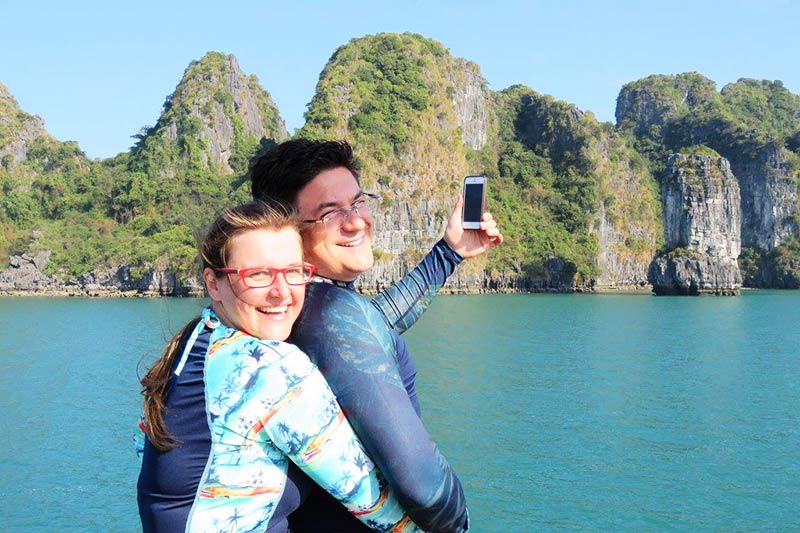 How to transfer to Halong Bay
The most popular way to get to Halong Bay is traveling from Hanoi. The drive from Hanoi to Halong Bay is around 3-4 hours and can be completed by minibus, van or coach. The new toll-road has been opened recently to get to Halong Bay via Hai Phong City can shorten the traveling time between 2-2.5 hours but the toll-fee is pretty expensive.
There is no airport in Halong City. The nearest airport is Cat Bi in Hai Phong City and it takes 1.5 – 2 hours to drive to Halong Bay. In recent years, travelers can have a new option to fly seaplane from Hanoi to Halong Bay in less than an hour.
However, the easiest way to visit Halong Bay is to book an organized tour in Hanoi with round trip and travel from there. Alternatively, you can travel to Halong Bay and book the service there but the last-minute booking can be a bit higher. So, it is advisable to have everything organized before leaving Hanoi, then there is no more stresses in finding the cruise operator in Halong City. A good tip here is spending little time doing research for a reputable travel agency or cruise operator that have good feedback from other tourists. Try to avoid the offers that seem to be very cheap as there are possible hidden costs for meals or attraction fees. A good Halong cruise offer should have everything inclusive for a comfortable stay like private cabin, meals, entrance fee, extra activities and round-trip transfer.
Day cruise or Overnight cruise
If you are short in time during your private holidays in Vietnam, a day cruise trip of 4 -6 hours in Halong Bay with caves exploring, visiting fishing villages and sea-food lunch on board is good enough to experience the bay. This kind of day trip can be organized by any reputable tour operator in Hanoi.
However, the most typical way to truly enjoy the amazing beauty of Halong Bay is taking the overnight cruise. The 2 day 1 night cruise trip is chosen by most tourists. An overnight trip gives more time to admire the spectacular scenery as well as relaxing at one of the most beautiful destinations on earth.
Additionally, if your tour in Vietnam is unhurried, spending 2 nights on board will be a wonderful experience. You will have chances to visit Lan Ha Bay or Cat Ba Island with many activities to join such as kayaking, swimming or rock climbing.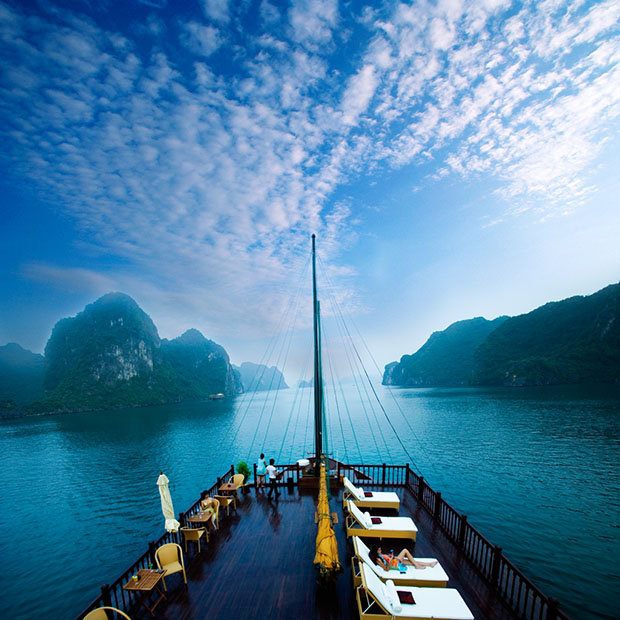 Best things to do in Halong Bay
With calm and emerald waters, Halong Bay is a great place for kayaking. Beautiful landscape, tranquil lagoons accessed via low-arching caves can be explored perfectly by kayak. Many cruise tours include kayaking in the itinerary, but it is worth checking in advance to make sure.
Swimming is another great thing to do while cruising Halong Bay. Titop Beach and Soi Sim Beach are the most popular places. There are also stairs at these beaches to climb to the top of the mountain for enjoying the panoramic view of Halong Bay.
For those who love the adventurous activities, trekking through Cat Ba National Park is a wonderful experience. Rock climbing is also worth trying when visiting Cat Ba Island.
Dining in caves, cooking classes and Tai-Chi demonstrations are the other interesting things for tourists to join in their trip to Halong Bay.

Related Articles:
The 9 easy steps to plan your Vietnam trip
When is the best time to travel to Vietnam?
Top things to discover on Vietnam Tours with your family
View tours: Classic Vietnam Family Tour 14 days