There are a great deal of things you can enjoy when visiting Nha Trang on your Vietnam customized tour – the beaches, popular attractions and last but not least, don't forget the local food there, which can absolutely blow your mind! Below is the list of best local food you should not miss when travelling to Nha Trang, check it out!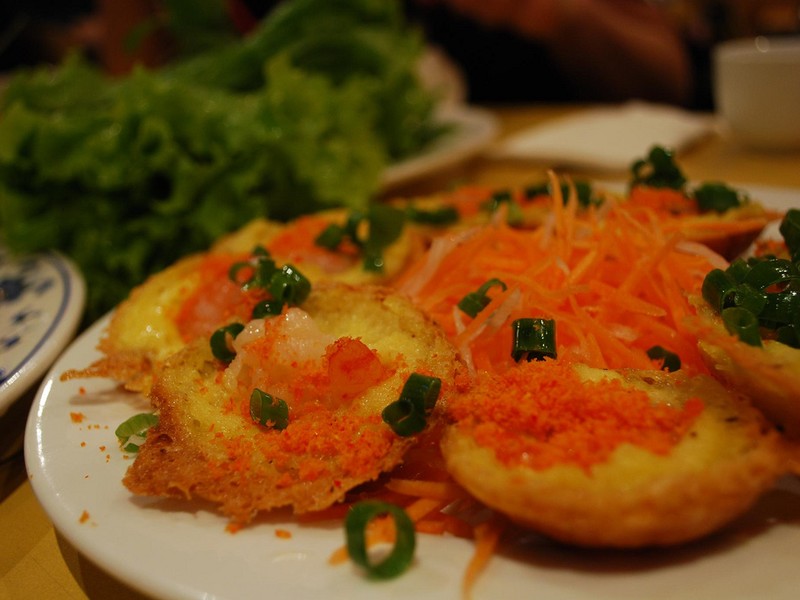 Banh Can - one of the best local food you should not miss when visiting Nha Trang (photo credit: photo by Alpha via Flickr)
1. Nem nuong (Grilled Pork)
This popular dish is usually recommended to any tourists visiting Nha Trang. You can enjoy the grilled pork together with the fried spring roll wrappers and salad. The key element here is the sauce, and simply put, it is incredibly delicious. Its ingredients include fish sauce, salt, sugar with minced pork and purple onion. The taste of this dish is a surprisingly well-balanced mixture of saltiness, sweetness and sourness, which will leave a deep impression on your Vietnam private tour.
It is worth noting that Grilled Pork has been brought to Ha Noi and amazed the locals of this city to the fullest. It was put on the top list of street food that young Hanoians regularly try. That's why whether you are visiting Nha Trang or the capital of Vietnam, Grilled Pork is a dish you should never miss!
Beside Grilled Pork, Nha Trang is also famous for "Nem Chua" - fermented pork roll fresh. However, most tourists travelling to Nha Trang often choose "Nem nuong" (Grilled pork) to enjoy and bring back home the "Nem Chua" (fermented pork roll fresh) as a gift. Therefore, while you love the taste of "Nem nuong Nha Trang" (Nha Trang Grilled Pork), don't forget to buy and bring home some "Nem Chua" (fermented pork roll fresh). Your beloved ones will absolutely love it!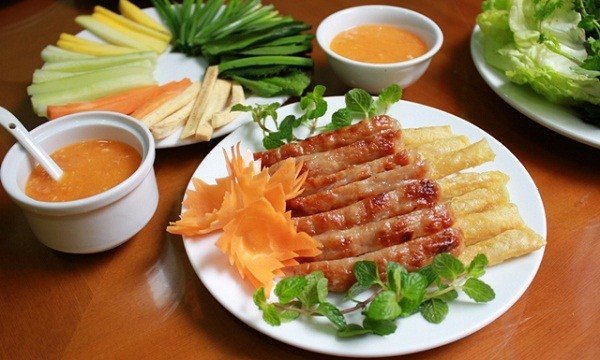 Nha Trang Grilled Pork (photo credit: Monngon.asia)
2. Fishing village's seafood
It is widely said that Mother Nature has gifted Nha Trang with marvelous seas which has both beautiful scenery and plentiful seafood. Seafood there are very fresh and rich in nutrition.
There are a number of places you can enjoy seafood with your family. Of course, restaurants or stores along the coast is not a bad option. However, you should go to fishing village to enjoy the fresh seafood newly caught in the sea. There is a wide range of seafood for you to consider: the shrimp, squid, oysters, snails and especially grilled gecko fish (Ca Tac Ke) – which is very famous in Nha Trang. If you can handle live seafood, salmon is another must try.
Besides, locals in the fishing village can also take you to good restaurants at sea where you can pick yourself the seafood, wait a moment for the cook to process it then enjoy the hot and tasty dishes with your beloved ones. For a Vietnam family tour, nothing is better than that.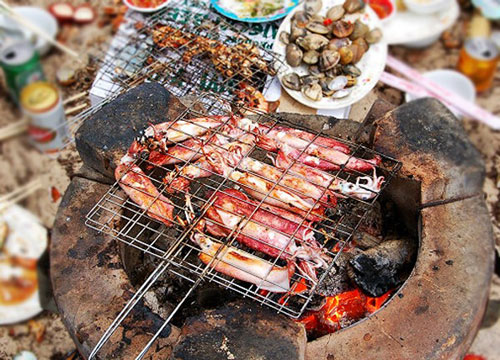 Nha Trang Seafood (photo credit: hueflavor.com)
3. Bun Cha Ca (Grilled Fish Noodle)
If Hanoi is famous for Pho, Hue is famous for Bun Bo Hue then Nha Thang is well known for its Bun Cha Ca (Grilled Fish Noodle). To put it simple, Cha Ca is minced fish marinated with flavors shaped into flat circles or ball then grilled.
As Nha Trang is gifted with plenty of seafood, the locals have taken advantage of this to make flavorful Grill Fish Noodle dishes that become a must-try to any tourists travelling to this city on a Vietnam private tour.
What makes a bowl of Bun Cha Ca in Nha Trang unique is its broth – which is stewed from sailfish and bone of codfish. For that reason, the broth is particularly sweet and delicious. To add up, each piece of grilled fish is chewy, juicy and so fragrant to the point one can not deny a second help after the first bite. That is why your travel to Nha Trang will never be complete without a taste of this popular and tasty dish.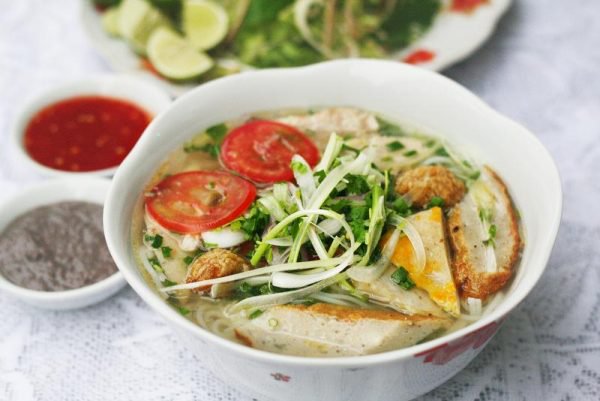 Grilled Fish Noodle (Photo credit: Dulichnhatrang365)
4. Bo Ne (Beef Steak)
Walking around the streets in Nha Trang, you will see a lot of restaurants selling Bo Ne (Beef Steak) which are usually crowded. This proves how popular this dish is to not only locals but also foreign tourists visiting Nha Trang.
Bo Ne (Beef Steak) is the most suitable dish for breakfast in early mornings. It is served in a hotplate with sizzling cuts of skirt steak marinated with various spices together with pate and eggs. You can enjoy hot skirt steak by dipping it into the sauce and eat it with fresh vegetables which are served together with the hotplate.
The soft, fresh and tasty flavor of Bo Ne (Beef Steak) is definitely what you should not miss out when travelling to Nha Trang. On your Vietnam vacation, remember to try this hot dish as a delicious breakfast to start a day in Nha Trang.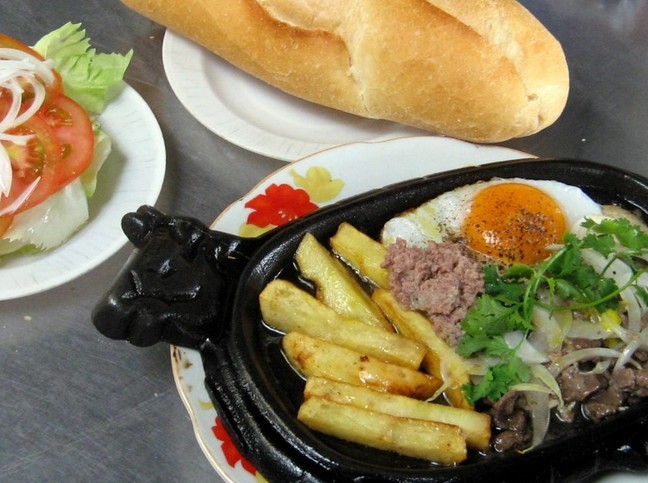 Beef Steak in Nha Trang (photo credit: tintuc.khanhhoa79.com)
5. Banh Can (Rice Cake with Quail Eggs)
Banh Can is very popular In the South Central region of Vietnam, particularly in Khanh Hoa and Binh Thuan. This tiny pancake is made from grilled rice flour, eggs, onion. In Nha Trang, this cake is made with another special ingredient – shrimp.
Banh Can is served with sour fish sauce and you can eat it together with some fresh vegetables. What makes a tasty Banh Can is the luring smell of the eggs and the stick soft rice.
On your Vietnam customized holiday, you can sit around the warm coal stove watching skillful bakers make the cake then dip the hot Banh Can into the delicious sauce which is made from fish sauce, garlic, chili and lime. It will be an extremely interesting experience!
---
Read more:
Top 10 attractions to visit in Nha Trang (1)
Top 10 attractions to visit in Nha Trang (2)