Thailand is one of South East Asia's most popular countries. Getting there is pretty easy, communication is not a problem either, and eating Thai food always ends up being a delicious experience. If we also mention the numerous cheap flights that connect to Bangkok, the convenience of visa-free policy to enter Thailand, and the number of places to visit are so diversified for all travel tastes. It is not so hard to understand that Thailand – Land of smiles is one of the most favorite destination for the whole world. Do you still need more reasons to encourage you travel to Thailand? Well, here are ten places you should not miss on your Thailand private holidays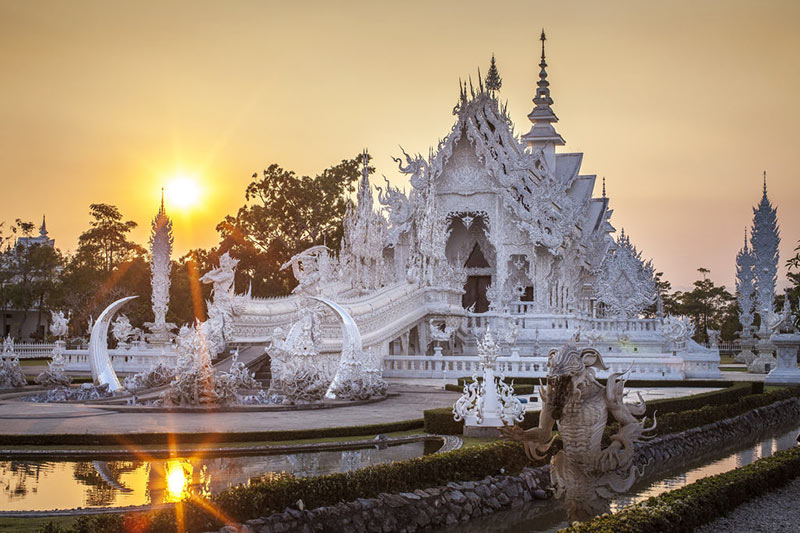 1. Bangkok
Like almost every major city in the world, you will either love or hate it in Bangkok. If Bangkok is the first city visit you on your customized Thailand tour, you may be overwhelmed a little by it though you do not have to. But do not go with fear, give Bangkok a try because it is totally worthy and the city is so interesting. Do not miss the city's beautiful temples (such as Wat Arun or Wat Pho), its busy markets (in Chatuchak or Silom) and its exciting nightlife (drop by Sumkhuvit if you are looking for good bars, or climb a skyscraper in the evening if you want something more chill out). If you feel that you are getting too overwhelmed, enter a spa, treat yourself with a Thai massage and do it again. It is well worth it.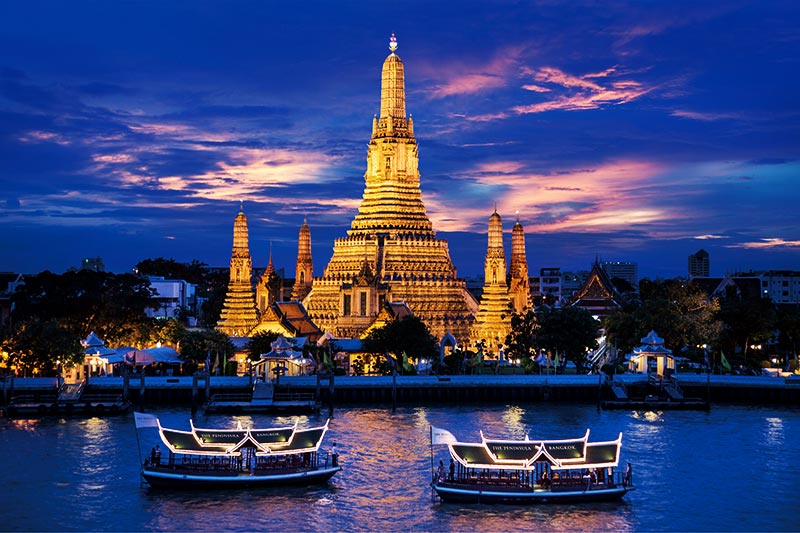 2. Pattaya
Although Pattaya was known for its pursuing of a bad and sordid fame, this mystical beach has improved a lot in recent years. A visit to the Santuary of Truth is a great activity to do in Pattaya where a whole mountain occupied by a huge golden Buddha with panorama scenery. Or an excursion to Koh Lan (Coral Island) is another wonderful thing to do in this coastal city. Pattaya is an ideal place for a getaway from big city (just an hour drive from Bangkok)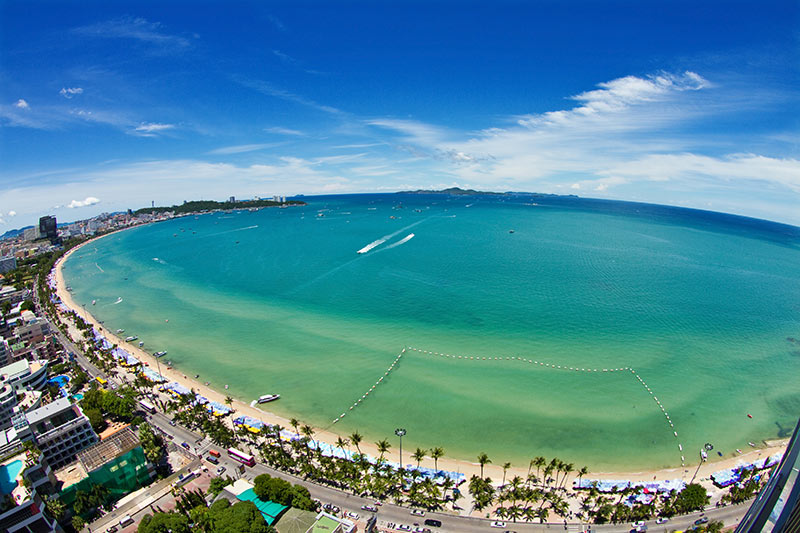 3. Ayutthaya
Once was the capital of the Kingdom of Siam for centuries, the ruins of Ayutthaya still resonate the echoes of its glorious past. The grand historical complex was named as UNESCO World Heritage in 1991, features such famous pieces like the head of Buddha between roots of Wat Phra Mahathat, the great reclining Buddha of Wat Yai Chamongkon or the huge stupas of the Wat Phra Si Sanphet. An alternative place that is not so touristy and a little less monumental to Ayutthaya is the city of Sukhothai, which is closely linked to the history of the mythical Siamese city.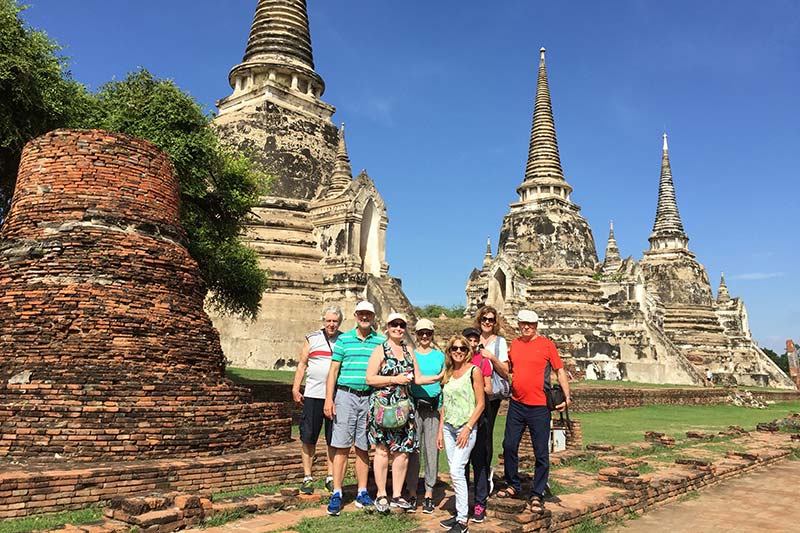 4. Chiang Mai
If you are getting bored with seeing just temples and really want to learn how Buddhism works, let's go to Chiang Mai. It is the second largest city in Thailand and the most important religious center for Buddhist. However, spiritual lives of this city are not the only attraction, beautiful nature is also another sensational thing to do in Chiang Mai. If you want to enjoy the breathtaking natural landscape and have a good trek through the northern mountains on your Thailand Customized Holidays, Chiang Mai is an ideal place to go. Spending a day among the elephants, taking cooking classes or meditation courses are great activities for family holidays in Thailand too. Remember not to miss the night market in Chiang Mai (really nice, good and cheap). There are many cheap flights reach Chiang Mai from Bangkok daily.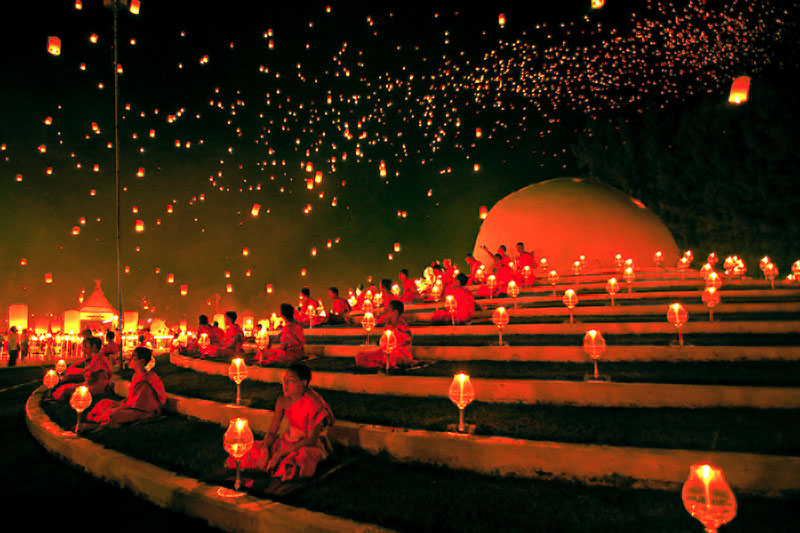 Yee Peng Festival in Chiang Mai
5. Kanchanaburi
An ideal place for lovers of cinema and nature. In this area of Western Thailand, movie fans will have the opportunity of seeing the famous bridge over the Kwai River and remember the celebrated film by David Lean. At the same time, nature lovers will be able to enjoy the Erawan National Park, a green enclave that is not touristy (or at least not massively touristy), perfectly good for camping with stunning waterfalls. Kanchanaburi is a great place to find peace and quietness which is not far from the usual touring circuit of many travelers.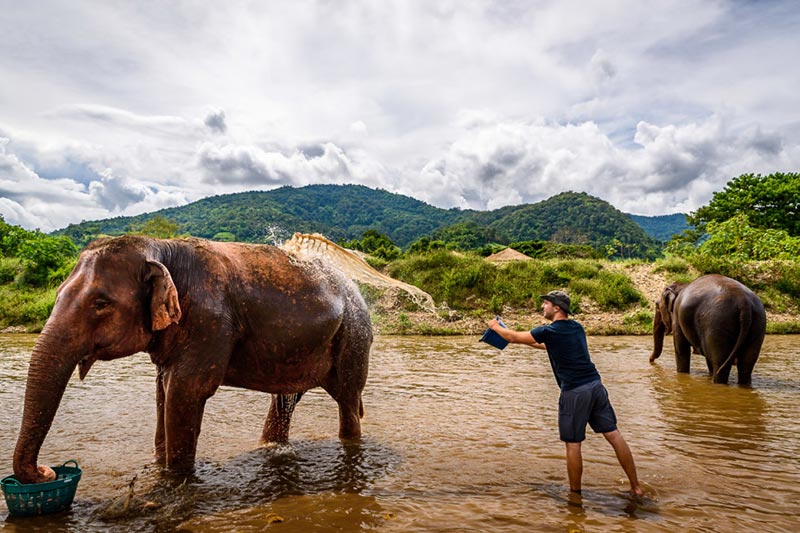 The large island in the Gulf of Thailand is one the most crowded tourist destinations in the area, perhaps because of having an airport here. It is a good place to find people, beach and party. Busy beach front resorts and feasts are enjoyed equally by both local Thai and foreigners. If this is what you are looking for your holidays, Chaweng Beach will be your tropical paradise. Or you want to ride a jet ski, watch a fire show, launch a lucky balloon or just relax between palm trees and bars, Koh Samui is the destination you should go.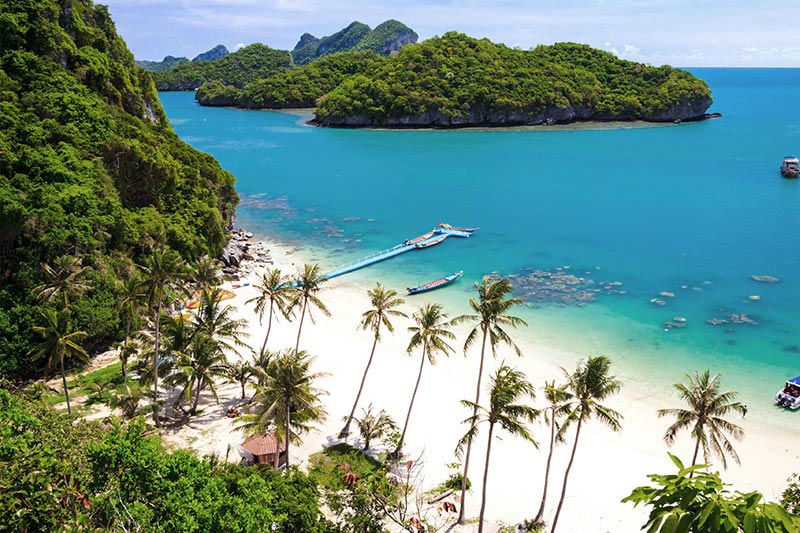 7. Koh Phangan
Koh Phangan is the noisy island of the Full Moon Party, undoubtedly the best known party in South East Asia. Besides parties, the island is also a great place for enjoying the nature, yoga and being totally disconnected. No matter what you are looking for on your holidays in Thailand, you will find it on this beautiful island. The northern part are the most incredible beaches while on the eastern part of Koh Phangan, you can see the outrageously beautiful sunset. Do not forget to save time between the parties to enjoy pad thai at the market of Thong Sala, one of the most popular Thai dishes.

8. Koh Tao
At the moment, Koh Tao or Turtle Island is the most popular place in the country. An island with crystal clear water where fish can be seen with just naked eyes. The main activity on the island is diving, which is safe, easy and at extremely affordable prices. If you have never tried to walk under water with a bottle in hand, let's do it because you won't have a better chance elsewhere. Koh Tao is an ideal place for travelers looking for snorkeling and diving. You would not be the first to see a turtle or a shark by using simply a tube and glasses.

9. Similan Islands
If you already know how to dive, you are looking for something really unique and money is not a big problem, travel to any of the nine islands of the Similan Archipelago which was a national park since the early of 1980s. The richness of seabed here makes the islands always slip into the top ten world's best diving places. You can find the Similan Islands (the main one is Koh Similan) off the coast of the Andaman Sea, not far from Phuket. Look carefully for the right time to go because during the low season, both visit and diving can be closed due to bad weather.

10. Koh Phi Phi Leh
The beauty of Koh Phi Phi Leh and its surroundings attract countless tourists. It is a real pity for a holidays in Thailand without visiting the beautiful island of the Andaman Sea. Do not be discouraged by its popularity and rumors. If you have a chance to visit a new destination and it is wonderful, how could you stop doing that? Thousands of colorful fish, striking rock formations and heavenly beaches await you at Koh Phi Phi Leh. However, if you fancy something nice but quieter than Koh Phi Phi Leh, try Koh Lanta or Krabi area, both are famous for theirs beautiful beaches but more peaceful.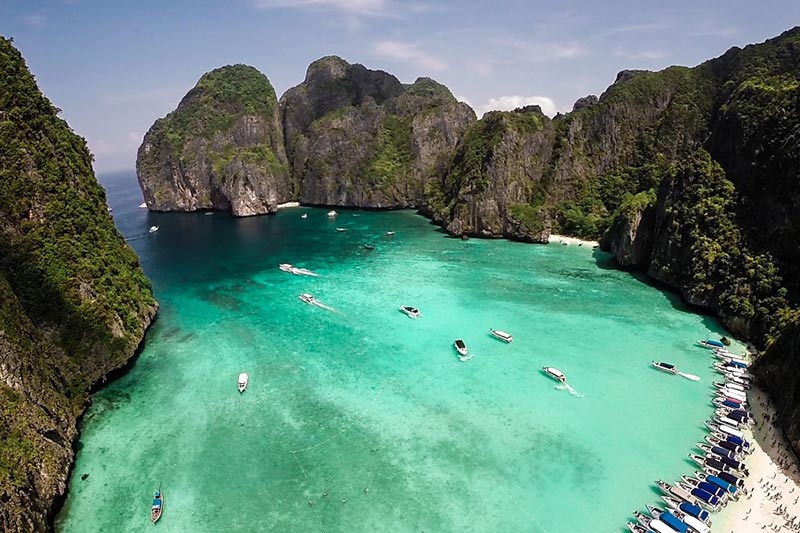 Related Articles:
Why is Thailand the ultimate honeymoon destination?
View Tours:
Best of Vietnam - Thailand Family Vacation 14 days