Da Nang is selected as one of the top 10 worth-living cities in the world in 2018, which makes it a must-visit on any Vietnam private tour. Since this city is incredibly safe for tourists to travel to and there are a great number of interesting things to do there, picking the best activities to try must be a hard task. Don't worry, we – Nadova Tours have set up for you top 10 awesome thing to do when travelling to Da Nang, check them out!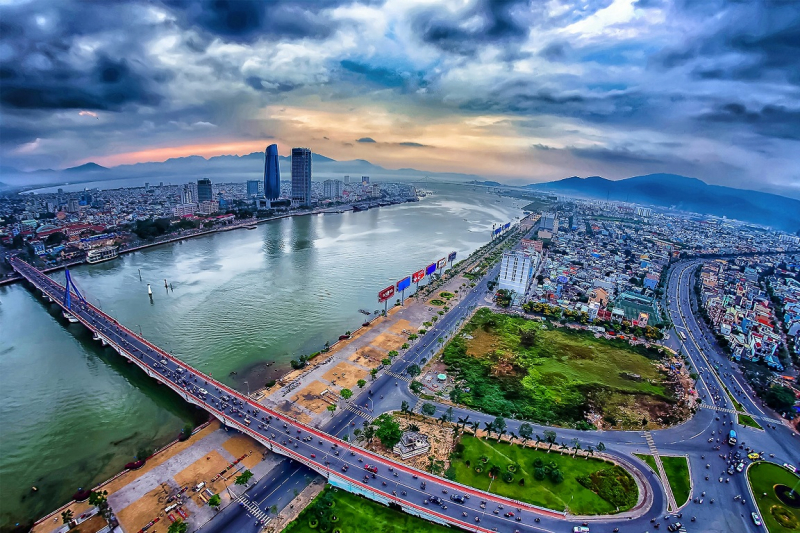 Photo credit: www.baogiaothong.vn
1. Have fun at Asia Park and Ba Na Hills
It would be a waste if you do not pay a visit to Asia Park and Ba Na Hills on your Vietnam vacation as they are listed as two of the most popular tourist attractions in Vietnam. Asia Park is one of the biggest and most modern amusement parks in South East Asia.
Asia Park consists of three main areas: an amusement park with modern rides, attraction and shows; a cultural park that display traditional architecture and horticulture features from 10 countries and central zone with the interface between modern and traditional features. With its complete package of rides, attractions, shows and restaurants, you surely can gain your best experience here, don't miss out!
Beside Asia Park, "the Disney Land of Vietnam" – Ba Na Hills also captivate tourists with its fantastic appearance – which resembles an antiquated castle but the insides might surprise you with modern accommodations, world class restaurants and a Fantasy Park full of thrilling games. On your way to visit Ba Na Hills, it is recommended that you give the cable car a ride as this cable car holds several Guinness World Records including being the longest System Cable Car in Asia.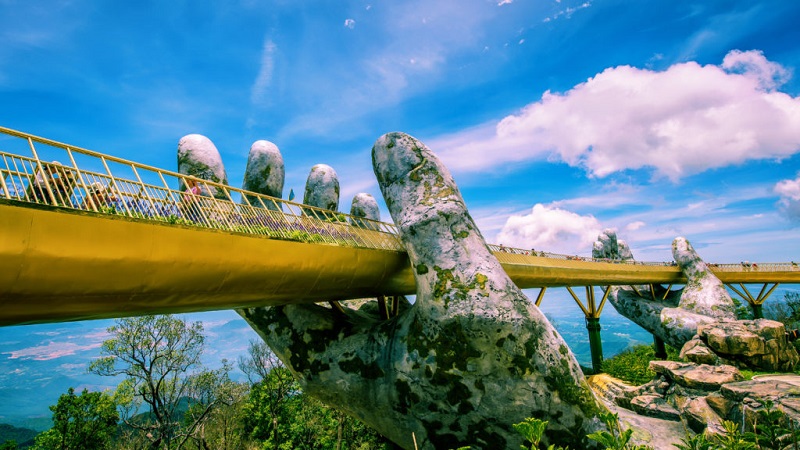 You can have great fun at Ba Na Hills or Asia Park (photo credit: banahills.sunworld.vn)
2. Go see the Dragon
Wondering what to do in Da Nang in the evening? Just take a visit to the Dragon Bridge and enjoy the significant view of an amazing dragon-shaped design among fire, light and water.
This bridge is renowned as the longest bridge in Vietnam and its impressive modern structure is attributed to Ammann & Whitney, an American architecture company. It is more than 2000 feet long and 128 feet wide and what's more impressive is that it is lightened up with colorful LED lights every night. And on weekend nights, this attraction draw the attention of most tourists by the sight of a dragon spitting water or breathing fire from its mouth.
Therefore, if you would love to experience a festive atmosphere and feast your eyes on a beautifully designed architecture, Dragon Bridge is a must-visit for weekend nights on your Vietnam customized tour.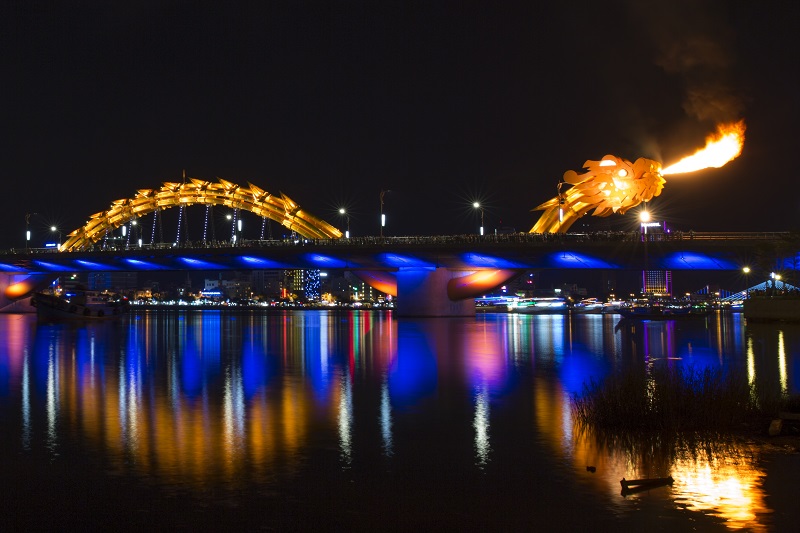 Dragon bridge is a famous attraction you should pay a visit to (photo credit: edition.cnn.com)
3. Take your time to visit nearby attractions – Hue and Hoi An
As Da Nang is located among the hottest axis of the Central area, it would not take a lot of time to travel to Hue and Hoi An while you're in Da Nang. The ancient town of Hoi An is just takes you a 30 minute drive from Da Nang while Hue takes you 3 hours.
There are plenty of interesting things to do in these two cities. You can admire the beauty of the ancient town in the light of silk lantern should you visit Hoi An on Full Moon Celebration – which is held every month.
You can also enjoy the cuisine of Hoi An – among which Banh My is the best. In fact, Banh My Hoi An is the best Banh My in the world. It is the crusty baguette filled with roast pork, pork sausage, egg, salad and some other mystery fillings that make Banh Mi so delicious and you may not want to eat the regular sandwich anymore.
Moving away from Hoi An, Hue can be your next ideal destination. The Imperial Citadel is sure to leave an unforgettable impression on your Vietnam customized tour with its antique remnants and long interesting history to tell. It was constructed 200 years ago by the founder of Nguyen Dynasty – Emperor Gia Long. Visiting this place can gain you much knowledge about the lives of royal families in Vietnam under Feudalism hundreds of years ago, which is absolutely an amazing experience you should not miss out!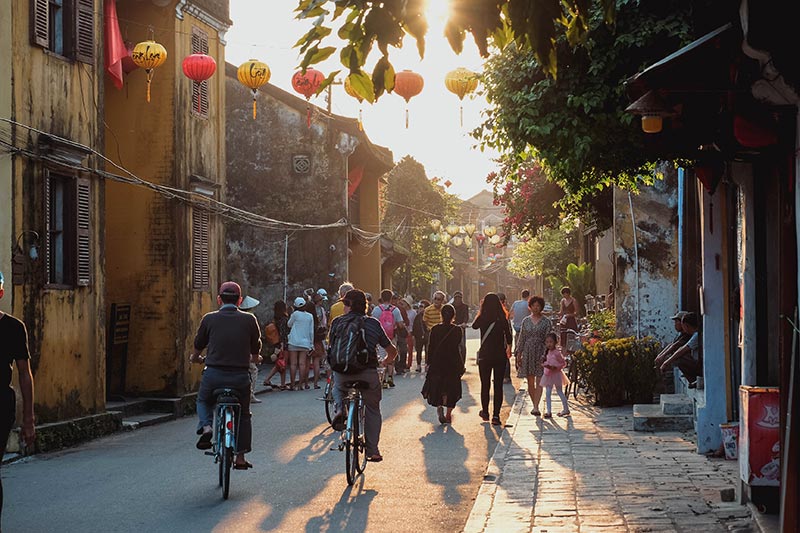 You can also take your time to visit Hoi An and Hue
4. Take a detour over Hai Van Pass
When travelling from Da Nang to Hue or vice versa, it is worth taking a journey over the Hai Van Pass – recognized as the highest and one of the most scenic passes in Vietnam.
The most amazing thing about this pass is hinted right in its name - "Hai Van", which is translated as "Sea Cloud" in English since the peak of the mountain is in the clouds while its foot is close to the sea.
Standing on the peak of Hai Van Pass, you will have the chance to witness the stunning landscape of Da Nang city. And on your way to the peak, you can catch a glimpse of Vietnamese history through several wartime gun towers, the ruins of a fort during the Vietnam War, the ancient Tran Dynasty's Hai Van Gate, etc.
That is why Hai Van Pass is a perfect place to oversee the city of Da Nang and trace back to Vietnamese history. There are several ways to travel through Hai Van Pass and if you are an adventure lover, you can consider renting a motorbike to fully your explore this pass. But since there are dangerous bends on the pass, taking safety precautions is recommended.
Apart from that, it is convenient for you to enjoy great views and take beautiful pictures along your journey. On your Vietnam customized holiday, it is absolutely an experience you should not miss!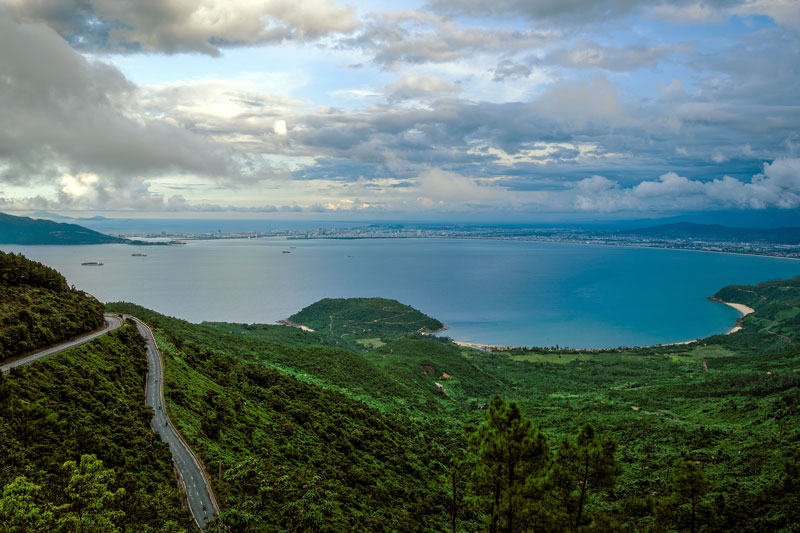 Hai Van Pass can bring you unforgettable experience (photo credit: danang-shopping.com)
5. Party hard at Sky Bar
The fun in Da Nang does not stop at night. If you want to experience an exotic nightlife on your holiday in Vietnam, don't forget to visit Sky Bars. Imagine how marvelous scene you can admire there when overlooking Da Nang from above – the beautiful sight of enormous sea, poetic Han River and majestic mountain ranges.
And among Da Nang sky bars, Sky36 is the most popular one you should pay attention to. It is the highest bar in Viet Nam with the most luxurious and extravagant entertainment.
Located on the top floor of Novotel Hotel, the world-class bar impresses its visitors with its stylish design along with modern sound and light systems – which meets international standard perfectly. There you can party the night with vibrant music, brilliant dance performances and on special celebrations, you can witness an amazing fireworks displays and participate in a lot of intriguing activities.
---
Read more:
5 interesting facts that will make you want to travel to Da Nang
View tour: Discover Central Vietnam 5 days