Nha Trang – the city of beach is always a must-visit on any Vietnam private tour. The beautiful skyline as well as marvelous beaches there never fail to captivate foreign tourists and leave a deep impression on them. But it is not all about Nha Trang, below is the list of top attractions you should not miss on your travel to this destination – check it out!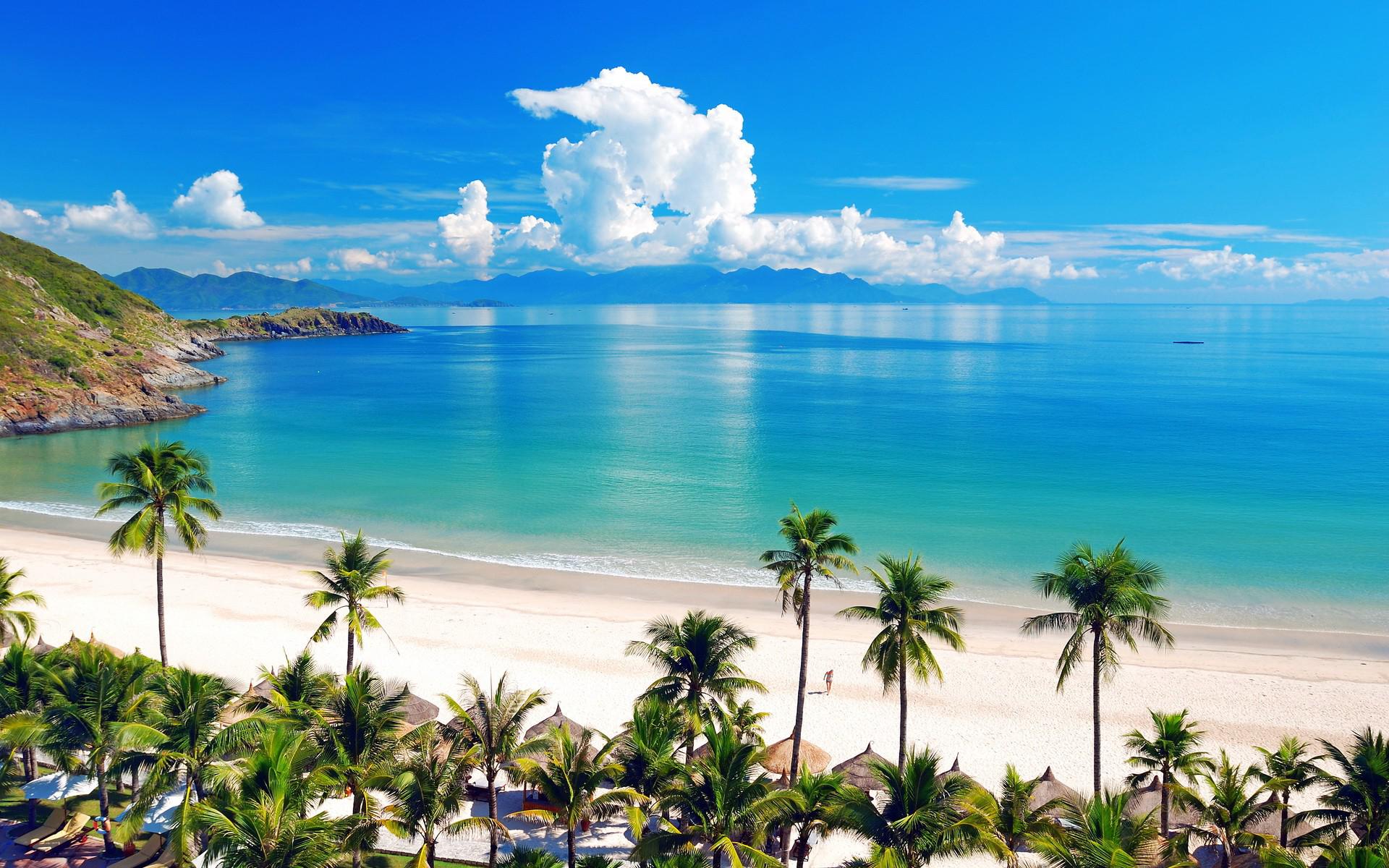 1. Nha Trang Beach
The beaches here are among the most significant features of Nha Trang, not to mention they also dominate the top list of beach destinations in Vietnam.
They have everything for a wonderful beach break in a Vietnam customized holidays: gorgeous sandy beach, clear blue water, warm weather all year round and world-class resorts nearby.
Among the beaches, Nha Trang beach stands out as the symbol as well as the precious gem of the city. It is where you can see then sun kiss the sand and enjoy a beach break with just a few minute walk from your hotel. Super convenient, right?
An interesting fact is that Nha Trang is the only city in Vietnam that has a beach right in its center, which makes the beach a popular attraction and sometimes overloaded with both local and foreign tourists.
That is why you might be bothered by the crowd when visiting Nha Trang beach. If it is the case, then another option for you is Dai Lanh Beach or Doc Let Beach. Just 1 hour drive from Nha Trang and you can enjoy the beach in a more relaxing way.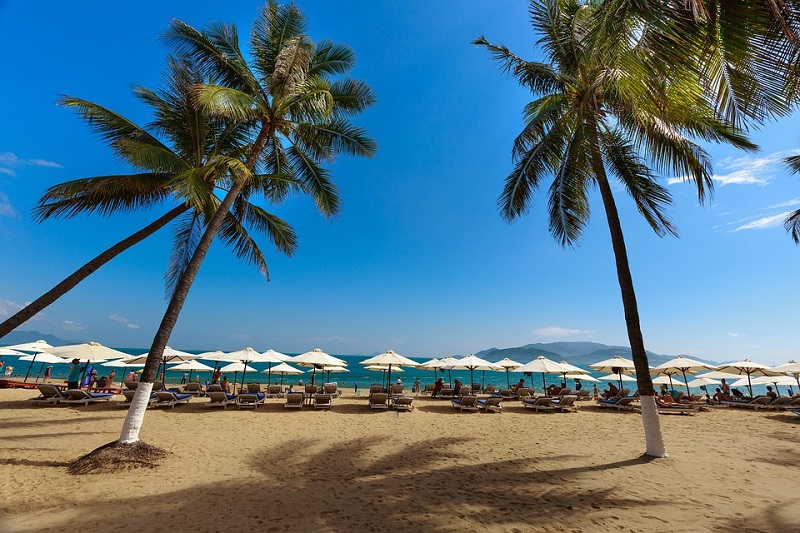 Nha Trang beach - one of the best beaches in Vietnam
2. Ba Ho waterfalls
Ba Ho Waterfalls is comprised of 3 natural waterfalls ending with clear lakes and surrounded by a dense rainforest. It is suitable for retreat activities such as picnics, swimming or fishing.
Most parts of Ba Ho waterfalls are still left in their natural state with several arrow pointers and cement steps – which makes the route to discover all 3 waterfalls there more challenging yet more exciting.
If you have a fetish for adventure in the nature then this attraction is really a must-visit for you. Remember to bring good footwear since the paths there are quite slippery and it might take an hour of tough trekking to see all three falls. For your trip in Vietnam, this might be the most memorable experience!
3. Hon Chong Promontory
Hon Chong Promontory is an interesting place for tourists to enjoy the marvelous view of the mountainous coastline of Nha Trang and nearby islands.
Hon Chong consists of massive rocks lying on top of one another, which makes it look like the work of a giant who carelessly put several massive rocks together. There are two enormous groups of rocks lying in disorder by the sea.
The first one is called Hon Chong which consists of a square-shaped block lying on a flat and big rock. Here lies an intriguing legend about a giant man who leave imprints on this island. It is said that once upon a time, when a giant man was fishing there, a giant fish swallowed the bait and pulled him away. He tried to pull himself back with a fishing-rod in hand and pressing the other hand against the massive rock leaving the easily-seen imprints.
The second group of rocks bears the shape of a woman sitting facing the sea. It's called Hon Vo, the Wife, that has a close meaning with Hon Chong, the Husband.
Visiting this attraction, you might have the chance to enjoy the peaceful beach together with stunning view and listen to the interesting legend. Therefore, don't miss out on this place on your Vietnam customized tour!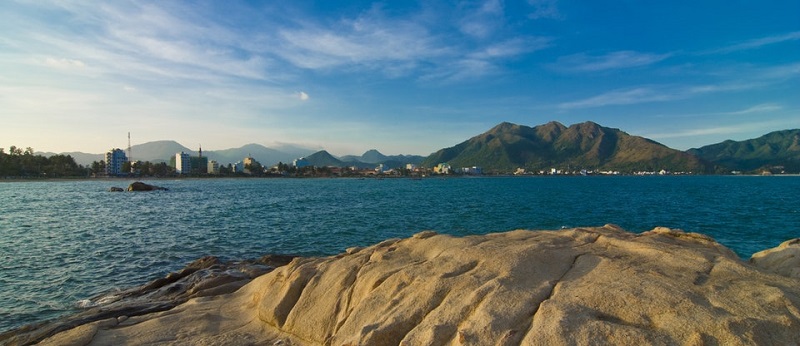 Hon Chong Promontory - one beautiful attraction associated with an intriguing legend (photo credit: Michael Runkel Getty Images)
4. Thap Ba Hot Springs Centre
If you want to retreat and relax after busy days exploring Nha Trang, you should not miss on Thap Ba Hot Springs Centre. This place can make you feel rejuvenated, not to mention it is also very good for your health.
Thap Ba Hot Springs Centre offers a variety of services and treatment packages including mud-baths, herbal-bath, waterfall, swimming pool, sauna and so on. Among these services, dipping yourself into hot mineral springs as well as mud-baths are must-try activities when travelling to Nha Trang.
It is widely said that the natural springs here can help detoxify and soothe your fatigued muscles while mineral mud can treat acne and revitalize the skin. That is why this Hot Springs Centre is a must visit for retreat during your holidays in Vietnam.
5. Vinpearl Amusement Park
If you are travelling to Vietnam with your family, Vinpearl Amusement Park is what you definitely should not miss out. Situated on Hon Tre Island, the park is connected to the mainland of Nha Trang via a sea-crossing cable car, which offers a great view of the bay from above when it is moving on the way.
Vinpearl Amusement Park has everything that makes a Vietnam family tour memorable. There you can enjoy a great deal of fun activities with your children – you can go shopping together, play numerous thrilling games from indoor to outdoor, from inland to outland together. For a family tour in Vietnam, nothing is better than that.
Try to spend time with your beloved ones on this amusement park and you will realize that it is not likely to be wasted because precious memories created there will never fade away.
---
Read more:
Best places for family tour in Vietnam
Top beach destinations for Vietnam private tours
View tour: Happy Honeymoon Vietnam 12 days