Santa Claus is coming to town! 4 more days and you will have the chance to experience the Christmas atmosphere in Vietnam. If you are a Christian travelling to Vietnam on a customized tour, hold your expectations as there are still a number big events for you to participate in. Although not many locals there are Christians, the Christmas day is still celebrated with many special rituals that are, somehow, different from other countries. Check them out below!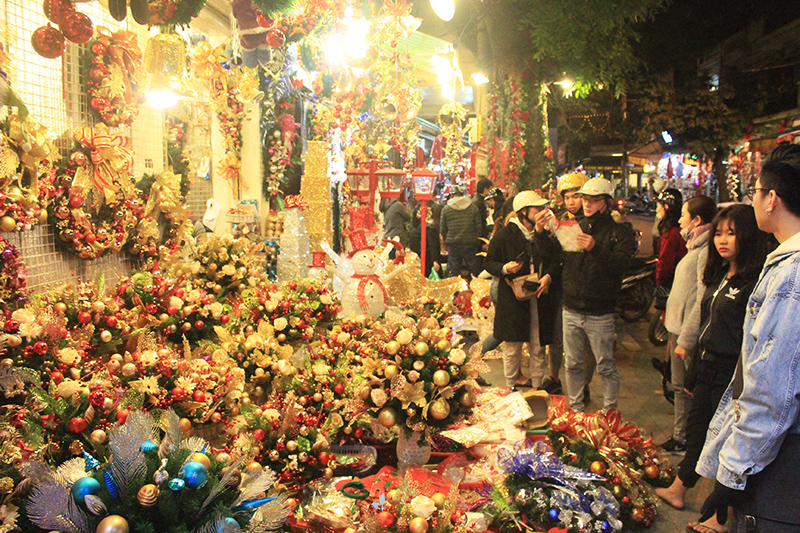 Christmas in Vietnam (Photo credits: tuoitrethudo.com.vn)
1. Christmas is one of the four most important festivals of the year in Vietnam
It may come as a surprise to you that Vietnam has a relatively small population of Christians as the long-established religion of this country is Buddhism instead. However, Vietnamese people do have a thirst for international culture, that's why Christmas festival is becoming more and more popular.
Recently, it has become one of the four most important festivals of the year in this country. It is like Christmas there is not only for Christians, it is for everyone in Vietnam.
2. Christmas is not only for Christians
Take a walk around the city in the night of December 24th, you can feast your eyes on beautiful Christmas decorations of big buildings and be immersed in the lively atmosphere that will absolutely surpass your expectation.
Christmas is truly expected by a great number of Vietnamese locals, especially the youngsters even though they are not Christians. However, the underlying purpose and meaning of this festival is not widely known by Vietnamese people. To most of them who are not Christians, it is more of an occasion to relax and hang out with their friends and family instead.
On this day, Vietnamese children expect special gifts from their parents, whether they are Christians or not. The tale of Santa Claus is popular to children just like Vietnamese tales and that's the reason they would love to receive surprised gift on Christmas.
Not only children, Vietnamese youngsters also practice the act of sending presents to their beloved ones and expect special gifts from them in return. It is an anticipated occasion young locals in Vietnam to express their love and strengthen the bonds with people around them.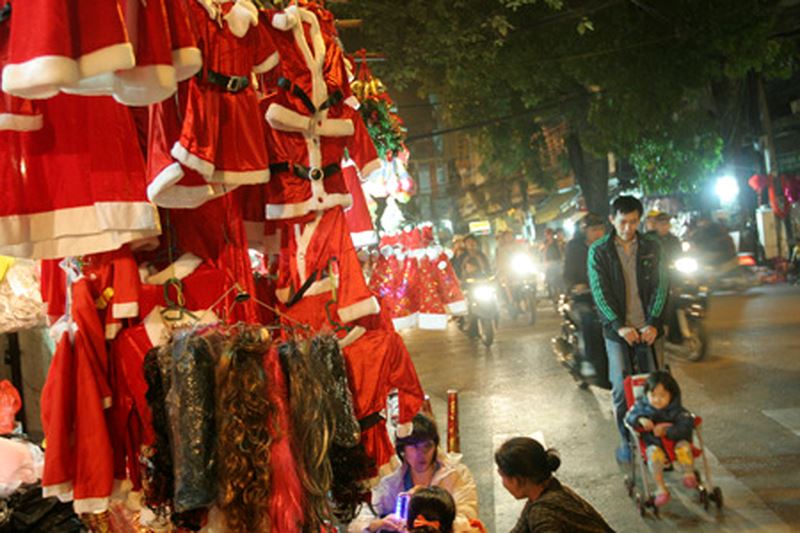 Christmas is not only for Christians, it is for everyone in Vietnam! (Photo credit: giaoduc.net.vn)
3. Christmas Eve is more important than Christmas day
To begin with, Christmas does not have historical roots in Viet Nam. It is neither a public holiday in Vietnam. Therefore, Christmas Eve becomes a grand party for family or friend gathering rather than a religious occasion.
On this day, one can experience a very fetish atmosphere when travelling to Vietnam on a private tour, especially in big cities like Hanoi or Ho Chi Minh city. Department stores are usually decorated with Christmas trees, snowflake decorations, decorative balls, etc.
Many shops and restaurants also take advantage of this chance to put their products under promotion for marketing purposes. Walking on the streets, you will see a lot of advertising banners that attract customers to come in and buy some with cheaper prices.
You can listen to the tune of Christmas songs everywhere and some places are particularly turned into Christmas area with sparkling and lighting decorations on trees or in front of the doors. And when flocking to the streets, you can see a lot of children on Santa costume playing around with their parents. This might be the cutest scene ever!
As Christmas Eve is regarded as an occasion of family gathering, family members often reunite then hang out for feast in the restaurant together. Many Vietnamese people, despite the fact that they are not Christians, still gather at churches or at the large Catholic Cathedral or go to Midnight Mass services to watch the Nativity plays. On your Vietnam customized holiday, it is a worth trying activity for Christmas, especially if you are a Christian.
---
Read more:
How do people in Vietnam celebrate Vietnamese Women's Day on October 20th?
How to enjoy Mid-autumn festival in Vietnam?
View tour: Highlights of the north Vietnam 7 days