Vietnam is the perfect destination if you are searching for a trip of your lifetime. There are many beautiful things to see and do in the country that can keep your travel schedule busy for a month. However, two weeks is the right amount of time to have great impressions of the private tours to Vietnam for most travelers. If you are looking for a suitable 2 week travel itinerary in Vietnam, our suggested itinerary today might be helpful for you to have good insight of the unique history, culture and lifestyle in Vietnam.
How to spend 2 weeks in Vietnam
Before we start planning the itinerary for your Vietnam customized tour, let take a look at some essential things you may need to know to enjoy your stay completely:
* Depend on your nationality, you may need to obtain a tourist visa to travel in Vietnam. So it is worth to check whether you benefit the visa exemption or not.
Find out more info about getting Vietnam Visa:
How to fill in the Vietnamese Visa Application Form
6 common questions when applying for Vietnamese Visa
* Check the weather to pick up suitable time to travel in Vietnam so that you can enjoy most of the trip.
* Below is the estimated cost for hotel accommodation in Vietnam. In order to maximize travelling experience during your tours in Vietnam, we recommend you to stay at centrally located hotels in each place. It means you will spend less time getting around and easily explore the tourist attractions as well as enjoy the best street eats:
- Standard (3 star hotels): approximately from $40 - $60/room/night
- Superior (4 star hotels): approximately from $70 - $100/room/night
- Deluxe (5 star hotels): approximately from $120 - $160/room/night
* Prepare sufficient fund for the entire trip as well as each travelling day. Vietnam is not an expensive destination and you can find more suggestions on travelling budget here: How to spend 1 week in Vietnam for first-time travelers
Now, this suggested Vietnam travel itinerary will offer you visits to all the famous tourist attractions and help you better understanding the local culture:
Day 1: Start on your journey in Ho Chi Minh City
It can be a wise choice to start your Vietnam customized holidays in Ho Chi Minh City (aka Sai Gon), the biggest and most vibrant city in Vietnam. Visiting this city can be a soft landing for foreign tourists, especially if you are totally new to Indochina countries. We recommend to spend two full days in Ho Chi Minh City to have the good taste of this city.The best place to stay in HCMC is District 1, the central of the city. You can find many good hotels here and all the main attractions are just easy to explore on foot.

Day 2: Cu Chi Tunnels and City Tour
Cu Chi Tunnels is great destination for a day-trip from Sai Gon and it is also a great place where you can learn more about the history of Vietnam as well as the Vietnam War. Over here, you can experience the labyrinth of the underground passageways (almost 240 km) was dug by Viet Cong to create shelters against American raids. You can even try shooting the famous rifle AK-47 at Cu Chi Tunnels.
In the afternoon, return to HCMC for discovering the famous historic sites: Independence Palace, War Remnants Museum, Notre Dame Cathedral, Central Post Office and Ben Thanh Market.
Cu Chi Tunnels is a wise choice for a day-trip from Sai Gon

Day 3: Ho Chi Minh City – Mekong Delta
Nowhere better than Mekong Delta to explore the unique culture and lifestyle of Southern people in Vietnam. Leaving Saigon in the morning to join a great trip to Mekong Delta. Taking boat ride, visiting floating markets, cycling along village roads are the typical activities of a tour to Mekong Delta. The local people here are very friendly so interacting with them can be a great experience for your trip in Vietnam. Spend the night in Can Tho, the capital city of Mekong Delta.

Day 4: Mekong Delta – Ho Chi Minh City
Waking up early to visit the biggest floating market in the area, Cai Rang Market will be a great memory of the entire holiday in Vietnam. Hundreds boat trading products of the delta can be seen here such as fruits and vegetables. Then, take a visit to a local tropical fruit orchard for sightseeing and tasting special fruits. After the Mekong Delta tour, drive back to Ho Chi Minh City for staying overnight.
Optional activities to join in the evening in HCMC: Enjoy a dinner cruise along Saigon River; Watching the impressive cultural "A O" Show at Saigon Opera House; Exploring the city by night on the back seats of motorbike.

Day 5: Ho Chi Minh City – Hue
Today, take a morning flight to Hue – the former imperial capital of Vietnam. The city was home to the Nguyen Emperors during the 19th and early 20th century. Though the city was heavily damaged in Vietnam War, the remains of the Nguyen's citadel as well as other royal architecture still contain many interesting sights. Upon arrival and check-in your hotel, you can start your tour in Hue to learn more about the imperial history of Vietnam.
The must-see attractions in Hue include: Purple Forbidden City (or the imperial citadel), Thien Mu Pagoda (can take a boat trip along Perfume River to get here), Khai Dinh Tomb, Minh Mang Tomb, Tu Duc Tomb. Dong Ba Market is another great place to visit where you can enjoy the most delicious dishes of Hue cuisine.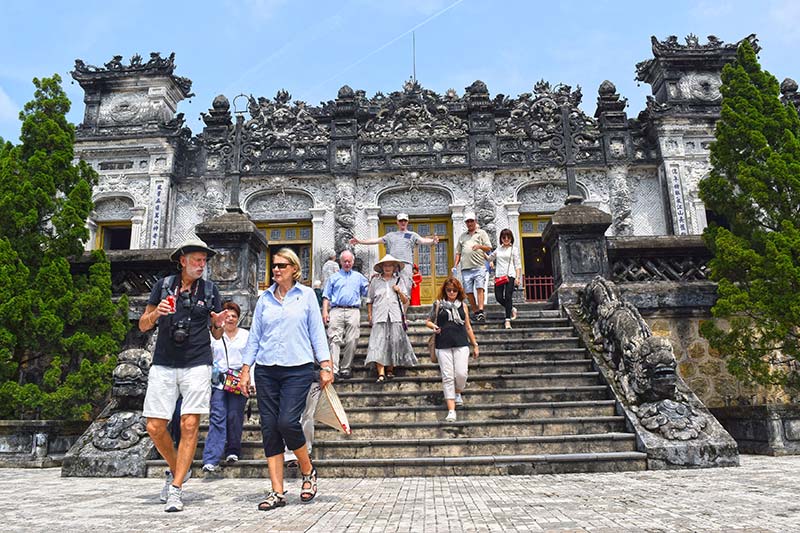 Hue - the former imperial capital of Vietnam
Day 6: Hue to Hoi An
Spend the morning in Hue to relax or visit the attractions you couldn't finish from Day 5. Then, leave Hue on a drive via stunning Hai Van Pass to reach Hoi An. On the way, stop for taking photos of the breathtaking natural landscapes on top of Hai Van Pass. In Danang, visit the famous Cham Museum to learn more about the Champa history and culture. In the late afternoon, arrive at Hoi An, a must-visit destination for any Vietnam private tours. Hoi An was a major trading port from 16th to 19th century and was recognized by UNESCO as a World Heritage.
The town center is well preserved and is a great mixture of architecture from Vietnam, China, Japan and Europe. We would recommend you to stay 3 nights in Hoi An to enjoy the beauty of this ancient town. Staying at boutique hotels close to the town will be convenient for people like to wander around the shop-lined streets of Hoi An. For those who prefer the beach can stay at hotels and resorts close to Cua Dai and An Bang Beach, the town is just a bike ride away.


Day 7: My Son Sanctuary and Hoi An Walking Tour
In the morning, drive to visit My Son Sanctuary, a large complex of religious relics belong to Champa Kingdom. It is the evidence of a famous Asian civilization that is now extinct and a can-not-miss attraction for a Vietnam customized holidays.
In the afternoon, return to Hoi An Ancient Town to visit major attractions to learn more about the history of the town such as: Japanese Covered Bridge, Cantonese Assembly Hall or the old house of Phung Hung.


Day 8: Hoi An Free Day
Take a full day free to relax and enjoy the ancient town, taste the yummy street food. Or you can have a bike ride to discover the beautiful surrounding countryside and unspoiled beaches nearby.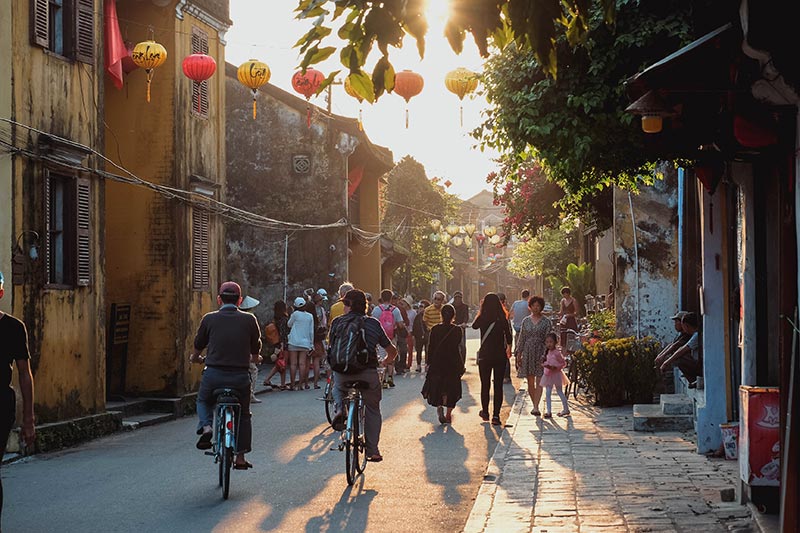 Hoi An is a great destination where you can spend a day off to relax
Day 9: Hoi An to Hanoi
Today, take a morning flight to Hanoi, the 1000-year capital of Vietnam. Hanoi is the city with unique blend of old and new, modern and tradition, many tourists would put this city top of their Vietnam holidays itinerary without any hesitation.
In Hanoi, it is great to stay in the Old Quarter where you can enjoy most of the local life and the best food. By this time, your stomach may get used to local foods and taking part in a Walking Street Food Tour in Hanoi Old Quarter will be a wonderful activity for the afternoon.


Day 10: Hanoi City Tour
There are many things to do and many sights to see in Hanoi. So, it is quite important to have a city tour of Hanoi to know more about the history of this capital city. Main sights to visit include: Ho Chi Minh Mausoleum and private houses, One Pillar Pagoda, Temple of Literature, Ngoc Son Temple, Hoa Lo Prison, etc. Other things to do can be Water Puppet Show and Cyclo ride in Old Quarter.


Day 11: Hanoi – Halong Bay
After Hanoi, Halong Bay will be the next destination to visit. It is the most popular destination to visit when travelling to Vietnam. A spectacular scenery of emerald waters dotted with almost 2 thousand limestone mountains is awaiting you to discover. Many people say a holidays in Vietnam will not be completed without visiting Halong Bay. It is recommended to stay overnight on a cruise in Halong Bay and we would suggest you to spend 02 nights to really immerse into the beauty of the bay and free from the bustle and hustle of big cities.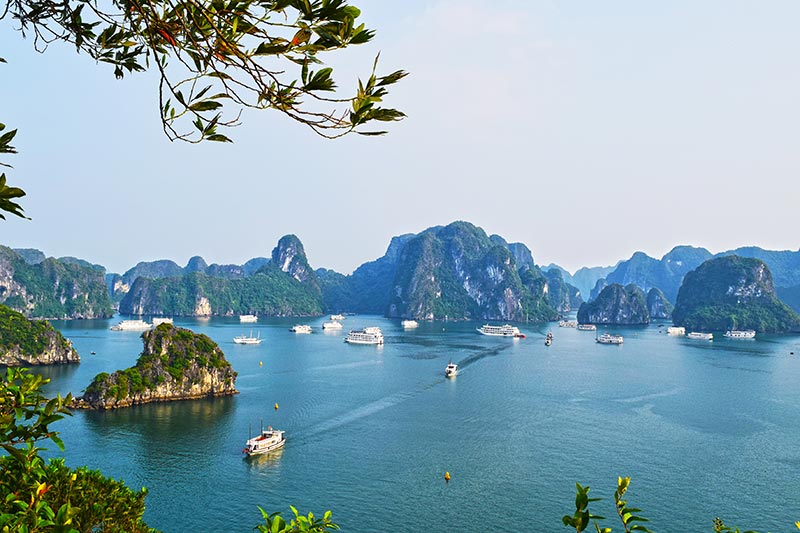 There are many activities you can do at Halong Bay

Day 12: Halong Bay Exploration
Continue with your cruising around Halong Bay with many activities like swimming, kayaking and tai chi class.


Day 13: Halong Bay – Hanoi
Finish your trip to Halong Bay when the cruise bring you back to pier at noon. Then, drive to Hanoi for staying overnight. Now, enjoy your free time and summarize the great memories of your Vietnam customized tour before saying farewell.

Day 14: Hanoi Departure
Free to relax before leaving Vietnam for flying home.
We hope that this suggested itinerary is helpful enough for you in planning your next holidays in Vietnam. Please remember that the itinerary can be switched to start in Hanoi and finish in Ho Chi Minh City accordingly to your flight schedule. If you need any assistance in planning your Vietnam holidays or getting a free quote for a tour, please do not hesitate to contact us.
---
Read more:
How to spend 1 week in Vietnam for first-time travelers
Best family-friendly destinations in Vietnam
View tour: Vietnam Insight 14 days